Gummy Worm Mud Cups
Today all kinds of food bloggers are celebrating Two Peas and Their Pod's baby shower. They are having a boy so I decided to make something boyish. Boys like mud, so I made Mud Cups!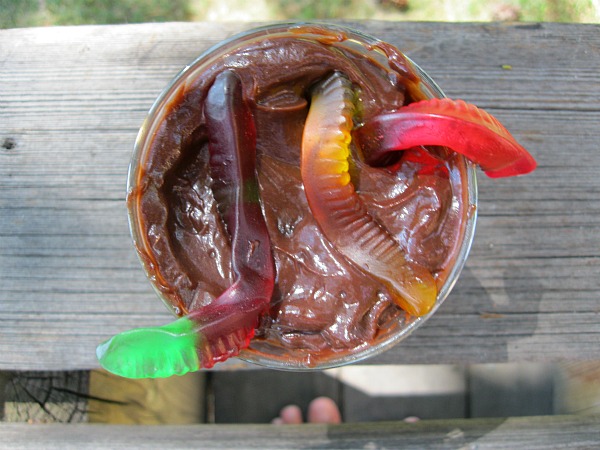 These mud cups have worms in them. Don't worry! They're not real worms. 🙂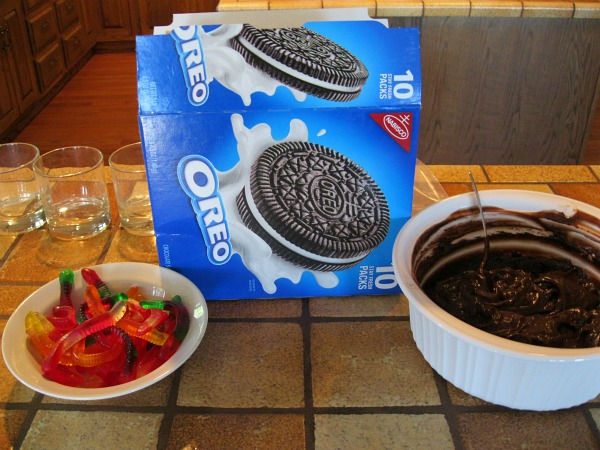 This is a very simple recipe. Only three ingredients. Chocolate pudding, crushed oreos, and gummy worms.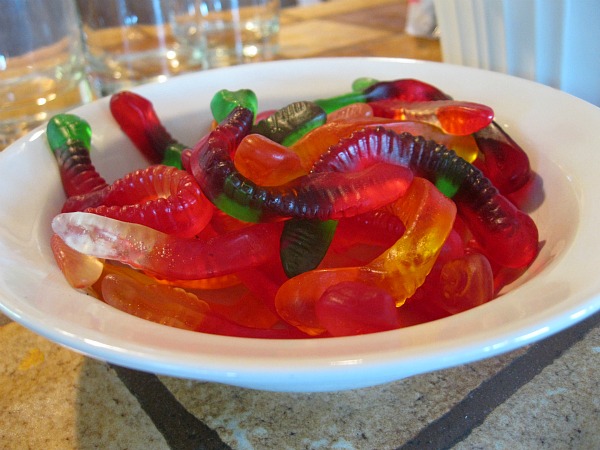 Sample some just to make sure that their aren't any real worms in the bowl!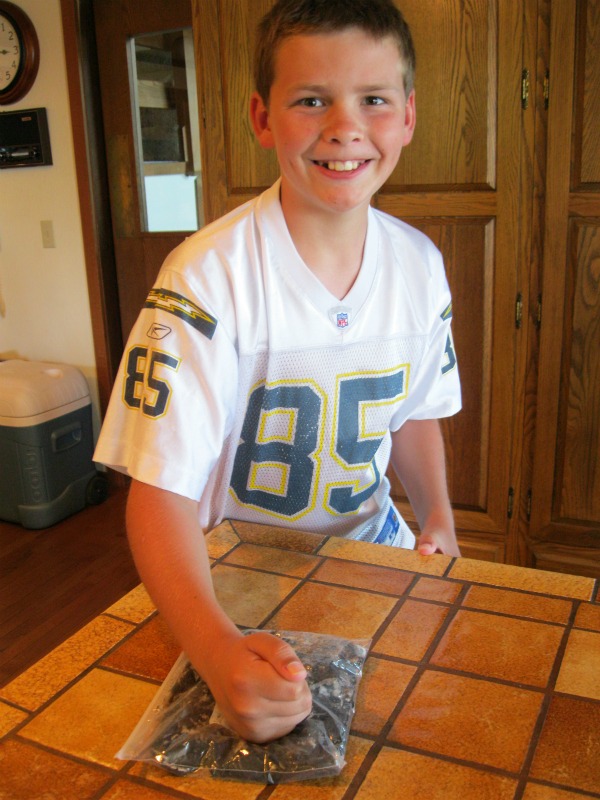 Smash those oreos!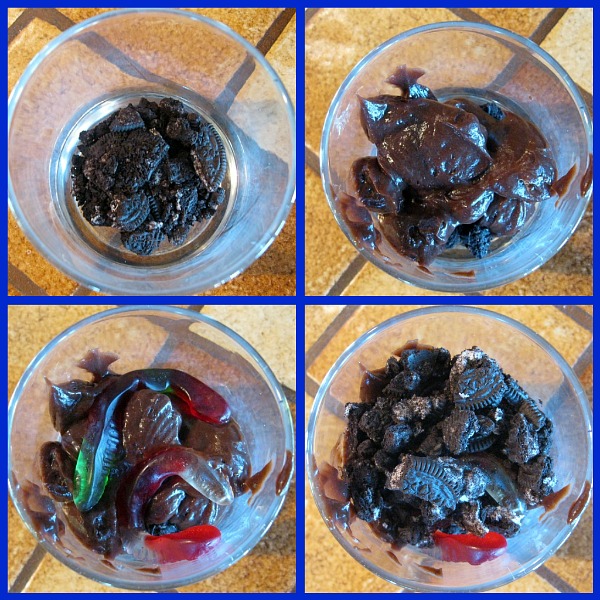 Fill the cups…. oreos, pudding, worms, repeat.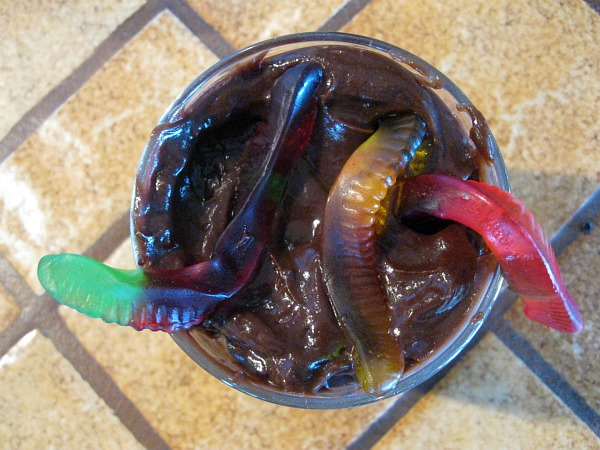 You need at least 3 worms on top and 2 worms in the middle.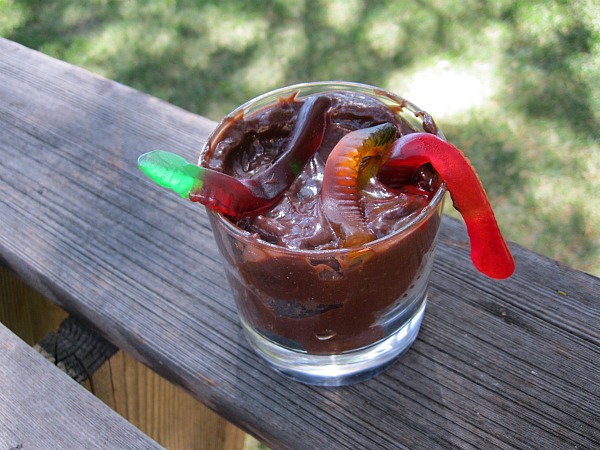 The mud cups tasted great and my friend's family loved them! Congratulations Two Peas and Their Pod! I think that you should name your baby Brian.
And even a kid can contribute to a baby shower…. Like Me!
Gummy Worm Mud Cups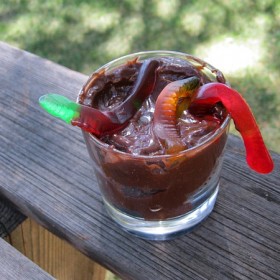 Ingredients:
12 oreos, crushed
small box of instant chocolate pudding
lots of gummy worms
Directions:
1. Take out four cups (glass or plastic). Sprinkle crushed oreos in the bottom of each cup. Spoon in some chocolate pudding. Add a couple of gummy worms to each cup. Then sprinkle more oreos, add more pudding and top with more gummy worms. Eat!
You're invited! Here's a round-up of all the other bloggers participating in the virtual baby shower for Maria. Take a peek at all the delicious treats and fun crafts they're bringing! You can also follow the hashtag #twopeasbabyshowerfor all the Twitter chatter and fun.
Drinks
Simple Bites – Lemon Balm infused Lemonade
Ingredients, Inc. – Healthy Fruit Punch
Food for My Family – Lemongrass Soda
Heather's Dish – Mixed Fruit Punch
She Wears Many Hats – Mini Pistachio Smoothies
Appetizers/Savory Bites
With Style and Grace – Truffle Popcorn
Family Fresh Cooking – Baby Peas & Cheese Frittata
Barbara Bakes – Creamy Orange Fruit Dip and Fruit
Aggie's Kitchen – Pasta Salad with Balsamic Basil Vinaigrette
Reluctant Entertainer – Nutella Berry Bruschetta
Dessert
TidyMom – Baby Blue Velvet Cake Truffles
i am baker – Baby Pea Baby Shower Cake
Brown Eyed Baker – Pavlova
Picky Palate – Chocolate Chip Oatmeal Cookie Sandwich
What's Gaby Cooking – Coconut Cupcakes with Cream Cheese Icing
Cookin' Canuck – Nutella & Cream Cheese Swirled Blondies
Kevin and Amanda – Baby Blue Chocolate Chip Oatmeal Cookie Cups
Sweetopia – Decorated Sugar Cookies
Mountain Mama Cooks – Lavender Shortbread Cookies
Sweetapolita – Decorated Sugar Cookies
Bake at 350 – Petit Fours with fondant pea pods
RecipeGirl – Baby Button Cookies
RecipeBoy – Mud Cups with Gummy Worms
Add a Pinch – Blackberry Tartlets
Dine and Dish – Oven Baked Cinnamon Apples
Crafts
Wenderly – Handmade Sweet Pea Cards
Our Best Bites – How To: Make a Diaper Cake Centerpiece