Have You Tried Flatout Flatbread?
This post may contain affiliate links.


This week I am excited to announce my recent partnership with Flatout Flatbread. From February 27 to March 1, Flatout Flatbread will be holding a series of in-store tasting demos at your local Walmart. Two different flatbreads will be featured at the demonstrations, with a bit of cream cheese on each. I'll get into the different flatbreads later, but you can click HERE for a coupon giving you 50 cents off your next purchase of Flatout Flatbread at Walmart!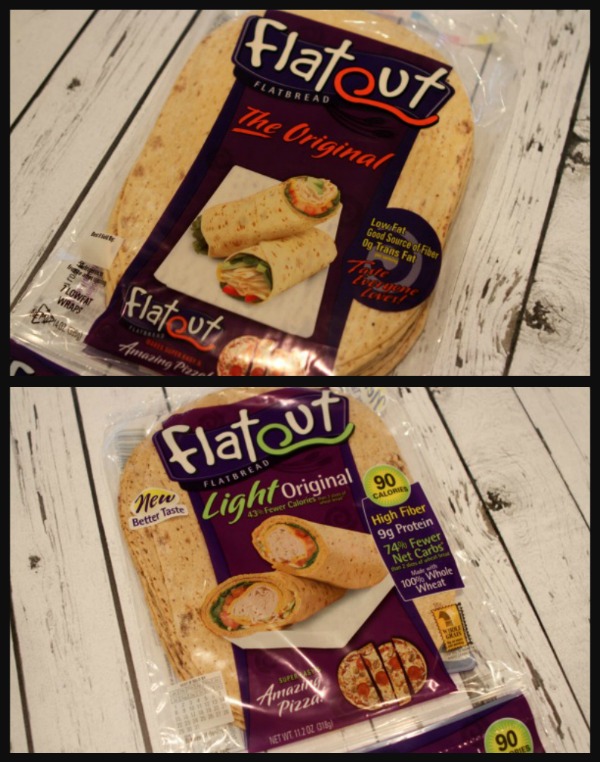 What exactly is the flatbread? The flatbread is pretty much what the name says it is. It's a flat piece of bread that you can roll up with anything inside for the perfect snack/meal. Flatbreads are perfect for sandwiches, but also things like pizzas, quesadillas, and even Philly Cheesesteaks. The possibilities are endless, especially with the Original and Light Original flatbreads. Flatout Flatbread is a healthy option opposed to a classic sandwich made with bread slices and tons of carbs.  The Light Original version is a healthy choice. With only 90 calories, you can have a bit more room to indulge on dinner and dessert. The Original flatbread has a few more calories than the Light Original, but I prefer the taste a tiny bit more on the Original. That's just my opinion though. They are both extremely well-made flatbreads and I will definitely use them again.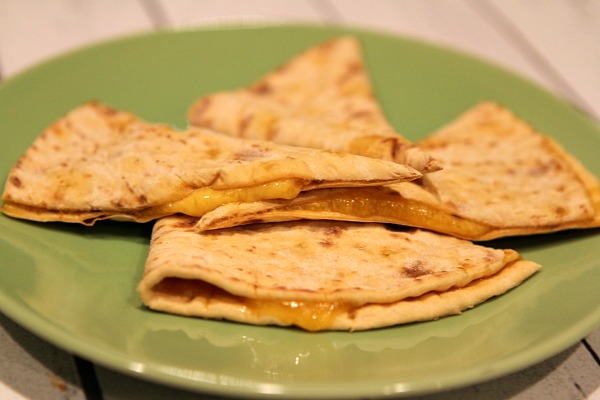 I made a quesadilla with the Original flatbread. In the beginning I made a Philly Cheesesteak, but the pictures didn't look very appetizing. It's harder than you think to take pictures of dark colored foods (like the brown Philly Cheesesteak). As simple as they were to make, the quesadilla and Philly Cheesesteak tasted great with the Flatout flatbread.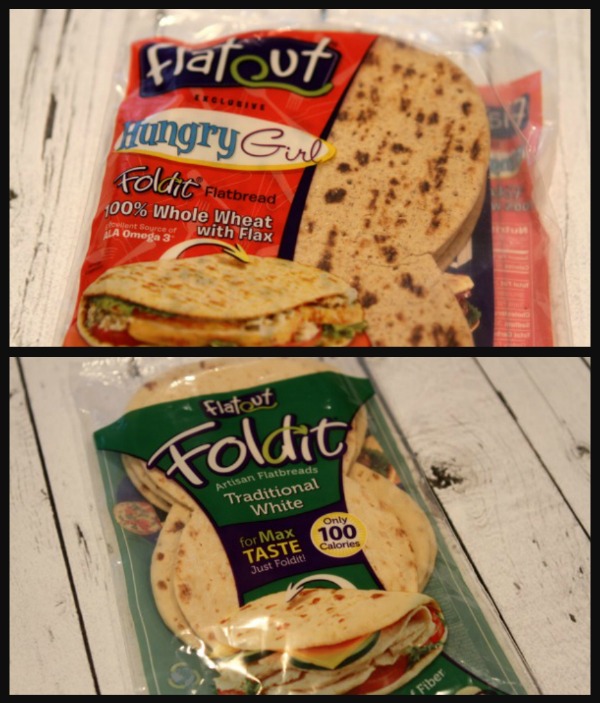 Flatout flatbread has a sandwich line of flatbreads in stores right now that completely blew me away. The simplicity but genius of making a flatbread into a foldable sandwich is just crazy. I don't know how anyone could have missed that idea in the quest for the perfect sandwich! At a meager 100 calories, the Traditional White flatbread (bottom image) is a crowd-pleaser. Even more amazing is the Hungry Girl 100% Whole Wheat foldable flatbread! It has 90 calories and much fewer carbs and fat. Even though I prefer the Traditional's taste a little better (because I'm a carboholic), the whole wheat flatbread still tastes good and is the smarter decision. Both of these foldable flatbreads can make your dream sandwich a reality. 🙂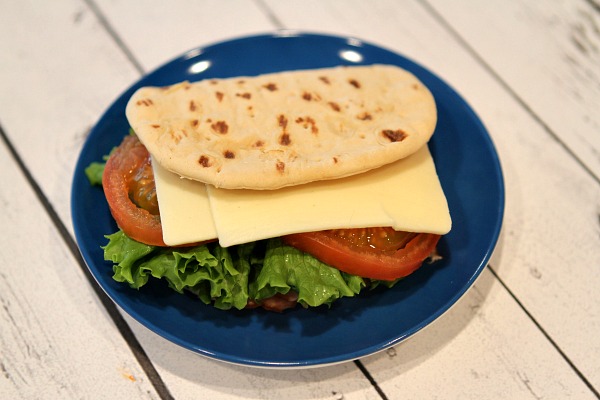 I am finally beginning to like tomato on my sandwiches. For years I have hated mushrooms and tomatoes, but I am getting over it. Well, the tomatoes at least. I still absolutely despise mushrooms. This sandwich made with the Traditional foldable flatbread was the bomb. You can totally tell that it has fewer carbs that normal bread because every mouthful you take isn't crammed with bread and almost no fillings. I loved my sandwich with the Traditional folable flatbread.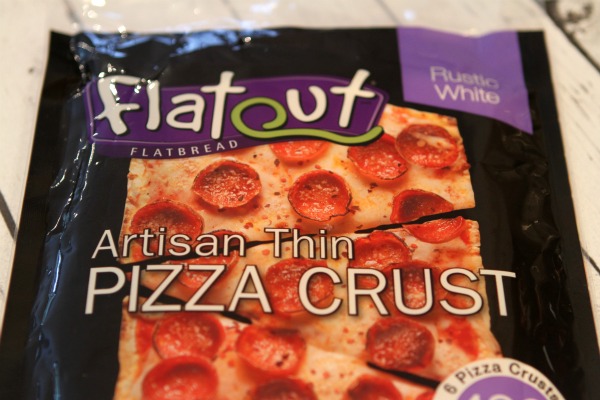 My personal favorite out of all of the Flatout flatbreads was the pizza. You can choose all of your toppings and make a great tasting pizza in less than 15 minutes. The majority of that time is preheating the oven, so it takes even less time to make your pizza. The Rustic White pizza crust was a perfect choice for me because I really liked the flavor. It went well with my version of a meat-lovers pizza. This pizza was super fast and easy to make, and I would make it again in a snap. And guess what?! The pizza crust is super thin so you aren't having the unhealthy junk in regular pizzas.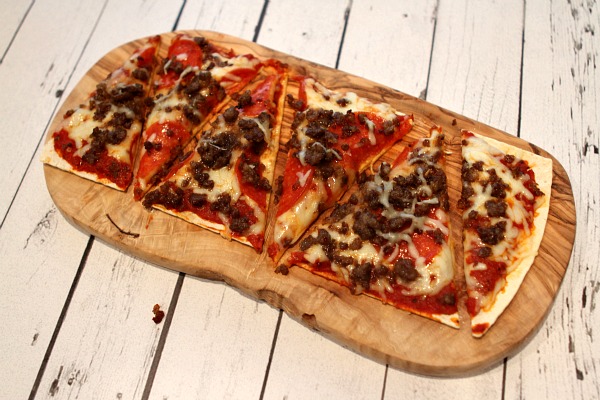 This pizza tasted absolutely great. It tasted even better than it looks (if that's even possible!) If I could give one tip about the pizza, buy the Rustic White kind. It is just awesome. And the more cheese, the better. I would totally make this pizza again for a snack or a light meal. It hits the spot. 🙂
All of these flatbreads make bringing your own lunch to places really easy. Whether you are dining at your desk or snacking at school, Flatout Flatbread is the right choice for you. These great healthy options can help you stay fit without sacrificing good taste, like other healthy food companies. If you would like to taste some awesome flatbread, buy some flatbread, or just come and hang around with the Flatout crew, come to Walmart between January 27 and March 1! Remember to bring your 50 cent coupon for your flatbread buying-spree! It's worth a try… I wouldn't lie… Maybe you'll buy!
And even a kid can partner up with a big company… Like Me!
Disclosure:  This post has been written in partnership with Flatout Flatbread.  All opinions shared are my own!