Interview with Matt Armendariz and Adam Pearson
This post may contain affiliate links.


For those of you who don't know, Matt Armendariz is taking the pictures for the upcoming Recipe Girl Cookbook, and Adam Pearson is styling the food for it. I was lucky enough to meet them at a food conference in Mexico a couple of years ago. These guys are big-time professionals at their jobs and my mom got to see them at work in their studio a couple weeks ago. I was sick so I couldn't go :(, but my mom took a picture of them for me. They are shown below. I sent them some interview questions in an e-mail too. They responded and I am sharing the interview today. Please behold, The Interview with Matt Armendariz and Adam Pearson.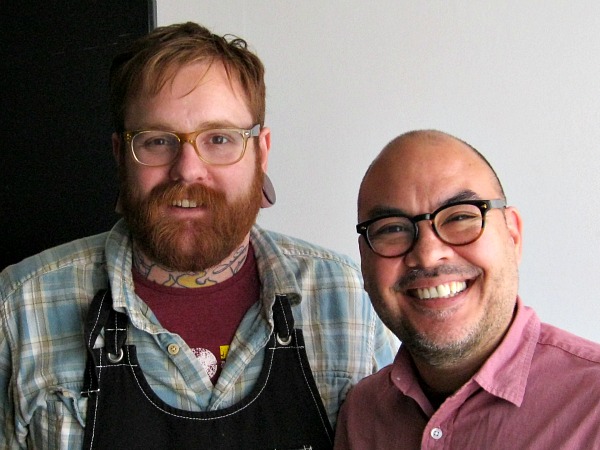 1. What are the most interesting, weird, and best foods you have ever photographed and styled?
Matt & Adam:  This is a fantastic question! Sometimes things have visual interest but aren't necessarily the prettiest, and sometimes really delicious food isn't the best-looking. But as far as the most interesting, I'd say anything with very hard-to-find ingredients. The weirdest thing I've photographed for a book was a chicken being slaughtered (brutal yes, but a part of the story!).
2. How do you make ugly, brown food look good on camera?
Matt: Ugly brown food needs perfect lighting. If it's not lit correctly it just becomes a brown pile.
Adam: Brown food like stews and casseroles need movement on the plate or in the bowl. It needs texture from the ingredients to give the eyes something to look at!
3. What are your personal favorite foods to eat?
Matt: I love anything Korean. We eat quite a bit of Asian food at home and on a regular basis, I'm happiest with the balance of sweet and savory, spicy and mellow, hot and cold, etc.
Adam: Hot Dogs! And of course Korean food, too!
4.  What recipe tasted the best in The Recipe Girl Cookbook?
Matt and Adam: This is a very difficult question to answer as literally all the recipes were so delicious! But the clear winner if we had to choose were the Bacon Wrapped Cheese Tator Tots. The plate didn't even make it back to the kitchen from the photo set, we all dug in and started eating them immediately. BEST THINGS EVER!!!!
5. What do you guys like about working with each other?
Matt and Adam: There's something so gratifying about being in a creative industry but it's exponentially gratifying when you do it with your partner. It's almost hard to explain but if feels great engaging on a level that we might not otherwise if we weren't in the same professional field. And also our styles are well suited for each other. But the best part is that it just feels good to have someone you trust on your side.
6.How many countries have you been to in order to photograph food? Your favorites?
Matt and Adam:  Oh goodness, combined we've been to many many countries for work. South Korea, Australia, Belize, Mexico, France, Spain, Italy, Singapore… I think the favorites when it comes to photographing food are Italy because there's beauty in every single moment, not just in the food but the scenery, the views, the cityscapes, the countryside, you name it. And South Korea because the food is interesting, vibrant, served on the street and on the go.
7. When you were kids, what did you guys want to be when you grew up? Did you enjoy cooking back then?
Adam: My mom didn't really cook so I think you are very lucky!
Matt: I've always loved cooking, and my parents were very encouraging and let us do our thing in the kitchen. I didn't think I'd be a photographer growing up, although I did love cameras!
8. When did you guys start cooking and taking photos of food?
Matt: I started dabbling in photography in 2004 but really began to apply myself in 2005 when I started blogging. I needed to photograph my own food and I started and haven't stopped since!
Adam: I had to make all the food for his blog so I started at the time and like he says, haven't stopped since!
9. What do you guys do when you have different opinions on how something should be photographed?
Matt and Adam: When we have different opinions on how something should be photographed we take a step back and discuss it. Does the client dictate how it should be shot, either because of angle or page size? If so then we take their direction and our opinions take a backseat. If it's really just a matter of opinion between the two of us we will still discuss it; did Adam cook and build the plate of food to be seen from a certain angle? Or is Matt trying to include something else in the image alongside it so it must be shot that way? We always talk things out, come to a consensus and then shoot it. I don't think we've ever not reached a happy medium! Teamwork!
10. What kind of tips can you give me and my readers on photography and styling?
Matt: I want everyone to know that with digital photography there are no limits as to the number of shots you can take so go wild! Practice practice practice, the feedback in instantaneous and you can see exactly what you're doing. It's a great way to gain confidence in your own photo skills.
Adam: When it comes to food styling, I'd have to say confidence. Know your ingredients, know what the food will do, but be confident that you can make it look its best when cooking and plating it. Also, your hands are your best tools when it comes to styling!
Thank you Matt & Adam!