Ski season is coming to an end, so as a good omen for more snow next season, I made Avalanche Popcorn. This recipe is from a cookbook called Party Popcorn, which happens to be written by my mom's friend, Ashton Swank (more commonly known by her internet name, Something Swanky). Since I had some spare time and a popcorn machine getting dusty, I figured I might as well try something from this unique book. 🙂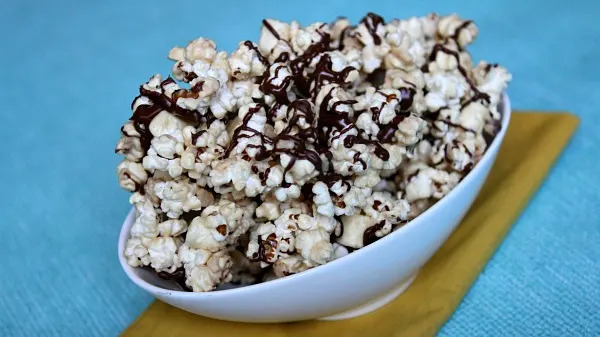 At our local ski resort, Mt. Rose, they converted their avalanche area into some single and double black diamonds (a.k.a. NOT for beginners) in the 2004-2005 season. The runs in the avalanche area are called "The Chutes." I guess that's my connection to the avalanche part of the popcorn, but do any of you guys have a special connection with avalanches? BESIDES this popcorn being an avalanche of deliciousness on your taste buds??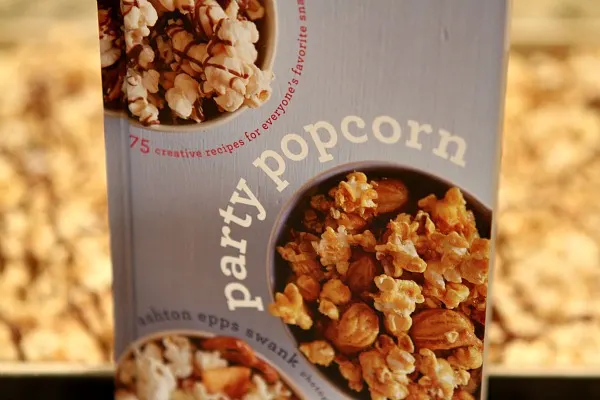 This cookbook has a great concept. I honestly don't know how you can find 75 different ways to make popcorn, but Ashton did it! From Nacho Cheese Dorito Popcorn to Chocolate Peppermint Bark Popcorn, this book has it all!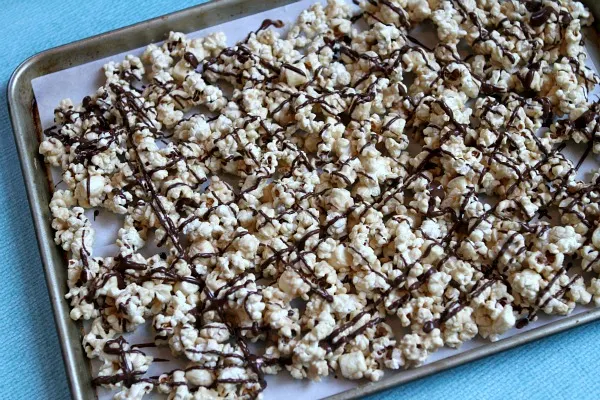 This popcorn is simply the best for any occasion. Dinner party? Slam dunk! Wedding? Touchdown! After-school snack? Home run! I am definitely looking forward to eating this after school for the next few days… Unless my dad gets to it first. 🙂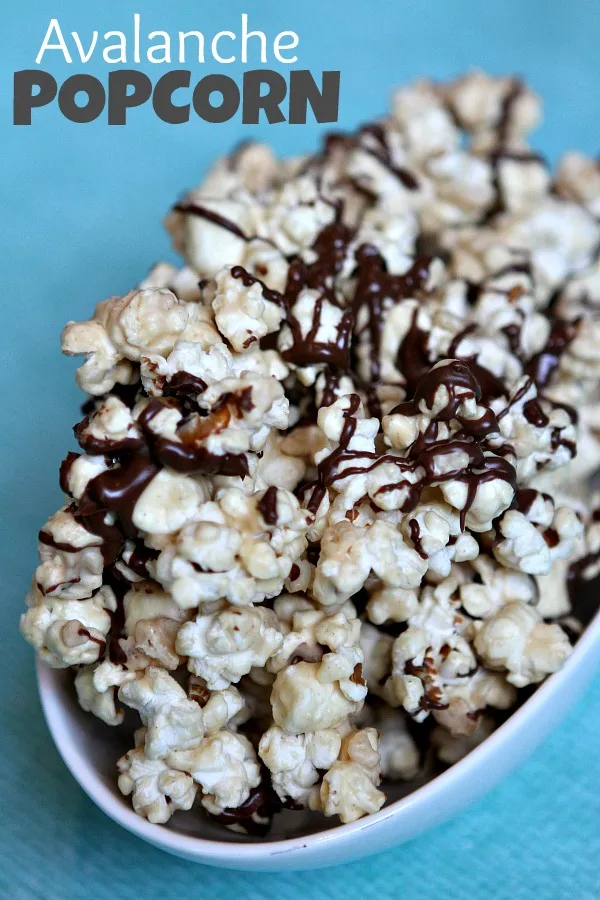 One of my favorite parts of The Chutes at my local mountain is avalanche control. Ski patrol goes up and lights some dynamite, causing avalanches on purpose so skiers don't get caught in them during the day. We can hear (and feel) the boom all the way down at our house, 12 minutes away. I think of the peanut butter and white chocolate mixture in the popcorn as the dynamite. When it is added to the popcorn (the snow), it causes an avalanche of awesomeness!
And even a kid can make one avalanche of a popcorn… Like Me!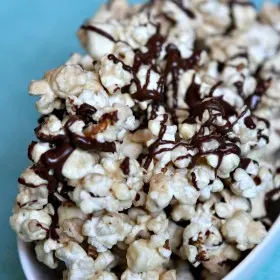 Avalanche Popcorn
This popcorn is an awesome after-school snack. Great for people of all ages!
Ingredients
8

cups

popped popcorn

1

cup

white chocolate or vanilla melting candy

3

tablespoons

peanut butter

½

cup

Rice Krispies

½

cup

mini marshmallows

¼

cup

milk chocolate melting candy
Instructions
Pour the popcorn in a large bowl (removing any unpopped kernels).

Place the white melting candy and peanut butter in a medium microwave-safe bowl. Microwave on medium power for 1 minute. Stir until melted and smooth. If needed, add additional time in 30-second increments, stirring after each time, until the candy is melted and smooth. Pour the chocolate-peanut butter mixture over the popcorn, but do not stir yet.

Add the Rice Krispies and marshmallows to the popcorn bowl. Using a large rubber spatula, gently stir to coat.

Spread the popcorn mixture on a large piece of parchment paper or a large silicone baking mat.

Place the milk chocolate melting candy in a small microwave-safe bowl. Microwave on medium power for 30 seconds. Stir until melted and smooth. If needed, heat for an additional 30 seconds. Transfer the chocolate to a zip baggie, press all of the air out of the bag and snip the corner off. Use the bag to drizzle the chocolate across the popcorn. Allow to cool until the candy coating has hardened, about 20 minutes. Break into pieces before packaging or transferring to a bowl to serve immediately. The popcorn may be stored in an airtight container for up to 4 days.
Nutrition
Serving:
1
serving
Calories:
338
kcal
Carbohydrates:
43
g
Protein:
6
g
Fat:
17
g
Saturated Fat:
8
g
Polyunsaturated Fat:
2
g
Monounsaturated Fat:
5
g
Cholesterol:
6
mg
Sodium:
78
mg
Potassium:
210
mg
Fiber:
3
g
Sugar:
27
g
Vitamin A:
193
IU
Vitamin C:
2
mg
Calcium:
72
mg
Iron:
1
mg