This week I baked you a Peanut Butter Cup Cheesecake Pie. Watch the video showing you how to make this Peanut Butter Cup Cheesecake Pie, then scroll to the bottom of this post and print out the recipe so you can make it at home!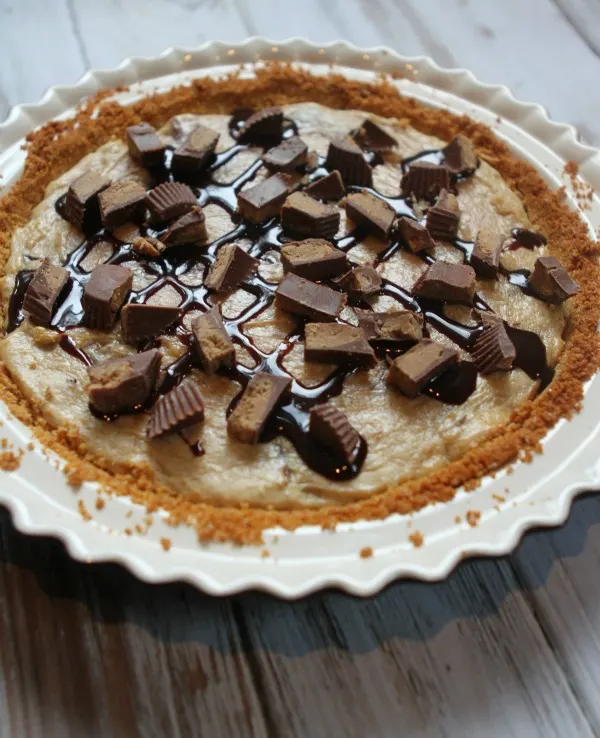 It's been a long time since I've whipped up one of these bad boys! Finally returning to my baking roots, I made a spin-off of my Twix Bar Cheesecake Pie, which has stayed unchanged since 2011.
I changed things up a bit this time and made (drum roll please…) the Peanut Butter Cup Cheesecake Pie. I only altered a few things from my Twix Bar Cheesecake Pie, but they each have their own unique flavor! Stay tuned to find out the changes I made… and more yummy pie pictures from Pi Day!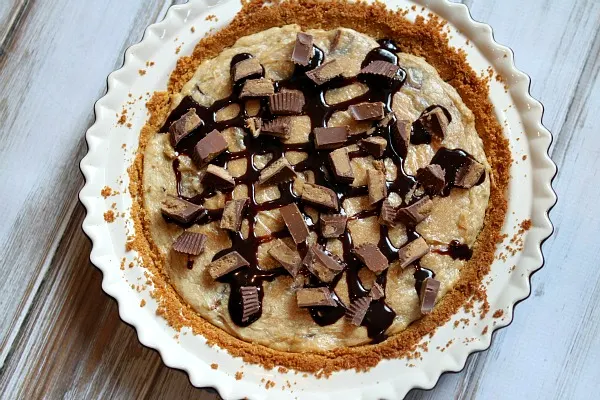 Peanut Butter Cup Cheesecake Pie
Okay so first let's list some of the similarities the pies have… chocolate syrup, extreme tastiness, stunning appearance, etc. The Peanut Butter Cup Cheesecake Pie is like my Twix Bar Cheesecake Pie smashed together with my Peanut Butter Pie. Geez… Is it just me or does that sound like the best pie you've ever seen/tasted?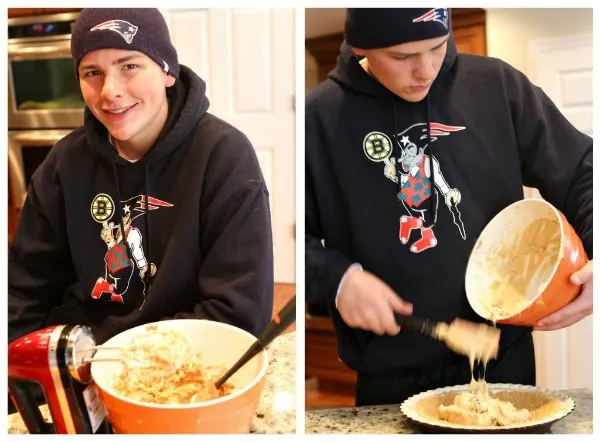 This is some of the best batter I've ever tasted. I mean, cookie dough is great, but this took it to a whole new level.
Pi Day was this past Saturday. Our school celebrated by making shirts and selling them. If anyone knows about pi, it's my uncle. He knows an astounding 100 digits of pi. I ask two questions… How? Why? Memorizing 20 digits would be super hard for me! I know 15 digits already- 3.14159265358979. How much do you know?
What better way to celebrate Pi Day than with a kick-butt pie? This pie will blow your socks off! Peanut Butter Cups? Yum. Cheesecake? Mmmm. Pie? Yes please!!! If you like all of these flavors, this is the perfect pie for you! Surprisingly, lots of my friends don't like cheesecake. How??? Cheesecake is amazing. I bet that if you try this recipe, all of you cheesecake-haters will change your minds!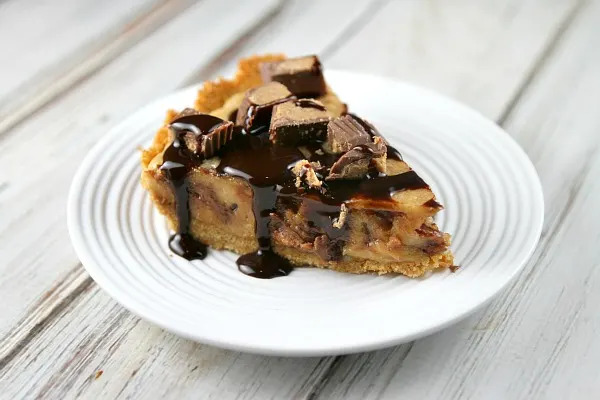 Mmmhhhmmmmmm. That is what I call a Peanut Butter Cup Cheesecake Pie! This pie is super easy to make. The hardest part of the entire recipe is… well, nothing is really difficult.
This pie is pretty rich, so it lasted a few days in my house (and maybe the fact that my Dad was only around for only about two slices). It tastes like no other pie in the world. You have the taste of Peanut Butter Pie, but then the occasional bit of chocolate from the peanut butter cups and chocolate syrup. It is for sure in my top 10 desserts I've ever made.
Show some real Pi Day spirit by making this pie and you will love it. Enjoy! 🙂
And even a kid can celebrate Pi Day with an epic pie… Like Me!
If you like this recipe, you might also like my No Bake Nutella Pie or this Twix Bar Cheesecake Pie. Peanut Butter Ding Dong Cake, Peanut Butter Cowboy Cookies, and Snickers Ice Cream Brownie Pie look pretty delicious too!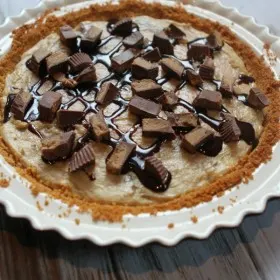 Peanut Butter Cup Cheesecake Pie
A perfect combination of traditional cheesecake with a peanut buttery twist!.
Ingredients
CRUST:
1½

cups

graham cracker crumbs

⅓

cup

granulated white sugar

6

tablespoons (¾ stick)

butter,

softened and slightly melted
FILLING:
12

ounces (1½ packages)

cream cheese,

at room temperature

⅔

cup

creamy peanut butter

½

cup

granulated white sugar

2

large

eggs

10

snack-size

Reeses Peanut Butter Cups,

frozen
TOPPING:
3

tablespoons

chocolate syrup

6

snack-size

Reeses Peanut Butter Cups,

chopped
Instructions
Prepare the crust: In a medium bowl, use a rubber spatula to combine the ingredients until well-mixed. Use a spoon to press the crumbs up the side of a 9-inch pie plate, and use your hand to press down the bottom. Freeze until firm.

Prepare the filling: Preheat the oven to 325℉. In a large bowl, use an electric mixer to combine the cream cheese, peanut butter, sugar and eggs until well-combined. Stir in the peanut butter cups. Scrape the filling into the frozen crust. Bake until set, 30 to 35 minutes. Let cool.

When totally cool, drizzle with chocolate and more chopped peanut butter cups. Keep chilled until ready to serve.
Nutrition
Serving:
1
slice
Calories:
615
kcal
Carbohydrates:
53
g
Protein:
12
g
Fat:
42
g
Saturated Fat:
19
g
Polyunsaturated Fat:
5
g
Monounsaturated Fat:
14
g
Trans Fat:
0.4
g
Cholesterol:
114
mg
Sodium:
474
mg
Potassium:
290
mg
Fiber:
2
g
Sugar:
39
g
Vitamin A:
924
IU
Vitamin C:
0.1
mg
Calcium:
86
mg
Iron:
2
mg