Classic Rice Krispie Treats have been a staple of everyone's childhood… but that ends now. The age of Birthday Cake Rice Krispie Treats is upon us! It's going to be the new staple!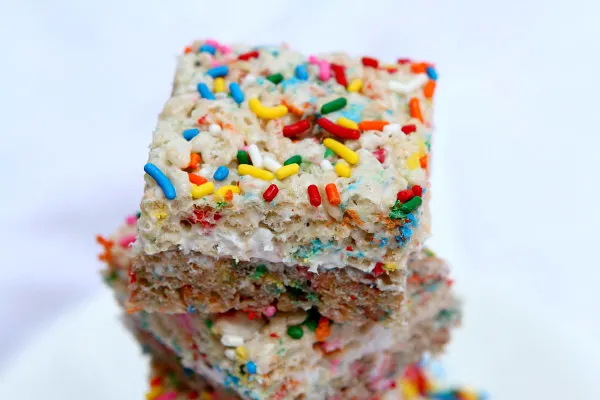 The classic Rice Krispie Treat recipe is outdated. It's about time these guys received a much-needed makeover. This is an awesome idea that I came up with while on vacation. I added in some cake mix, sprinkles and a layer of frosting- it turns the classic recipe into a treat that is perfect for birthdays!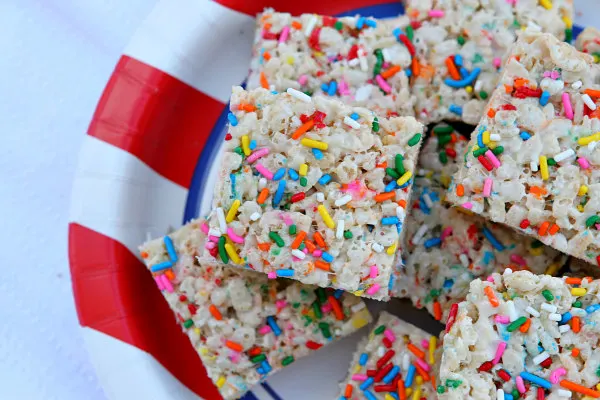 Rainbow sprinkles, or "jimmies", are my Mom's favorite topping in the entire world. I figured that if she likes them on soft serve ice cream, she'll love them in Birthday Cake Rice Krispie Treats! (I was right… she loved them!)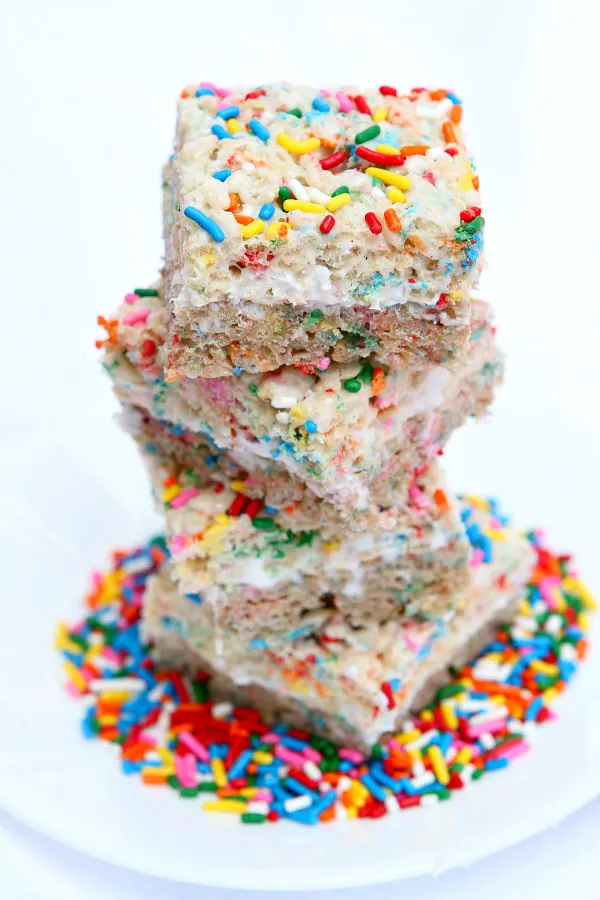 Do yourself a favor and whip up my new version of Rice Krispie Treats. Everyone will love this sweet and colorful dessert with a frosting surprise in the middle!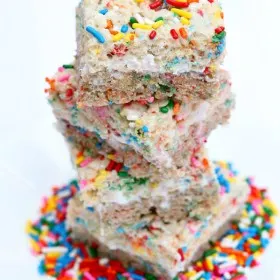 Birthday Cake Rice Krispie Treats
This recipe will take your Rice Krispies Treats up a notch, or....ten!
Ingredients
6

tablespoons (¾ stick)

butter,

divided

two

10-ounce packages

marshmallows (or 8 cups mini marshmallows),

divided

1

cup

white cake mix,

divided

1

cup

rainbow sprinkles,

divided

12

cups

Rice Krispies,

divided

1 to 1½

cups

white frosting
Instructions
You're going to make two batches of Krispie Treats, then you can assemble this dessert.

Make the first batch: Spray a 13x9 inch pan with nonstick spray. In a large pot, melt the butter and add the marshmallows. Stir over low heat until the marshmallows are melted. Remove from heat. Stir in ½ cup cake mix, ½ cup sprinkles and 6 cups Krispies. Stir until coated. Scape into your prepared pan and flatten with clean, lightly buttered hands until you have a nice, even layer. Let cool for a few minutes, then pop out the whole thing onto a large cutting board.

Repeat: Spray the pan and prepare the second batch of treats. Add a few extra sprinkles on top of the 2nd batch. Be sure to press down to flatten and make even.

Assemble: Spread the frosting onto the first layer. Remove the 2nd batch of treats and lay them on top of the frosting. Cut the two-layer treats into 2-inch squares. These should be served the same day, but keep leftovers in a plastic zip bag at room temperature for up to 2 days for munching.
Here are a few more Rice Krispie Treat recipes you might enjoy: