School is back in session! I have been extremely busy over the last few weeks with a rigorous class schedule at my new school in my new home, Scottsdale, Arizona. I've spent the last month meeting new people in my area and it's going very well. I decided to get back into the swing of things this week by making Freezer Breakfast Sandwiches… I cannot imagine an easier way to prepare breakfast on hectic school mornings! And guess what?! They're super tasty too!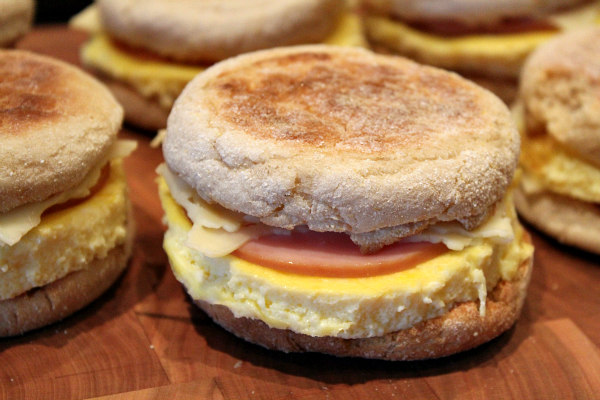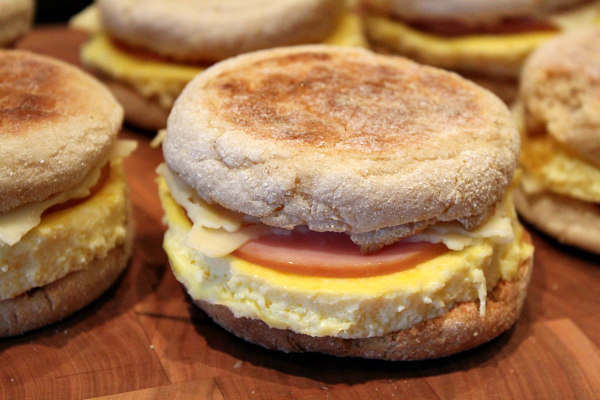 Breakfast sandwiches can be bought anywhere. McDonalds, Starbucks, Dunkin Donuts, etc… But have you ever tried making them at home?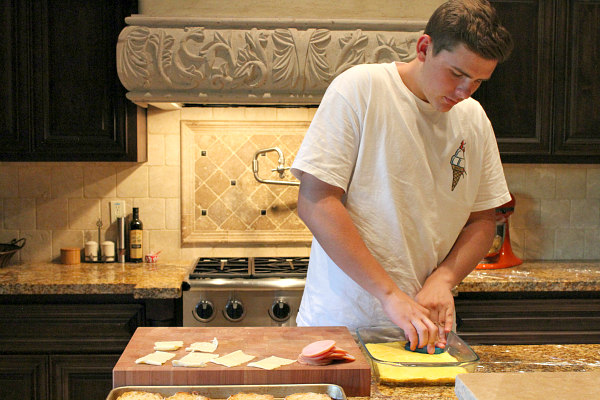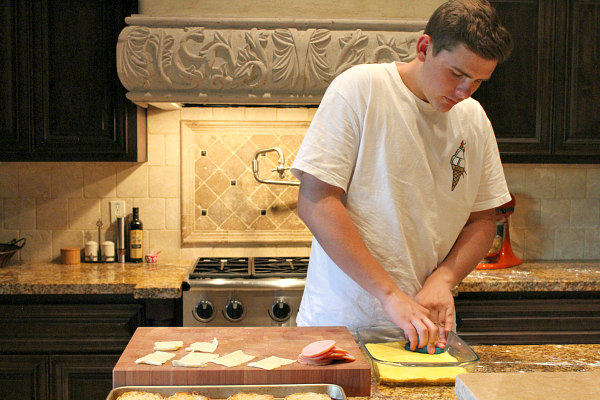 It's a step-by-step process, but a very simple one. I made an egg mixture in a pan and used the lid of a peanut butter jar to create perfectly round eggs.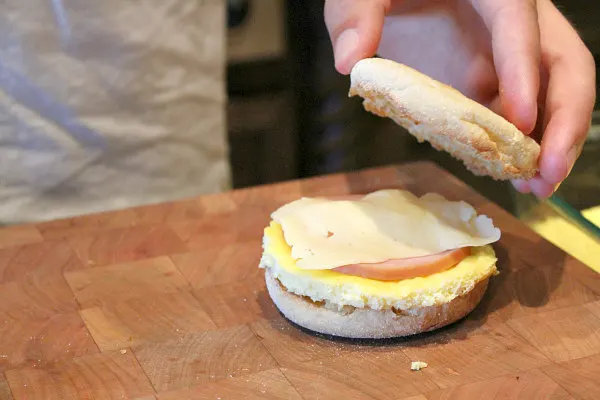 I placed the egg between two lightly toasted pieces of an English muffin. I also threw some cheese and Canadian bacon on top of the egg. At this point, you're 99% done!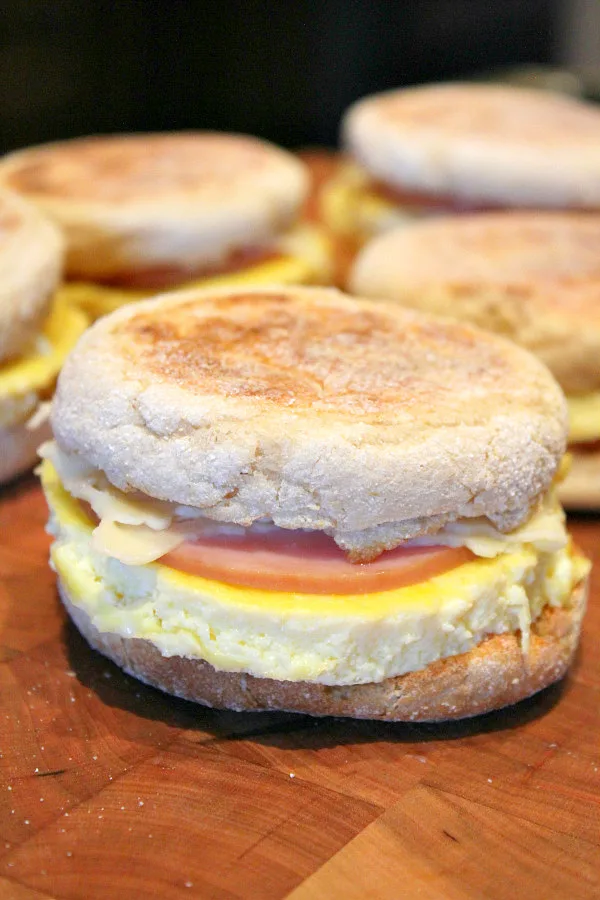 Here is the product. A breakfast sandwich just like the ones on display in Starbucks! But you can take pride in knowing that these breakfast sandwiches were made by YOU!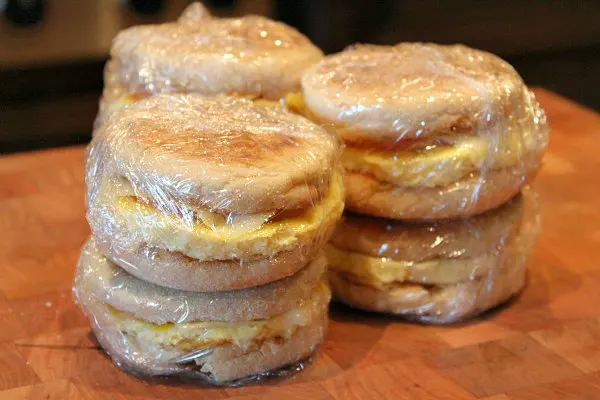 Once wrapped up, these breakfast sandwiches are ready to go. I found that I loved to heat up a sandwich before leaving for school in the morning and eat it on the way. For the best results, I'd recommend popping the English muffin top into the toaster to get it nice and crispy before eating the sandwich. Much better than the possibility of a sogginess.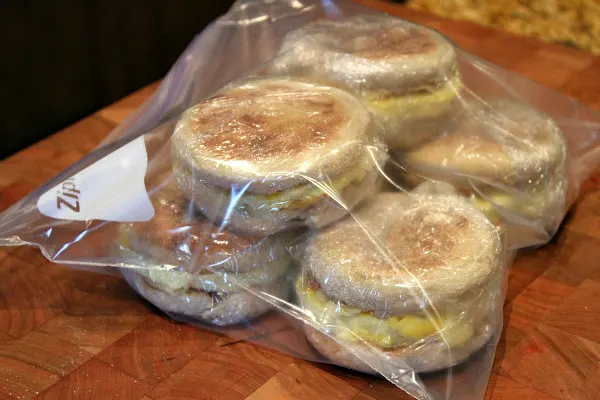 I ate one sandwich for breakfast every school day until I ran out. And now I'm planning to make more! By freezing these breakfast sandwiches, you eliminate the time and effort most people spend eating cereal each morning. Cereal creates dirty dishes, which no family member is fond of. These breakfast sandwiches are the easiest and most useful breakfast item I have ever made. They taste amazing, too!
These breakfast sandwiches are also very versatile… Experiment with them! It's perfectly fine to swap out the Canadian bacon for sausage or normal bacon, depending on what you like the most. Please let me know what interesting creations you guys come up with!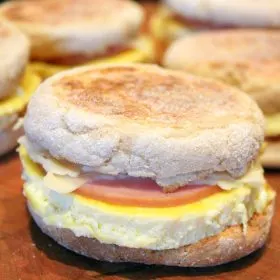 Freezer Breakfast Sandwiches
An easy way to prepare breakfast for hectic school mornings. And guess what? They're super tasty too!
Ingredients
10

large

eggs

1

cup

whole milk

1

teaspoon

kosher salt

6

slices

Canadian Bacon (or sausage)

6

slices

cheese

6

English Muffins
Instructions
Preheat the oven to 375℉. Spray a 9x13 inch glass pan with nonstick spray.

Bake the eggs: In a large bowl, whisk together the eggs, milk and salt. Pour the eggs into the pan. Bake until the eggs are done (25 to 30 minutes). A knife inserted into the middle should come out clean. Let cool.

Toast the English muffins: Heat your oven to the broil setting. Split the muffins apart and place on a baking sheet. Toast the muffins under the broiler until golden.

Cut the eggs: Use a large biscuit cutter or glass that is the same size as your English muffins. We actually used the top to our large peanut butter jar, and that worked great! Cut the eggs into six rounds. Toss the scraps or assemble them into making a 7th sandwich.

Assemble the sandwiches: On each of the bottom halves of the English muffins, add egg, Canadian bacon and cheese. Top with the 2nd halves, wrap in plastic wrap, and freeze for up to one month.

Reheating: To re-heat, remove the plastic wrap, place the sandwich on a paper towel, and microwave for 1 to 1½ minutes until heated through. If you wish, you can remove the top of the sandwich and pop it into the toaster to crisp it up a bit.
Nutrition
Serving:
1
sandwich
Calories:
418
kcal
Carbohydrates:
27
g
Protein:
29
g
Fat:
22
g
Saturated Fat:
10
g
Polyunsaturated Fat:
3
g
Monounsaturated Fat:
7
g
Trans Fat:
0.03
g
Cholesterol:
357
mg
Sodium:
1170
mg
Potassium:
415
mg
Fiber:
4
g
Sugar:
7
g
Vitamin A:
799
IU
Calcium:
448
mg
Iron:
3
mg
Here are a few more breakfast sandwich recipes you might enjoy: