This week I made Monster Cookie Chocolate Cheesecake Bars.
Halloween is just around the corner, so it's time to get ready for all of the creepy costumes with a good ol' monster treat! 😉 It's just about that spoooooky time of year!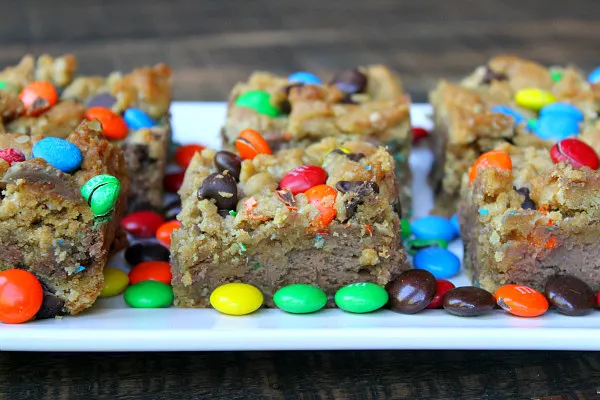 Autumn is in its beginning phase and the trees are slowly changing colors. How do I know this? Not from trees in Arizona, that's for sure (there are none).
I spent my fall-break weekend in Maryland and Pennsylvania visiting colleges. My favorites (so far) are the University of Pennsylvania, University of Maryland, and Villanova. I have much more exploring to do, but my college tours have given me a good idea of what type of school I want to attend. It's an exciting process of discovery.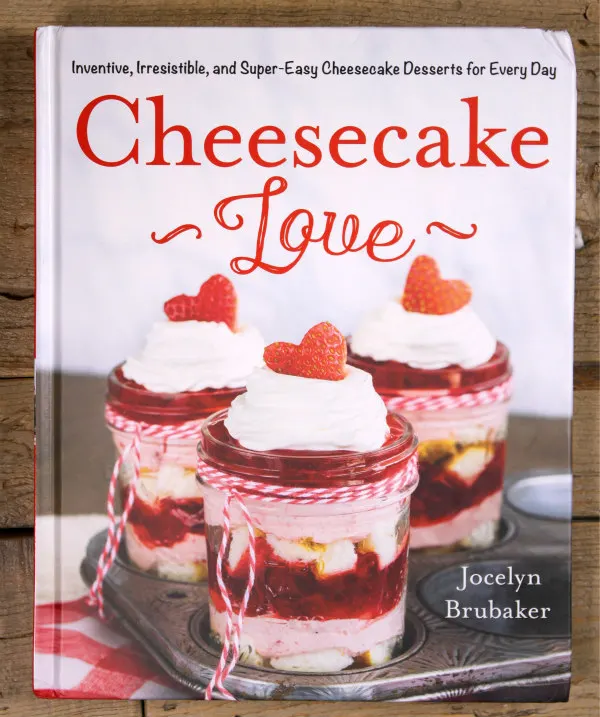 This recipe comes from a new cookbook: Cheesecake Love by Jocelyn Brubaker. The book has all kinds of yummy looking cheesecake recipes: full size cheesecakes, cheesecake cupcakes, cheesecake bars and bites, no-bake cheesecakes, cheesecake brownies, cheesecake pies, breakfast cheesecakes and out-of-the-box cheesecake desserts. Everything looks awesome.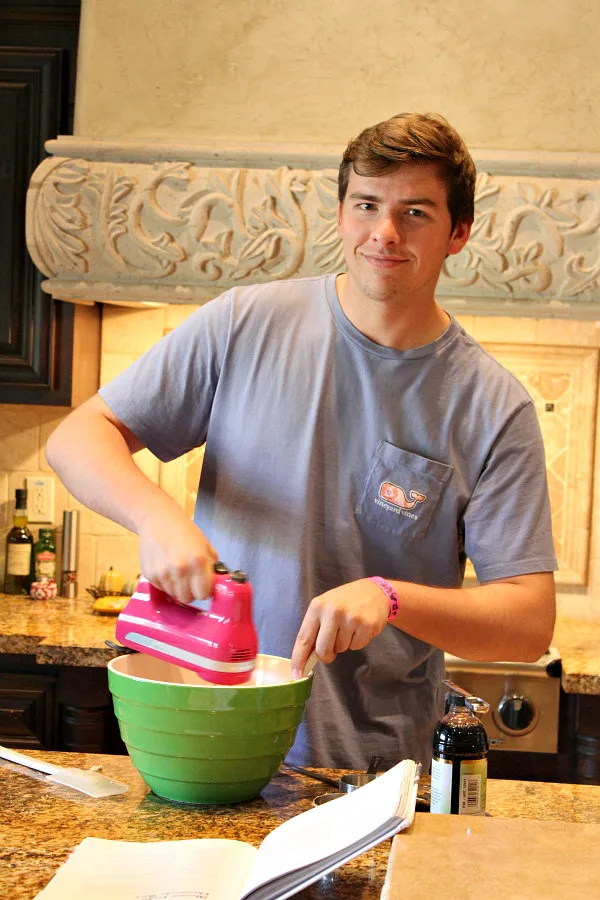 Manly. In my free time, I enjoy using pink mixers and other pink kitchen tools. You haven't seen a real man until you've seen me in a pink apron. It's quite a sight, I promise.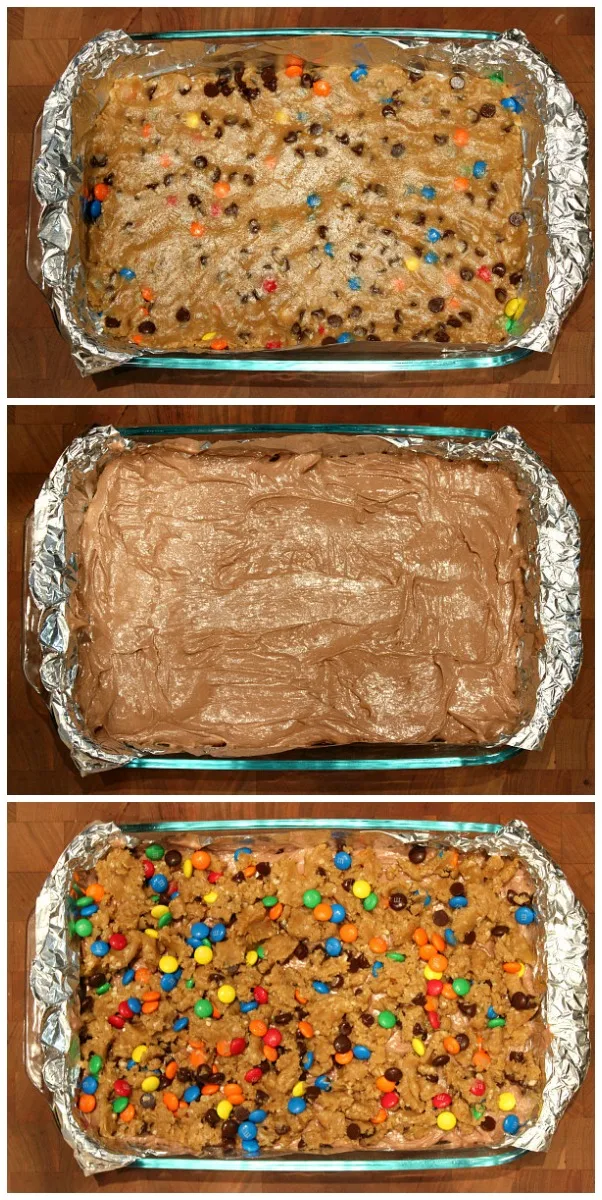 I love that monster cookies/bars are such a crazy mish-mash of ingredients. You have the oats, the chocolate chips, the M&Ms, and whatever else you feel like throwing in there! It's a beautiful blend of flavors.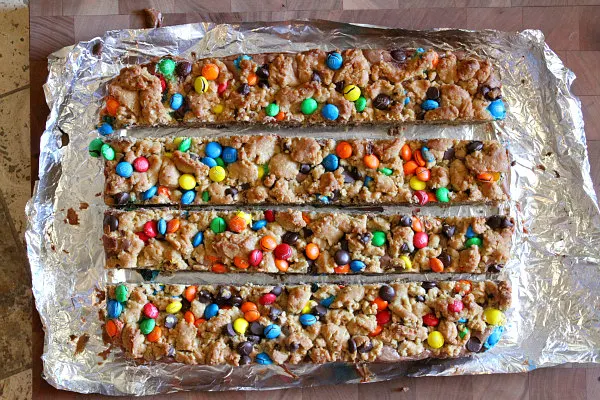 I've been told before that monster cookies seem like a chaotic blend of flavors… however, that is false! Monster cookies include ingredients that blend together very well.
They are sure to satisfy even the pickiest of eaters.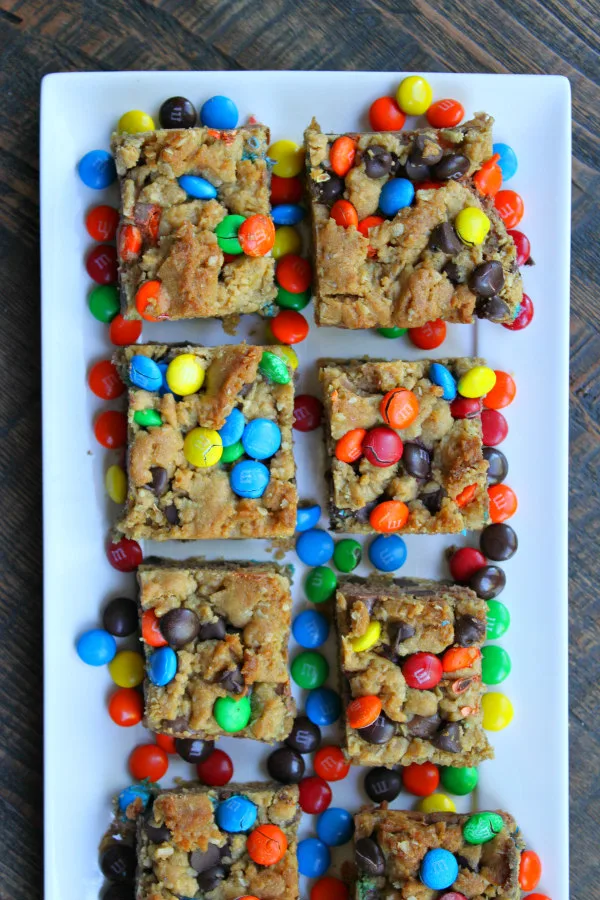 The one thing I haven't touched on so far is the layer of cheesecake in the bars. Prior to making these bars, I had never heard of cheesecake and monster cookies in the same dessert. All I can say is that it looks like the world was missing out.
Monster cookies are so versatile and that is what I love about them! If you want to add a layer of cheesecake like I did, you can!! If you want to use nuts, you can! Reese's? Sure. You name it, you can use it. However, I do recommend the cheesecake. It added a much-needed element to these bars.
Update from the Lange household: My mom has officially hidden these bars from me. She cites that I have an addiction. Assessing treatment options but cannot find many for addiction to monster cookie cheesecake bars. I am currently struggling without access to the bars. Send help! Please!!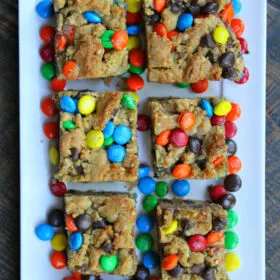 Monster Cookie Chocolate Cheesecake Bars
I love that monster cookies/bars are such a crazy mish-mash of ingredients: oats, chocolate chips, M&Ms and whatever else you feel like throwing in there!
Ingredients
COOKIE CRUST:
½

cup (1 stick)

unsalted butter,

at room temperature

½

cup

granulated white sugar

1

cup

packed brown sugar

1

cup

creamy peanut butter

2

large

eggs

1

teaspoon

vanilla extract

2

cups

all purpose flour

1

cup

quick cooking rolled oats

½

teaspoon

salt

½

teaspoon

baking soda

2

tablespoons

milk

1

cup

chocolate chips

1

cup

M&M's,

divided
CHEESECAKE:
two

8-ounce packages

cream cheese,

at room temperature

½

cup

granulated white sugar

4

ounces

semisweet baking chocolate,

melted (I used chocolate chips)

2

large

eggs
Instructions
Preheat the oven to 350℉. Line a 9x13 inch baking pan with foil and spray it with nonstick spray.

Make the cookie crust: In a large bowl, use an electric hand mixer to combine the butter and sugars until light and fluffy. Add the peanut butter and beat until creamy. Add the eggs and vanilla and beat again.

In a separate bowl, whisk together the flour, oats, salt and baking soda.

Slowly beat the dry ingredients into the wet ingredients. Add the milk and beat again. Stir in the chocolate chips and 3/4 cup M&M's.

Press half of the cookie dough into the bottom of the prepared pan. Set the rest aside.

Make the cheesecake layer: In a large bowl, use an electric mixer to beat the cream cheese until creamy. Beat in the sugar until smooth. Add the melted chocolate and beat until incorporated. Beat in the eggs.

Spread the cheesecake layer over the cookie dough layer in the pan. Crumble the remaining cookie dough over the cheesecake layer. Sprinkle remaining M&M's on top.

Bake for 35 minutes. Remove the pan from the oven and place on a wire rack. Let the cheesecake cool for 1 hour, then refrigerate for 4 hours or until completely chilled.

Cut into 24 bars before serving. Keep bars refrigerated until ready to serve.
Nutrition
Serving:
1
bar
Calories:
371
kcal
Carbohydrates:
44
g
Protein:
6
g
Fat:
20
g
Saturated Fat:
9
g
Polyunsaturated Fat:
2
g
Monounsaturated Fat:
6
g
Trans Fat:
0.2
g
Cholesterol:
53
mg
Sodium:
169
mg
Potassium:
172
mg
Fiber:
2
g
Sugar:
30
g
Vitamin A:
319
IU
Vitamin C:
0.1
mg
Calcium:
51
mg
Iron:
1
mg
Here are a few more cheesecake bars you might enjoy:
Disclosure: There is an Amazon affiliate link included in this post.