Sorry for not posting in a while everyone!!! My family recently moved up near Mt. Rose (Nevada) in between Lake Tahoe and Reno. It's been very chaotic in the new house, so I haven't had time to slip on the computer. I'll share more about my family's move soon, so let's get started for this week with some yummy Homemade Fudgsicles. I love popsicles. Any kind, any size, any shape, any flavor, and even any gross ingredients like frog legs or pigeon toes. 😉 But this week I made yummy HOMEMADE fudgsicles. Why buy popsicles at the store if you can make ones that taste better?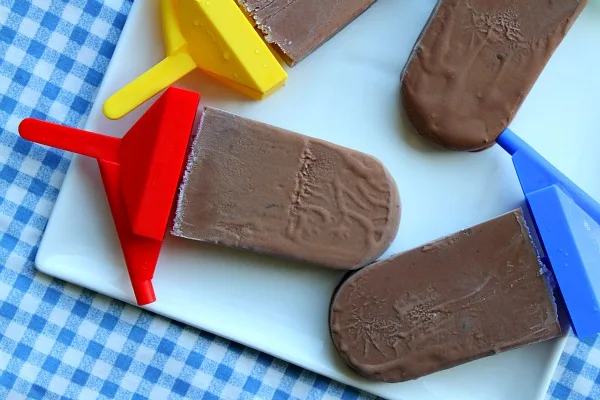 I made the Fudgsicles in these cool popsicle molds that had a straw built into the mold to sip up any melted stuff. My Mom just bought them at the grocery store- cheap.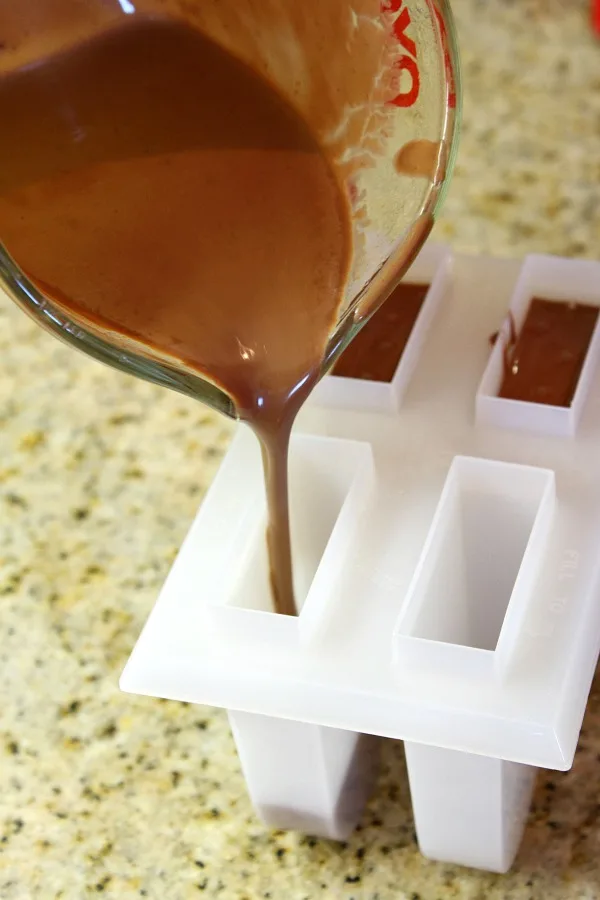 It's weird to see this chocolate sauce-type thing turn into a good ol' fudgsicle. It has to be magic.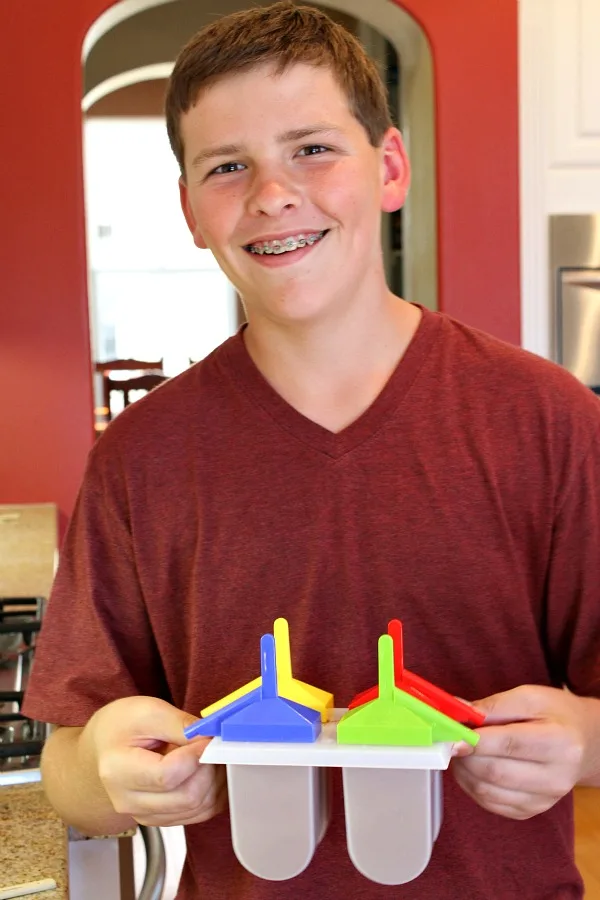 I <3 chocolate so much!!! It practically killed me to see the fudgsicles go into the freezer for a whole day!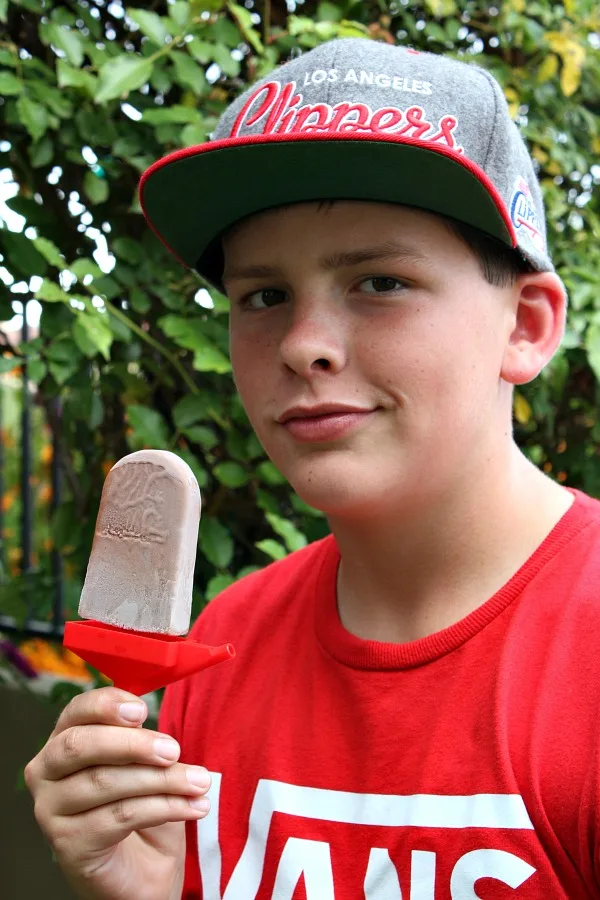 These fudgsicles were out-of-this-world fantabulously yummy. Good thing I only made four or else I wouldn't have been able to stop eating them!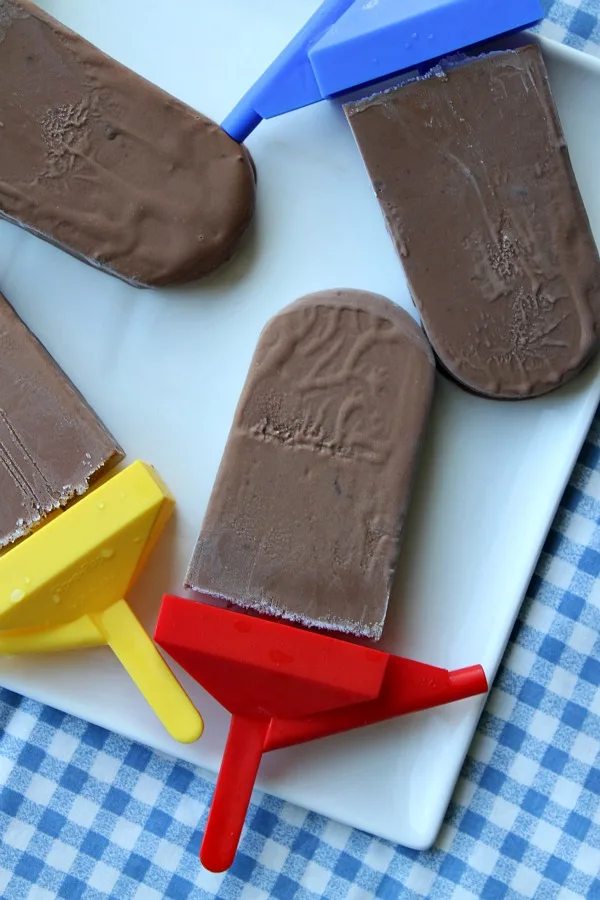 There is the straw thing I was talking about on the molds. It's an ingenious invention.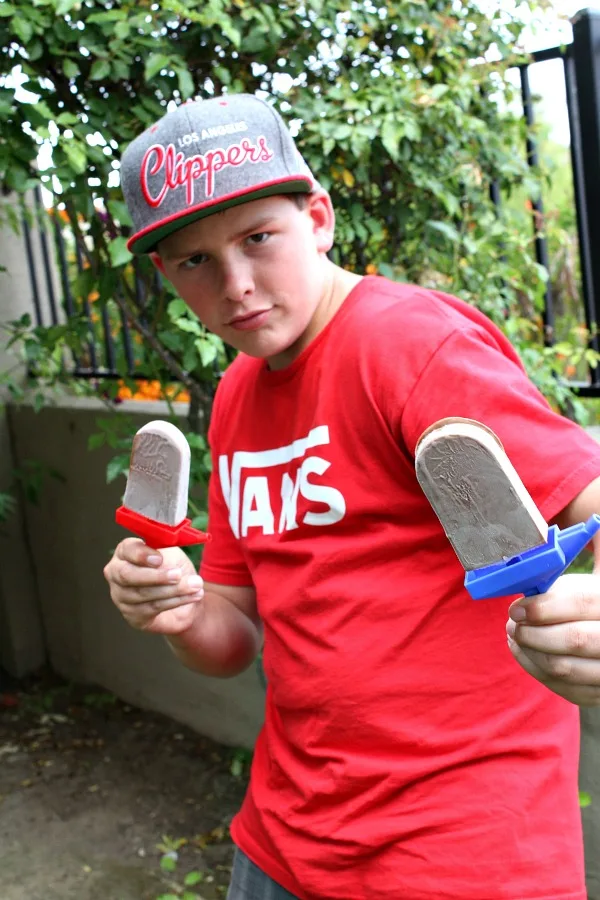 I'm ready to fight ninja-style with these fudgsicles. Come at me bad guys!
These fudgsicles were really good. I gave them out to some neighbors and they really enjoyed them. From now on I will NEVER buy fudgsicles from the store. I will make them myself forever! Does that sound like a good plan? I hope so. Okey dokey then. Now… prepare for a little 4th of July recipe action next week!!! P.S. My Mom (RecipeGirl) snapped the photos in this post since I was busy preparing the fudgesicles!
Here is a short video showing you how to prepare these fudgsicles: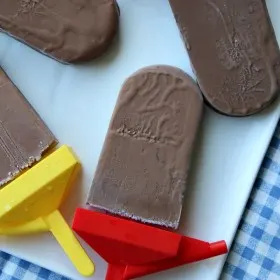 Homemade Fudgsicles
The most awesome chocolate popsicle ever.
Ingredients
1

teaspoon

cornstarch

¾

cup

whole milk,

divided

1

cup

heavy cream

+ 3 tablespoons

¼

cup

granulated white sugar

¼

cup

unsweetened cocoa powder

⅛

teaspoon

salt

1

teaspoon

vanilla extract
Instructions
In a medium saucepan, whisk together the cornstarch and 2 tablespoons of milk until smooth; whisk in the rest of the milk, cream, sugar, cocoa and salt. Bring to a boil over medium-high, stirring constantly, and cook 1 minute.

Transfer to a large measuring cup and stir in the vanilla. Pour into 4 popsicle molds and insert sticks. Freeze until the fudgsicles are solid, about 6 hours (or up to 1 week). To get them out of the molds, turn the molds upside down and run them under hot water to loosen the fudgsicles from the molds and pull them out. Enjoy!