This week I made Peppermint Sandies. I am so excited because Christmas is rapidly approaching and we have gotten our first snow here in Reno! I absolutely love the fact that I was making Christmas cookies while it was snowing! Just the thought of enjoying a warm cookie and drinking hot cocoa while watching it snow outside makes me extremely happy. The last few days have been packed with wonder. Our ski resort, Mt. Rose, got about 16 inches of fresh powder! But of course I still had to go to school. Sitting in a desk and listening to teachers drone on about exponential functions and cell theory when you know that you could be up at the mountain skiing at that exact moment is one of the WORST feelings in the world. One of the most special things about Christmas is the cookies. I have no clue why these cookies are called sandies, which kind of sounds like a beach-themed cookie, but I do know that they are amazing. Peppermint is an extremely popular flavor in the winter, so why not utilize its minty freshness in a cookie!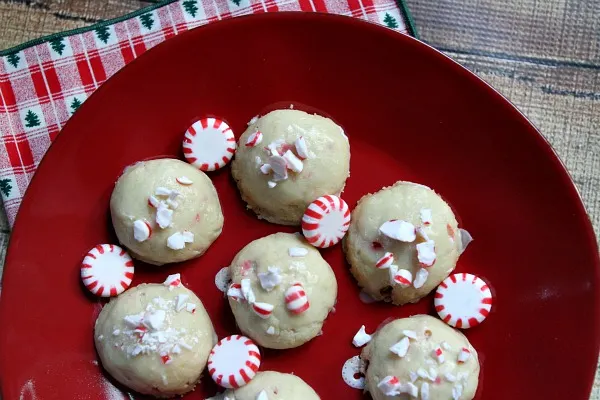 I found this recipe in The Ultimate Cookie Book by Better Homes and Gardens. It really appealed to me as a good, small-portioned Christmas cookie. Kind of like a sweet shortbread, but with the crunch of peppermint candies here and there.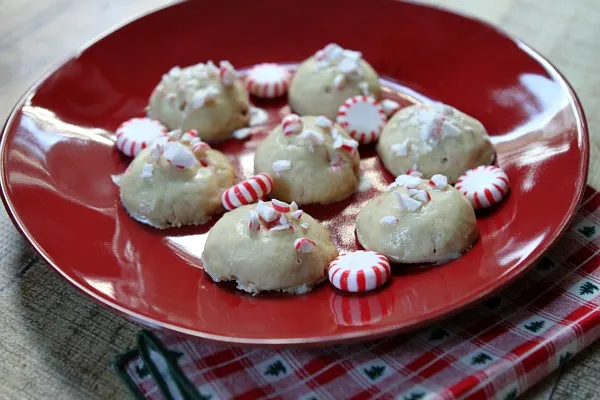 These cookies have a special glaze made up of heavy whipping cream and white chocolate. A really tasty fingerful in my opinion! 🙂 The white chocolate accompanied the sandies perfectly and compensated for the minty taste of the peppermint.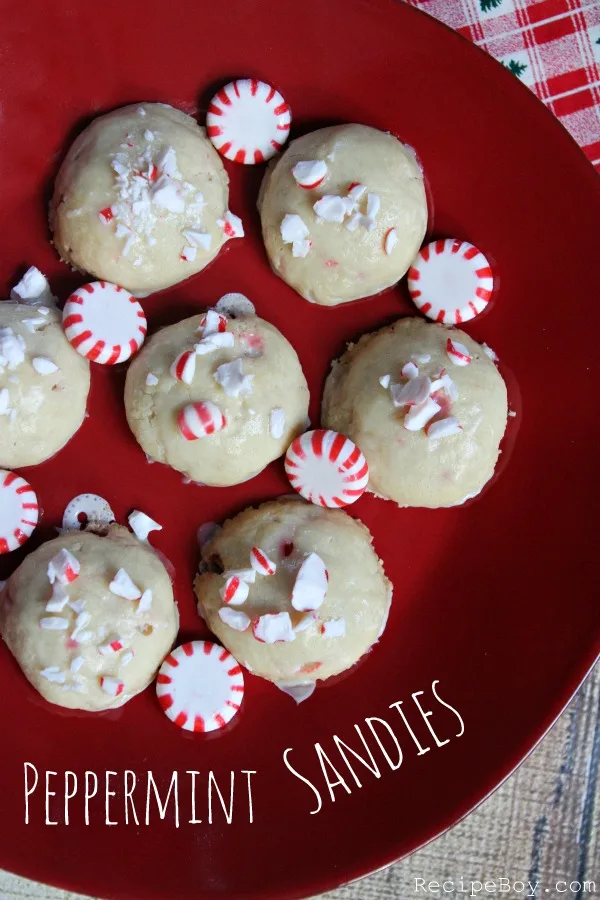 I guess the recipe from the cookbook is supposed to be for smaller cookies- about 48. I made my cookies slightly too large and was able to make about 15 or so. These peppermint sandies were a big hit with my family. I can't even leave the cookies out on the counter without coming home from school to find another one gone! At this rate we won't have a single peppermint sandy left for Christmas…unless I make more. 🙂 I will most likely be sharing another Christmas recipe soon so stay tuned! Have a great week everyone! And please, send all of the snow to the Sierras in Nevada. We need it!
And even a kid can make cookies while it's snowing outside… Like Me!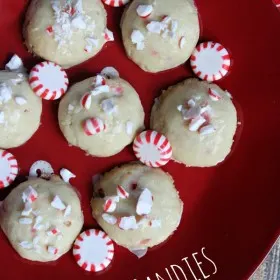 Peppermint Sandies
A simple, festive cookie recipe for the holidays!
Ingredients
1

cup (2 sticks)

softened butter

⅓

cup

powdered sugar

¼

cup

finely crushed striped round peppermint candies

1

tablespoon

water

½

teaspoon

vanilla extract

½

teaspoon

peppermint extract

2

cups

all purpose flour

½

cup

whipping cream

6

ounces

white baking chocolate with cocoa butter

¼

cup

additional crushed peppermint candies
Instructions
Preheat the oven to 325℉.

In a large mixing bowl, beat the butter with an electric mixer on medium to high speed for 30 seconds. Add powdered sugar and the ¼ cup crushed candies. Beat until combined, scraping sides of the bowl. Beat in the water, vanilla and peppermint extract until combined. Beat in as much of the flour as you can with the mixer. Stir in any remaining flour.

Shape dough into 1-inch balls. Place 1 inch apart on an ungreased cookie sheet. Bake about 15 minutes or until bottoms are lightly browned. Let cool a bit, then transfer to a rack to cool completely.

Meanwhile, for glaze, in a medium saucepan bring whipping cream just to simmering. Remove from heat. Add white chocolate; let stand for 3 minutes. Stir until smooth. Let stand about 45 minutes or until glaze begins to thicken (put in the refrigerator for a bit if it seems too thin).

Spoon about 1 teaspoon of the glaze over each cooled cookie. Sprinkle with more crushed candy. Let stand until glaze is set.
Nutrition
Serving:
1
cookie
Calories:
100
kcal
Carbohydrates:
10
g
Protein:
1
g
Fat:
6
g
Saturated Fat:
4
g
Polyunsaturated Fat:
0.2
g
Monounsaturated Fat:
2
g
Trans Fat:
0.2
g
Cholesterol:
14
mg
Sodium:
36
mg
Potassium:
19
mg
Fiber:
0.1
g
Sugar:
5
g
Vitamin A:
161
IU
Vitamin C:
0.03
mg
Calcium:
11
mg
Iron:
0.3
mg
Disclosure: There are Amazon affiliate links included within this post.