I just got back from Alaska, and I have a kick-butt recipe to share with you guys: Skillet Sockeye Salmon! I have had so much fun lately that I haven't been able to post, but here it is… the Skillet Sockeye Salmon.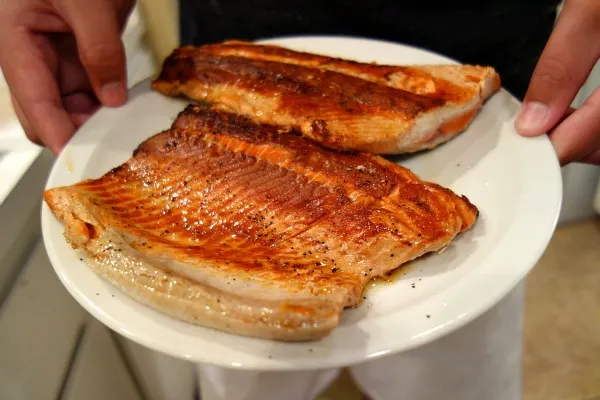 While my mom and I were in Alaska, I caught a bunch of salmon. We were fishing in a little stream for pink salmon. I ended up bringing two of the fish I caught back with us to Reno. When the fish arrived at our house, my mom noticed something a bit peculiar about the fish. One was light pink and kind of dull, but the other one was a bright red color, like a true Copper River Sockeye salmon! We sent pictures of the fish to our guides in Cordova, Alaska and found out that they actually were different fish! The fisherman leading the little expedition had said that they were both pink salmon, but boy was he wrong- I got one Sockeye! We took the fish up to Lake Tahoe with us and cooked it up one night last week. We used a salmon recipe favored by one of our guides, Nelly.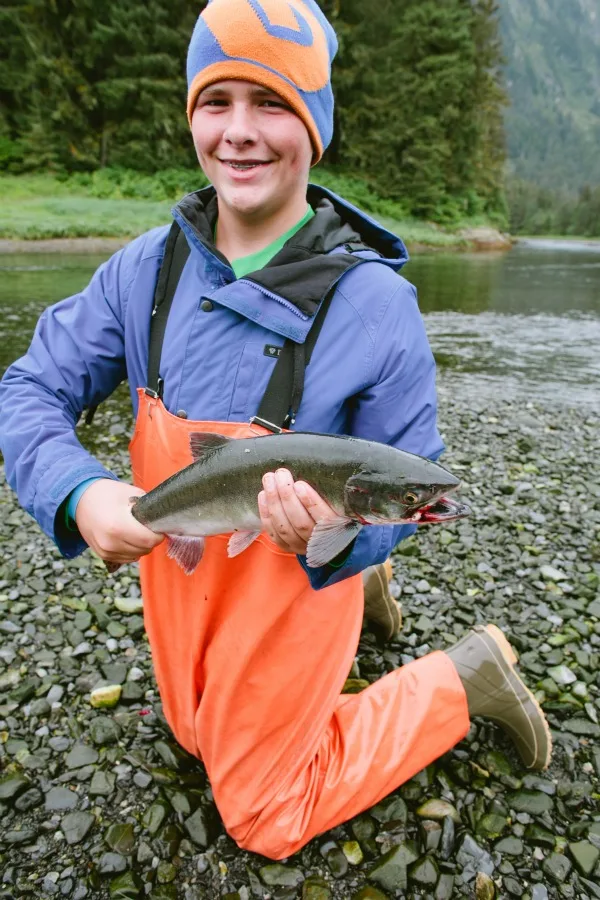 When we were fishing, we got to wear big waders and rain pants. Just saying, I put them on the right way. My mom put the waders over the orange rain pants and it looked really weird. Salmon are really fun to catch. Oh, and a shout-out to Brian from athoughtforfood.net for taking this picture of me. Keep taking those amazing photos!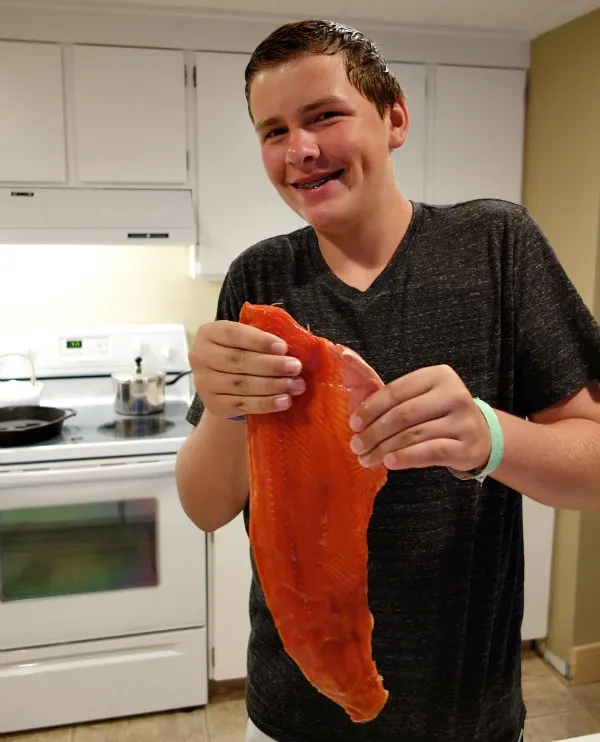 I haaaaate touching raw meat and fish. When I'm fishing I am okay with touching raw fish and guts and stuff, but while I'm cooking it just doesn't appeal to me one bit. It is really amazing how salmon from Alaska maintain such good quality while being shipped down to the Lower 48. They actually close off the front section of big planes and convert it into a storage area for fish so they can be flown out of the small towns. 2 flights arrive and depart at the little airport in Cordova, Alaska each day. There is one security line. It's amazing how the big Boeing 737's can land at such small airports! There are also some sea plane and bush plane businesses, but that doesn't change the fact that you can't drive to Cordova. There is no road!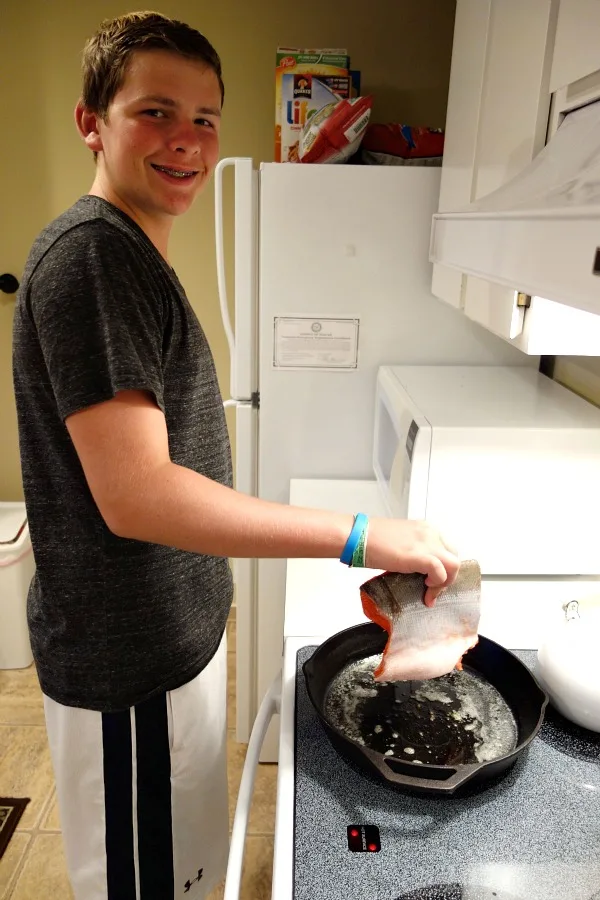 In our big cast iron skillet, you can fit two big pieces of sockeye. You start cooking the salmon skin side up. It makes it kind of difficult though because it's harder to see if it is done or not. I overcooked my salmon a tiny bit, but it still tasted amazing.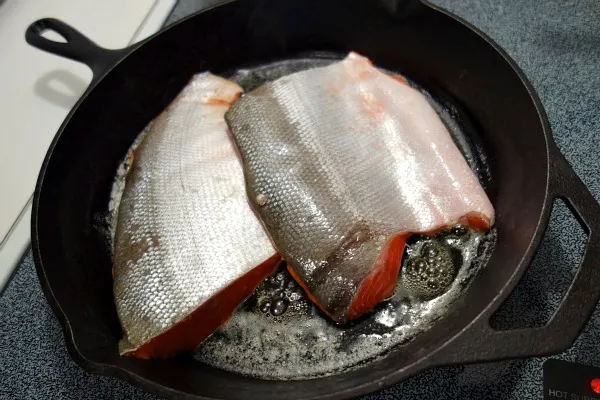 Wow, do you see that bright red salmon?! You can only get that color and quality from the Copper River. It was amazing to learn all about salmon and how the Fish and Game office counts them. They use sonar to count the Copper River Salmon swimming up and down the river. Many people only think that the Copper River salmon run is only in May. We learned that the sockeye salmon run lasts from mid-May to around the middle of August. You can also fish King salmon during that time, and then the Coho variety is fished from August until the end of September.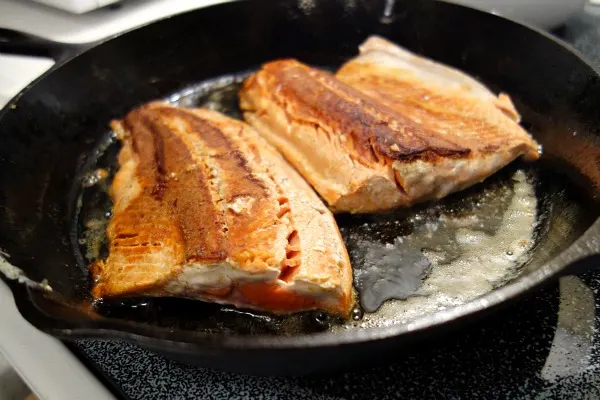 Copper River Seafoods fishermen use a technique called gillnetting. They set out long nets from a big wheel in the boat. The salmon swim through them and when they try to swim back out, they get caught in the net by their gills. There are 511 gillnetting permits given out each year. They cost a couple hundred grand each. The fishermen can lease them to other people, or sell them, or use their permit to catch their own fish. Salmon fishing is open for usually around two or three days at a time, so fishermen have to make the most of their limited time. We went out on a gillnetting boat with two experienced fishermen. The beginning and end of the trip were fun for me. I missed all of the excitement in the middle because I was seasick. It didn't feel good.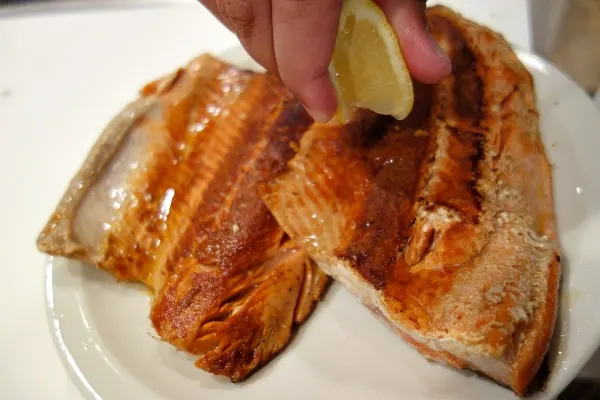 Okay so back to the recipe. At the end you have to squeeze a little lemon on the salmon to give it that distinct flavor with a little tang. Copper River salmon cooks up very nicely. It is the best quality salmon I have ever tasted. Did you know that the Copper River is the 10th biggest river in the United States?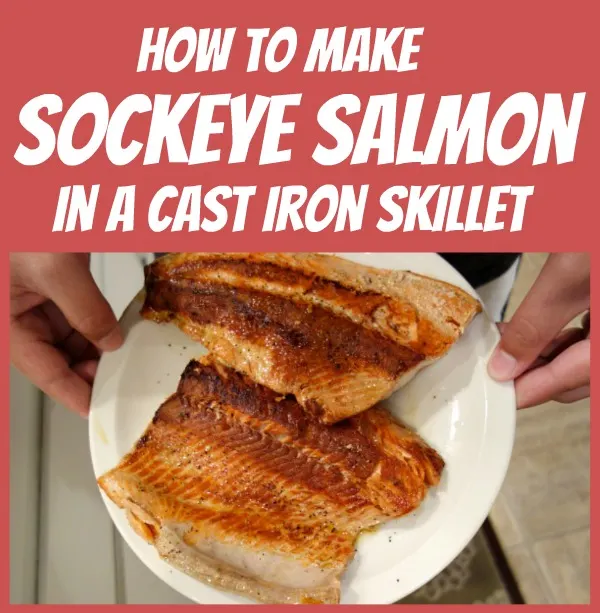 This salmon was the absolutetotalbomb.com. Copper River salmon is just so fresh and tasty. One of my best friends was with me and my family when we cooked this salmon. He is a total picky eater. He won't eat sushi or mayonnaise, but he absolutely loves Cheez-Its. And this salmon. We all agreed that this sockeye salmon was fabulous. It tasted just right. Not too heavy and not too light, but just in the middle. I would definitely recommend picking up some Copper River salmon at whatever store closest to you that carries it. There is actually a store locator on copperriversalmon.org that helps you find Copper River salmon nearest to you. Everyone loved this dish. It just fits in perfectly at a family or neighborhood gathering. I would highly recommend making this dish. Well, I didn't get to share all of my Alaska pictures with you guys in this post, but I will try to get my next Alaska post up soon. Stay tuned for more pictures from Alaska. 🙂
And even a kid can go to Alaska, catch salmon, bring it home, and cook it up… Like Me!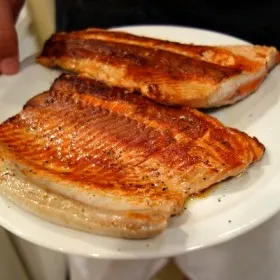 Skillet Sockeye Salmon
Sockeye salmon is the best. Here's an easy way to prepare it!
Ingredients
1

tablespoon

oil

1

tablespoon

butter

4

filets

of salmon

(or 2 big pieces of fish)

4

wedges

lemon

salt and pepper,

to taste
Instructions
Heat the oil and butter in a large cast iron skillet.

Place the salmon skin-side-up in the skillet and cook until it's just about cooked through (you still want it to be tender throughout, so be careful not to cook it too long-- or at too high of heat). Flip the filets over onto the skin and cook for 2 to 3 more minutes.

Remove from the pan, squeeze with lemon, add salt and pepper, and that's it!
Nutrition
Serving:
1
serving
Calories:
298
kcal
Carbohydrates:
0.1
g
Protein:
34
g
Fat:
17
g
Saturated Fat:
4
g
Polyunsaturated Fat:
5
g
Monounsaturated Fat:
7
g
Trans Fat:
0.1
g
Cholesterol:
101
mg
Sodium:
243
mg
Potassium:
835
mg
Fiber:
0.03
g
Sugar:
0.03
g
Vitamin A:
156
IU
Vitamin C:
1
mg
Calcium:
22
mg
Iron:
1
mg