Snickers Ice Cream Brownie Pie is the ultimate warm weather dessert!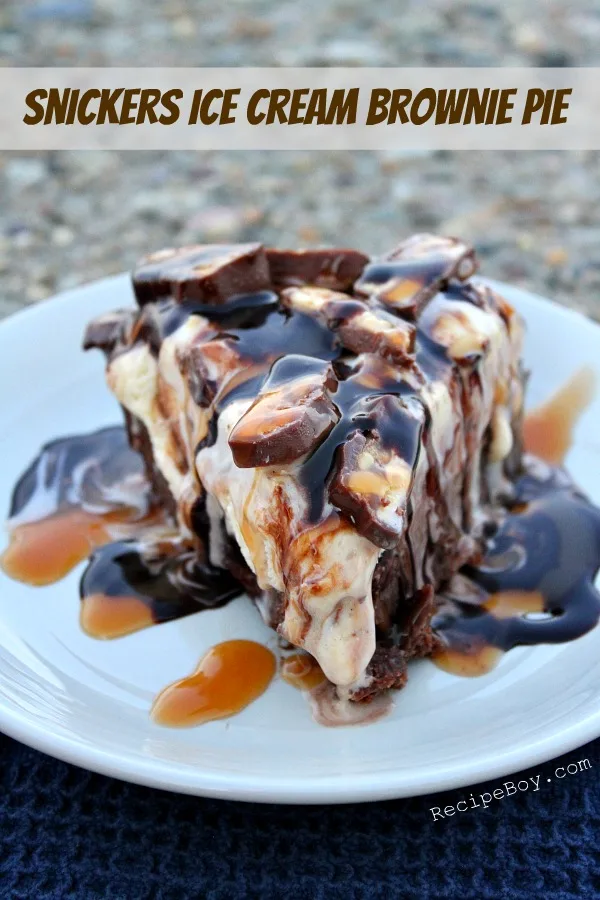 Happy summer everyone! Now I know that I have been posting many decadent desserts lately, but it is summer. Soon I'll try to fit in a meal recipe. Today I have one, last sweet treat. I made a Snickers Ice Cream Brownie Pie. It's basically a really rich and yummy treat with a lot of caramel and chocolate. The first layer and crust is made of brownie, the second layer is vanilla ice cream mixed with chopped Snickers, and the top layer is chopped Snickers and chocolate and caramel. Does that sound totally amazing or what?! It's a great summer dessert, and all of my cousins in Massachusetts LOVED it!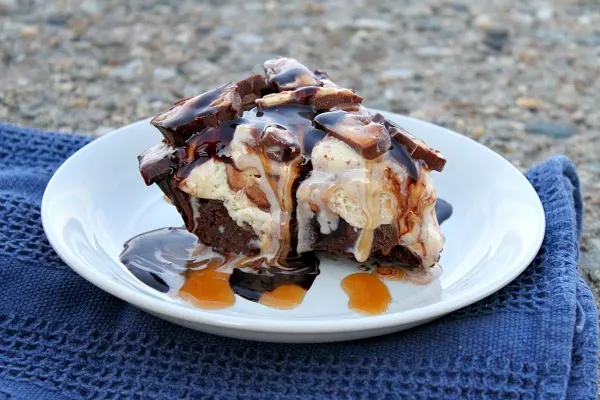 Mmmmmmm that looks so tasty! It was really hard to get a good picture of this pie. We had to keep it frozen all the time otherwise it would melt super fast, so cutting through frozen brownie was a bit challenging. Thankfully (and surprisingly), we were able to get a good picture piece on our first cut piece. If you make this recipe, let it sit for a couple minutes before you try to cut it. Just make sure that the ice cream doesn't melt before you start cutting it. Other than that you should be fine 🙂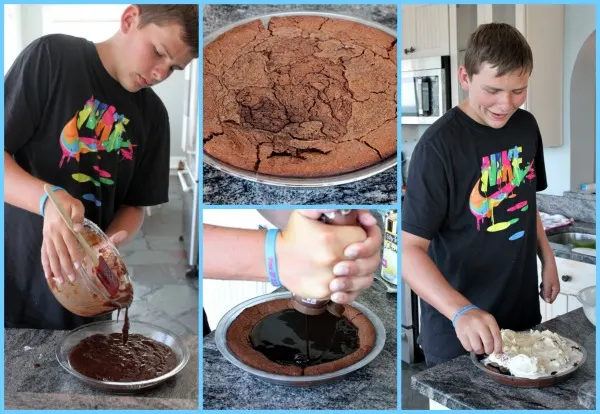 How to make Snickers Ice Cream Brownie Pie:
This pie is easy to make for the most part. Make the brownie crust, put chocolate sauce in between the brownies and ice cream, and finally put on the ice cream. The majority of the recipe is just waiting for things (like brownies to finish baking, pie freezing, etc.). The picture looks like it would take DAYS to finish a masterpiece like this, but it doesn't… so don't worry. 🙂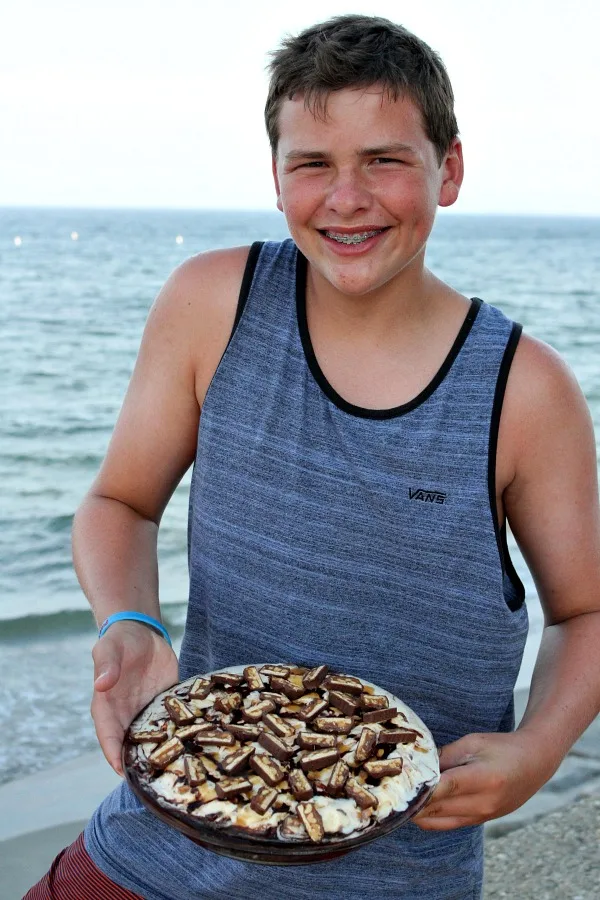 I'm one of those kids who totally relaxes over summer. I retire my hairbrush until August, lock up my school uniform in my closet, and break out the T-shirts and basketball shorts. My school starts back up on August 12th. It's wayyyy too early to start school. There should be laws against it! "No school allowed until September 1st!"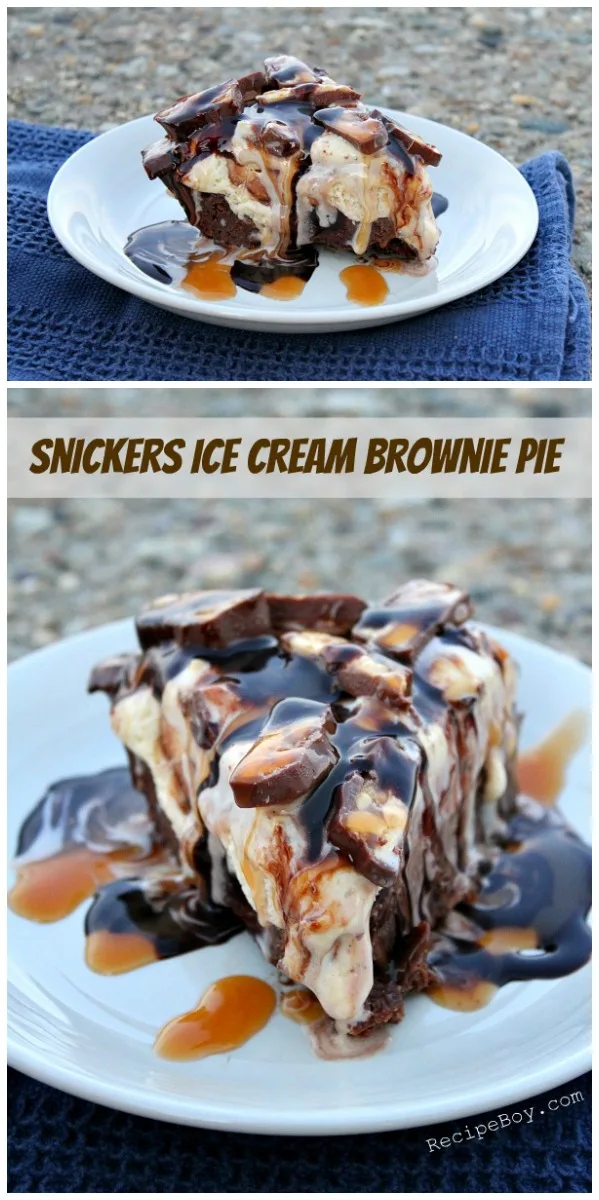 This Snickers Ice Cream Brownie Pie is what I call a fantabulous amazing really cool scrumptious dessert! All of that caramel and chocolate is making my mouth water so much right now! I feel like a river is flowing through my mouth just looking at this scrumdiddlyumptious pie. Oh and a little heads up, I am flying to Alaska tomorrow! Our salmon expedition is rapidly approaching. I can't wait to tell you guys about it!!! 🙂
And even a kid can make a decadent pie that everyone loves… Like Me!
Here are a few more ice cream desserts you might like to try: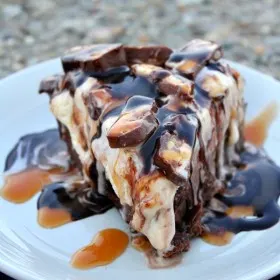 Snickers Ice Cream Brownie Pie
An amazing dessert for summer!
Ingredients
1

cup (2 sticks)

butter

8

ounces

semi-sweet chocolate chips

1

cup

granulated white sugar

5

large

eggs

½

cup

all purpose flour

½

gallon

vanilla ice cream,

softened

Six

2.07-ounce (regular sized)

Snickers candy bars,

chopped and divided

¾

cup

hot fudge

more hot fudge and caramel sauce,

for garnish (optional)
Instructions
Preheat the oven to 350℉. Spray a glass pie pan with nonstick spray (you can also do this in a springform pan, but it will be more like a round cake instead of a pie).

In a large bowl, combine the butter and chocolate chips. Microwave in 30 second intervals, stirring after each, until the chocolate is melted and smooth. Whisk in the sugar. Add the eggs and whisk until well-combined. Whisk in the flour until smooth. Pour the batter into your prepared pan. Bake 25 minutes. Let cool completely.

In a large bowl, combine the ice cream and half of the chopped Snickers bars.

Spread the hot fudge evenly over the brownie layer. Spread the ice cream mixture over the hot fudge. Freeze for 4 hours (or until firm). Drizzle more hot fudge and caramel sauce over the ice cream. Sprinkle remaining chopped Snickers bars on top. Keep in the freezer until ready to serve. If cutting is too tough, just leave it out for a few minutes to soften before cutting.
Nutrition
Serving:
1
serving
Calories:
902
kcal
Carbohydrates:
97
g
Protein:
13
g
Fat:
52
g
Saturated Fat:
29
g
Polyunsaturated Fat:
3
g
Monounsaturated Fat:
15
g
Trans Fat:
1
g
Cholesterol:
196
mg
Sodium:
435
mg
Potassium:
561
mg
Fiber:
4
g
Sugar:
76
g
Vitamin A:
1238
IU
Vitamin C:
1
mg
Calcium:
213
mg
Iron:
3
mg