Thursday, December 22, 2011
Christmas time is right under our feet and it's time to make some last minute Christmas  cookies for Sunday.  While all of the boys are watching the football games on Saturday (yes Saturday), hop in the kitchen and make these yummy Polka Dot Cookies. I'm pretty sure that none of you have seen multicolored chocolate chips, so take a look…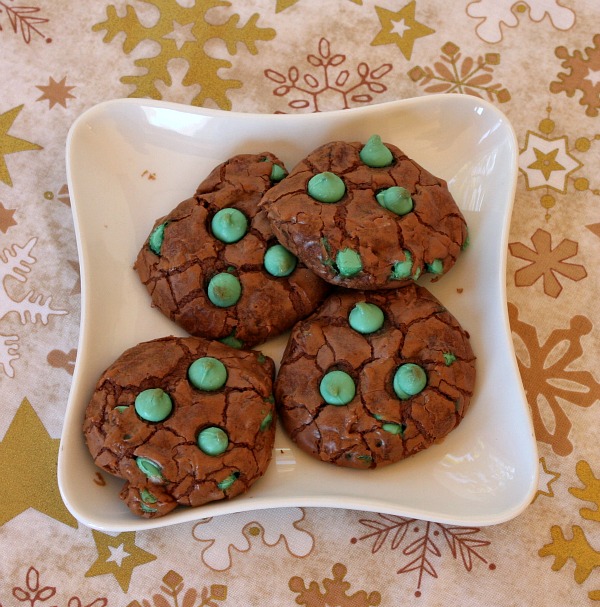 Green Mint Chips from Guittard! This is a very festive recipe because it has green chips, one of the two Christmas colors!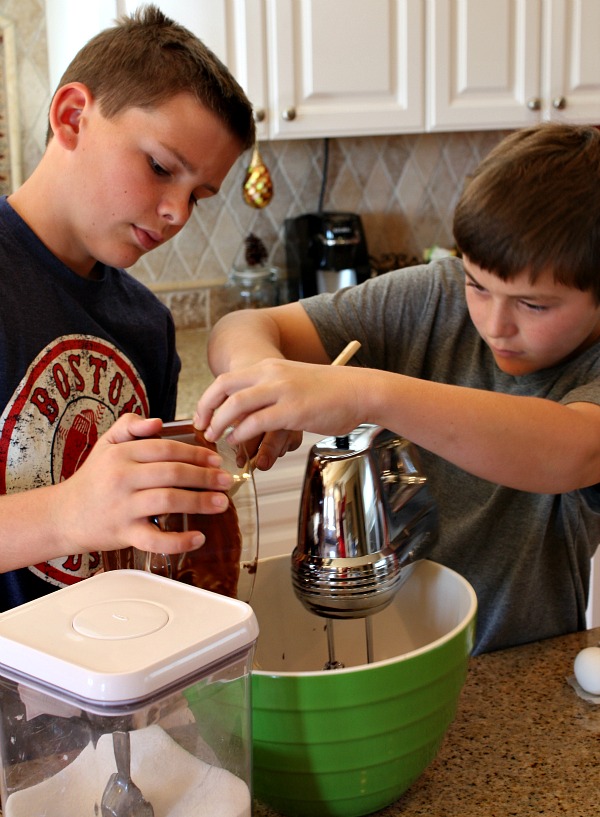 One of my friends came over to help me with this recipe so we divided the work into two. This way it went twice as fast!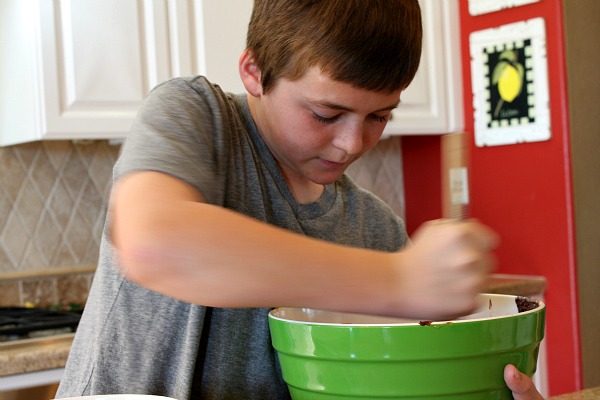 Zoom Zoom! My friend's hand is almost going supersonic speed!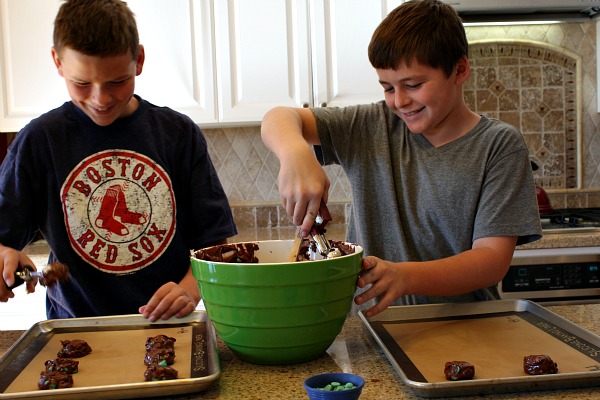 Super-speed scooping, a future Olympic sport.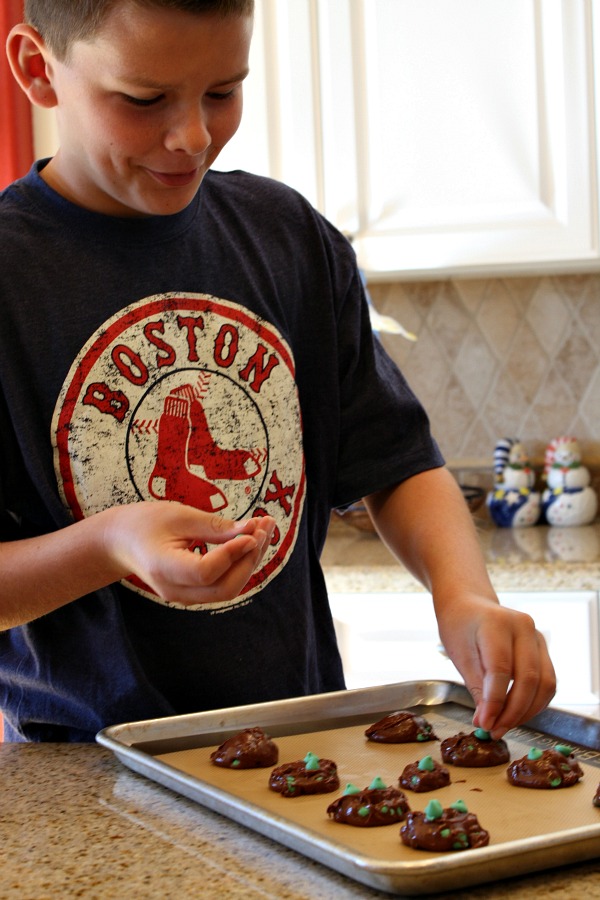 To make some pretty cookies, save a few of the mint chips to sprinkle on top of the cookie dough.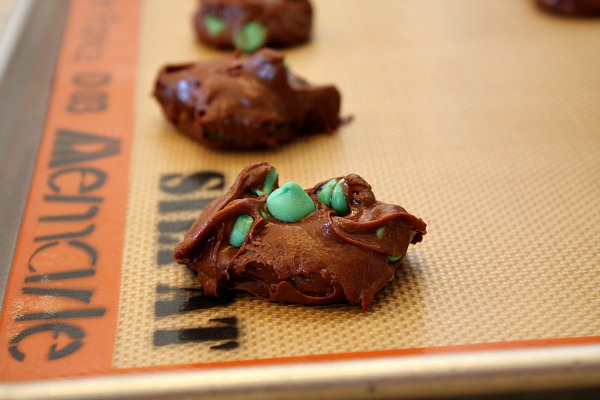 Extreme close up of the cookie dough. Look at the swirly texture!

Oven mitt boxing! I made up this cool (but sometimes painful) game when I saw some oven mitts lying in a drawer. My friend and I went into the family room, and started boxing. In the most rounds, I won by a really hard knockout punch or some light blows to the gut but my friend came back with some furious punches. He sat me on my butt a couple times but I sent him staggering backwards and falling on his stomach a LOT.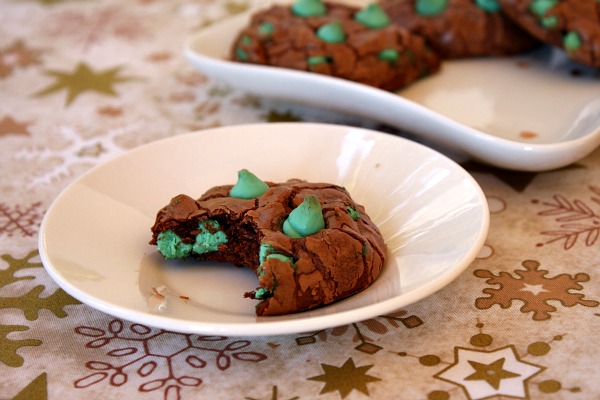 I just thought of the perfect holiday to make these for! Well, Christmas works too, but Saint Patrick's Day would be fun too. "Leprechaun Cookies."

The cookies tasted like a warm, gooey, chocolatey, and minty fresh heaven! We gave half of the delicious dessert to my friend's family and kept half for us but we still have enough for two weeks or so of chowing down. Once these Polka Dot Cookies came out of the oven, the center was a little bit wet but once it cools off, it hardens. Once again, a kid-friendly recipe that will make them lick their fingers all day long!
And even a kid can bake cookies and oven mitt box at the same time… Like Me!
Polka Dot Cookies

Yield: About 36 cookies

Prep Time: 15 min

Cook Time: 10 min

Easy and delicious cookie recipe from Guittard chocolates...

Ingredients:

2 cups (12-ounces) semisweet chocolate chips
1/2 cup salted butter
1 1/2 cups all-purpose flour
1/2 teaspoon baking soda
1/8 teaspoon salt
3 large eggs
1/2 cup granulated white sugar
2 teaspoons vanilla extract
2 cups (12-ounces) green mint chips (Guittard makes them)

Directions:

1. Preheat oven to 350 degrees F.

2. In a microwave safe bowl, melt semisweet chips and butter in the microwave at 30 second bursts, stirring after each burst until smooth. (should take about 2 minutes total). Set aside to cool. In a small bowl, combine flour, baking soda and salt; set aside.

3. In a large bowl, beat eggs, sugar and vanilla until light. Blend in melted chocolate and then dry ingredients. Stir in the green mint chips. Drop by rounded teaspoonfuls onto ungreased baking sheets (or baking sheets lined with silpat mats). Bake 8 to 10 minutes. The cookies will be a little soft in the center and will harden as they cool.

Source: RecipeBoy.com (adapted slightly from the back of the Guittard Green Mint Chips bag)