Friday, April 19, 2013
My mom is awesome. Her first cookbook was published just the other day! Right now you can enter a GIVEAWAY for a cool KitchenAid 12-speed blender plus a copy of The RecipeGirl Cookbook, just by leaving a comment below… sharing your favorite cookbook that has been written by a blogger (or one that you'd like to have)! I made Snickerdoodle Blondies from the Dessert chapter of The RecipeGirl Cookbook. Man oh man are they yummy. Just look at that glorious pyramid!!! {read to the end of this post for GIVEAWAY details!}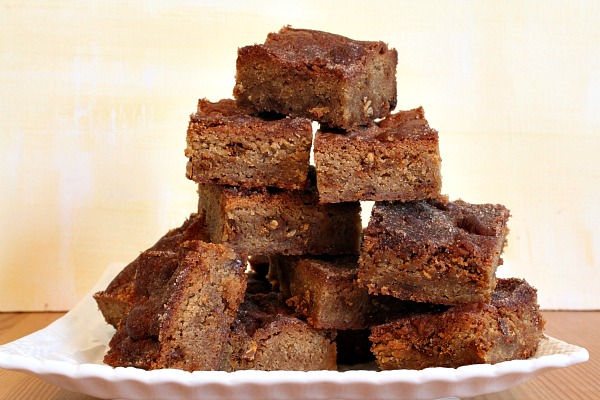 These blondies taste amazing with the cinnamon chips and cinnamon-sugar topping. There are a lot of flavors in this one dessert.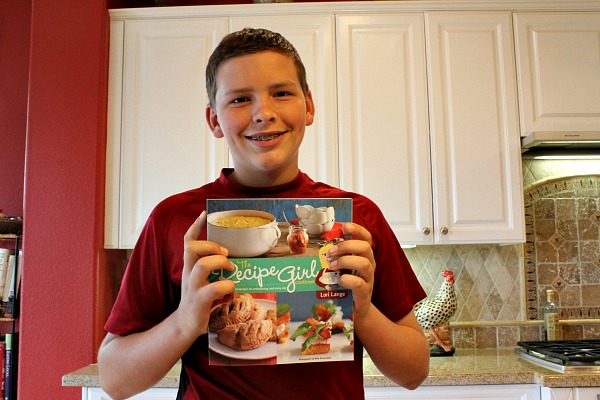 There it is! My mom's fantastic cookbook. (She mentions me a lot in it!)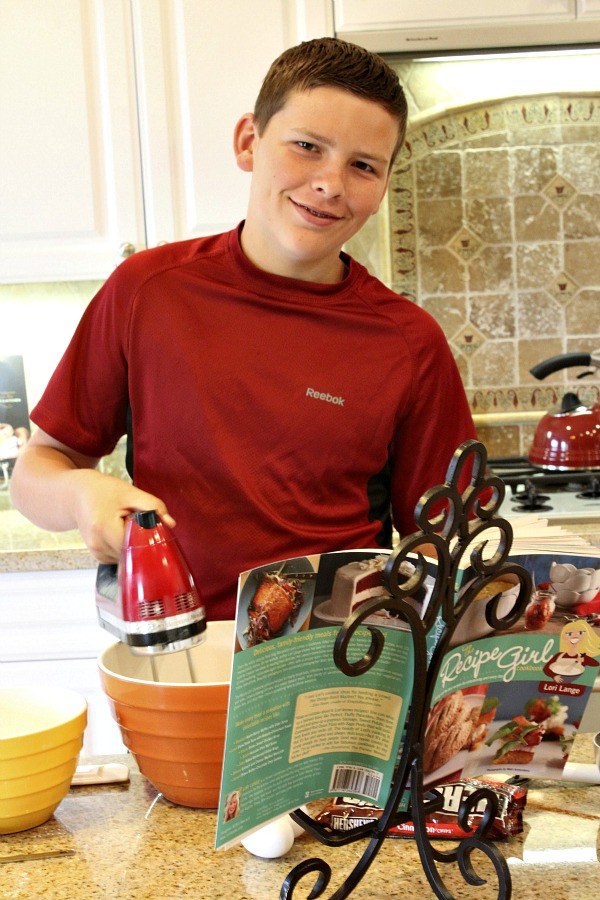 I'm just working away on this recipe while I occasionally look up at the book to see what to do next. The RecipeGirl Cookbook is one of my favorite cookbooks ever! Well, my mom is interrogating me on what other cookbooks I like, so I take that back. My mom's cookbook is THE BEST cookbook I have ever seen. (My mom wanted me to make it uppercase so that everyone understands that fact)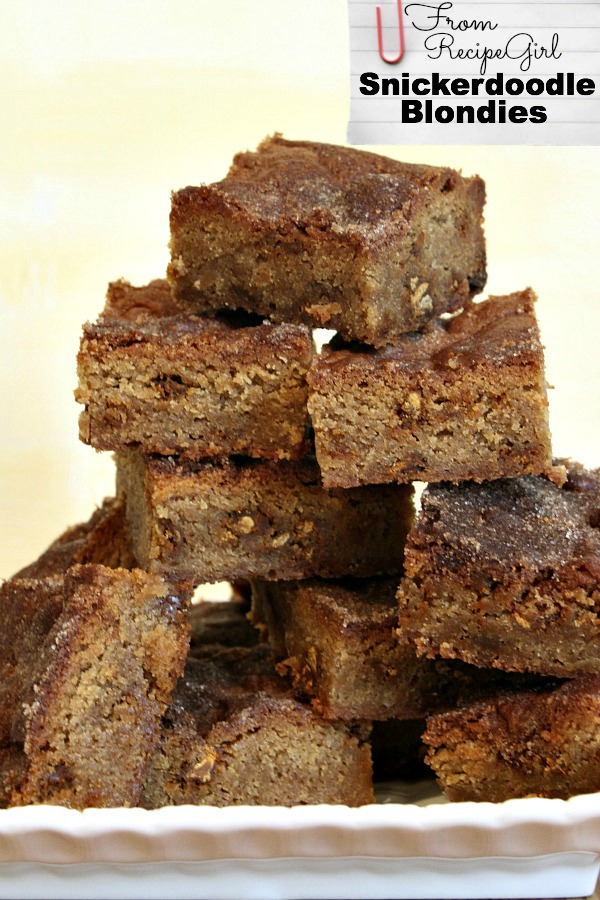 My mom took the photos in this post (That's why they look amazing). I was too busy with my mountains of middle school homework and sports practices to find time for my blog the last couple weeks.

And now for the giveaway details!
Snickerdoodle Blondies

Yield: 12 blondies

Prep Time: 15 min

Cook Time: 40 min

Ingredients:

BLONDIES:
1 1⁄2 cups all-purpose flour
1 teaspoon baking powder
1 teaspoon ground cinnamon
1⁄2 teaspoon cream of tartar
1⁄4 teaspoon salt
1 2⁄3 cups packed light brown sugar
3⁄4 cup (1 1⁄2 sticks) salted butter, at room temperature
2 large eggs
1 1⁄2 teaspoons vanilla extract
1 cup cinnamon chips (see Tips)

TOPPING:
2 tablespoons granulated white sugar
1 teaspoon ground cinnamon

Directions:

Preheat the oven to 350°F. Spray a 9-inch square baking pan with nonstick spray.

In a medium bowl, whisk together the flour, baking powder, cinnamon, cream of tartar and salt.

In a large bowl, use an electric mixer to combine the sugar and butter. Add the eggs and vanilla and mix until well combined. Gently stir in the dry ingredients until incorporated. Stir in the cinnamon chips. Spread the batter into the prepared pan. Combine the topping ingredients and sprinkle evenly onto the batter.

Bake for 45 minutes, or until golden brown and a toothpick inserted in the center comes out somewhat clean. The blondies will feel firm when done, but the inside will be moist and tender.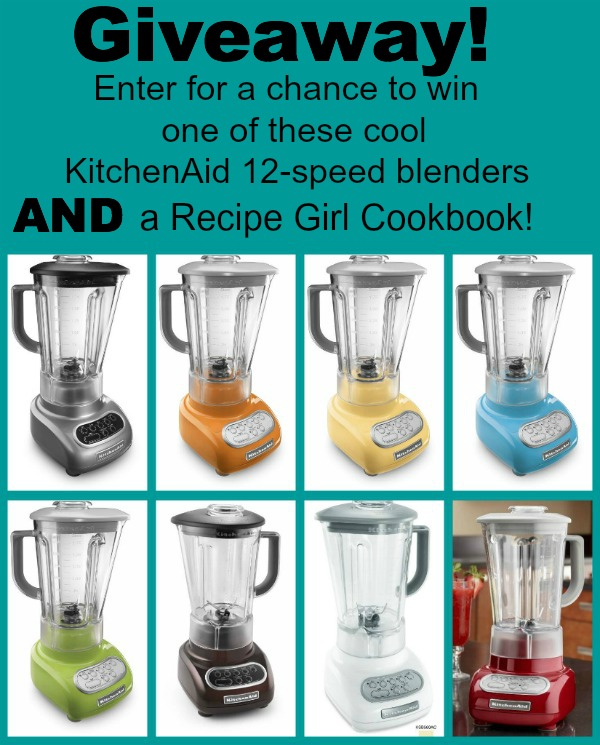 So many cool colors to choose from! This is no fair!!! I want a 12-speed blender!

I'm so proud of my mom for putting so much time and effort into this cookbook. I want to be just like her someday! She got so stressed-out at times during the writing and editing of the book, so it was hard to be happy during the making of the cookbook. But now, my dad and I are very happy to have the real Lori Lange back! I still can't believe how big this giveaway is.

I love you mom!
For a chance to win a KITCHENAID 12-SPEED BLENDER (color of your choice) + ONE RECIPE GIRL COOKBOOK,  leave a comment below sharing your favorite cookbook that has been written by a blogger (or one that you'd like to have).
For an EXTRA CHANCE TO WIN:  Subscribe to my blog by email or RSS.  Leave a second comment telling me you're a subscriber.  GOOD LUCK!  This giveaway is CLOSED:  The randomly selected winner is commenter #132 Kesha.  Congrats!

This giveaway is open to anyone 18 years +, and you must have a USA address.  Giveaway ends on Wednesday, April 24th.  The randomly selected winner will be announced here!
THERE'S MORE! 6 of my blogging friends are celebrating The Recipe Girl Cookbook this week too!  They are each sharing a recipe from the book + a giveaway for a KitchenAid Blender and a Recipe Girl Cookbook.  Be sure to check them out!