Today I made some really good blondies. They are called Butterscotch Blondies, but there is no butterscotch in them!
I haven't posted for a while because school and lacrosse take up most of my time, but I will have more time to write when lacrosse ends. 7th Grade is pretty easy so far. I've had many essays and projects, but I have gotten them all done without any problems. I love making PowerPoints in class. PowerPoints are really easy to make and they can contain large amounts of data and facts. School has been very easy for me this year.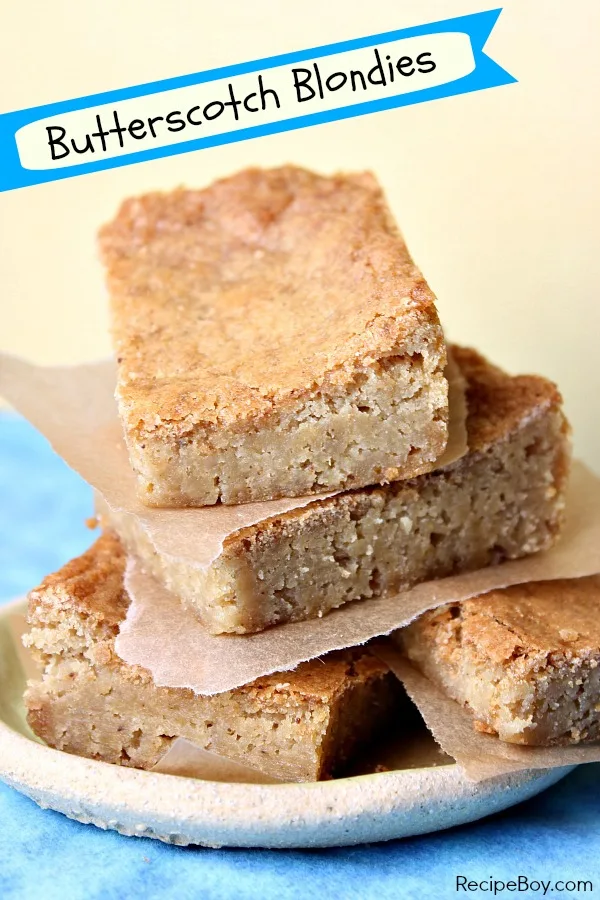 The Butterscotch Blondies taste like butterscotch because of the browned butter. Browning butter means to just heat the butter longer on the stove than normal until it turns brown. Browned butter has a sort of nutty flavor and smells amazing. This was my first experience with browned butter! 🙂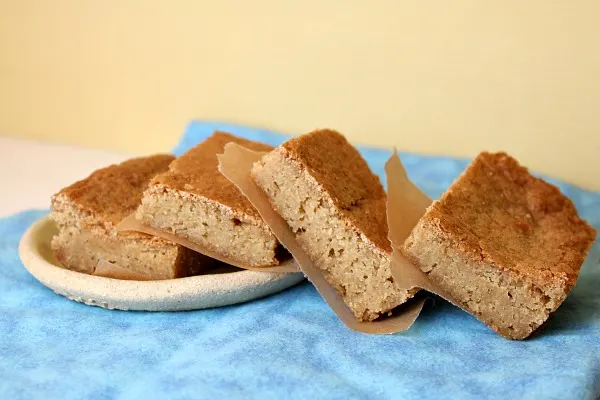 These blondies turned out fantastic! I brought them over to our neighbor's house when we were invited for dinner and everyone loved them. They were very simple to make too. They tasted great- kind of soft and gooey and butterscotchy- and looked amazing. Next time I do a blondie/brownie recipe I will make it a little more exciting (add stuff in there)!!!
And even a kid can make browned butter… Like Me! (P.S. My RecipeGirl Mom helped me with the photos for this post since I was so busy!)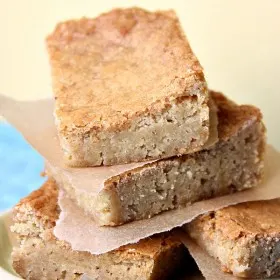 Butterscotch Blondies
The butterscotch taste makes these AMAZING!!
Ingredients
2

cups

all purpose flour

2½

cups

packed brown sugar

2

teaspoons

baking powder

½

teaspoon

salt

10

tablespoons (1 stick + 2 tablespoons)

unsalted butter

6

large

egg whites
Instructions
Preheat the oven to 350℉. Spray a metal 13x9 inch pan with nonstick spray.

In a large bowl, whisk together the flour, sugar, baking powder and salt.

Place the butter in a small saucepan over medium heat. Cook 6 minutes or until lightly browned, stirring often. Pour into a small bowl and let cool. Then add the egg whites to the butter and whisk together (make sure the butter is not hot or it will cook the egg whites!!) Pour the butter mixture into the flour mixture and stir just until everything is all combined. Spread the batter evenly into the prepared pan. Bake 30 minutes, or until a toothpick inserted into the middle comes out clean. Cool, then slice and EAT.
Nutrition
Serving:
1
serving
Calories:
174
kcal
Carbohydrates:
31
g
Protein:
2
g
Fat:
5
g
Saturated Fat:
3
g
Polyunsaturated Fat:
0.2
g
Monounsaturated Fat:
1
g
Trans Fat:
0.2
g
Cholesterol:
13
mg
Sodium:
105
mg
Potassium:
57
mg
Fiber:
0.3
g
Sugar:
22
g
Vitamin A:
154
IU
Calcium:
42
mg
Iron:
1
mg