Hi, it's Lori from RecipeGirl.com… and I'm sneaking into Brooks' blog today to post a HAPPY 13TH BIRTHDAY recipe! I'm sharing an ice cream recipe that RecipeBoy has been eyeing lately in Susan Whetzel's The Everything Ice Cream, Gelato, and Frozen Desserts Cookbook: 3 Musketeers Ice Cream.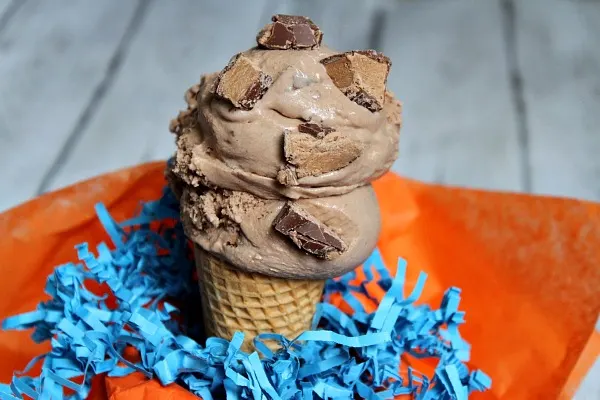 I was completely on board with making this homemade ice cream in our ice cream maker. Candy bar ice cream is the best, right?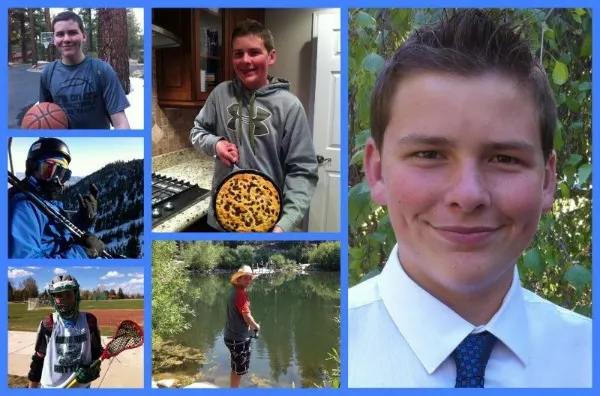 My boy is thirteen. THIRTEEN! That means I have a teenager in my house (EEK!) That means in just three years he can drive a car! And in five years he'll be leaving us to go to college! And he'll have girlfriends- No! A little bit about RecipeBoy that you may not know: He's just about five foot, eleven. He loves hanging out with his friends. And he likes hanging out with KIND friends. He loves skiing, basketball and lacrosse. He's way competitive. He's wild about fishing. He can cook and bake. He's wicked smart. He brings home great report cards. He's not a morning person. He loves sushi (that's where we're going for his birthday dinner!) And he's pretty darn handsome!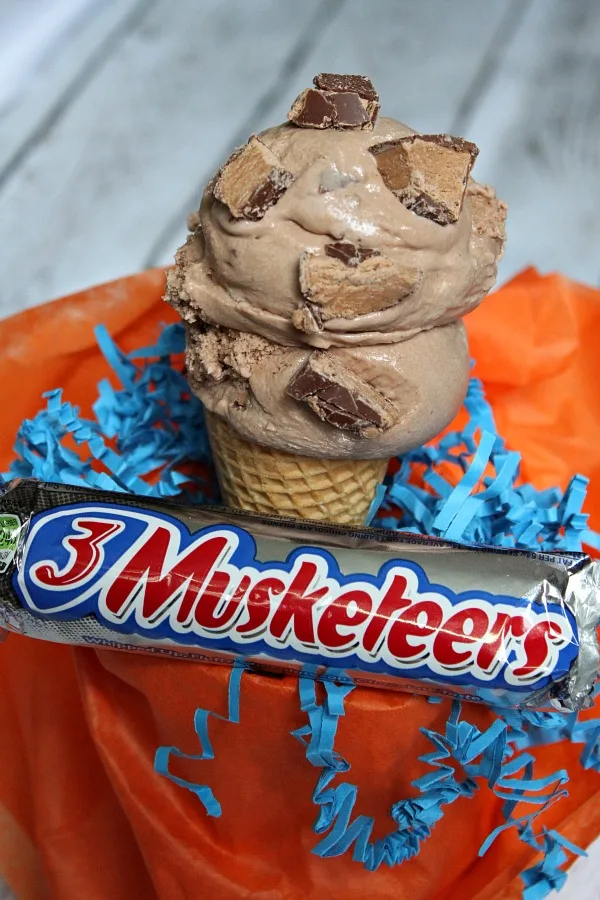 About this ice cream… when you make the base for the ice cream >> BEWARE! It tastes like a chocolate malt. You're going to want to pull out a straw and just drink it. Don't do that because it's not low fat at all. I might have done it. Then I might have gone on the treadmill for a while. When you churn it into ice cream it's like a chocolate-marshmallow malt with 3 Musketeers candy bar pieces all over the place. It's dangerously good.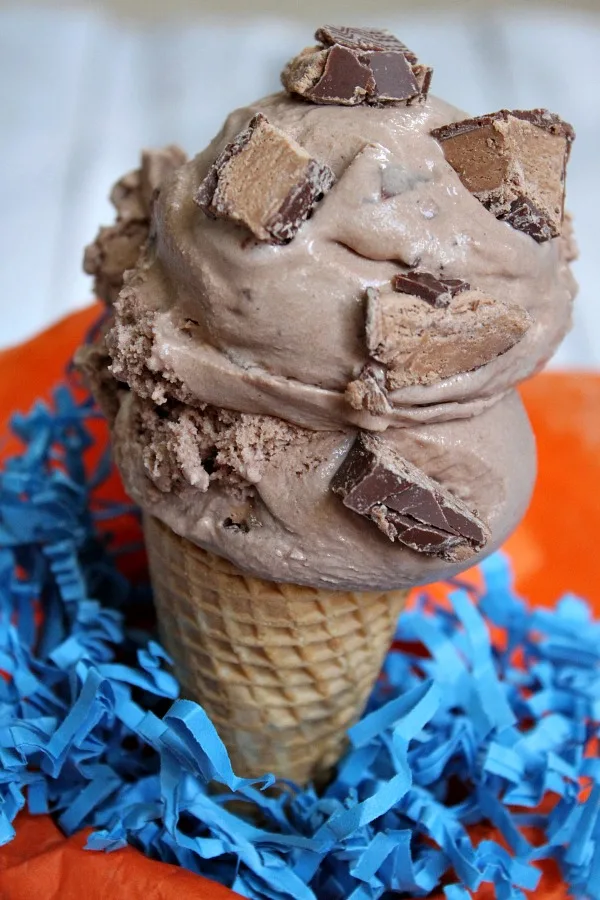 So, Happy Birthday dear Brooks… RecipeBoy. I'm immensely proud of all that you are, and I'm looking forward to the next five years because I know that you will be the best teenager EVER. Ha ha. No, seriously… you're gonna be a good one, aren't you? Please? For me? Enjoy your ice cream. I'm happy to share it with your readers because it's MAJOR. 3 Musketeers ice cream is the bombdotcom. That's the kind of lingo you teenagers use, right? 🙂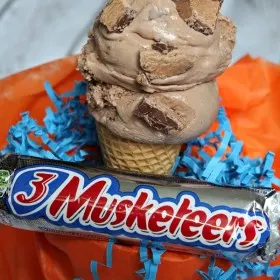 3 Musketeers Ice Cream
It's like eating a chocolate marshmallow malt... with candy!
Ingredients
3

cups

heavy cream

1

cup

whole milk

¾

cup

sweetened cocoa powder

¾

cup

granulated white sugar

1

pinch

of salt

8

ounces

marshmallow cream

3

regular sized

3 Musketeers candy bars,

chopped into small pieces
Instructions
Quick fix: Put all ingredients (except candy bars) in a food processor and process until somewhat smooth. Process according to your ice cream machine's instructions (usually 25 to 35 minutes). Toward the end of processing, add in the candy bar pieces.

Make ahead: In a large saucepan over medium heat, combine cream, milk, cocoa, sugar, and salt. Whisk together and heat until sugar is completely dissolved. Remove from heat and stir in the marshmallow creme. Chill overnight. Process when ready.

Scrape ice cream into a freezer-safe container and freeze until ready to scoop and eat. I found that overnight (or several hours) was best for good ice cream scooping consistency.
Nutrition
Serving:
1
serving
Calories:
597
kcal
Carbohydrates:
67
g
Protein:
6
g
Fat:
38
g
Saturated Fat:
24
g
Polyunsaturated Fat:
2
g
Monounsaturated Fat:
9
g
Trans Fat:
0.04
g
Cholesterol:
106
mg
Sodium:
78
mg
Potassium:
280
mg
Fiber:
3
g
Sugar:
53
g
Vitamin A:
1385
IU
Vitamin C:
1
mg
Calcium:
131
mg
Iron:
1
mg
Disclosure: There are Amazon affiliate links within this post.