This week I made Raspberry Buckle. It may have an awkward name, but it's worth it. I learned that "buckle" is actually a sort of crisp/cake, and that made me even more excited to make this recipe. Crisps and cakes are awesome, and I LOVE raspberry crisp. Who doesn't like crisps? They are a fruity (but still sweet) treat that I can never turn down. Let's check out this buckle!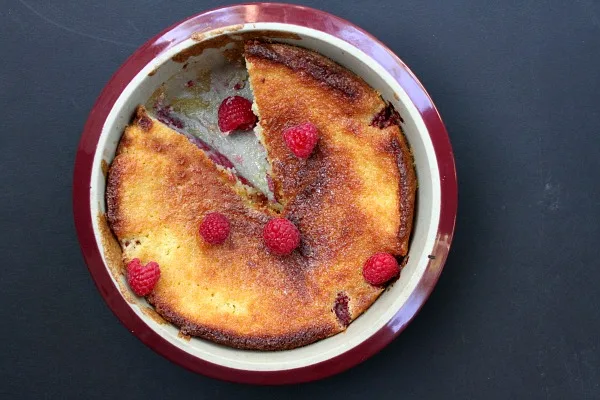 Mmhhhmmm. Looks like pie, but don't let the buckle fool you! It's really cool because before you put the buckle in the oven, the raspberries get added on top of everything. After you remove the buckle from the oven, the raspberries are all over! They sink and move all over the dish.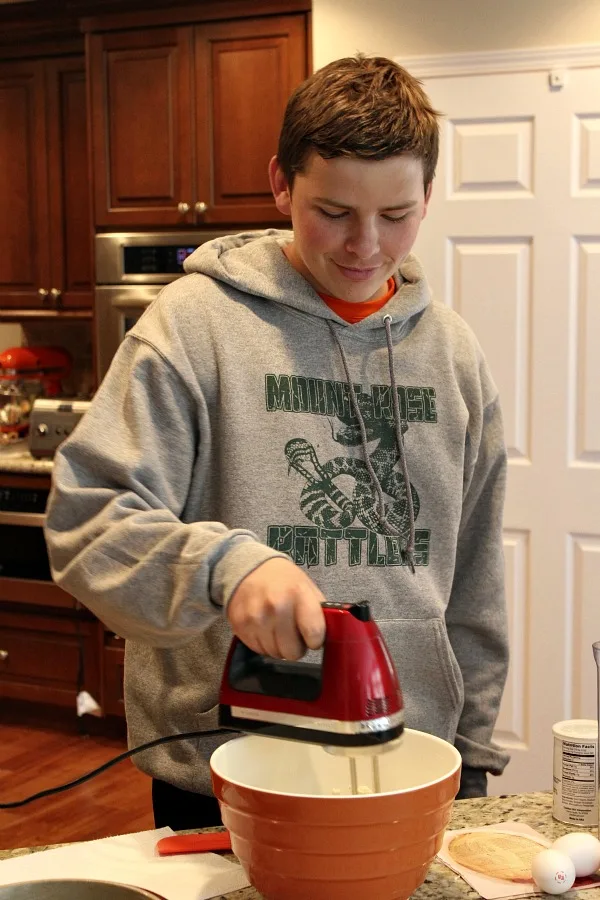 My Mom ALWAYS has to include a picture of me smiling while I'm mixing something! In every post, my Mom gets me to smile, and then takes a picture of it! Do all moms do this?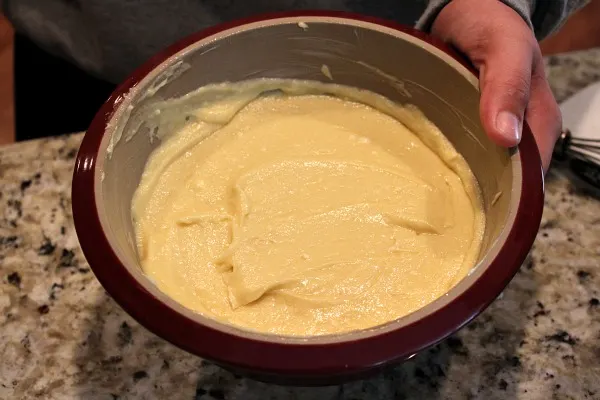 The batter looks so plain, but once it gets baked with the raspberries… whoa.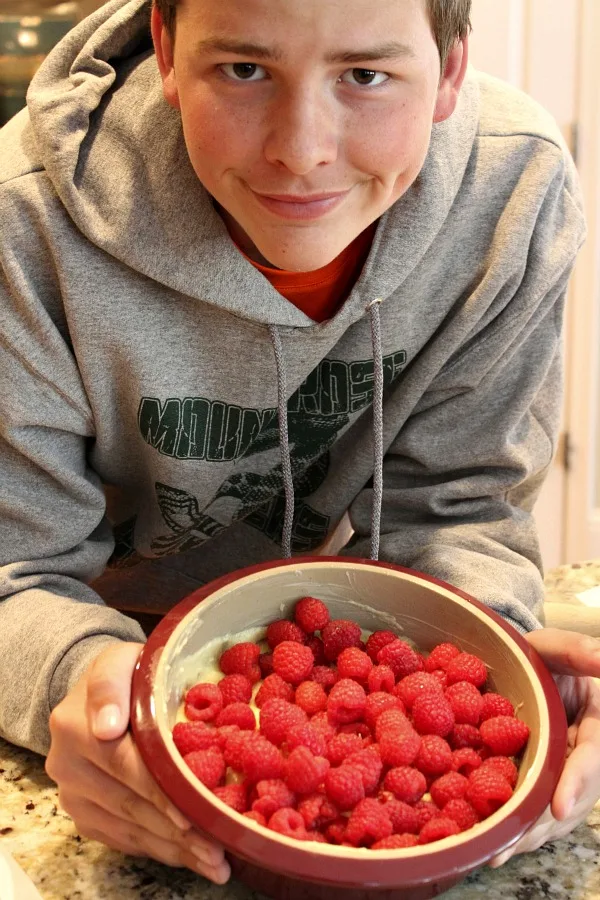 Those raspberries are just beautiful! See? They sink and travel all across the batter while it's cooking.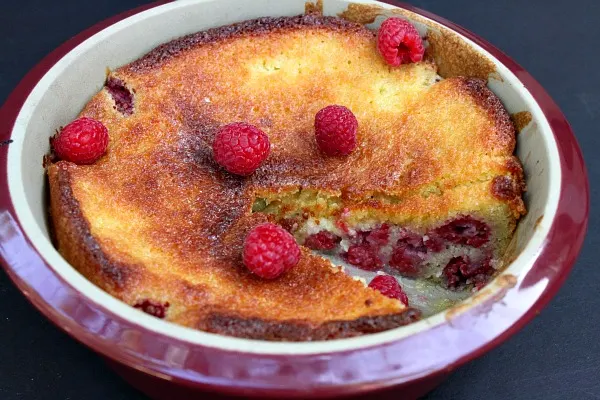 This Raspberry Buckle was awesome! I made it while my Dad had some tech guys staying at our house working on a speaker system, and they got to try it. They absolutely DEVOURED it. I had to stop them before the buckle was all gone!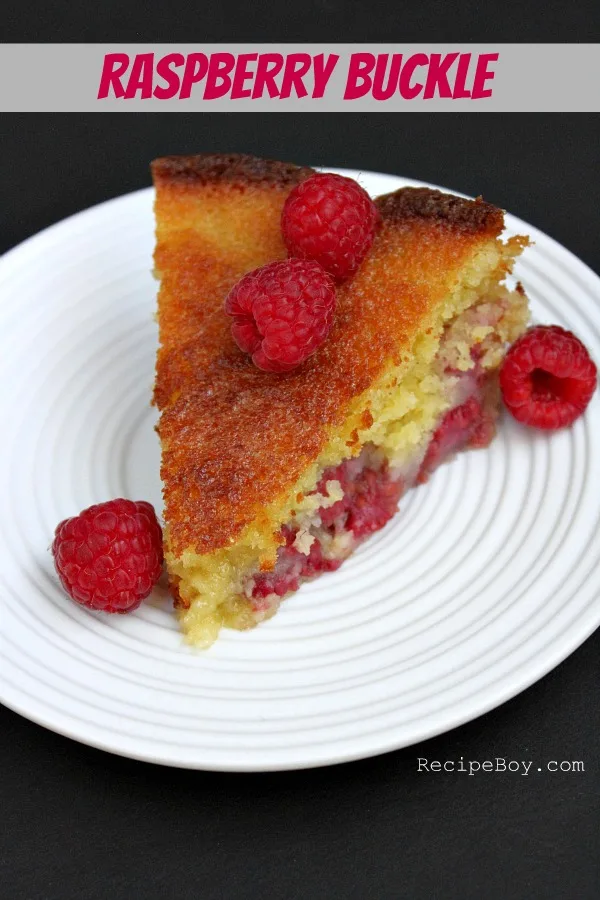 This buckle was the bomb! The raspberries were great in it, and the Raspberry Buckle overall was just perfect. My whole family and the tech guys all loved this dish. I helped out the tech guys by going under my house in a full body suit to run some wires as a sign of gratitude for letting them try my buckle. My Mom said I looked like a Ghostbuster in my white full body suit! 🙂 Please try this Raspberry Buckle. You will not regret it.
And even a kid can make workers happy with a raspberry buckle… Like Me!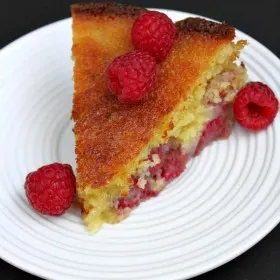 Raspberry Buckle
This recipe rocks my favorite fruit- raspberries!
Ingredients
½

cup (1 stick)

unsalted butter,

at room temperature (+ more for baking dish)

1

cup

granulated white sugar

3

large

eggs

1

cup

all purpose flour

½

teaspoon

salt

½

teaspoon

baking powder

2¾

cups (about 1 pint)

fresh raspberries
Instructions
Preheat the oven to 350℉. Butter a medium round or oval casserole dish (2 quart).

In a large bowl, use an electric mixer to combine the butter and sugar. Add the eggs one at a time, beating after each addition. In a separate bowl, whisk together the flour, salt and baking powder. Gradually mix the dry ingredients into the wet ingredients.

Spread the batter into the prepared baking dish. Scatter the raspberries on top. Bake until a toothpick inserted in the center comes out clean, about 45 minutes. Let cool slightly, then serve with whipped cream, ice cream or by itself!
Nutrition
Serving:
1
serving
Calories:
410
kcal
Carbohydrates:
56
g
Protein:
6
g
Fat:
19
g
Saturated Fat:
11
g
Polyunsaturated Fat:
1
g
Monounsaturated Fat:
5
g
Trans Fat:
1
g
Cholesterol:
135
mg
Sodium:
268
mg
Potassium:
145
mg
Fiber:
4
g
Sugar:
36
g
Vitamin A:
646
IU
Vitamin C:
14
mg
Calcium:
56
mg
Iron:
2
mg