I was looking to make an easy but yummy recipe this week. When surfing around on the internet, my Mom and I came across 2 Ingredient Pancakes. The problem with that recipe was that there were more than 2 ingredients! In my recipe, there are exactly 4 ingredients. My Mom and I adapted this recipe from the Top it With Cinnamon blog and made it chocolatey. I LOVE how simple these 4 Ingredient Chocolate Chip Pancakes are. Even a toddler could make it!!!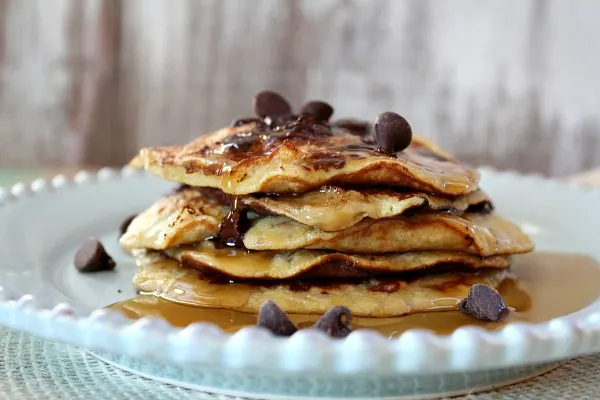 The more syrup, the better. I couldn't eat pancakes without syrup. Well, except for my Mom's Cinnamon Roll Pancakes. These Chocolate Chip Pancakes need syrup.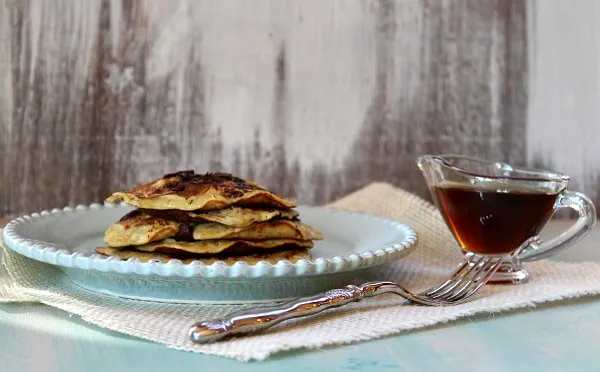 Yummy. As I told you, even a toddler could make these pancakes. Imagine what a chef could do with them!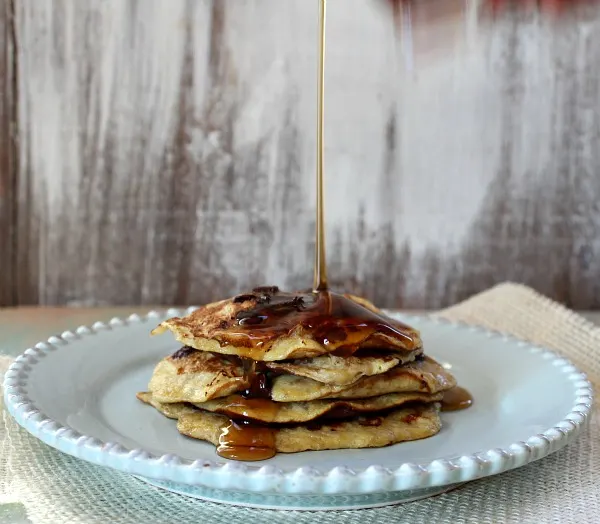 The chocolate chips are optional, so you don't have to worry if you're on some kind of Starve-To-The-Death-With-Healthy-Stuff diet. My Mom seems to really enjoy Starve-To-The-Death Diets. She just finished a cleanse recently too. Don't tell her I told you this, but she cheats on her cleanses. She threw out 4 bottles of juice that she didn't like! Uh. If I did a cleanse, I would be licking up every last drop of that juice. Now back to the recipe.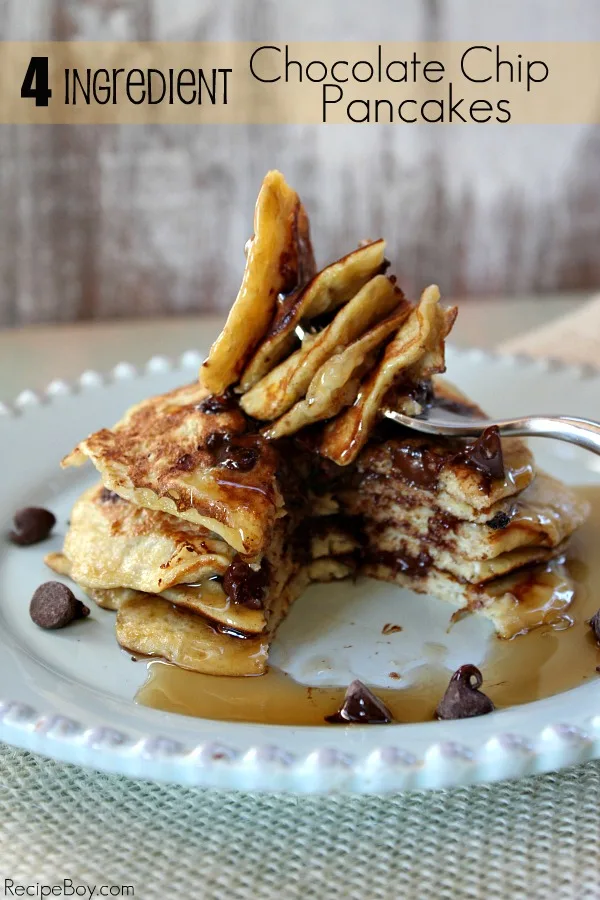 Have you guessed what the 4 ingredients are yet? The 4 ingredients are eggs, banana, baking powder, and chocolate chips. No flour of any kind!! I would never have guessed that these pancakes were this simple. The baking powder added to these pancakes fluffs them up. EVERYONE loves fluffy pancakes. This recipe tastes the same as regular banana pancakes, but better. They are SIMPLE and YUMMY. They also happen to be both gluten-free (using GF chocolate). I love eating these for breakfast and I hope that you will too! 🙂
And even a kid can make very simple but yummy pancakes… Like Me!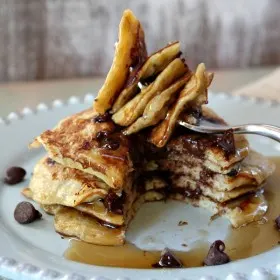 4 Ingredient Chocolate Chip Pancakes
SUPER easy pancakes with just 4 ingredients!
Ingredients
2

large

eggs

½

cup

very well mashed ripe bananas

⅛

teaspoon

baking powder

chocolate chips
Instructions
Mix the eggs, banana and baking powder in a medium bowl.

Heat your griddle and spray with nonstick spray. Pour about ¼ cup batter into the skillet and spread it into a circle. Let it cook until almost done on the bottom (light brown), then drop some chocolate chips onto the top of the pancake. Flip it over when the edges are dry and the bottom is pretty golden. It'll be a little messy and the chocolate will melt some. Cook just about a minute on the other side, then transfer to a plate. Keep cooking and flipping and stacking onto the plate. Top with syrup and eat!
Nutrition
Serving:
1
serving
Calories:
234
kcal
Carbohydrates:
28
g
Protein:
7
g
Fat:
11
g
Saturated Fat:
6
g
Polyunsaturated Fat:
1
g
Monounsaturated Fat:
2
g
Trans Fat:
0.02
g
Cholesterol:
186
mg
Sodium:
98
mg
Potassium:
335
mg
Fiber:
1
g
Sugar:
20
g
Vitamin A:
306
IU
Vitamin C:
5
mg
Calcium:
62
mg
Iron:
1
mg