One of my favorite "special treat breakfasts" is a yummy doughnut. So this past week I decided to rack my brain for a yummy kind of doughnut. Finally after days of intense thinking, I found the answer. Why I hadn't thought of this before? I made Baked Cake Batter Doughnuts. Watch the video showing you how to make these donuts, then scroll to the bottom of this post and print out the recipe so you can make them at home!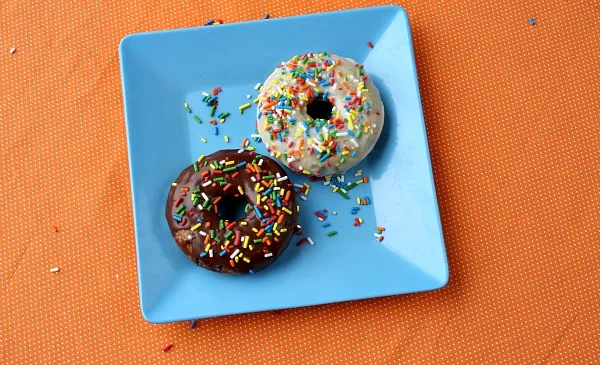 I personally like chocolate glaze but you can put both kinds of glazes (chocolate and vanilla) on this treat.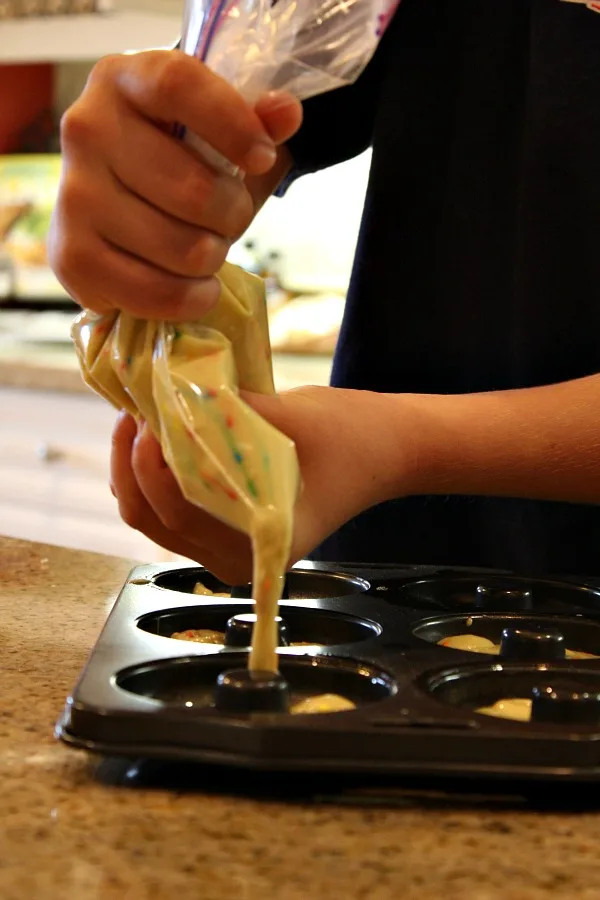 You'll need a doughnut pan for this one (unless you want to turn them into muffins instead). We only have one doughnut pan (6 doughnut spots), so I made one batch and then made the 2nd batch. When you put the doughnut batter in the pan, don't put too much in because then the doughnuts will rise over the centerpiece and not have a hole in the middle.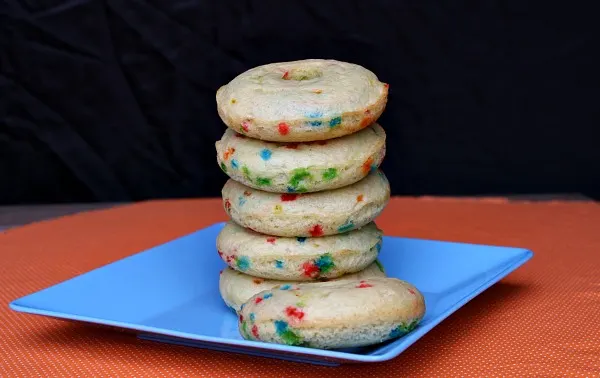 Ah… the doughnuts are pretty and colorful when they come out of the oven. The trick is to add a lot of sprinkles in the batter.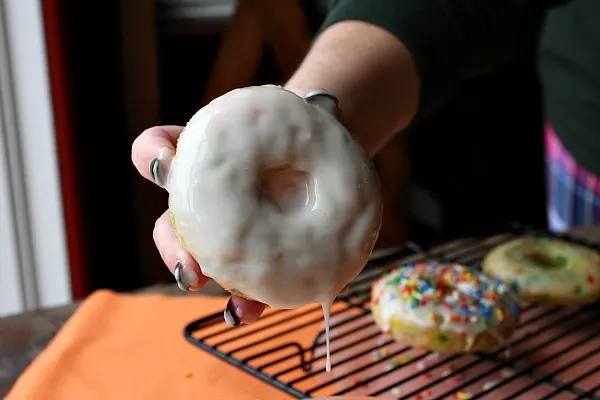 Next, you have to dip each doughnut in a glaze and then let it dry a little on a rack.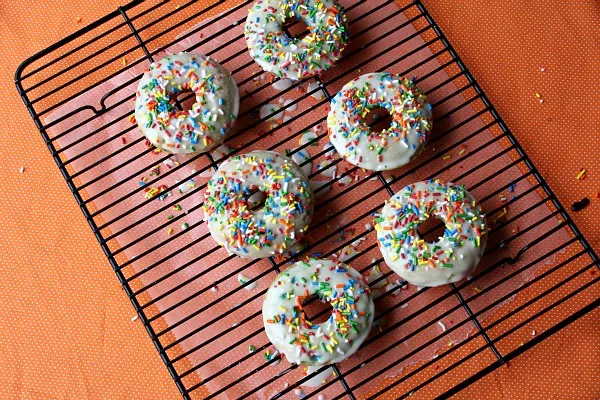 The first batch is done (It's now ready to serve and be devoured)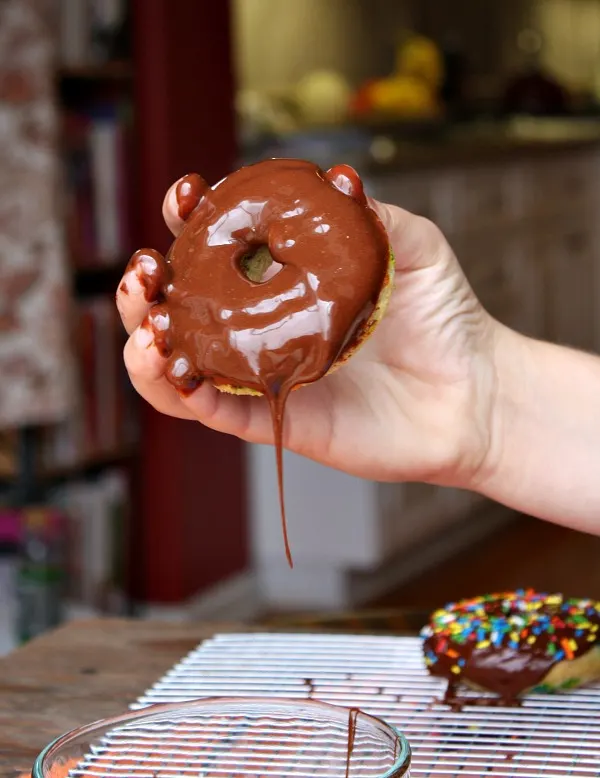 This is one messy recipe. Look at my chocolatey fingers! I want to lick those so badly right now.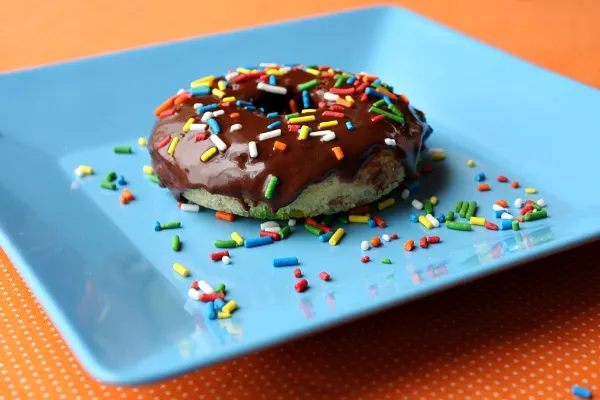 Even though the doughnut above looks heavenly, it won't after 2 days of storing. Warning: These doughnuts are best eaten on the same day that you make them.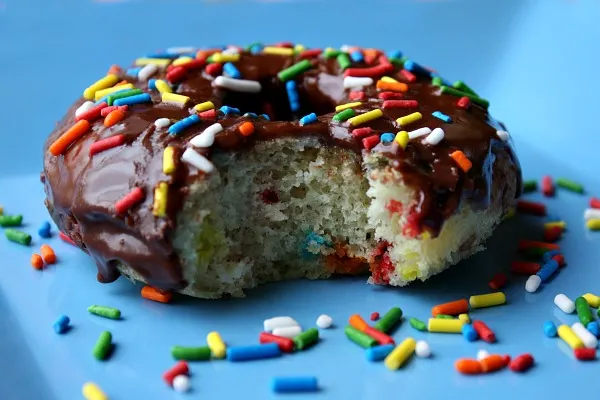 Chocolate and Cake Batter… what more could you ask for besides a glass of milk? I REALLY loved this recipe in case you don't know by now. If you're a Funfetti Cake Batter fan (like me), you have got to try this recipe ASAP.
And even a kid rack his brain for countless days trying to find out what kind of doughnut he wants to make… Like Me!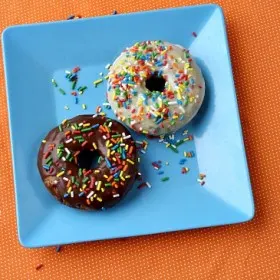 Cake Batter Doughnuts
Delicious doughnuts, and no frying involved!
Ingredients
VANILLA GLAZE:
1

cup

powdered sugar

½

teaspoon

vanilla extract

1 to 2

tablespoons

milk

(add a little at a time)
CHOCOLATE GLAZE:
⅔

cup

powdered sugar

2

tablespoons

unsweetened cocoa powder

¼

teaspoon

vanilla extract

1 to 2

tablespoons

hot water

(add a little at a time)
Instructions
Prepare the doughnuts: Preheat the oven to 325℉. Lightly spray a doughnut pan with nonstick cooking spray. In a large bowl, mix flour, cake mix, sugar, baking powder, and salt. Stir in milk, eggs, vanilla and melted butter. Mix until well combined. Stir in the sprinkles. Scrape the batter into a large zip bag, snip the corner and squeeze the batter into the doughnut shapes in the pan- only filling 1/2 to 3/4-full. Bake 8 to 10 minutes, until the doughnuts spring back when touched. Cool the doughnuts completely before adding the icing.

Prepare the glaze: Each of the glaze recipes listed will ice 12 doughnuts, so if you'd rather have all vanilla or all chocolate- you'll need to double the recipe for that. To prepare the vanilla glaze, use a whisk to combine the powdered sugar and vanilla in a small bowl. Whisk in just enough milk to create a nice dipping consistency. For the chocolate glaze- same thing- add just enough hot water to create a nice dipping consistency. Dip the doughnuts into the glaze and then place them on a wire rack to set the glaze. Add more sprinkles on top.
Nutrition
Serving:
1
doughnut
Calories:
185
kcal
Carbohydrates:
37
g
Protein:
3
g
Fat:
3
g
Saturated Fat:
1
g
Polyunsaturated Fat:
0.3
g
Monounsaturated Fat:
1
g
Trans Fat:
0.04
g
Cholesterol:
35
mg
Sodium:
230
mg
Potassium:
62
mg
Fiber:
1
g
Sugar:
26
g
Vitamin A:
101
IU
Calcium:
70
mg
Iron:
1
mg