Hello 4th of July! Our Independence Day is right around the corner and I knew that something amazing had to be prepared. Yes, something amazing. Something that's just out-of-this-world phenomenal! Suddenly, I found what I was looking for. There! In The Cape Cod Table cookbook by Lora Brody. I finally found an awesome 2/3 patriotic recipe. It was perfect, except for one thing that I realized later on. I made the Cape Cod Blueberry Scones. The only problem is… it only contains two out of three colors of the American Flag. I should have made some kind of strawberry glaze or something, but for now, the scones stay white and blue.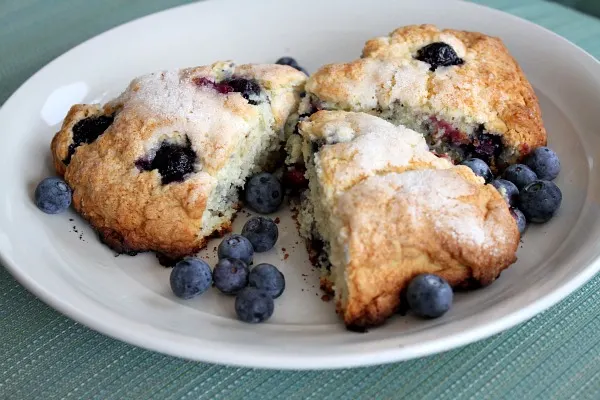 When I was little, I used to always make scones with my Grandma at our house in San Diego. Back then we made little petite scones like you see at Starbucks, but now… go big or go home. 🙂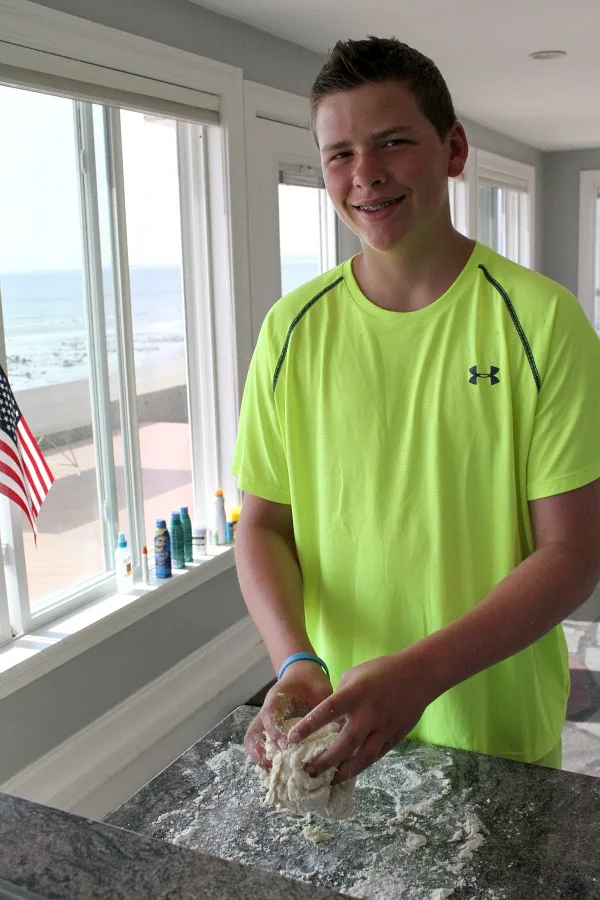 For some reason, I do not like the feeling of flour on my hands. Its better than raw chicken (ewwww) but it still just feels so… bleh.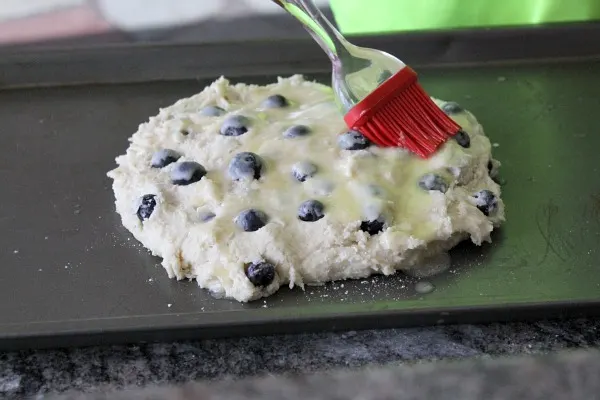 The directions said to brush the dough with butter. Oops. I kind of drenched the dough in butter. But don't worry, I am NOT becoming the next Paula Deen.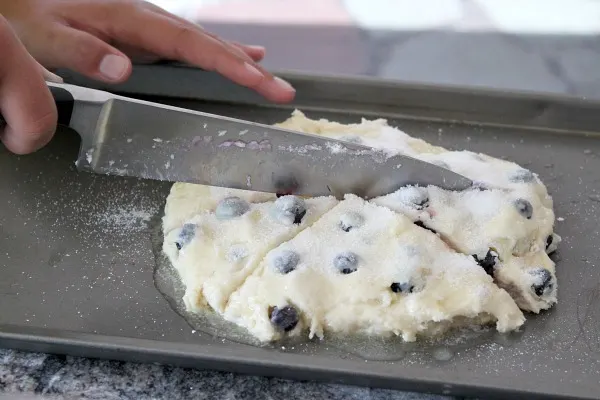 My mom expected there to be difficulty cutting the dough into scones because we transferred it all to the baking sheet too soon, but it ended up being okay. When the dough came out of the oven we had nice, even, and yummy scones. 🙂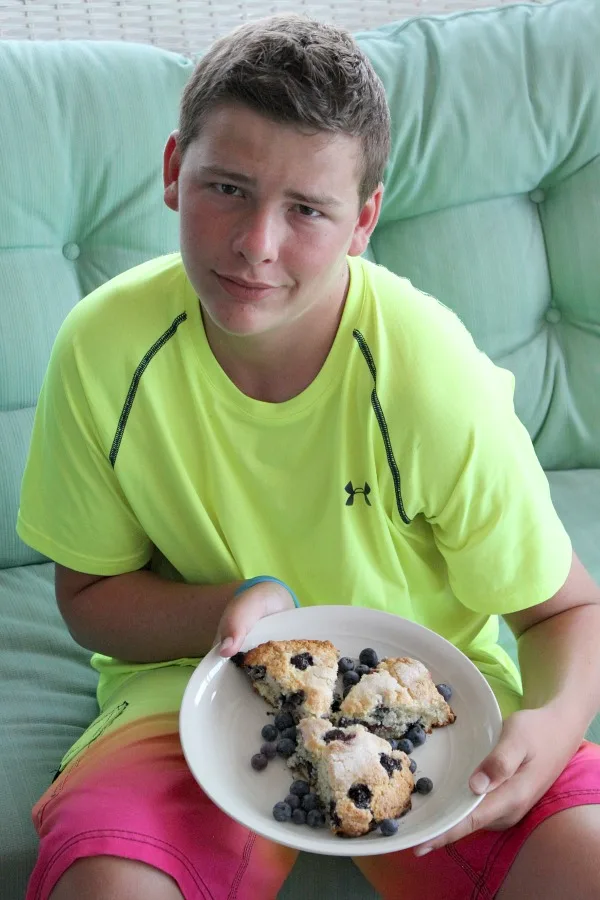 This is my: Mom-will-you-please-not-take-a-picture-and-just-let-me-eat-a-scone face. Seriously! I'm a growing boy, food takes first priority over photography.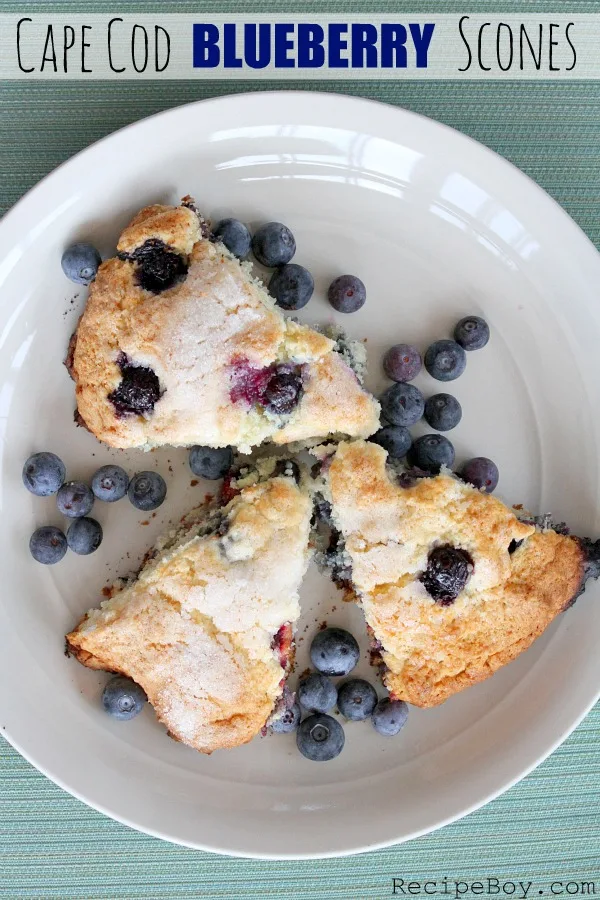 Oh my god. These scones just could be one of the best breakfast treats I've ever made. They may not be 100% patriotic, but if you are a big supporter of the USA, feel free to add strawberries or something similar. It was a huge bummer (SPOILER ALERT) that the US lost in the world cup against Belgium. It amazes me how a whole country that is about the size of Maryland, can have such a great soccer team. The game was very intense. 120 minutes of great soccer. If you did watch the game, you had to have seen how amazing the USA goalie is! Tim Howard played the game of his life! He had over 15 saves. That's pretty amazing if you ask me. Well, I do know another thing… that these scones are the bomb.com! Kids love them. Parents love them. Grandparents love them. Animals love them. Even aliens would love them! Do yourself a favor okay? Make these scones. 🙂
And even a kid can analyze the World Cup game and cook… Like Me!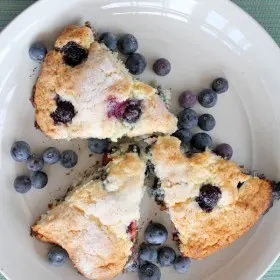 Cape Cod Blueberry Scones
A perfect morning treat for blueberry season!
Ingredients
2

cups

all purpose flour

1

tablespoon

baking powder

¾

teaspoon

salt

⅓

cup

granulated white sugar

1¼

cups

heavy whipping cream

1

cup

fresh blueberries

(you can use frozen)

3

tablespoons

unsalted butter,

melted

2

tablespoons

sugar or coarse sugar,

for sprinkling
Instructions
Place rack in the center of the oven, and preheat the oven to 425℉.

In a mixing bowl, whisk together the flour, baking powder, salt and sugar. Drizzle the cream over the dry ingredients and stir with a fork until the mixture forms a sticky ball of dough. Turn the dough out onto a floured surface. Knead 10 times with floured hands, adding a sprinkle of flour now and then if it's too sticky. Work in the blueberries at the end.

Pat the dough into a 9-inch round on a nonstick baking sheet. It's even better if you can line the baking sheet with parchment paper. Brush the top of the dough with the melted butter and sprinkle with sugar. Use a sharp knife to cut the round in half, then in half again, then cut each triangle in half to make 8 small wedges. Pull them apart slightly if you can.

Bake 15 to 20 minutes, or until the tops are golden brown and it's no longer gooey in the middle. Serve warm, or serve later at room temperature.
Nutrition
Serving:
1
scone
Calories:
333
kcal
Carbohydrates:
39
g
Protein:
4
g
Fat:
18
g
Saturated Fat:
11
g
Polyunsaturated Fat:
1
g
Monounsaturated Fat:
5
g
Trans Fat:
0.2
g
Cholesterol:
53
mg
Sodium:
389
mg
Potassium:
85
mg
Fiber:
1
g
Sugar:
14
g
Vitamin A:
688
IU
Vitamin C:
2
mg
Calcium:
120
mg
Iron:
2
mg