Today I made Red, White and Blue Berry Cheesecake Mousse. It's almost 4th of July, and I will be prepared. I love watching all of the fireworks when we are in Massachusetts every 4th of July. The only problem is that in the town we stay in every summer, they celebrate Independence Day on the 3rd of July! It's crazy right? Sparklers are awesome! I love waving them around and making cool shapes with the sparks. I kind of missed my Red, White and Blue Jello, so I decided to make a sweet patriotic dessert again.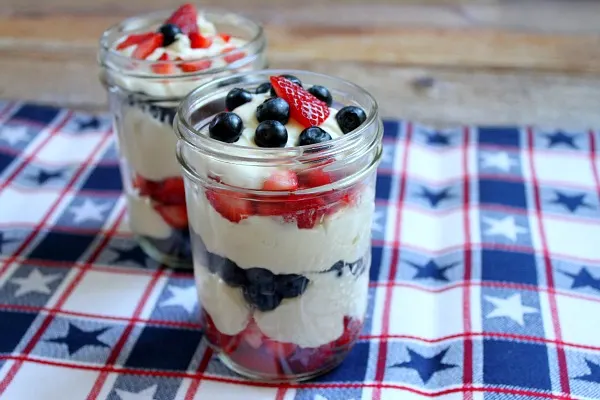 Cheesecake. Blueberries. Strawberries. Yumminess to the max!!! 🙂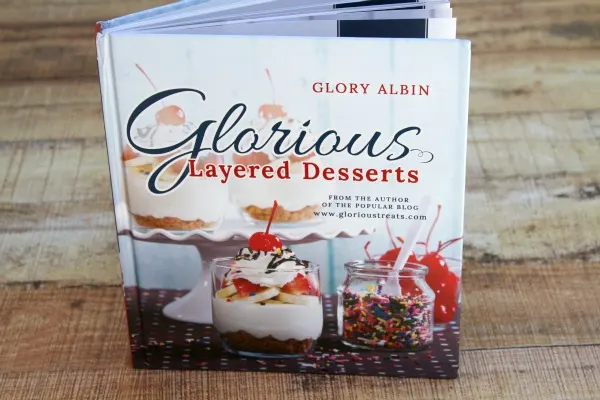 This recipe came from a cookbook that my mom's friend Glory wrote > Glorious Layered Desserts. I'm very patriotic and all that… but the naming your kid Glory? That's like Uncle Sam level of patriotism!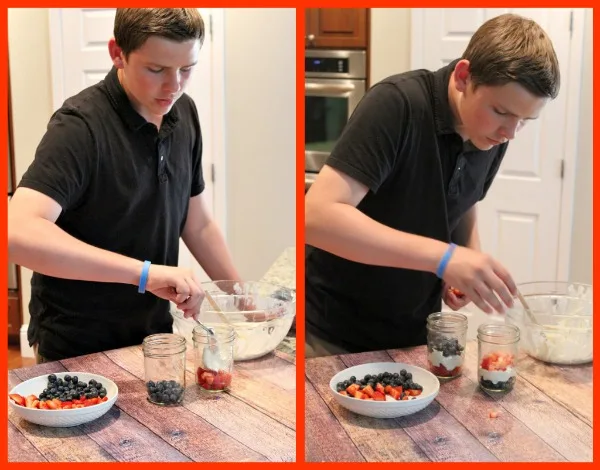 Argh I hate my school uniform. Khakis and a black polo? Ew. 🙁 These Red, White and Blue Berry Cheesecake Mousse cups were surprisingly hard to get in the jars. When you spoon the cheesecake in, it gets allllll over the cup! The sides get smeared with the cheesecake and you can't really even see the beauty of the layered dessert. So you have to spoon CAREFULLY.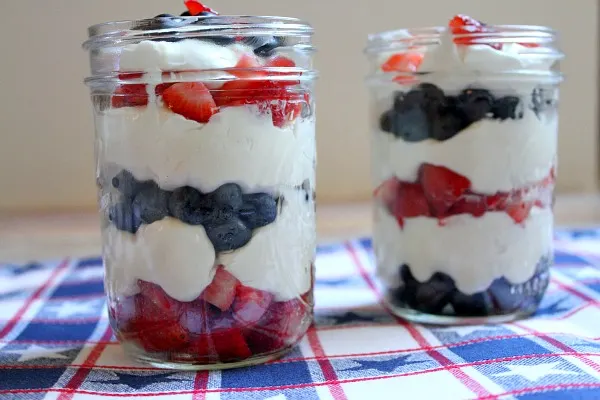 These aren't perfect, but they tasted darn near perfect! The red white and blue layers seemed surprisingly cool after they were done. A true patriotic dessert in its natural environment!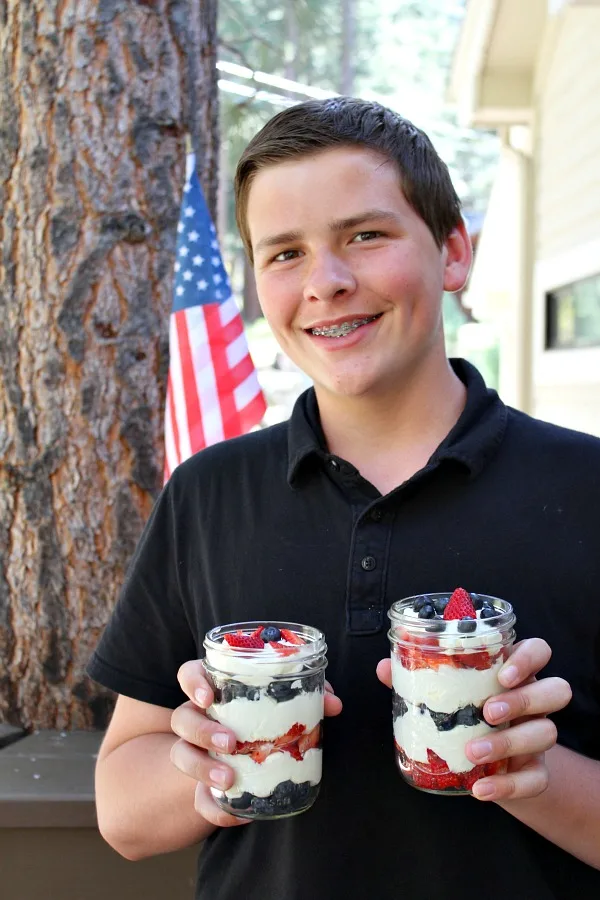 Woooo hoooo! The school year is over!!! I'm going into 8th grade and I'm soooo excited. I can finally be the top dog at school instead of one of the little sevies. It's terrible for 6th and 7th graders at my school because there is no good name for the 8th graders. 6th graders are Sixlets, 7th graders are Sevies, and 8th graders are… nothing really. Some people call them Double Donuts, but I think that is kind of stupid. Sadly, lacrosse season has come to an end. My team had a great season though. We won 2nd place in the end-of-the-year tournament. I hope I can play this summer when we are on the East Coast, where the big leaguers are at!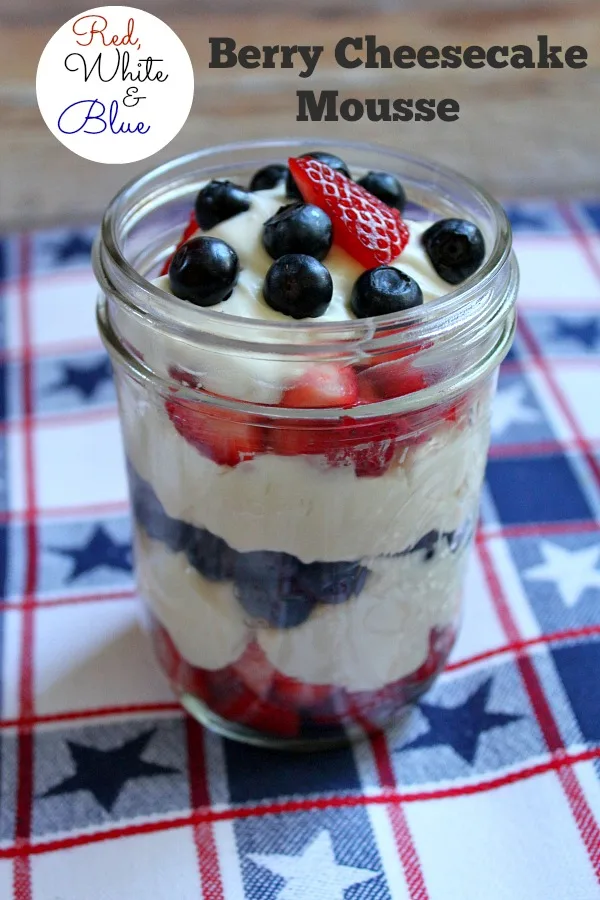 I'm becoming a better photographer every day. My mom always teaches me the best angles to take photographs, the best backdrops, and even how to garnish food better. These cheesecake mousse cups are very patriotic, and great for your 4th of July party. With each bite you get a little bit of America! If anyone is looking for a great tasting, no-bake, easy, patriotic dessert, definitely choose the Red, White and Blue Berry Cheesecake Mousse. I hope everyone has a great summer! Where are you guys vacationing?
P.S. My Mom (RecipeGirl) made a layered dessert from Glory's book too > Brownie Strawberry Shortcake. Check it out!
And even a kid can make patriotic foods… Like Me!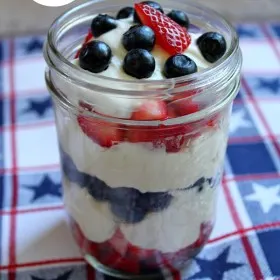 Red, White and Blue Berry Cheesecake Mousse
Awesome, no-bake dessert for 4th of July or other patriotic holidays!
Ingredients
CHEESECAKE MOUSSE:
⅔

cup

heavy whipping cream

¾

cup

powdered sugar,

divided

One

8 ounce package

cream cheese,

at room temperature

1

teaspoon

vanilla extract

2

tablespoons

milk
FRUIT:
your choice (I used blueberries and chopped strawberries)
Instructions
Prepare the cheesecake mousse: In a medium bowl, use an electric mixer to beat the heavy cream until it begins to thicken. While mixing, slowly add ¼ cup powdered sugar. Continue to beat until the mixture is thickened and holds a stiff peak. Do not overbeat or it will become overly thick and clumpy. Scoop into a bowl and put in the refrigerator.

In the empty bowl (no need to wash), add cream cheese and beat until smooth. Continue mixing and add remaining powdered sugar and vanilla. Add milk and beat until well-combined. Stop mixing and use a rubber spatula to gently fold in the cold whipped cream until combined. Use immediately, or cover and keep refrigerated for up to one day.

Assemble the cups: Start with fruit in the bottom of each glass or small mason jar. Add a layer of the cheesecake mousse and then repeat with another layer of fruit and another layer of mousse. Continue layering the cheesecake and fruit, depending on the size of your cups and the variety of fruit. Keep refrigerated until ready to serve.
Notes
Calorie count is for the mousse without berries.
Nutrition
Serving:
1
serving
Calories:
428
kcal
Carbohydrates:
27
g
Protein:
5
g
Fat:
34
g
Saturated Fat:
21
g
Polyunsaturated Fat:
1
g
Monounsaturated Fat:
9
g
Cholesterol:
103
mg
Sodium:
192
mg
Potassium:
126
mg
Sugar:
26
g
Vitamin A:
1357
IU
Vitamin C:
0.2
mg
Calcium:
91
mg
Iron:
0.1
mg
Disclosure: There are Amazon affiliate links included within this post.