I'm going to show you how to make walking tacos! These are "tacos" that you eat in a bag instead of tortillas. All of the great taco fillings are added to a bag of Fritos! Watch the video showing you how to make walking tacos, then scroll to the bottom and print out the recipe so you can make them at home!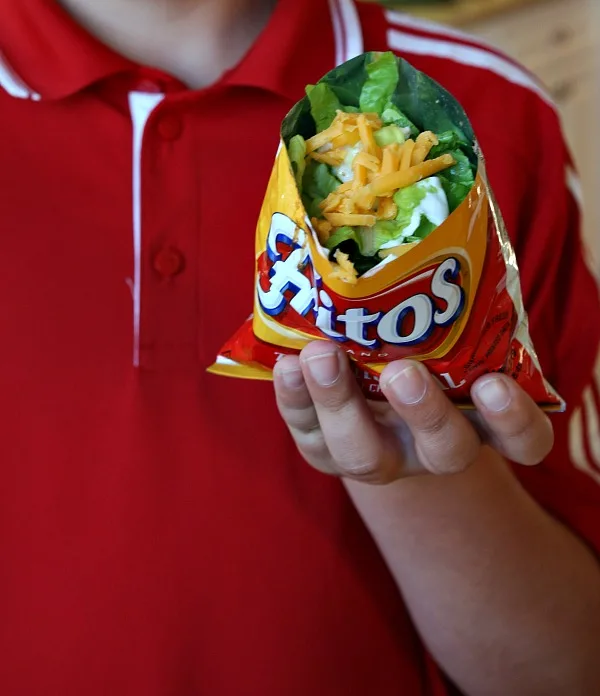 Have you ever had Fritos before? I bet some people have eaten them or have at least heard of them. My Dad is one of those people. His favorite chips are Fritos and his answer is always the same at Subway. I'll have blah blah blah with blah blah blah and a bag of Fritos. I also love this particular chip but not as much as the Frito Fanatic, my dad. This last week, I decided to make something that he would enjoy, Walking Tacos. Too bad for him though because I made this yummy recipe on a day that he was on a trip.
They are delish. I need a fork NOW!!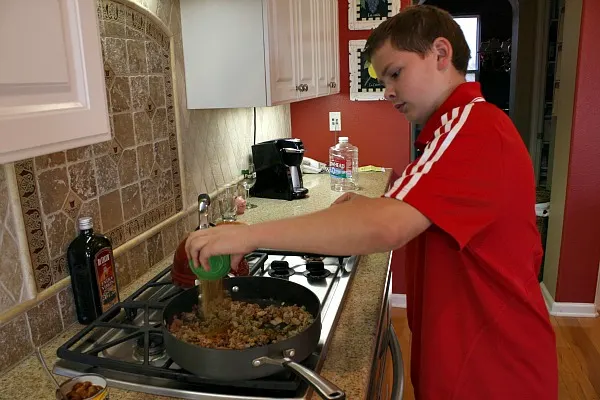 How to make Walking Tacos:
First you need to prepare the taco filling. Saute the onions, then add the meat, and finally add the spices and beans.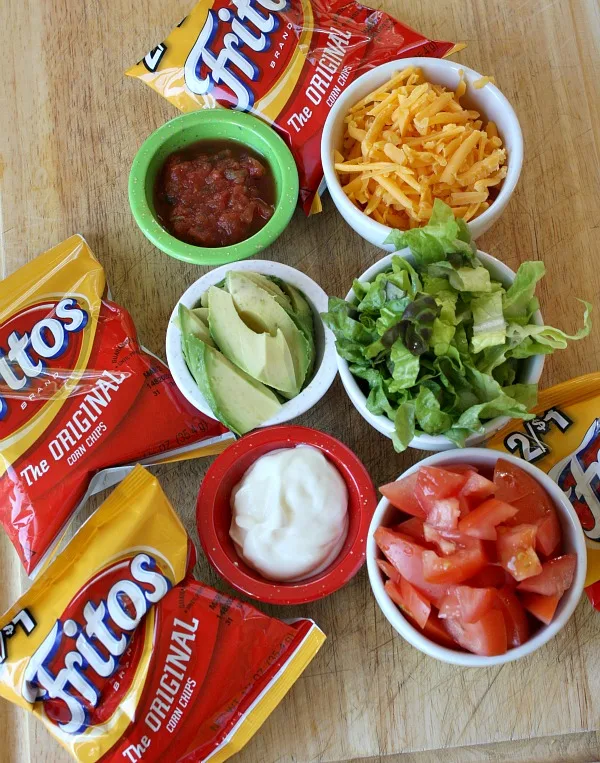 Here are the rest of the things you need to make Walking Tacos. I don't like tomatoes and some kinds of salsa so I avoided those two items myself.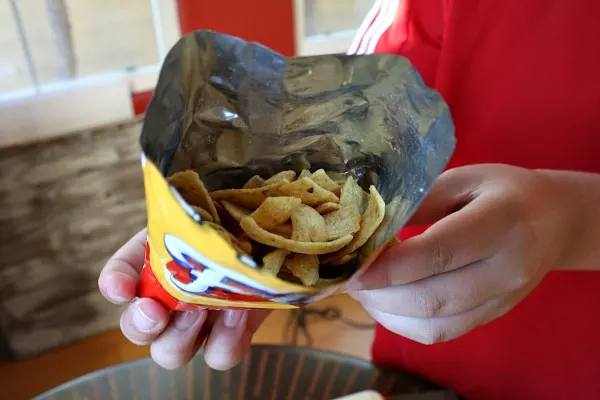 Gosh! The Fritos Company hardly puts any chips in the bag. What a rip-off… or so you think. It's actually good to have a small amount of chips in the bag that way you can load up the rest of your bag with meat and other yummy stuff.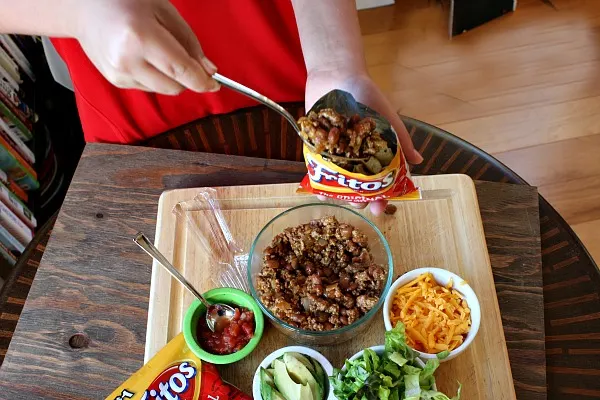 Once the meat comes off the stove, you can put some of it in the bag. At this point, it's already in the bag (No pun intended).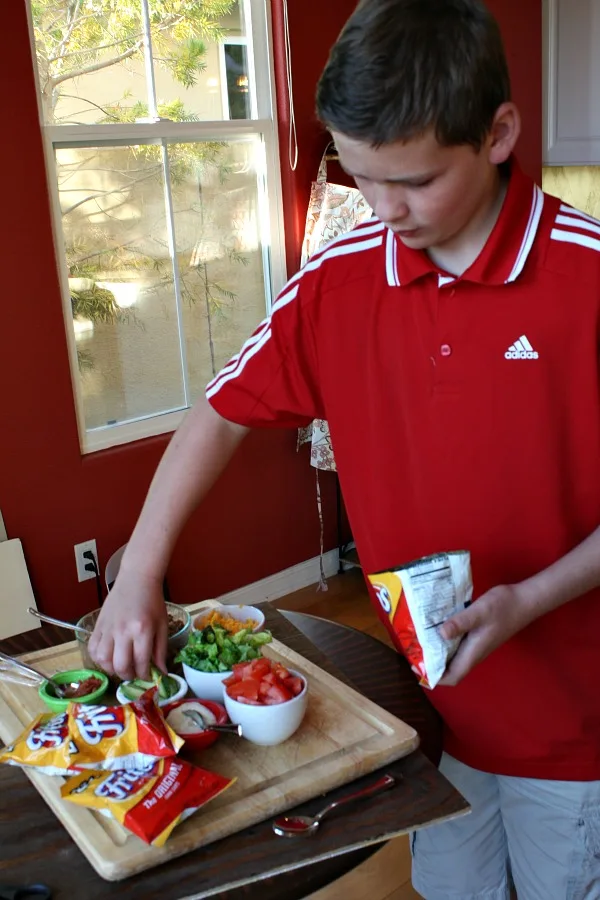 Now it's time to load up the meat and Frito filled bag with the other "yummy stuff" that I mentioned earlier.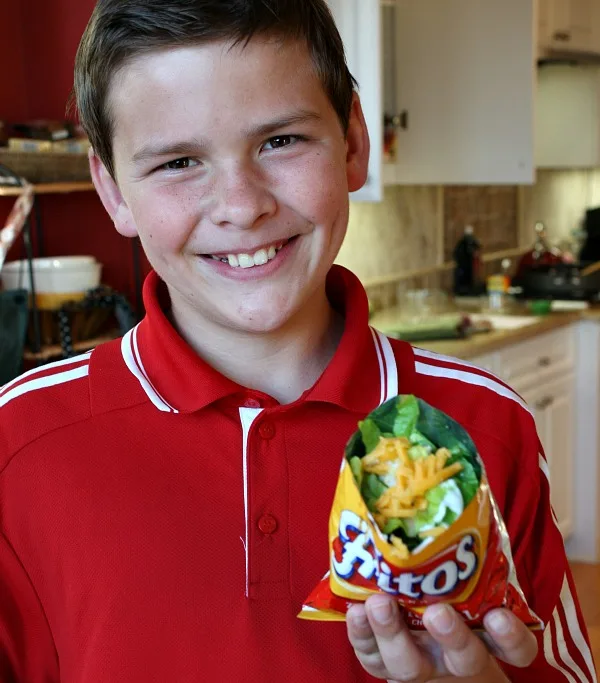 Whose mouth would not water at the sight of that modified bag of Fritos?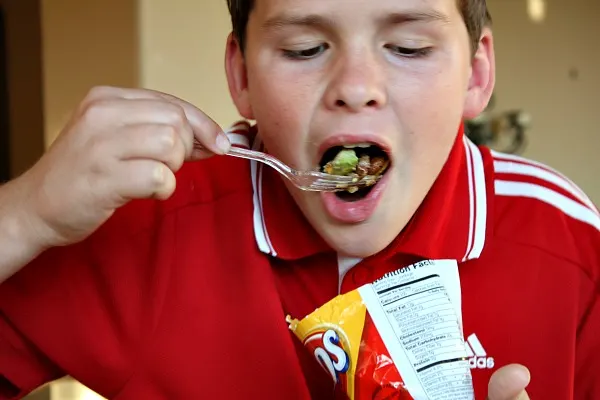 Final step: Eat your miraculous creation. Then just toss the bag when you're done- no mess! This Super Bowl festive recipe turned out great and every football-watcher dad (and everyone else too!) will LOVE these. YUM!!
I would like to thank Jenny at Picky Palate for sharing how to make Walking Tacos, and I hopefully will be able to make this for my dad when he is in town sometime later.
And even a kid can turn bags of Fritos into Walking Tacos…. Like Me!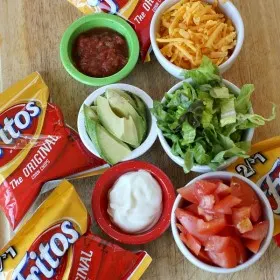 How to Make Walking Tacos
Ingredients
1

tablespoon

olive oil

1

cup

chopped sweet onion

½

pound

ground turkey

½

pound

ground beef

1

teaspoon

chili powder

1

teaspoon

cumin powder

½

teaspoon

garlic powder

½

teaspoon

dried oregano

½

teaspoon

sea salt

¼

teaspoon

freshly ground black pepper

1

(15.5 ounce) can

chili beans (or any beans),

drained

8 to 10

small bags

Fritos,

tops of bags cut off

desired taco fixings

(lettuce, tomato, sour cream, avocado, cheese, etc)
Instructions
Heat a large saute pan to medium-high, swirl a tablespoon of olive oil. Saute onions and mix in ground meats. Cook until lightly browned. Tilt the pan and scoop out any accumulated fat (or take a bunch of paper towels and let them soak it up. Discard the fat.

Mix dry ingredients in a small bowl. Sprinkle mixed spices onto the cooked meat. Pour in chili beans. Heat for about 10 more minutes, and your taco filling is ready.

Set up a "fixings" table with a bowl of the taco meat and desired taco fillings, and let each person fill their Fritos bag with whatever fixings they'd like.
Notes
Calories were calculated without any of the additional toppings.
Nutrition
Serving:
-2
serving
Calories:
326
kcal
Carbohydrates:
28
g
Protein:
17
g
Fat:
17
g
Saturated Fat:
3
g
Polyunsaturated Fat:
5
g
Monounsaturated Fat:
6
g
Trans Fat:
0.5
g
Cholesterol:
35
mg
Sodium:
730
mg
Potassium:
504
mg
Fiber:
4
g
Sugar:
4
g
Vitamin A:
94
IU
Vitamin C:
2
mg
Calcium:
73
mg
Iron:
3
mg