For my friend's birthday (the same friend that made the Polka Dot Cookies with me), I decided to make a cake that my mom has made before on her blog. Since my friend's favorite candy is Kit Kats, I made a Kit Kat Cake. I supposed that if he liked Kit Kats, he MUST like M&Ms.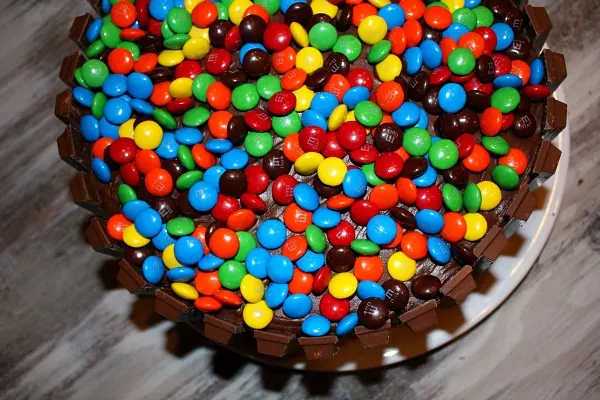 Whoa. I would be horrified to know how many calories are in this cake. The M&Ms and Kit Kats alone would be a TON of calories, but with cake and frosting too? Crazy.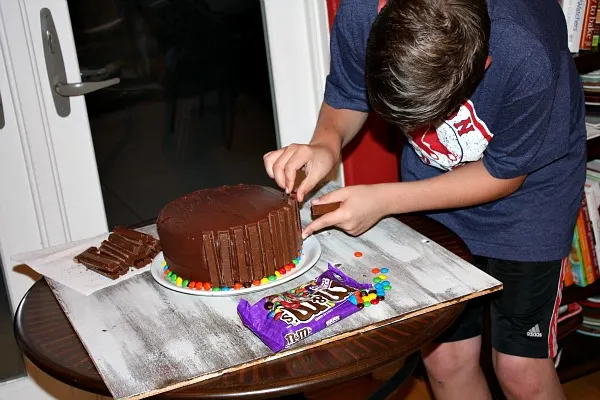 The process of decorating the Kit Kat Cake is pretty time consuming. You have to surround the cake with M&Ms at the bottom of the cake. After that last step, you need to gently press the Kit Kats into the cake just above the M&Ms.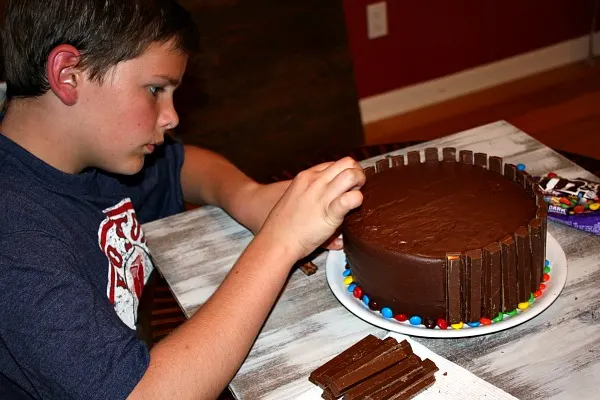 The Kit Kats need to be a very small space apart or else the M&Ms on top will slip through the open space.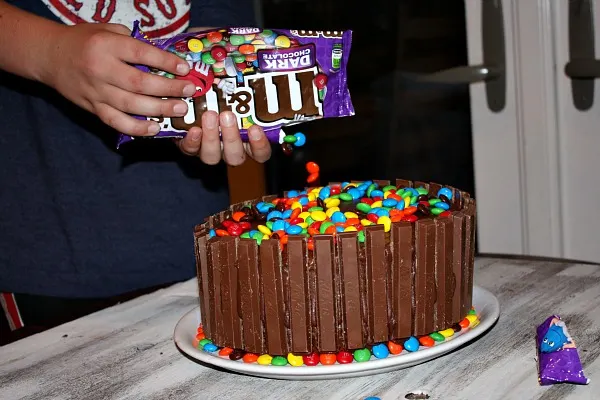 My famous saying in this photo is: "To dump M&Ms, or not to dump M&Ms." In this case, dump the M&Ms. But even though you dump the M&Ms on top, you still need to make sure that the M&Ms aren't all piled up on one side. Try to even it out.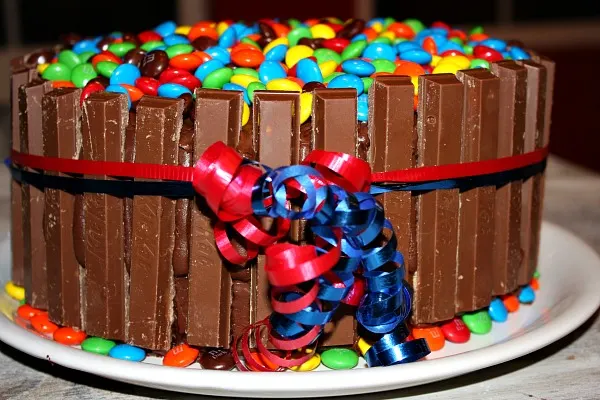 When you're done with the cake, take two awesome colors of ribbon and wrap it around the Kit Kats. It's a very clever idea. I only had three colors of ribbon, so I chose red and blue over yellow. Only now do I realize my cake looks like a presidential election cake.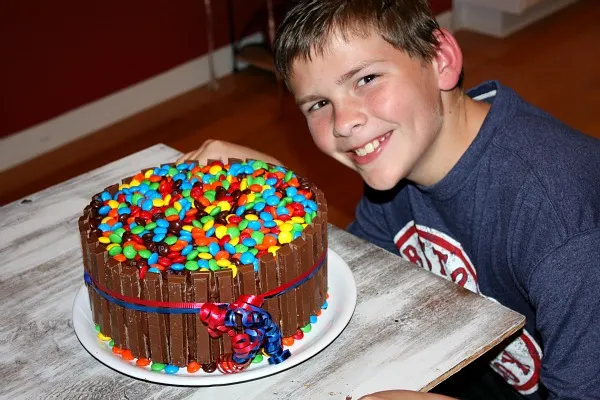 I was proud of my masterpiece and still am. All Kit Kat Cakes look as majestic as mine (but mine is a little grander than most people's cakes… because I made it!). 🙂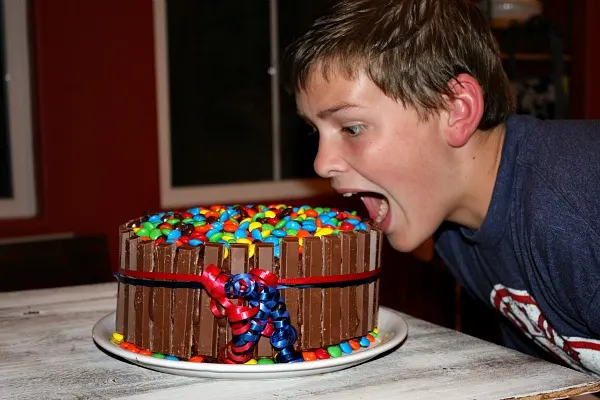 I might be able to take down the cake in one bite!! I don't really think so though.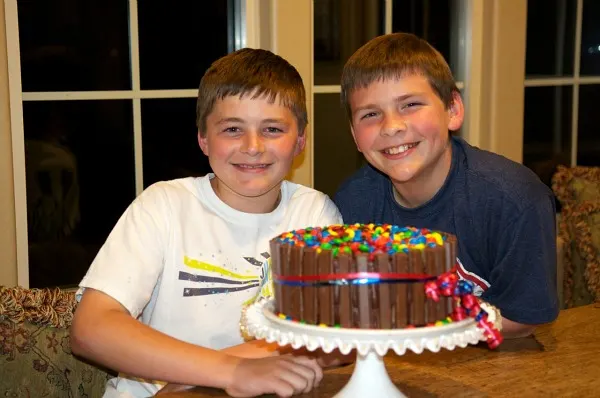 My friend, his family, and I LOVED this cake. I realized a measurement unit for cake slices too! You can use the Kit Kats to measure! For example: A three Kit Kat slice. The piece would be cut so that three Kit Kats are on the end your slice. In my opinion, the cake tasted perfect but chocolate is my life so other people might have different tastes than me (no pun intended). Any chocolate lover like me will want to marry this cake like the man who marries bacon in the Jack in the Box commercial. As the commercial says: "You may now eat the bride."
And even a kid can create puns without realizing it… Like Me!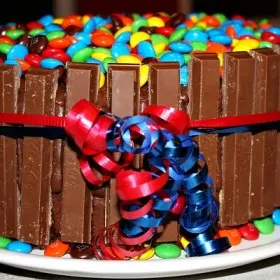 Kit Kat Cake
A fun cake that's sure to impress!
Ingredients
CAKE:
One

15.25-ounce box

of chocolate cake mix

1

cup

all purpose flour

1

cup

granulated white sugar

¾

teaspoon

salt

1⅓

cups

water

2

tablespoons

vegetable or canola oil

1

teaspoon

vanilla extract

1

cup

sour cream

4

large

eggs
DECOR:
2

tubs

of chocolate frosting (or make your favorite frosting recipe)

Three

4.5-ounce

Giant Kit Kat Bars (you'll need 36 Kit Kat sticks total)

One

12.6-ounce bag

of M&M's

Ribbon
Instructions
Preheat oven to 325°F. Grease and flour two 9 inch round cake pans and line a cupcake pan with 6 liners (you're going to have 6 cupcakes to munch on along with your cake!)

In a large bowl, whisk together cake mix, flour, sugar and salt. Add remaining ingredients and beat with hand mixer or a whisk for 2 minutes, or until well blended.

Scoop the batter into 6 cupcake liners ¾ full. Divide the remaining batter into the prepared round pans. Bake the cupcakes for about 25 minutes, and bake the cake rounds about 35 to 40 minutes, or until a toothpick inserted in the center comes out clean. Let the cake cool in the pan for 20 minutes, then remove the cake layers to a wire rack to cool completely.

When the cake is cool, you're ready to assemble. Place one layer on a serving plate, and tuck strips of waxed paper underneath the sides of the cake.

Frost the 1st cake layer. Set the 2nd layer on top of the first. Frost the 2nd layer and along the sides of the cake too. Stick Kit Kat's to the sides of the cake, leaving a very small space in between each Kit Kat (¼ inch). Wrap a bow around the cake, securing the Kit Kat's. Fill the top of the cake with M&M's. Pull out the strips of waxed paper and discard. Use any extra frosting to frost your 6 extra cupcakes.

If you refrigerate the cake for a couple of hours or so, it will be much easier to cut and serve. Of course, you'll need to remove the bow just before serving.