Today I am going to be sharing Part 2 of my Best Books for Boys– best for ages 9 to 12. These are my Top 5 favorite series. I had a tough time fitting all of the good ones in so I made an Honorable Mentions List at the end.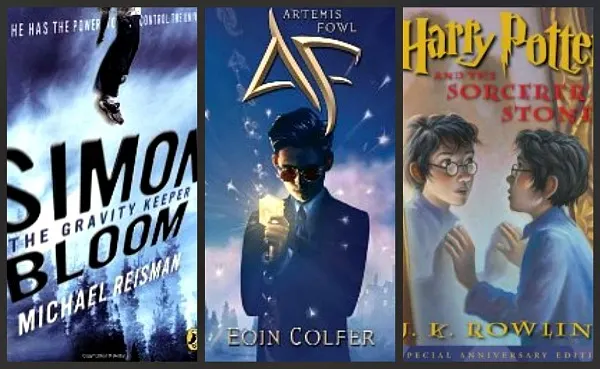 #5 Simon Bloom: The Gravity Keeper by Michael Reisman-The Gravity Keeper is about three young kids who have to save their town from evil wizards. This particular book appealed to me because of its cool spells and suspenseful moments.
#4 The Artemis Fowl Series by Eoin Colfer-This series is about a young rich kid with a deadly bodyguard who joins forces with a fairy police squadron to defeat bad guys. I love this book because it is an example on what all fantasy novels should be like: realistic but with a twist of fantasy here and there.
#3 The Harry Potter Series by J.K. Rowling-In this book, a young schoolboy named Harry Potter discovers his talent at wizardry and goes to school at a special place named Hogwarts where he fights an evil maniac named Voldemort countless times. You probably haven't heard of this book right!? 🙂 I started reading this series when I was a wee little lad (Age 6).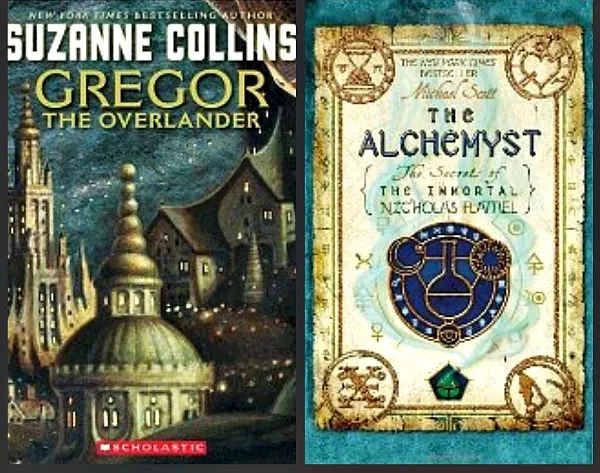 #2 Gregor: The Underlander Chronicles -In this series, a boy named Gregor falls through a laundry vent into a world called the Underland where he has to go on many quests to defeat the evil rats. Suzanne Collins is one of the best authors ever for me! Also the author of the Hunger Games series, she continues to write great books under the themes of adventure and violence.
#1 The Secrets of the Immortal Nicholas Flamel Series-(The Alchemist, etc)The topic of this book is saving the world too! Two twins have to save the world from evil magicians with their magical powers. Their are numerous books in this series and I have read the first three so far. Michael Scott creates more suspense with every book. I can't wait to read the next ones!
Honorable Mentions!
Peter and the Starcatchers by Dave Barry and Ridley Pearson
Millions by Frank Cottrell Boyce
The Extraordinary Adventures of Ordinary Boy by William Boniface
Million Dollar Throw, Summer Ball, and Hero by Mike Lupica
The Mysterious Benedict Society by Trenton Lee Stewart
The Westing Game by Ellen Raskin
School of Fear by Gitty Daneshvari
The Lemonade War by Jacqueline Davies
Alex Rider Series by Anthony Horowitz
Where the Red Fern Grows by Wilson Rawls
and everything! by Gary Paulsen
I'm currently reading The Hunger Games series by Suzanne Collins, and I recommend that one too! I hope I've introduced you to some new titles and have motivated kids to read some of these great books!