This week I made an adapted version of the Seven-Layer Bars in the All the Good Cookies cookbook. This is one of the Cookies for Kids' Cancer cookbooks, which has such an amazing concept. All of the author's proceeds go towards benefiting children's cancer. I made Six Layer Bars, leaving out the nuts for something even more awesome. These cookies are the bomb and guess what?! We are smack dab in the middle of bake sale season!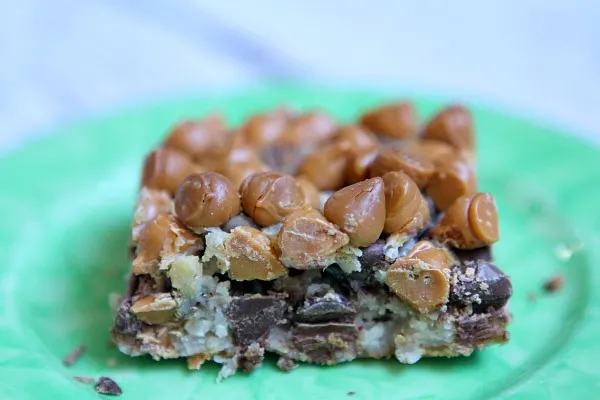 These bars usually have nuts on them, but I added more chocolate and butterscotch chips instead. I think that they turned out perfect… Just look at them! This recipe was super easy to make (literally 15 minutes of hands-on activity). The layers? They went perfectly together! Stay tuned for the layer-by-layer analysis. 🙂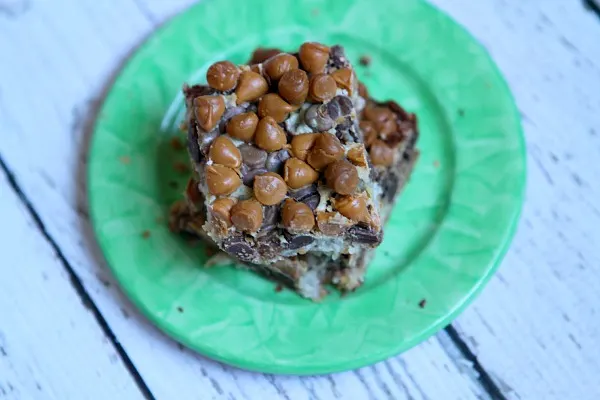 The chocolate and butterscotch chips didn't melt as much as I thought they would, but they probably look better like this anyways. The richness of the bars totally made up for quantity. One little bar is like eating a whole slice of cake (but probably less calories- or at least I hope so). No bake sale recipe can get better than this! 🙂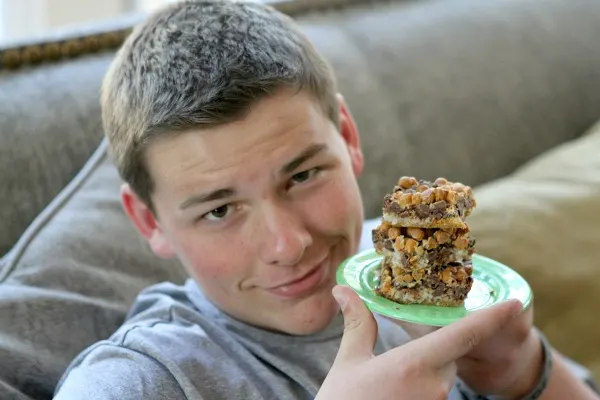 Ohhhh snap! These bars are the bomb.com.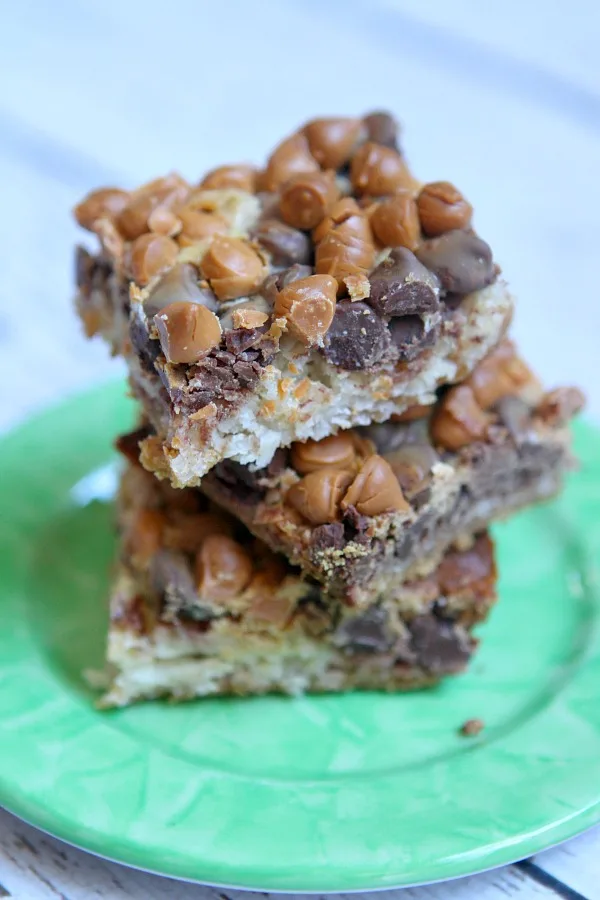 Now for the layer-by-layer analysis:
1. Butter
2. Graham Cracker Crumbs
3. Coconut
4. Chocolate
5. Sweetened Condensed Milk
6. Butterscotch Chips
Now that sounds like a kick-butt recipe to me!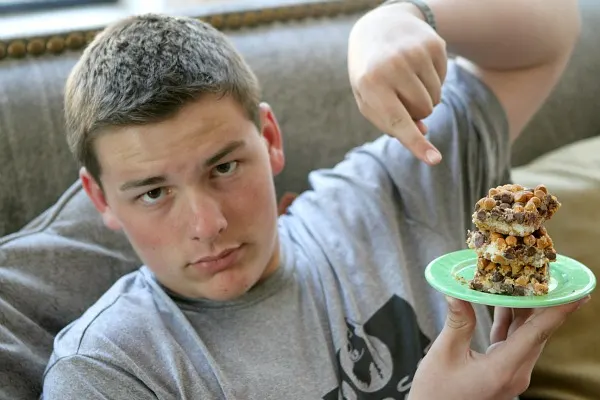 It is finally Spring Break! I have two weeks off and then it's the long haul to the end of the school year. What better way to celebrate Spring Break than with some epic Six Layer Bars? I absolutely loved these bars and so did my mom (my dad is out of town). They look amazing too! If there are ANY bake sales near you, bring these bars. They are a 100% bake sale recipe but also great for any occasion that needs a delicious dessert. Whip up a batch of Six Layer Bars soon and enjoy! 🙂
And even a kid can make a bake sale recipe that will have you raking in cash… Like Me!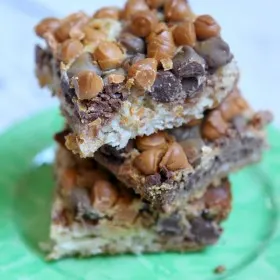 Six Layer Bars
A super quick and easy dessert bar recipe!
Ingredients
¼

cup (½ stick)

unsalted butter,

melted

1

cup

graham cracker crumbs

one

7 ounce bag

sweetened flaked coconut

2

cups

chocolate chips

(I used milk chocolate)

one

14 ounce can

sweetened condensed milk

1¼

cups

butterscotch chips
Instructions
Preheat the oven to 325 degrees F. Line a 9x13 inch pan with foil or parchment paper. Spray with nonstick spray.

Spread the melted butter in the bottom of the lined baking pan. Move the pan around to make sure the butter covers the entire bottom of the pan. Sprinkle the graham cracker crumbs over the butter. Top the crumbs with coconut. Sprinkle the chocolate chips on top of the coconut. Pour the condensed milk over the entire pan and top with butterscotch chips.

Transfer to the oven and bake 40 to 50 minutes. Cool completely in the pan (I refrigerated it until it was quite firm... then it was easier to get the whole thing out of the pan and transfer it to a cutting board and peel off the foil). Cut into 24 to 36 pieces.