I LOVE Nutella!!! Some of you guys might have picked that up from my About Page and my fantastic Nutella Chunk Cookies but I am just re-stating the fact. Most recently I made a Strawberry- Nutella Panini. Believe me, this recipe can't go wrong. 🙂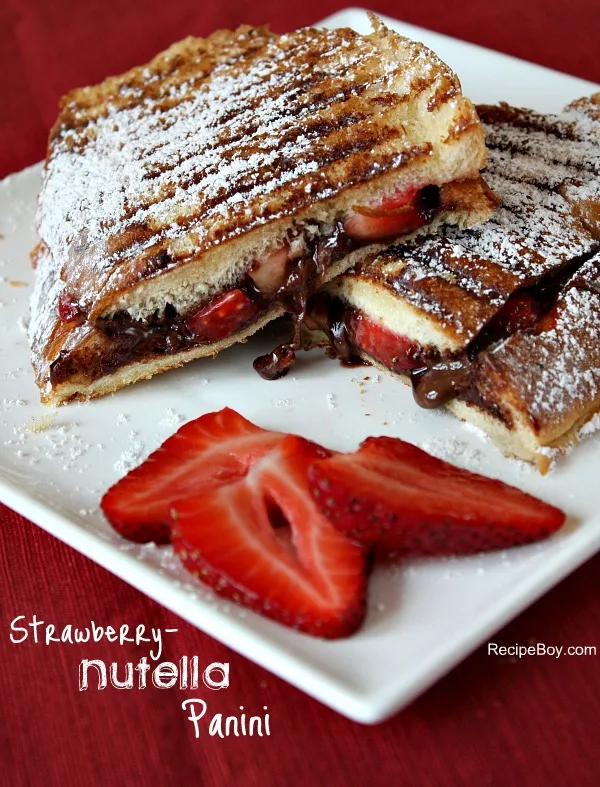 This recipe possibly might be a child's "dream lunch." After eating this though, you might not want to offer them dessert.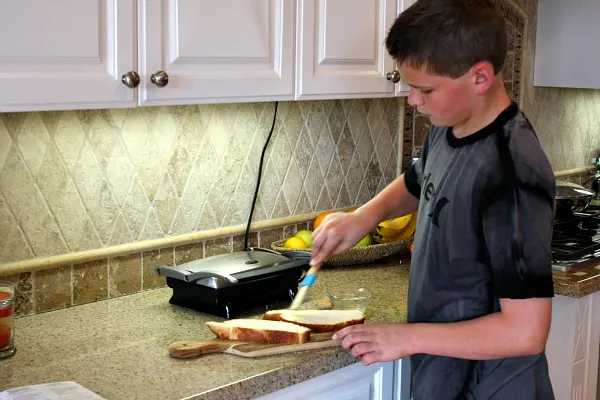 Butter the bread. Then add a layer of Nutella and strawberries.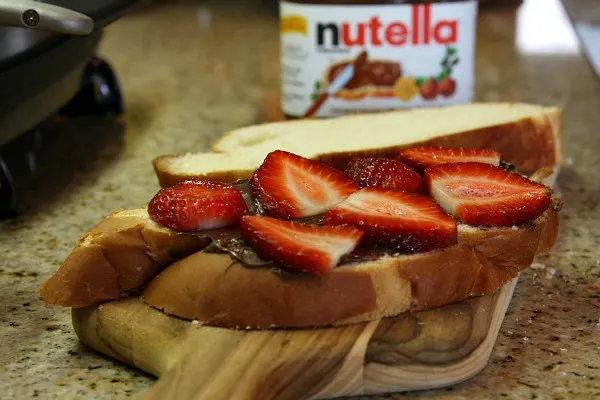 Now THAT is what I call a yummy combination! Strawberries and Nutella on Challah Bread.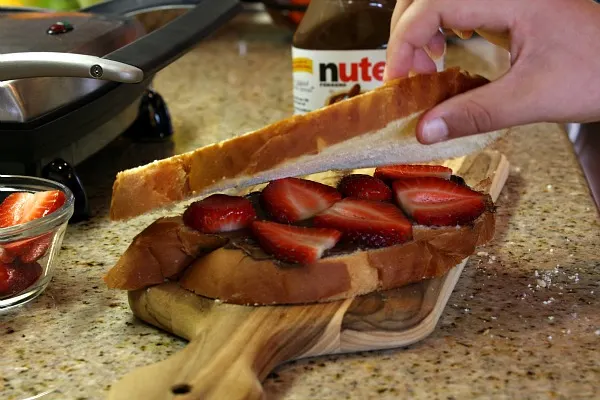 As soon as you put the top piece of bread on the strawberries and Nutella, you are ready to put the Strawberry- Nutella Panini on the panini press.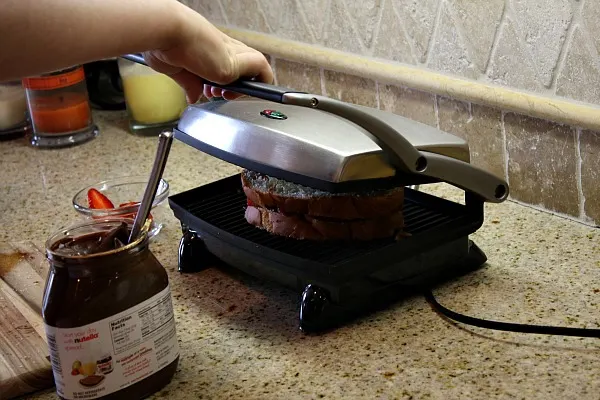 So the panini won't get completely squashed, push down very lightly on the handle of the panini press.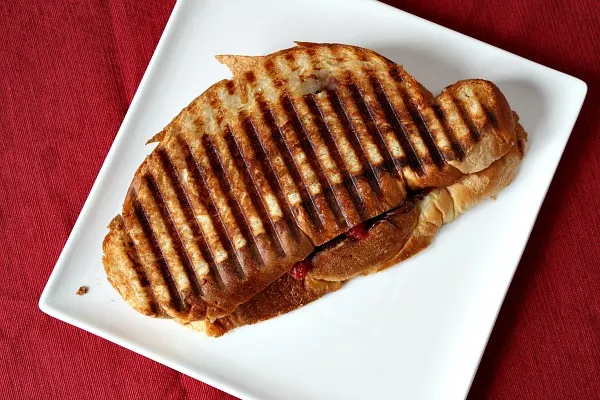 Some people may think all paninis are "good." I will show them that this panini rises above all other "good" paninis because this panini isn't good. It's AWESOME!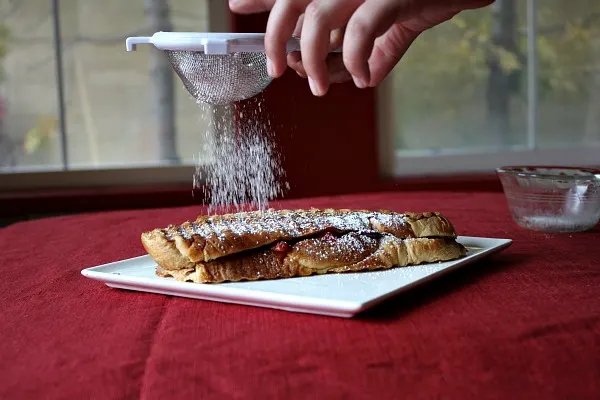 The powdered sugar and cinnamon both add a yummy twist to this recipe. The panini tastes great with these two ingredients but the only down side is that the powdered sugar gets all over your hands. So what.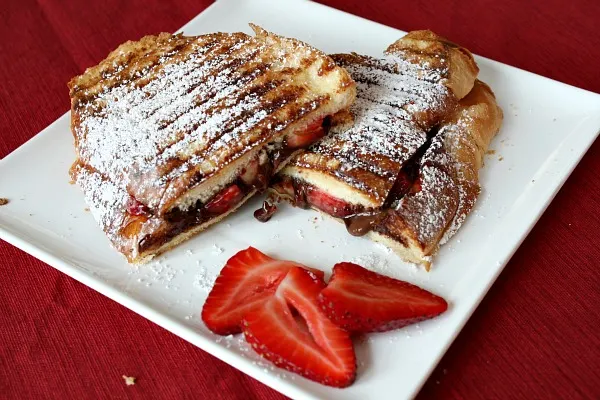 The Nutella epically oozes out of the delicious panini when you eat it.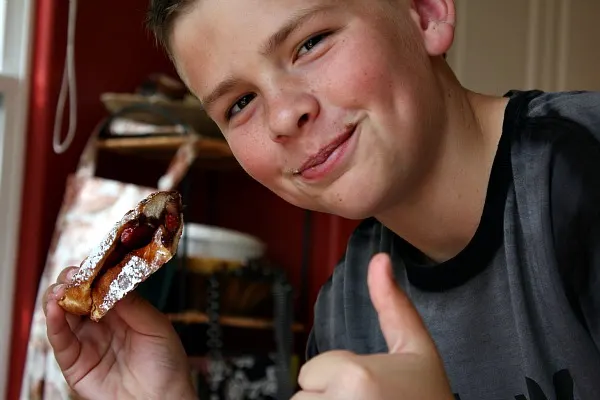 I approve. This recipe was made to perfection and it tasted like it too. I liked the way the Nutella melted into the strawberries. All of the ingredients swirled together into one big yummy flavor. I LOVED this recipe and I hope everyone else that makes it will love it too.
P.S. If you don't have a panini press, you need one!! But you can always make this like a grilled cheese instead (in a pan).
And even a kid can make a lunch that tastes more like a dessert than a meal… Like Me!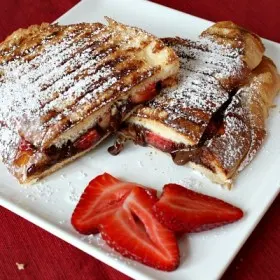 Strawberry Nutella Panini
Is this delicious sandwich lunch or dessert?
Ingredients
2

slices

bread

(Challah bread preferred!)

1

tablespoon

salted butter,

melted

2

tablespoons

Nutella

½

cup

sliced fresh strawberries

1

tablespoon

powdered sugar mixed with a dash of cinnamon
Instructions
Brush the bread with butter.

Flip the bread over and spread the Nutella on one piece.

Layer strawberries on top of the Nutella and add the other slice on top (butter-side-up).

Put the sandwich in your pre-heated panini press for 2 to 3 minutes.

Remove the sandwich and sift powdered sugar on top. Cut in half and eat!
Nutrition
Serving:
1
sandwich
Calories:
662
kcal
Carbohydrates:
88
g
Protein:
13
g
Fat:
29
g
Saturated Fat:
19
g
Polyunsaturated Fat:
2
g
Monounsaturated Fat:
5
g
Trans Fat:
0.5
g
Cholesterol:
84
mg
Sodium:
509
mg
Potassium:
403
mg
Fiber:
6
g
Sugar:
34
g
Vitamin A:
585
IU
Vitamin C:
49
mg
Calcium:
155
mg
Iron:
5
mg