This week I made Turkey- Pesto Meatballs.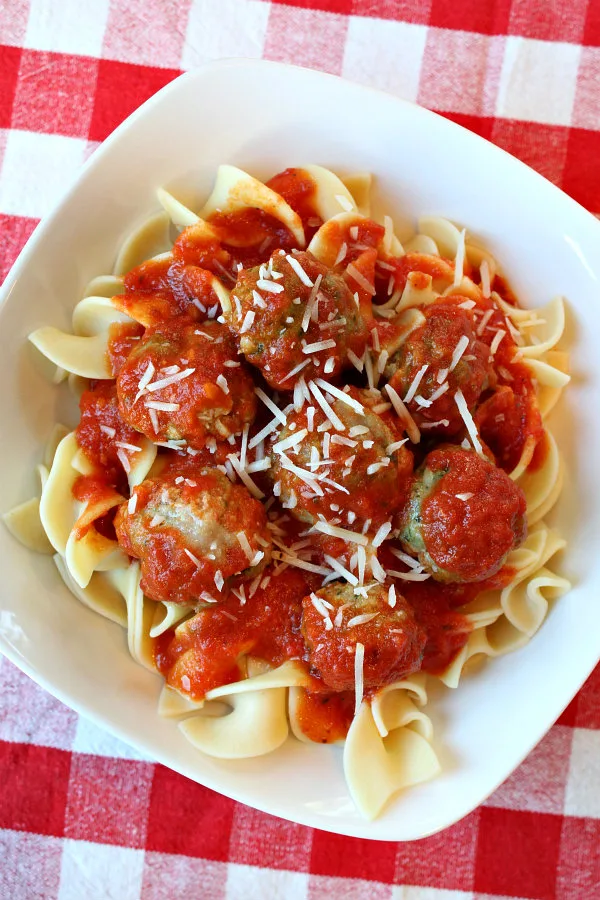 Even over a simple pasta, the meatballs taste great. I couldn't get enough of them.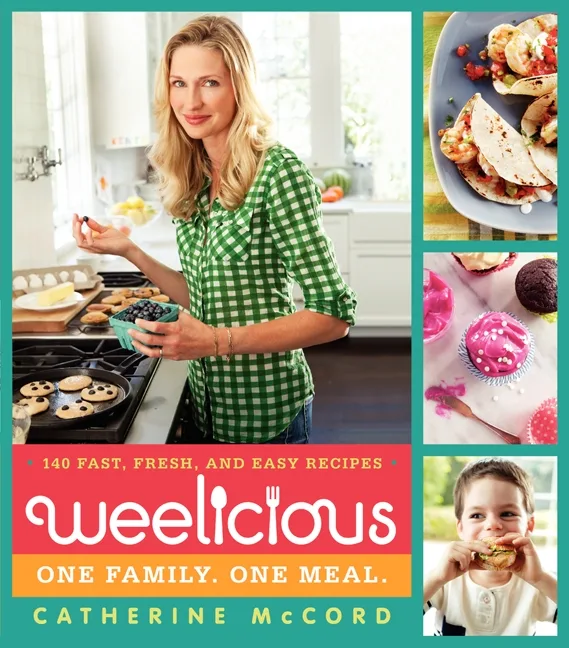 This recipe comes from the Weelicious Cookbook by Catherine McCord. I met Catherine at the BlogHer Food Conference earlier this year. She is really nice and is a great cook. This cookbook is great. Catherine has put so much effort into the book. The recipes look SO good. I want to make like a dozen more of them besides the Turkey- Pesto Meatballs! (by the way, the Turkey- Pesto Meatballs are awesome!) 🙂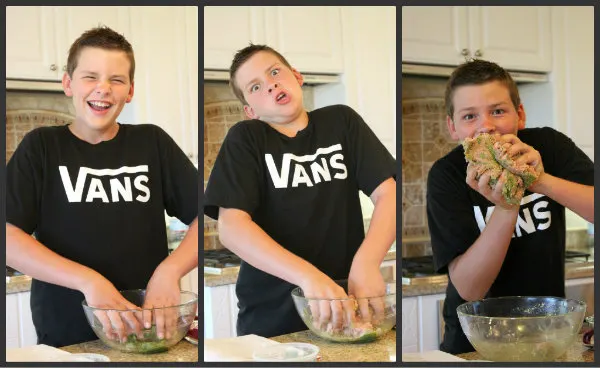 The turkey/pesto mixture felt weird when I kneaded it. You can see my mixed reactions.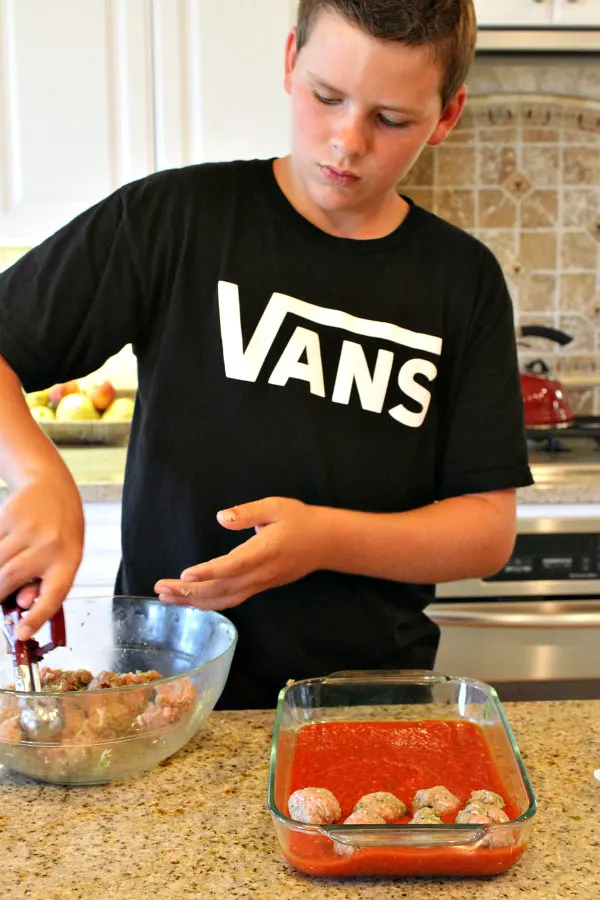 I wanted to make a few little itty bitty meatballs, but my mom said no because they wouldn't cook evenly. All of the meatballs had to be near the same size.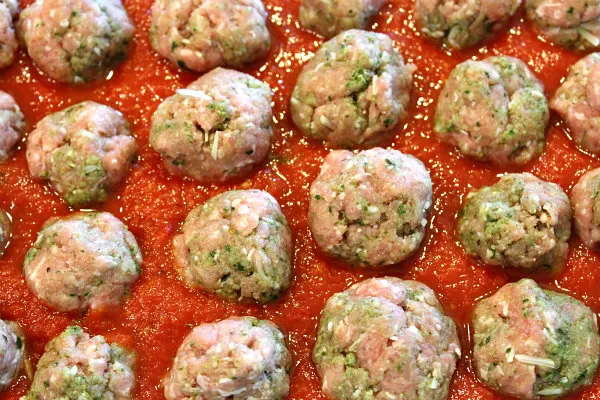 This recipe may appear to be really disgusting because you knead the meatballs with your hands, but it pays off in the end with an out-of-this-world taste!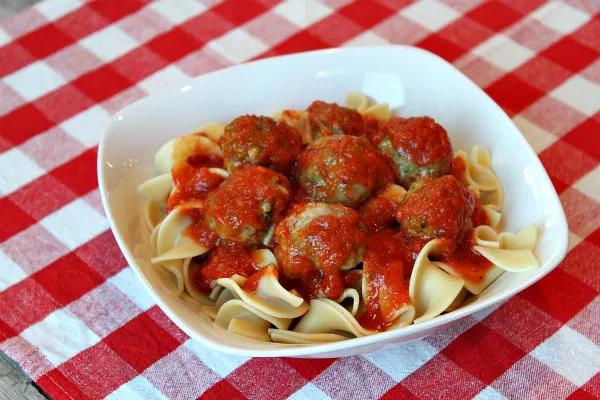 No pasta is complete without cheese. Whether it's a small amount or a whole tub, Italian food needs cheese.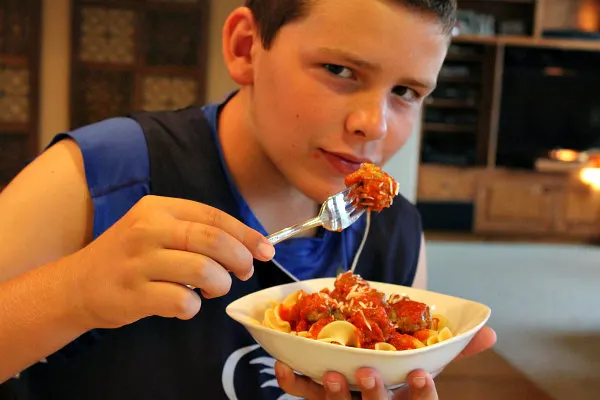 I ate this right before basketball practice, so I had a lot of fuel for running. I LOVE this recipe.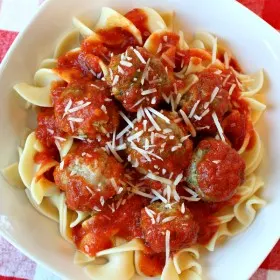 Turkey- Pesto Meatballs
Simple, healthy, AND delicious!
Ingredients
1¼

pounds

ground turkey

¼

cup

pesto

(I used store- bought

¼

cup

breadcrumbs

¼

cup

grated Parmesan cheese

1

teaspoon

salt

2

cups

marinara sauce

(I used Classico Tomato- Basil)
Instructions
Preheat the oven to 350 degrees F. Spray a 9x13-inch pan with nonstick spray.

Place the turkey, pesto, breadcrumbs, cheese and salt in a large bowl and use clean hands to combine them thoroughly.

Pour the sauce into the pan.

Using about 1 tablespoon or so per meatball, roll the mixture into balls and set them on top of the marinara sauce, creating rows.

Cover the baking pan with foil and bake for 20 to 25 minutes, or until cooked through. Mine took a little longer.

Serve over pasta or rice.