Hi Friends! It's RecipeGirl here… RecipeBoy's Mom. Brooks had a birthday last weekend- his 15th birthday! And as is tradition around here, I'm guest posting with a cake recipe to celebrate his birthday. His choice this year: Cookies and Cream Cake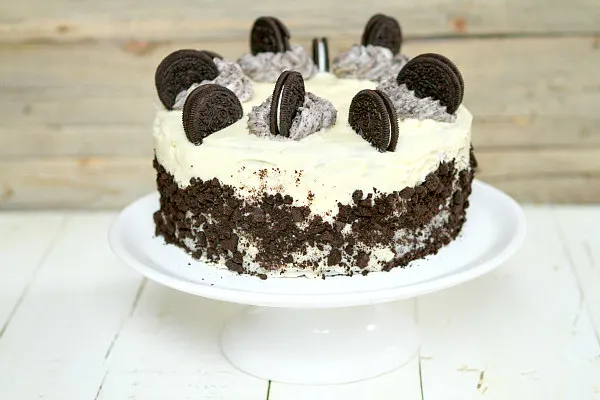 I chose this cake from a cookbook called, Make it with a Cake Mix by Lizzy Early. The cookbook has a selection of desserts that use cake mix as a base. This cake is a doctored-up cake mix turned into a fancy two-layer cake with an Oreo frosting. Brooks was having a few friends over for his birthday, and I knew they'd all love this cake!
Here's a series of photos showing you how I assembled the cake. I like to lay pieces of waxed paper under the sides of the cake… it makes frosting the cake (and the platter) much cleaner.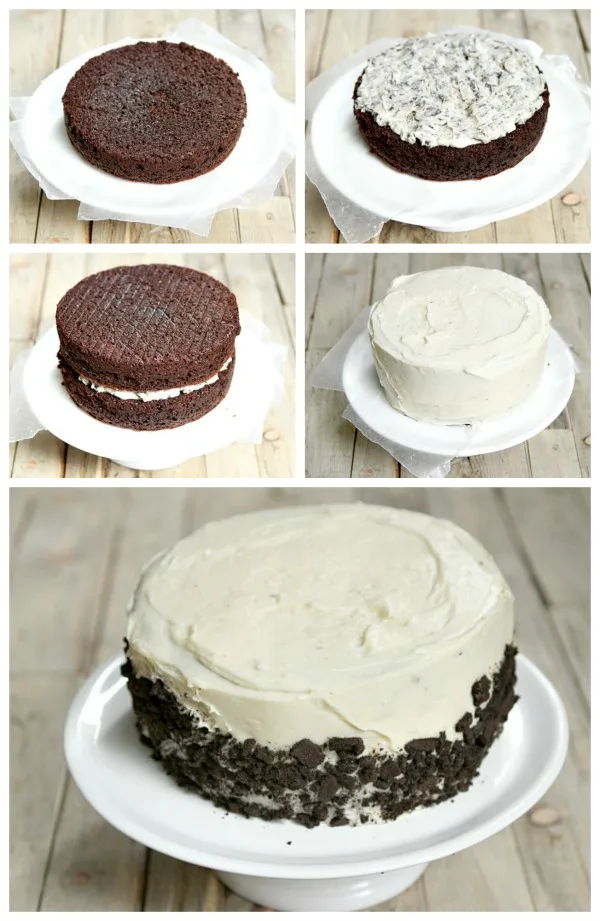 Here's a little interview I did with Brooks for his birthday:
What's the best thing about turning 15?
Almost being able to get my driving permit!!
What are your top 3 college choices?
Harvard, Notre Dame and Northeastern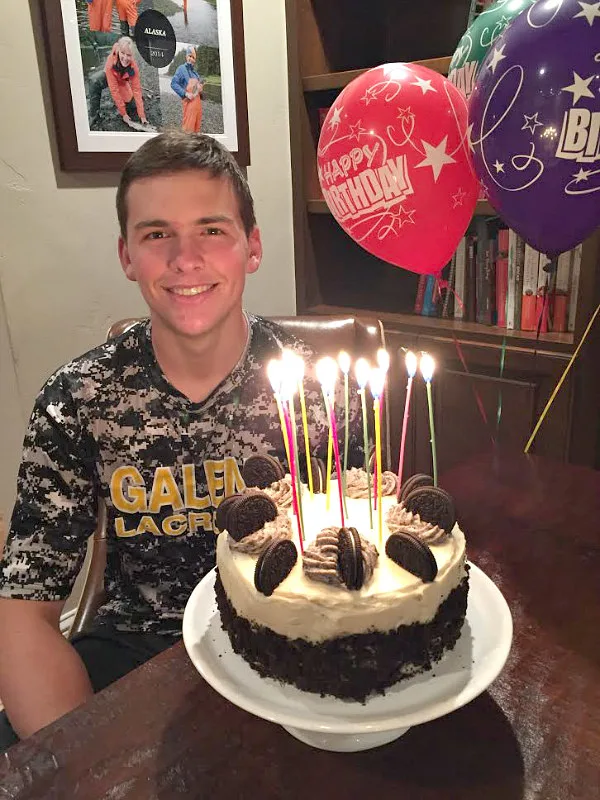 What do you think you'll major in?
Business
What do you want to be when you grow up?
An entrepreneur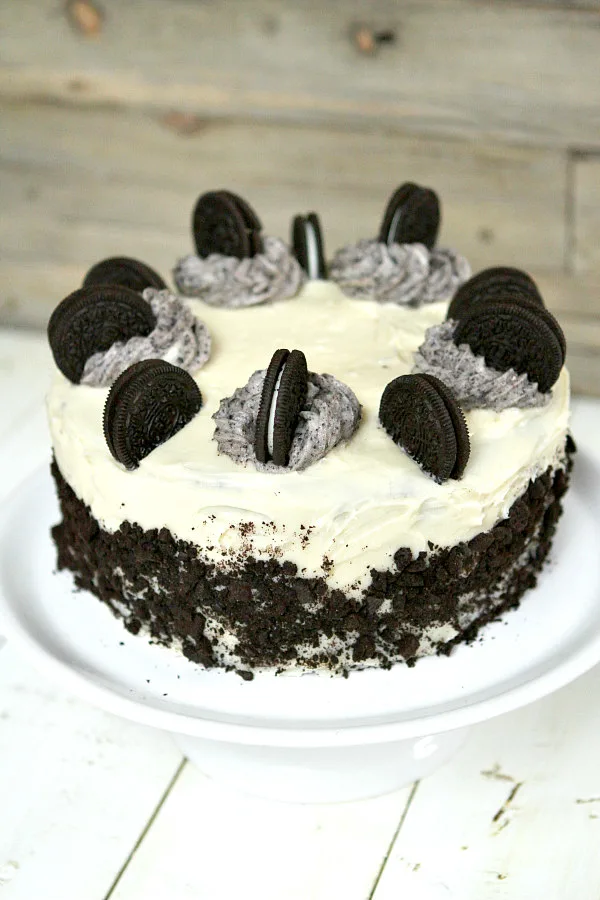 What's your favorite place to vacation?
Hawaii
Where would you like to travel?
Europe
What do you like to do in your free time?
Play lacrosse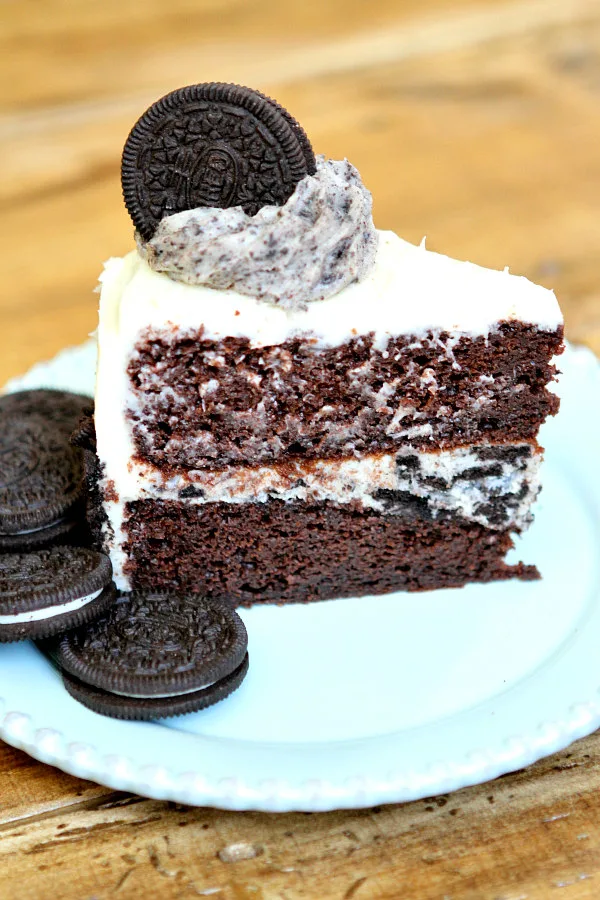 What is your favorite band/singer?
Drake
What is your favorite TV show?
Walking Dead
What's your favorite thing to have for dinner?
Steak or Ribs
And the verdict on the cake? Brooks and his buddies all enjoyed it very much (and Mom and Dad too!) It was especially good served with ice cream. It's hard to believe that Brooks is 15 already… he got this food blog 5 years ago on his 10th birthday!!!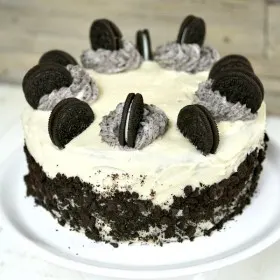 Cookies and Cream Cake
This cake is sure to impress!
Ingredients
CAKE:
1

box

devil's food cake mix

one

3.4 to 3.9-ounce package

instant chocolate pudding mix

4

large

eggs

¾

cup

milk

¾

cup

vegetable or canola oil

1

cup

sour cream

2

teaspoons

vanilla extract
FROSTING:
1

cup (2 sticks)

butter,

at room temperature

16

ounces (2 packages)

cream cheese,

at room temperature

1

tablespoon

vanilla extract

2

tablespoons

milk

5 to 6

cups

powdered sugar

1½

cups

crushed Oreos
DECORATION:
crushed Oreos and whole Oreos
Instructions
Preheat the oven to 350 degrees F. and grease two 8-inch round cake pans. If you are able to line the bottoms of the round pans with parchment paper, it will be easier to remove the cakes from the pans. Also, if you want nice, flat layers, attach cake strips to the pans. (They can be found at craft stores like Michael's or on Amazon.)

Sift the cake and pudding mixes into a medium bowl; set aside.

In a large bowl, whisk together the eggs, milk, oil, sour cream and vanilla extract. Stir in the dry ingredients.

Divide the batter between the two pans. Bake for 20 to 25 minutes or until a knife inserted into the center comes out clean.

Let the cake cool completely, then slide a knife around the edge of the pan and turn it over onto a rack. Tap your knife around the center of the bottom of the pan if it isn't coming out easily (to loosen it up). Repeat with the 2nd cake.

To make the frosting: In a medium bowl, use an electric mixer to combine the butter and cream cheese. Add the vanilla extract and milk; gradually add powdered sugar until frosting reaches a desired spreading consistency. Place about ⅓ of the frosting into a small bowl with 1½ cups of the crushed Oreos and fold until combined. This will be the frosting you use between the layers.

To assemble the cake: Place one layer on a cake platter, spread the Oreo frosting on top of the cake, then place the 2nd layer on top of the frosting. Cover the entire cake with cream cheese frosting that has not been mixed with the cookies. Decorate with crushed cookies on the sides and whole cookies on top. I had a little bit of frosting left over... so I mixed it with some very finely crushed Oreos and piped it on for decoration on top.