Today I get to share one of my favorite recipes ever: How to Make the Best Roasted Brussels Sprouts!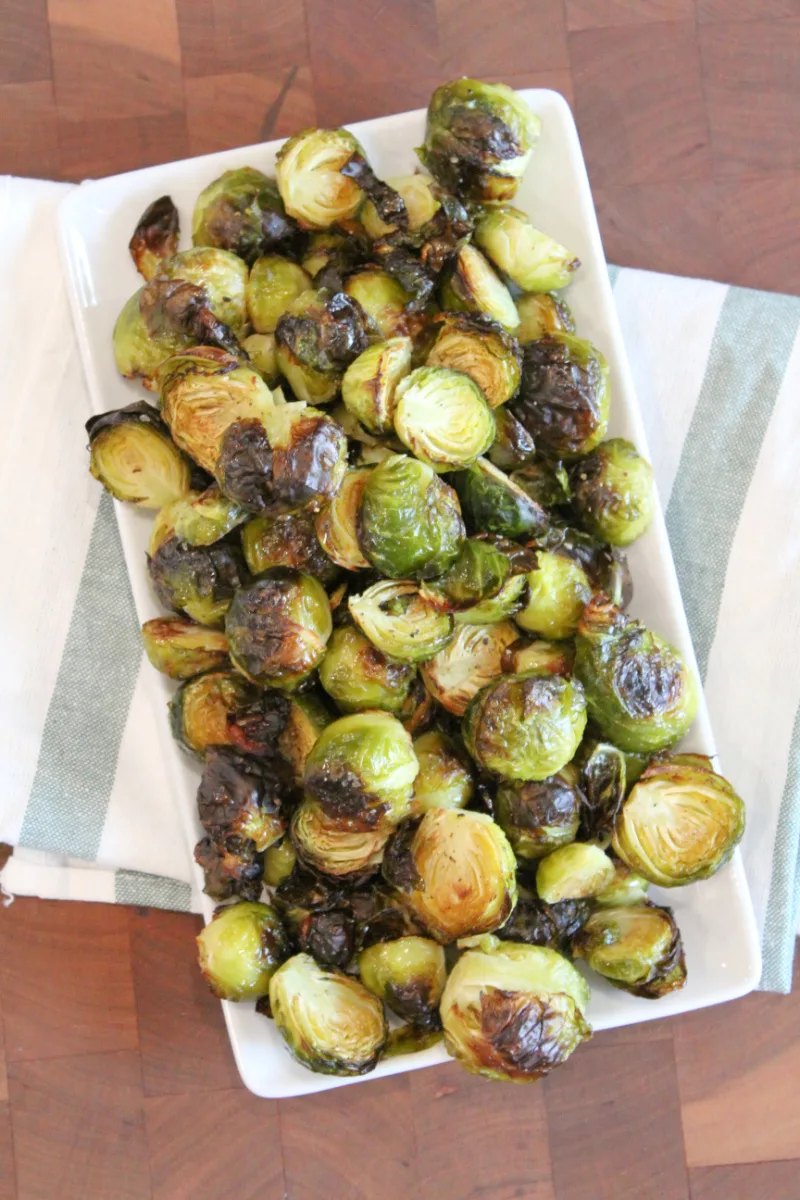 I'm not sure about everyone else, but it's been a cold week in Dallas! We got snow for the second year in a row (which practically shuts down the city and sends everyone into panic mode), making Texas feel much more like winter than Arizona did.
I am very much looking forward to the Super Bowl this weekend, as well as Olympic hockey! Since coming to college, I've actually gotten really into hockey because I love the fast-paced excitement of the game. That being said, go Team USA!!! It would be much better if our professional players from the NHL could play in the games, but it could be a Miracle-on-Ice type of year; who knows?!
Now that I've got you all caught up on my life, I'm going to show you how to make the best roasted brussels sprouts! Believe it or not, I make these often for dinner when I make my easy baked salmon.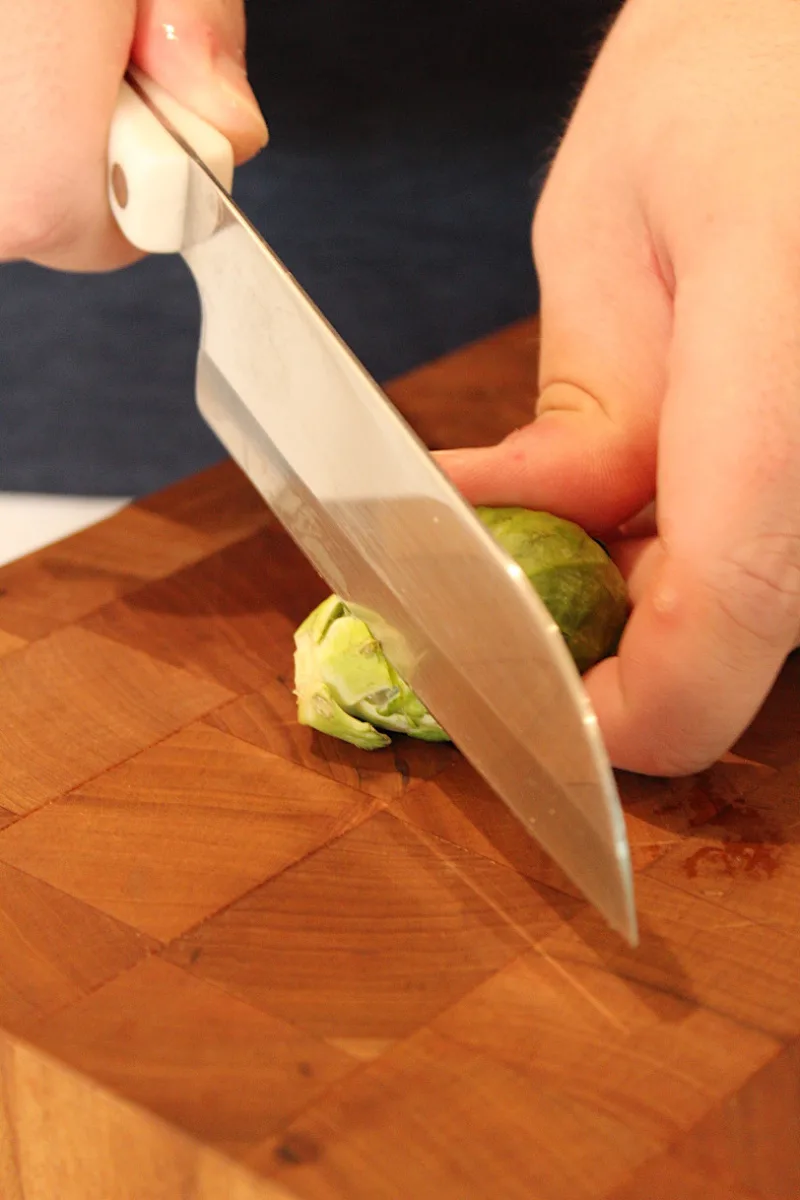 How do you trim brussels sprouts?
Trimming brussels sprouts is super easy! First, you rinse the sprouts. Next, all you have to do is cut off the base of the stem, just like how I'm doing it in the picture. You can peel away any loose or not-so-great looking outer leaves. I also cut them into halves, which makes for better bite-sized pieces and helps with the roasting process.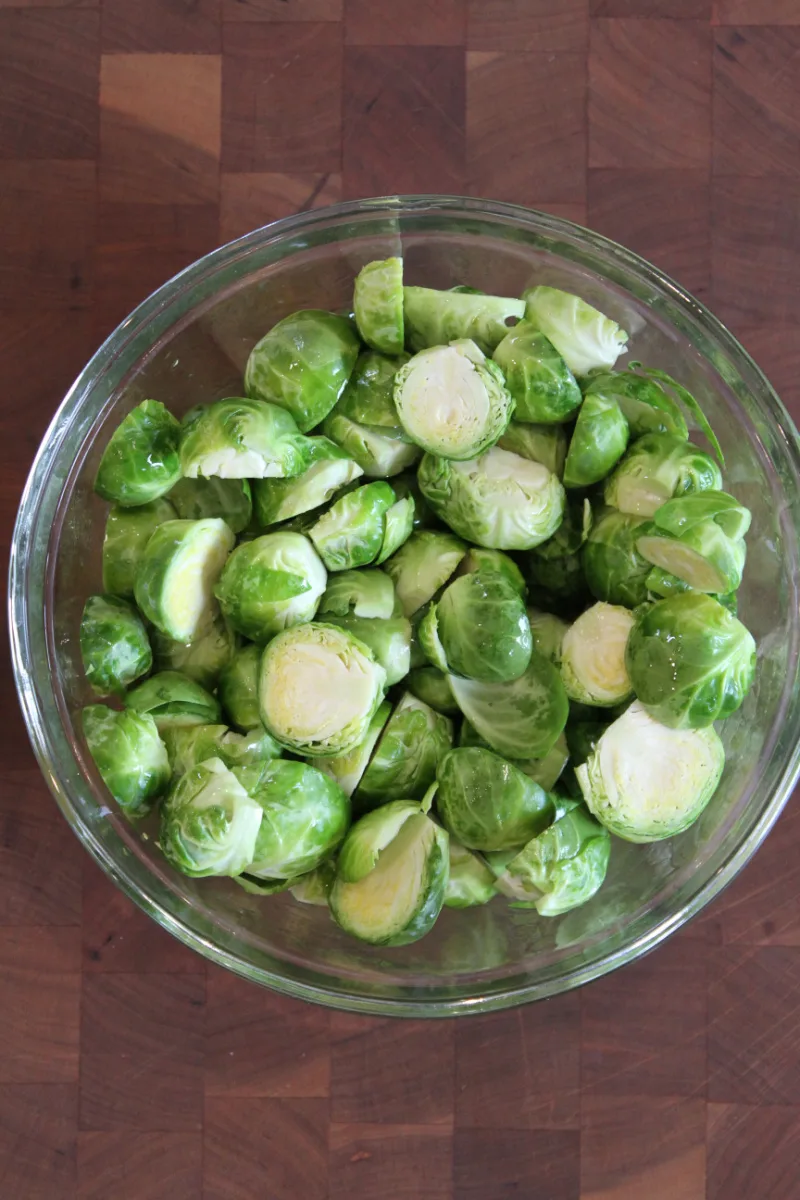 How to make the very best Roasted Brussels Sprouts:
To start off, preheat your oven to 400 degrees F and line a baking sheet with parchment paper.
Rinse and trim the brussels sprouts (as shown above), then cut them into halves. Transfer the sprouts to a bowl.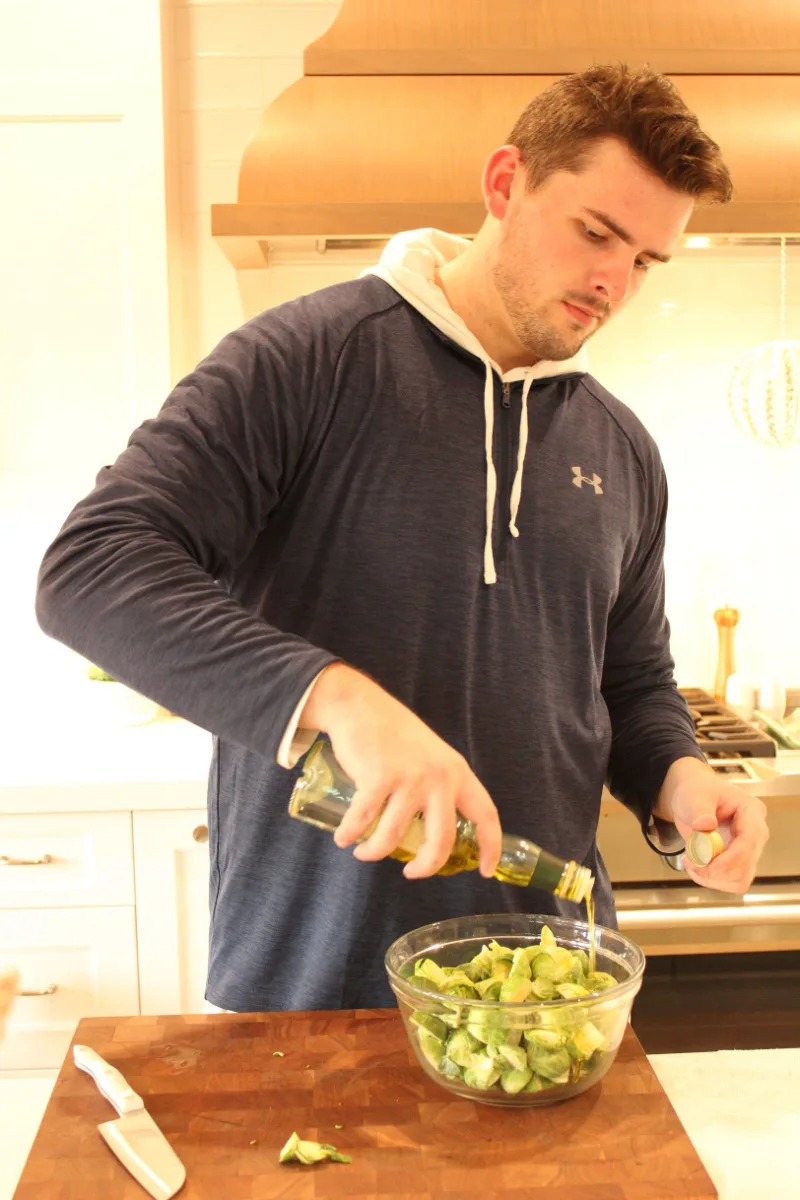 Generously drizzle with olive oil. The oil is what's going to help them get crispy when roasting in the oven! Toss the brussels sprouts in the bowl and make sure that they are all coated with olive oil.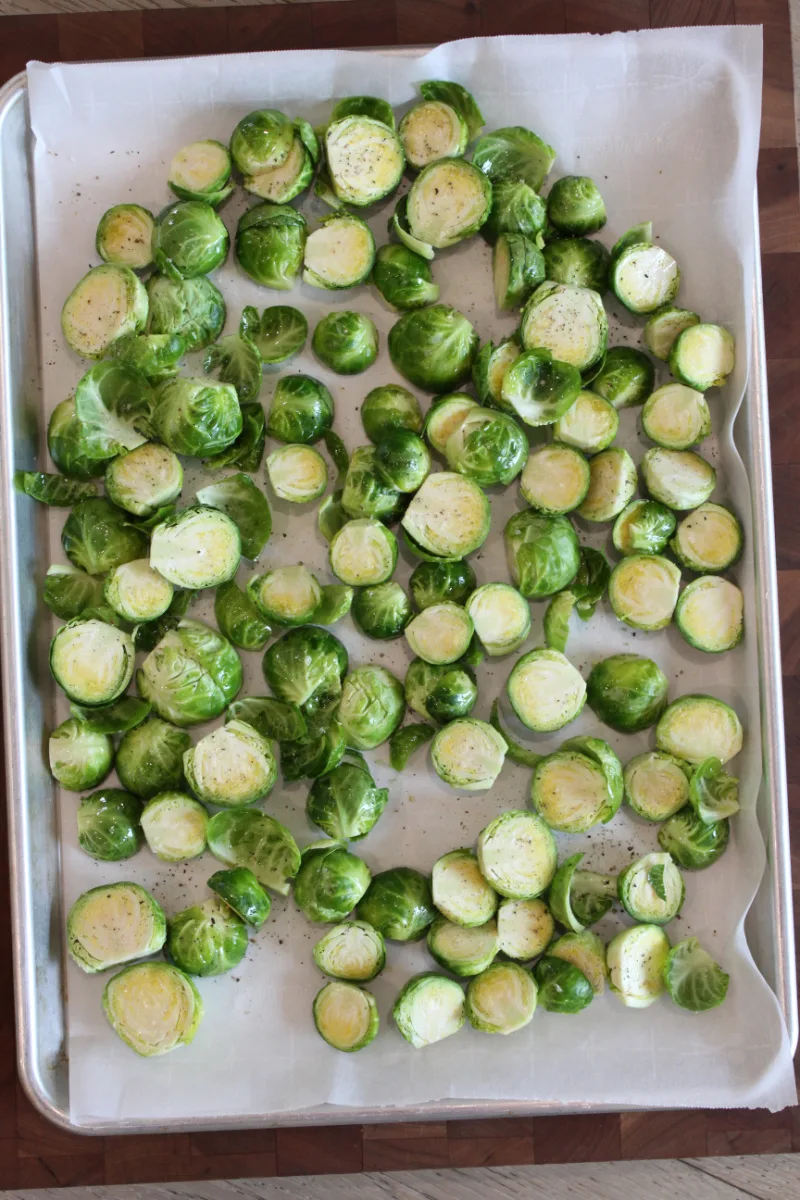 Next, spread the brussels sprouts onto your parchment-lined baking sheet in an even layer. Sprinkle salt and pepper on top (to taste). I recommend a good amount of salt and a few grinds of freshly-ground pepper.
Salt and pepper are all you need in terms of seasoning. However, I really haven't experimented much with other seasonings on my brussels sprouts! Be sure to let me know in the comments if you have a particular one you like to use for some additional flavor!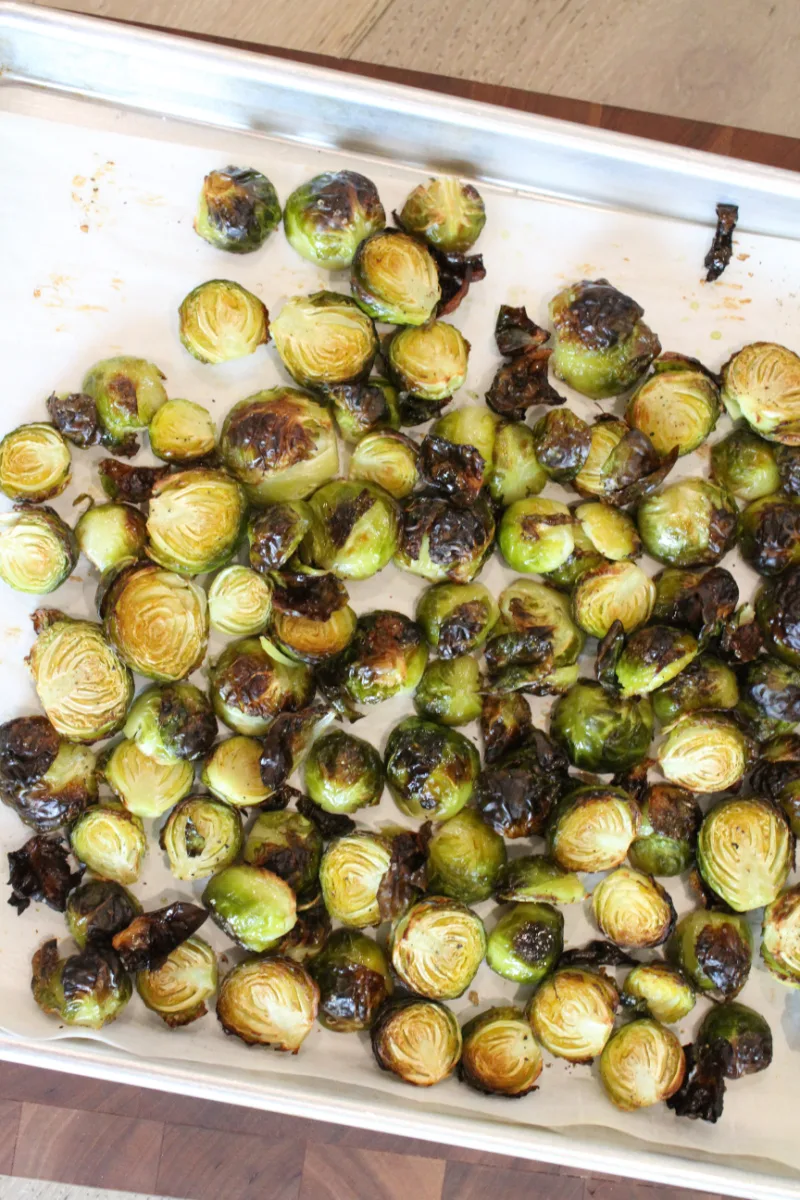 Toss your baking sheet in the oven and let the brussels roast for 30 to 40 minutes. I find that the timing varies based on how much olive oil you use and the quantity of brussels sprouts, so I usually just keep an eye on them until I feel that they are done. You want to take out the sprouts when they are lightly browned, but it's all up to personal preference. I tend to leave mine in a bit longer because I like them extra crispy.
Look at those sprouts!! This is a perfect example of what they should look like when they come out of the oven: golden-brown interiors and crispy, browned exteriors.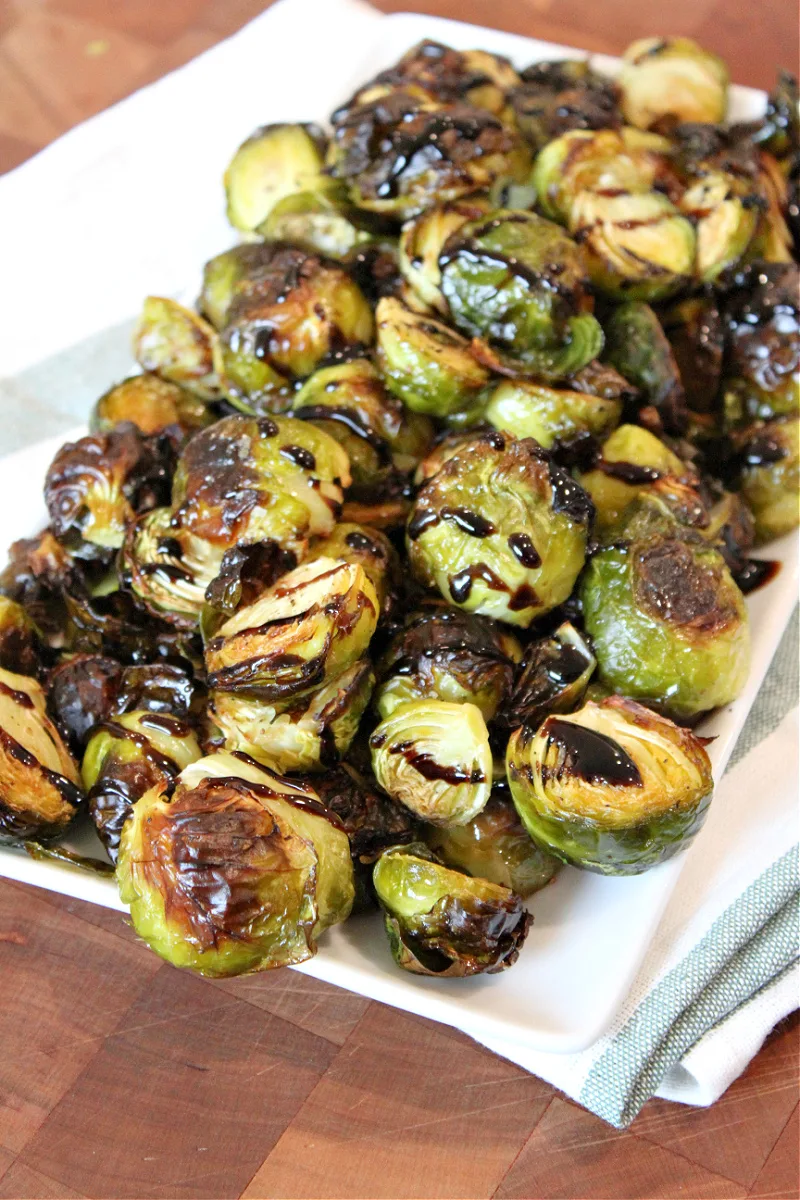 Finally, you can transfer your roasted brussels sprouts to a platter and they're ready to serve! I love drizzling balsamic glaze over top because it adds a little pop of flavor, so I highly recommend trying that.
This recipe is shockingly easy, and it'll impress even the most avid of foodies! I've been making brussels sprouts this way for years now and I've never been tempted to alter the recipe. Not one bit! They taste magnificent and almost melt in your mouth. The balsamic glaze adds the perfect amount of flair for the otherwise simple brussels sprouts, creating a flavor combination you can't resist.
I make these Roasted Brussels Sprouts weekly in college, and my roommates are huge fans. I love to serve them alongside meat, such as chicken or steak, but they're a perfect appetizer too. Be careful though, because these sprouts are more addictive than potato chips! I've seen an entire tray disappear in a matter of minutes (and yes, I was responsible). Enjoy!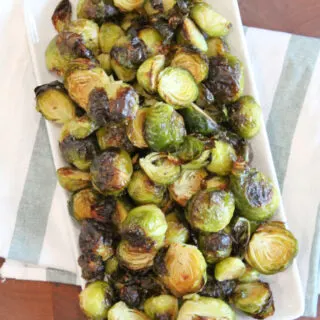 How to Make the Best Roasted Brussels Sprouts
This method makes the best roasted brussels sprouts every time!
Ingredients
2

pounds

fresh brussels sprouts

3 to 4

tablespoons

olive oil

salt and pepper, to taste

balsamic glaze,

optional
Instructions
Preheat the oven to 400℉. Line a rimmed baking sheet with parchment paper.

Trim the brussels sprouts by cutting on the tough ends and discarding, and then cut them in half. Place all of the trimmed brussels sprouts in a bowl.

Drizzle olive oil on top of the brussels. Toss to coat. Spread the brussels onto the parchment-lined baking sheet in an even layer. Sprinkle kosher salt generously on top. Add a few grinds of freshly ground pepper too.

Roast the brussels sprouts for 30 to 40 minutes (stirring a couple of times while roasting) until they are lightly browned (some will be browned more than others).

Transfer the roasted brussels sprouts to a platter. Drizzle with balsamic glaze, if desired.
Nutrition
Serving:
1
serving
Calories:
127
kcal
Carbohydrates:
14
g
Protein:
5
g
Fat:
7
g
Saturated Fat:
1
g
Polyunsaturated Fat:
1
g
Monounsaturated Fat:
5
g
Sodium:
232
mg
Potassium:
588
mg
Fiber:
6
g
Sugar:
3
g
Vitamin A:
1140
IU
Vitamin C:
129
mg
Calcium:
64
mg
Iron:
2
mg