It's finally time for one of my favorite recipes. This week I'm sharing a recipe that has been a staple for me throughout college: Easy Baked Salmon.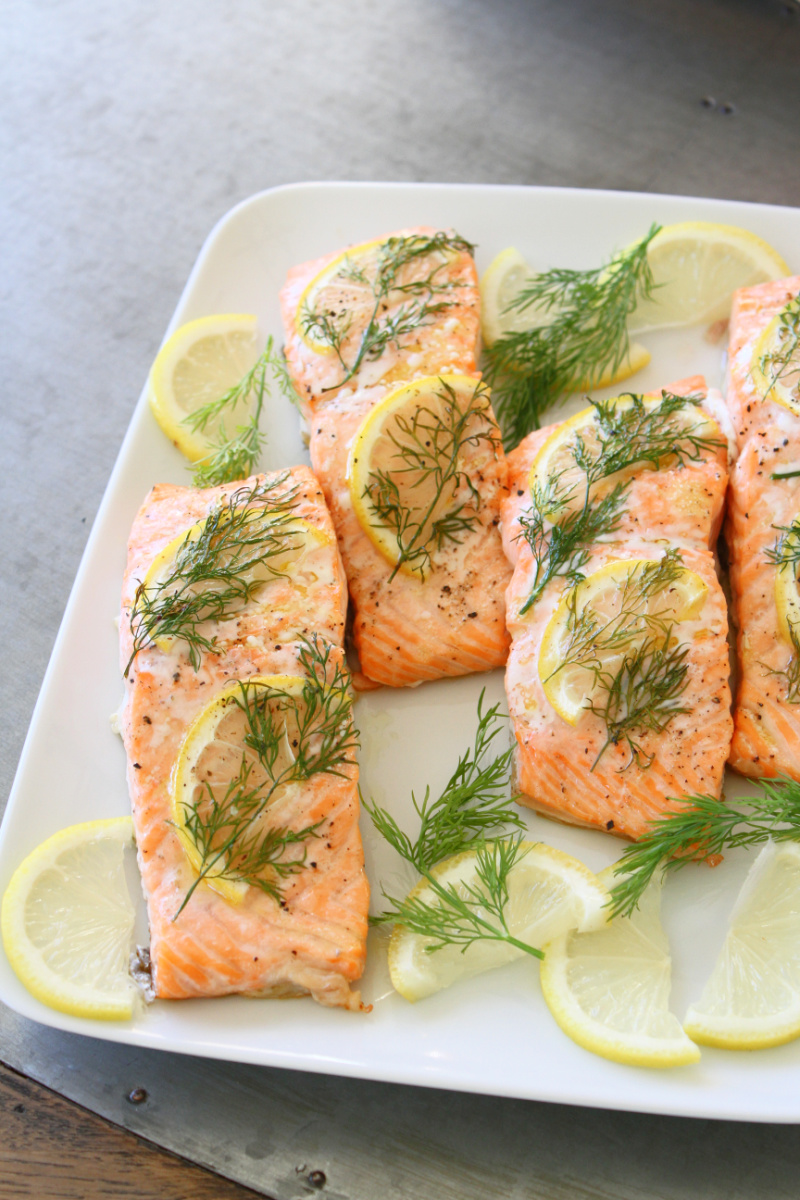 This is hands-down the easiest, tastiest salmon recipe you will ever try. Personally, I prepare this once or twice a week because it's healthy and I absolutely love it! I also really enjoy the honey dijon and pecan baked salmon that we shared recently.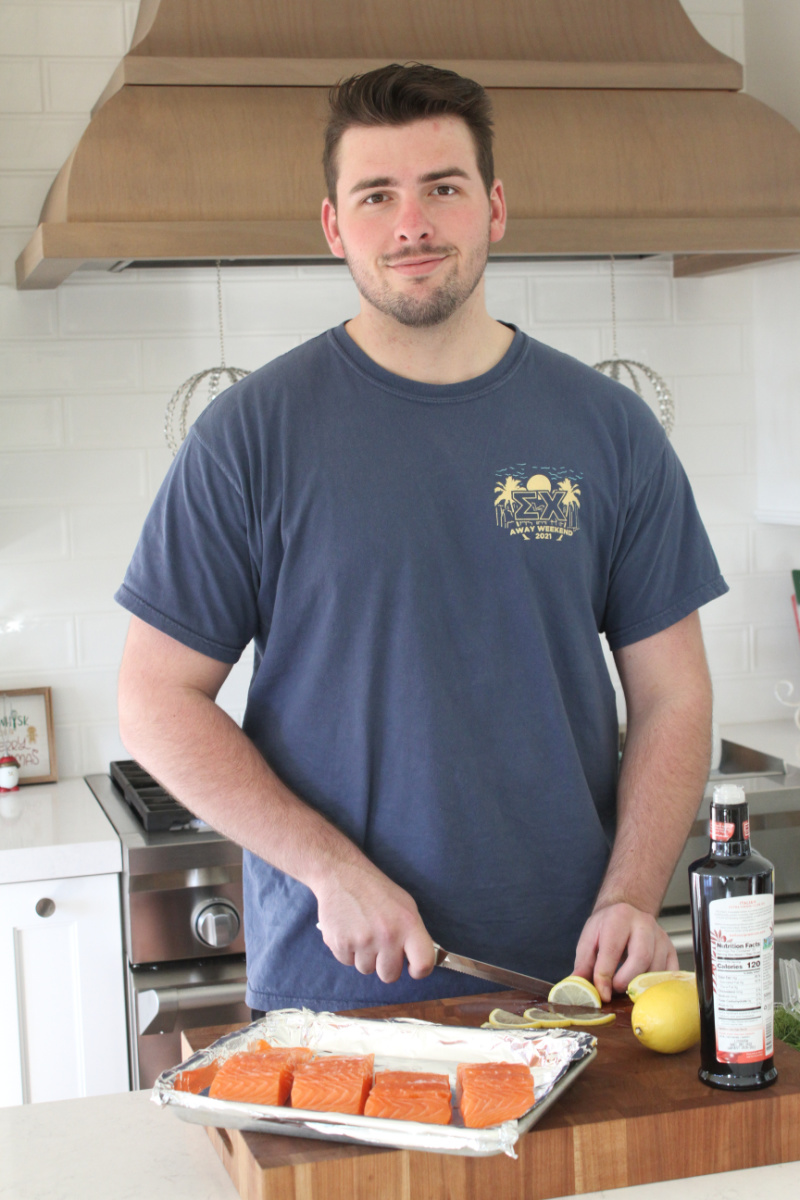 Ingredients needed:
Salmon Filets (Costco has great salmon in large portions!)
Lemon
Fresh Dill
Olive Oil
Salt/Pepper (as needed)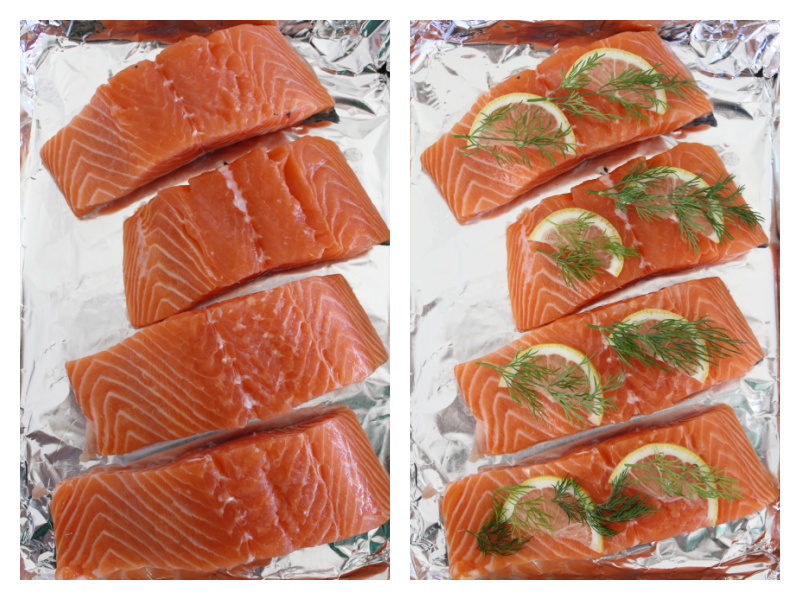 How to make Easy Baked Salmon:
To start off this incredible easy baked salmon recipe, line a baking sheet with foil and preheat your oven to 425 degrees F. Rinse off your salmon filets and pat them dry with paper towels, then place them on the foil.
Next, top each filet with 2 or 3 thinly-cut lemon slices. Add fresh dill on top as well. Finally, drizzle olive oil over the salmon and generously sprinkle salt and pepper. After those simple steps, you're ready to place the tray in the oven for 10 to 12 minutes, depending on the thickness of the filets. It's pretty easy to judge when salmon is finished cooking, so you can always just eyeball it if you're unsure. It should flake away easily when poked with a fork.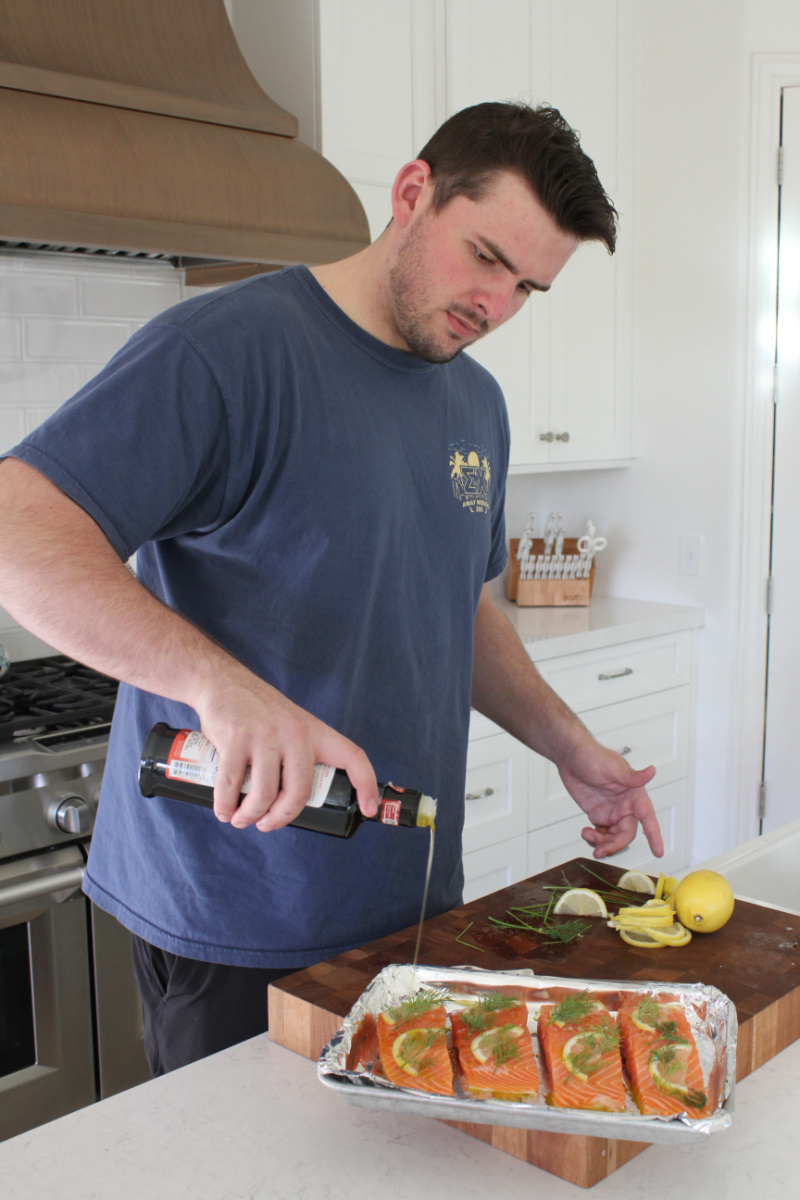 If your salmon has skin, I like to lift up the filet and get olive oil under it so the skin gets crispy in the oven. That extra crunch makes the recipe even tastier!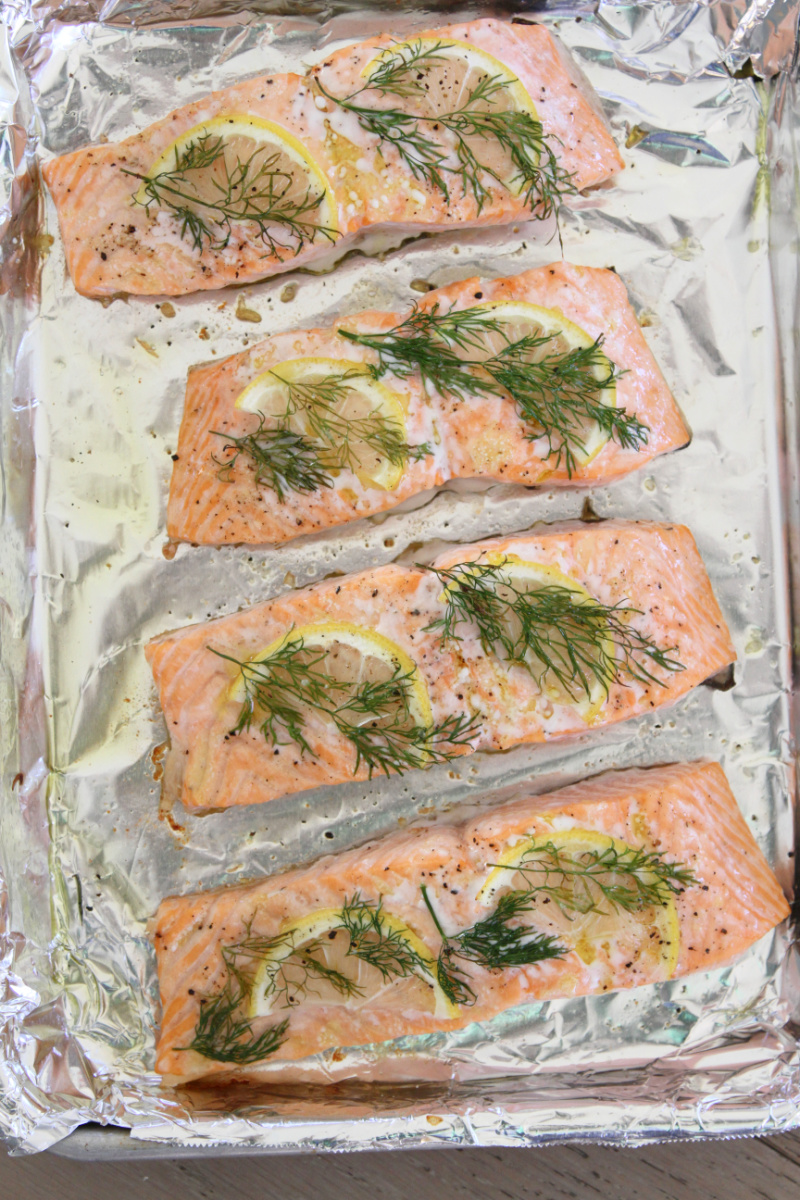 Here are your finished filets! I make this recipe so frequently in college, especially since I've been trying to eat healthy as of late. The lemon and dill combine for the perfect tangy flavor that goes perfect with salmon!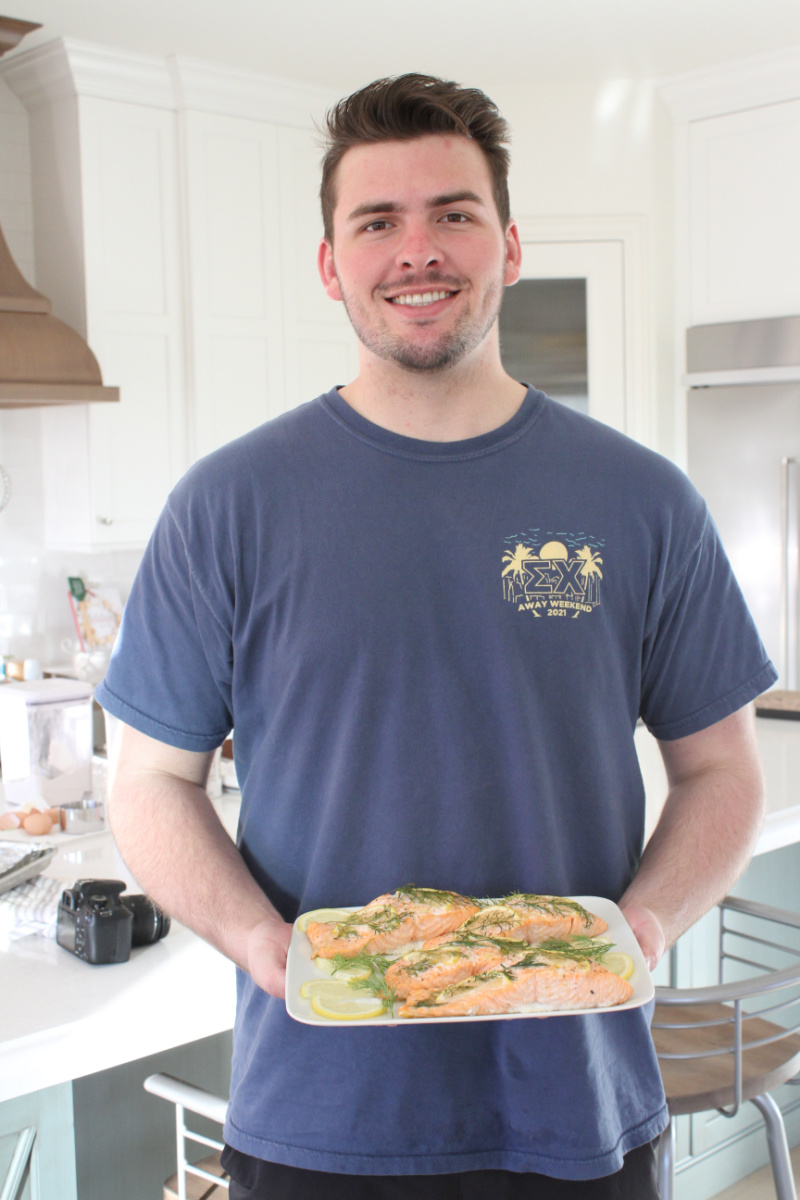 If you're ever in a pinch and need a quick and easy meal, this Easy Baked Salmon should be your go-to. I always keep extra salmon in my freezer so I can pull it out in the morning before I head to school and it's ready to cook by late afternoon.
Whereas some salmon recipes take an extensive amount of time, this one takes very few ingredients, and it's so easy to make. Most of the ingredients you probably already have in your kitchen! This recipe has been a lifesaver, and it allows me to be healthy when most of my friends are on the typical college diet of ramen noodles and mac & cheese. Definitely give this recipe a try because I guarantee you'll never make salmon any other way ever again! 😉
Here are a few more easy dinner recipes you might like to try: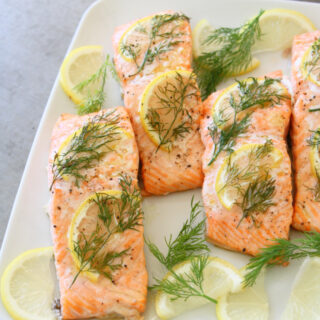 Easy Baked Salmon
This is my version of a really easy recipe for baking salmon in the oven.
Ingredients
4

salmon filets

(leave skin on bottom)

1

large

lemon,

sliced thinly

several sprigs of fresh dill

olive oil

kosher salt and freshly ground black pepper
Instructions
Preheat the oven to 425 degrees F. Line a small, rimmed baking sheet with foil. Drizzle olive oil onto the baking sheet.

Rinse salmon filets and pat dry with paper towels. Place the salmon filets on the baking sheet.

Place lemon slices on the salmon filets. Then add fresh dill on top too.

Drizzle the salmon with olive oil. Sprinkle generously with salt and pepper.

Bake 10 to 12 minutes- until cooked through, depending on the thickness of your salmon.