Hey everyone I'm back! Sorry for not posting in a while… I've been very busy with school. Homework has taken so much time away from me that I really haven't been able to do anything else! I hope that everyone had a great Thanksgiving. This week I made a new version of my old recipe (Muddy Buddies). I made Mint Chocolate Muddy Buddies this time!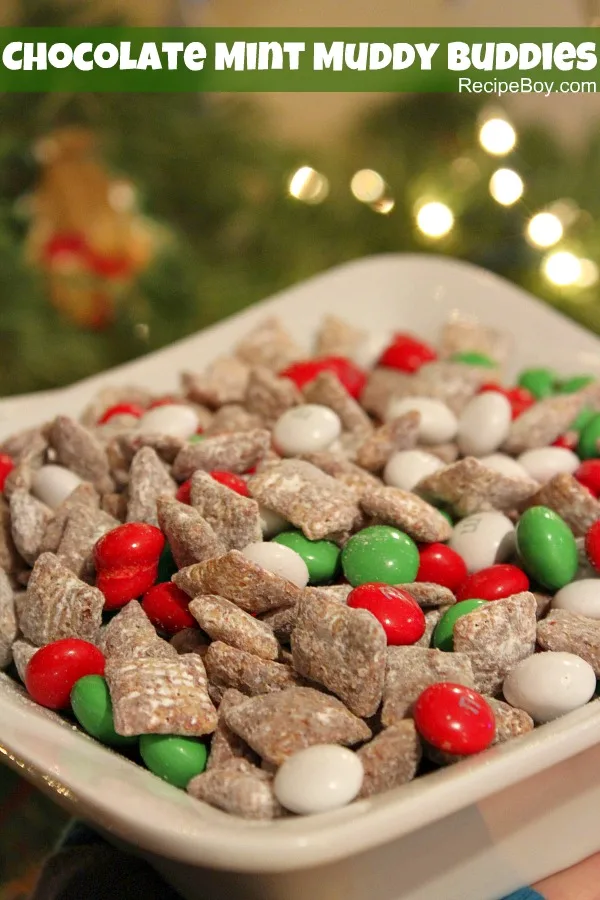 I added M&Ms for some extra yummy flavor and color. The M&Ms were mint too, so this snack was very very minty. 🙂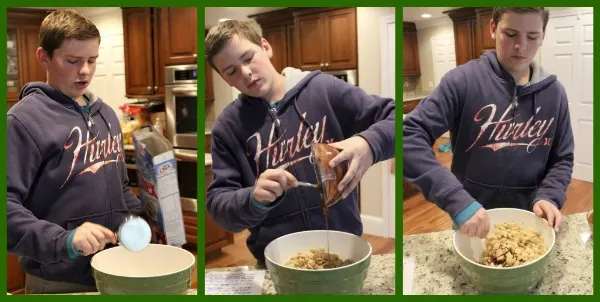 Chocolate and powdered sugar? Yessir! That is what I call a good start! You mix all of this up and then you put the chex mix in big zip baggies and shake away until they are covered in chocolate.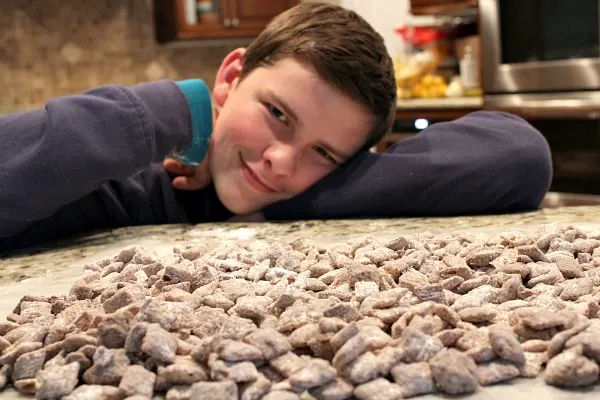 Oh boy do I love my Muddy Buddies! Waiting for them to dry is TORTURE because you can't eat any yet!!!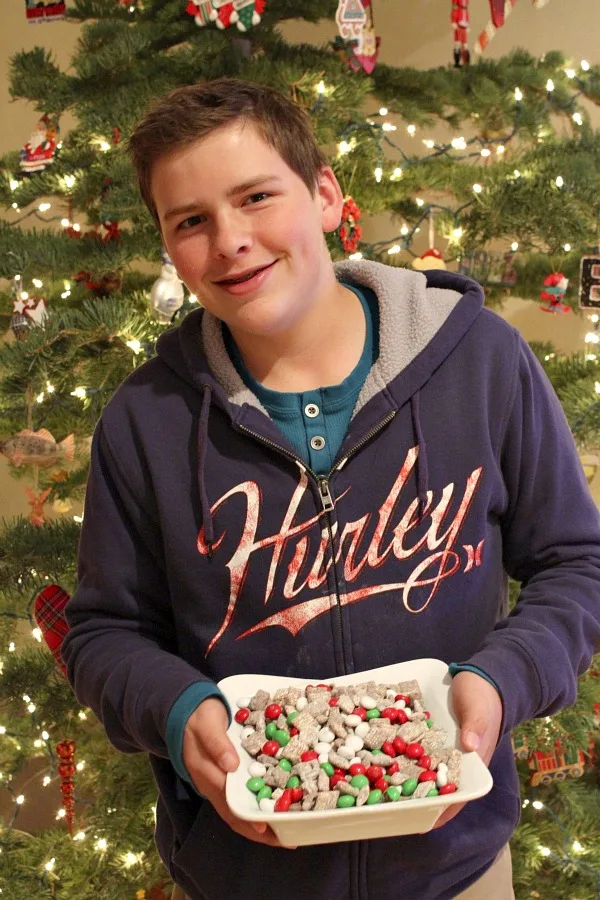 These colorful and festive Muddy Buddies were great! If you are a fan of mint you will love these! I'm not much of a mint guy, so these weren't my favorite, but I still liked them. My Dad gobbled almost all of them down because he LOVES mint. In my opinion my original Muddy Buddies were a little better, but hey! These are good too, and that's just my opinion. I can't believe how festive they look! Set these with a glass of milk on your fireplace on Christmas Eve and Santa will certainly come to your house!!!
And even a kid can guarantee that Santa will visit your house… Like Me!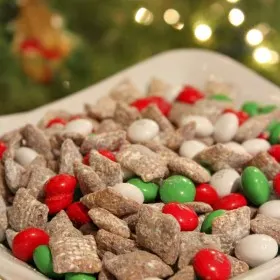 Mint Chocolate Muddy Buddies
A delicious minty treat for the holidays!
Ingredients
9

cups

Chex cereal

(I used Rice Chex)

1½

cups

Andes Mint Chips

(or something like them)

4

tablespoons (½ stick)

butter

½

teaspoon

vanilla extract

1½

cups

powdered sugar,

divided

2

cups

Mint flavored holiday M&M's
Instructions
Place the Chex in a large bowl.

In a glass bowl, microwave the chips and butter until they are melted and smooth. Stir to combine. Then stir in the vanilla. Pour the melted mixture over the Chex and gently toss until covered as much as possible. Divide the Chex between two large zip bags. Add ¾ cup powdered sugar to each. Shake like crazy until the Chex are coated with powdered sugar. Spread the covered Chex onto a large sheet of waxed paper and let set.

Place in a covered container with mint M&M's. Keep them covered until ready to eat!
Nutrition
Serving:
1
serving
Calories:
349
kcal
Carbohydrates:
56
g
Protein:
5
g
Fat:
14
g
Saturated Fat:
10
g
Polyunsaturated Fat:
0.4
g
Monounsaturated Fat:
1
g
Trans Fat:
0.1
g
Cholesterol:
9
mg
Sodium:
202
mg
Potassium:
104
mg
Fiber:
4
g
Sugar:
34
g
Vitamin A:
417
IU
Vitamin C:
4
mg
Calcium:
86
mg
Iron:
10
mg