I made some Cheesecake Swirl Brownies the other day. Why is it that I always pick the hardest recipes to make?! These brownies were pretty hard to make but trust me, they are VERY rewarding at the end. These brownies will please any cheesecake or brownie lover because they are just flat out amazing. Now I didn't enjoy these brownies as much as I should have because I had a little accident with them… I'll tell you about it a little later.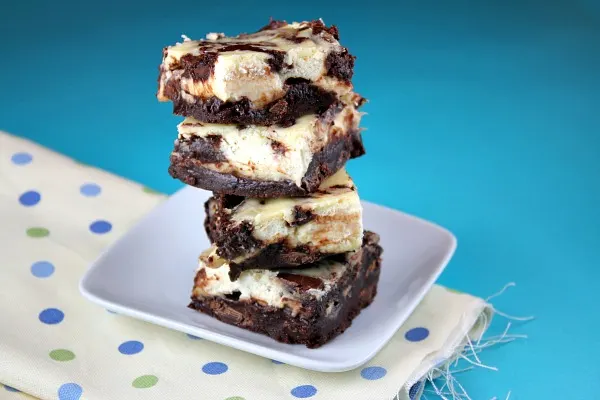 So perfect! Brownies all stacked up on a plate. My mouth is watering!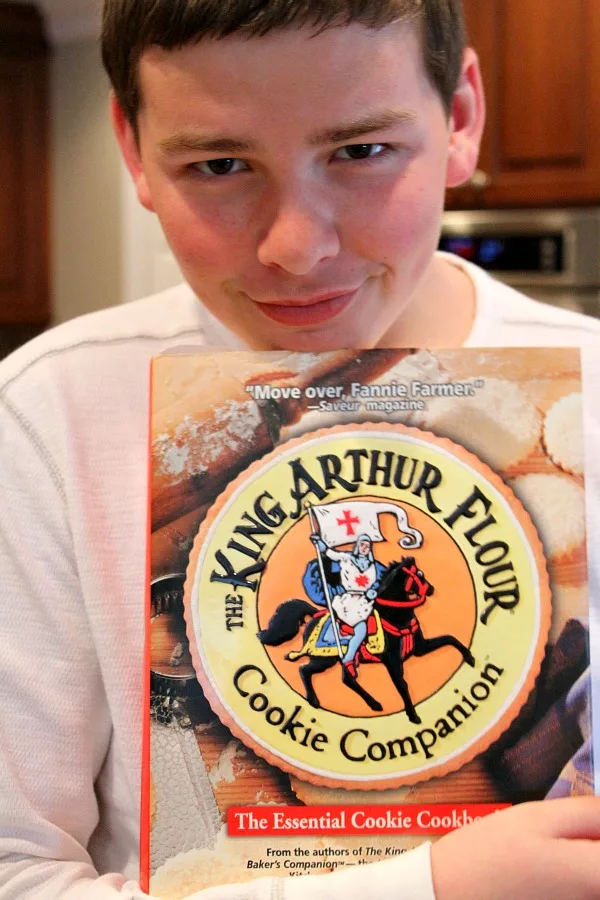 Thank you King Arthur for providing this amazing recipe! You are a very good Cookie Companion. 🙂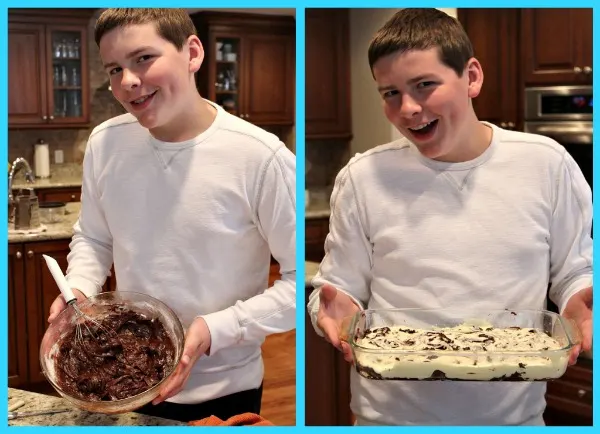 I'm such a goof-off. What you see on the left is before the hard part. What you see on the right is about 30 minutes later. My very bad experience was with that same glass dish with the brownies in it. One night, I was cutting a brownie. It was a normal night with nothing out of the ordinary going on. The knife caught on a piece of frozen brownie and the whole dish slipped off of the table. It landed on my right big toe. There was immediate swelling and bruising. The moment I dropped the dish on my toe I could see that it was purple. I went to the doctor the next morning and he gave me a boot to wear to school and some medicine for infection. A few days later I had to go back to the doctor because my toe was under a lot of pressure and was bubbling up. They had to cut two holes in my toenail to let all of the fluids drain. My toe was not broken, but I will still lose the toenail soon. Lesson learned? Yes. CUT BROWNIES WITH TWO HANDS!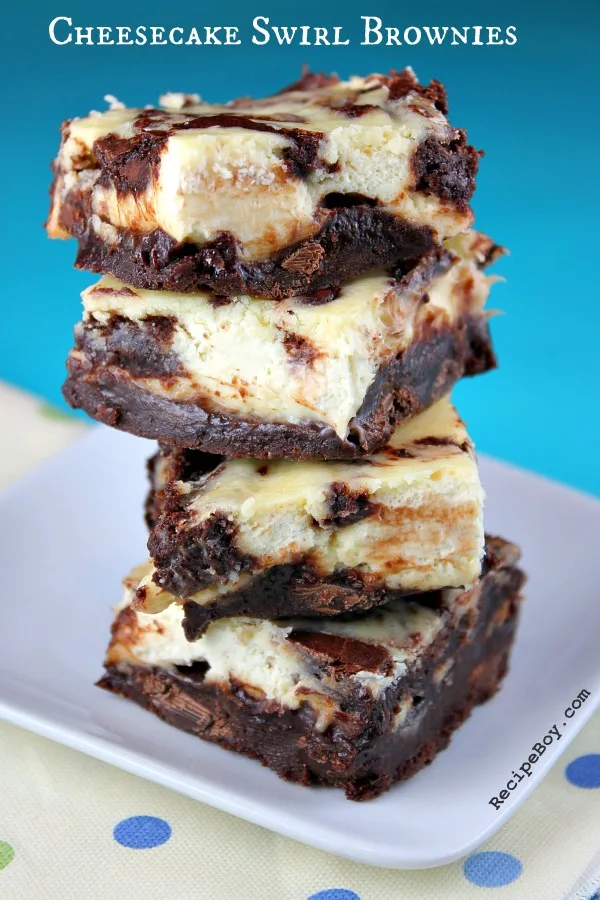 Even though these brownies hurt me, I loved them! They were some of the most delicious brownies that I have ever eaten. I am a big cheesecake fan, so the swirl really contributed to my enjoyment. The brownies were the perfect mix of chocolate and cheesecake. I might even make these again for the Super Bowl! Darn! My Patriots and Niners both lost. Go Seahawks!
And even a kid can still enjoy brownies after they almost broke his toe… Like Me! 🙂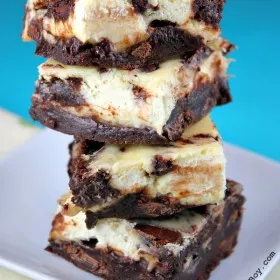 Cheesecake Swirl Brownies
Pretty much the best brownies I have ever eaten!!!!
Ingredients
FUDGY BROWNIES:
¾

cup (1½ sticks)

unsalted butter

2

cups

granulated white sugar

1

cup

Dutch process cocoa powder

1

teaspoon

salt

½

teaspoon

baking powder

1

tablespoon

vanilla extract

3

large

eggs

1

cup

all purpose flour

1

cup

chocolate chips
CHEESECAKE SWIRL:
Two

8 ounces packages

cream cheese,

at room temperature

¾

cup

granulated white sugar

2

teaspoons

vanilla extract

¼

cup

sour cream

2

large

eggs
Instructions
Preheat the oven to 325 degrees F. Lightly grease a 9x13 inch pan.

Prepare the brownie batter: In a medium sized microwave-safe bowl (or a medium saucepan over low heat), melt the butter, then add the sugar and stir to combine. Return the mixture to the heat (or microwave) briefly, just until it's hot but not bubbling. Stir in the cocoa, salt, baking powder and vanilla. Whisk in the eggs, stirring until smooth, then add the flour and chips, and stir again until smooth.

Prepare the cheesecake batter: In a medium bowl, beat the cream cheese until smooth. Add the sugar and vanilla, blending until smooth. Mix in the sour cream and eggs.

Spread three-quarters of the brownie batter into the prepared pan. Spoon the cheesecake batter over the brownie batter, smoothing it out. Drop spoonfuls of the reserved brownie mix on top. Draw a dull knife through the top third of the two batters, gently swirling it to make a swirly design.

Bake for 39 to 42 minutes. The top should be set and the edges should be puffy. Remove from the oven and let them cool on a rack. Chill until you're ready to cut and serve them (refrigerate any leftovers).