Today I'm going to introduce you to one of my favorite party appetizers: Philly Cheese Steak Sliders! Do you remember the Gameday Sliders I made a few years ago? These little sliders are even better, and they can be prepared for a multitude of different occasions. Personally, I love plopping down on the couch with a plate of these on NFL Sunday!
Which reminds me, I couldn't be happier that sports are back! It feels great to turn on the TV every day and there's a college or professional game on. I know I'll definitely be making more of these sliders for March Madness when the college basketball tournament starts up.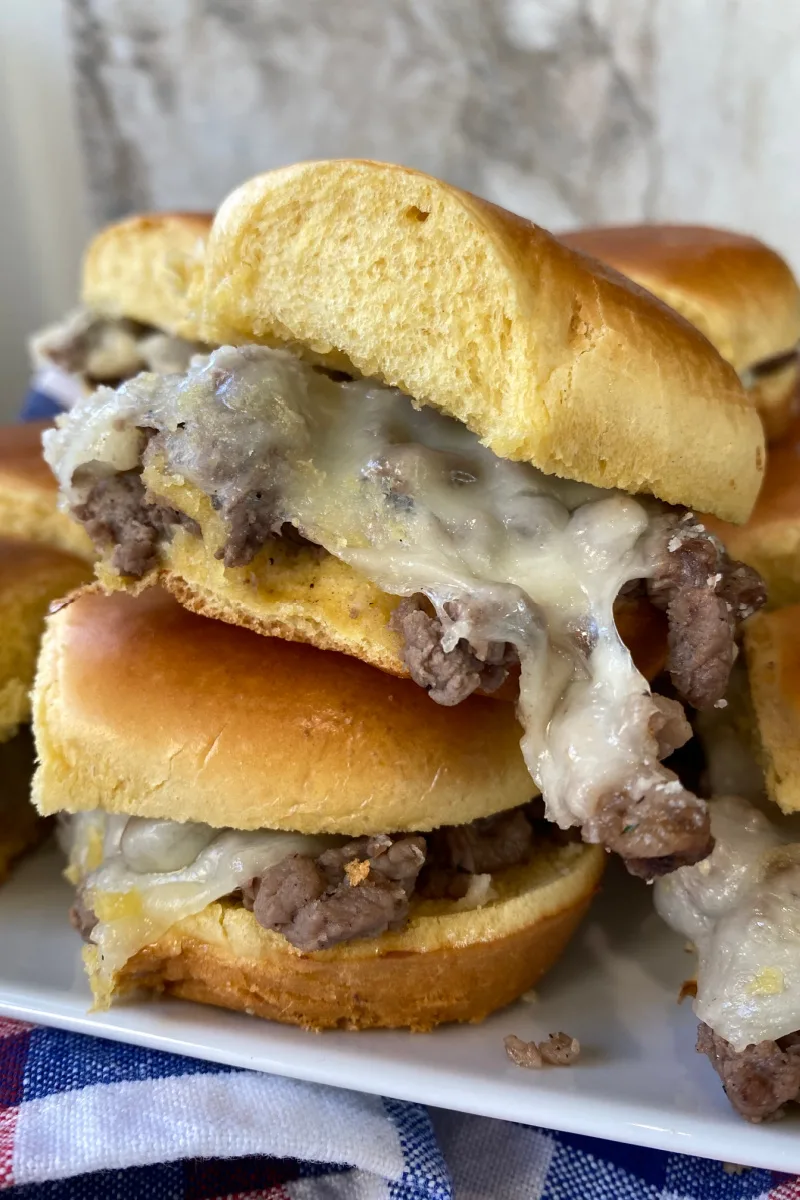 These sliders are best served hot and cheesy! I use provolone and parmesan for mine, but you can use whichever cheese you prefer. I know many cheese steak-lovers can be very particular about their type of cheese. The classic method uses cheese whiz, but it's really a matter of personal preference. You might even try using a different cheese for each half of the sliders to see what you like best!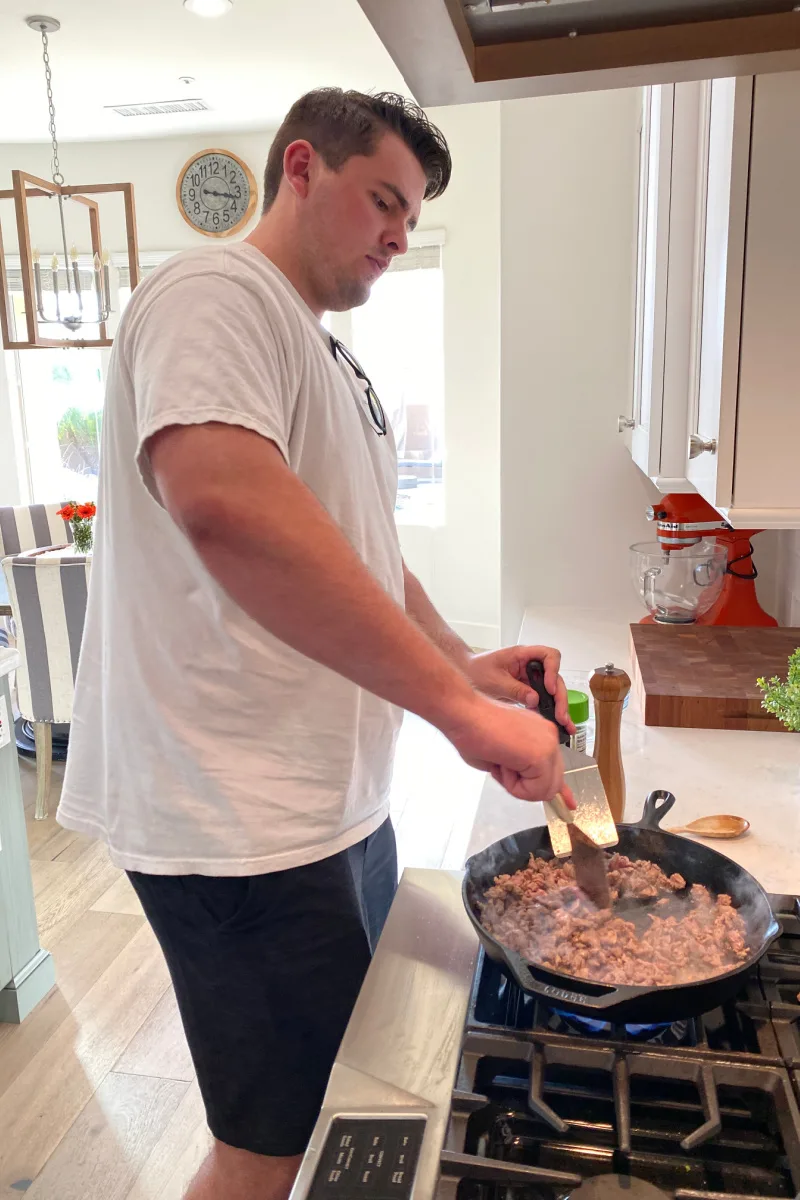 How to make Philly Cheese Steak Sliders:
There are a few different ways to prepare the steak — If you can find it, purchase shaved ribeye and cook it in a pan. I couldn't find it at my local grocery store, however, so I bought 1.5 lbs of ribeye and cut it into small pieces. Then when I started cooking it, I used two metal spatulas to chop at the pieces and make them smaller. This method turned out well for me, but I highly recommend using shaved ribeye. It's much easier to work with and will take less time to prepare.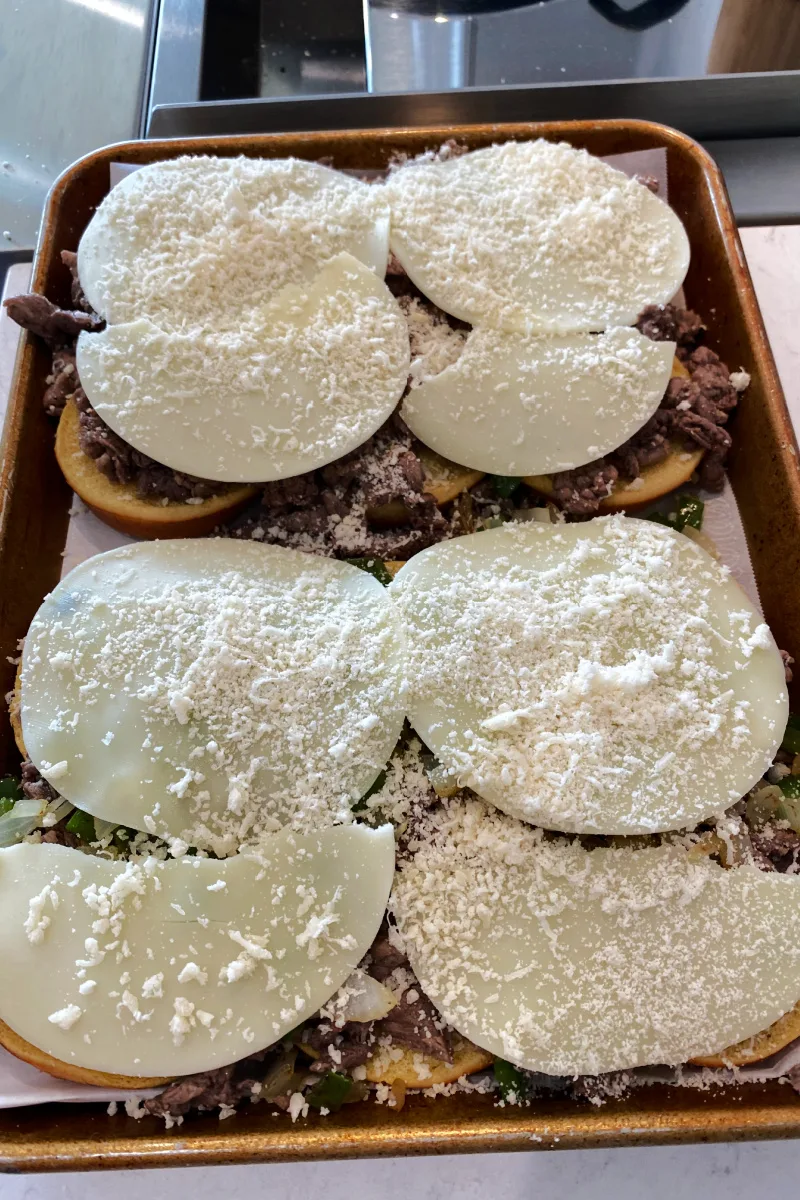 Cheese! The parmesan is a unique add that my mom suggested. This recipe can also be prepared without the onions and peppers to make it friendly for those darn picky eaters!
Putting the sliders together is the easiest part! Take a roll (or a hoagie cut into smaller pieces) and layer it with steak, peppers, onions, and add cheese on top.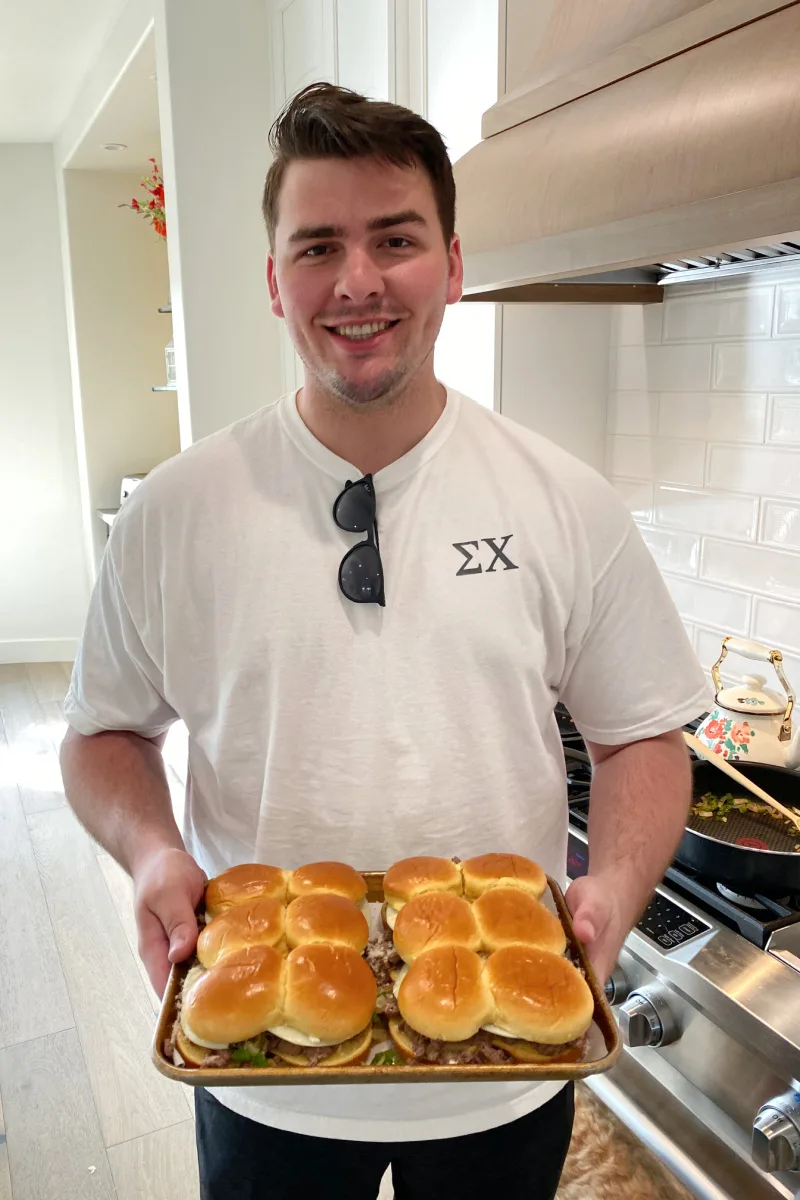 Wow, those are some beautiful sliders! But we're not done quite yet. All you have left to do is throw them in the oven for a total of twenty minutes, ten with foil on top and ten without and let the cheese melt all over!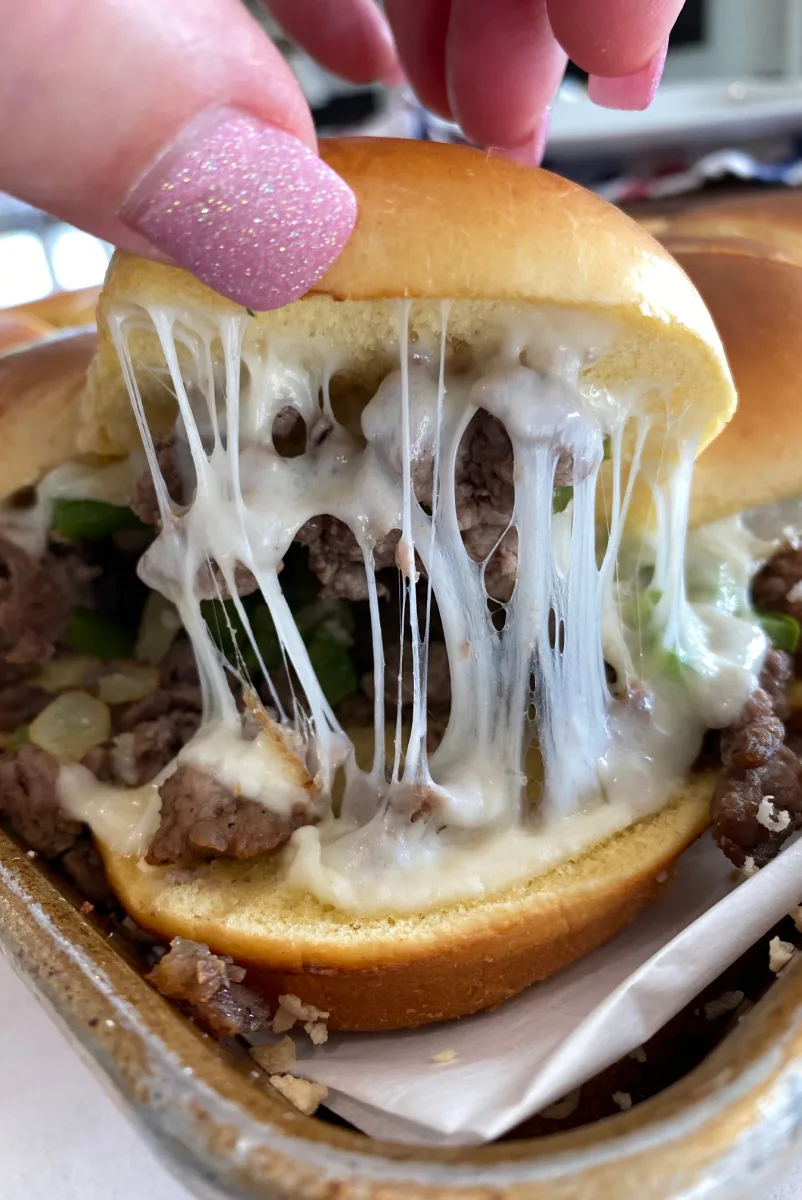 These sliders are incredible! If you want them extra cheesy, you can add an extra layer of provolone under the steak. Some people like mushrooms on their cheese steak, so you can add those too if you want! With Philly Cheese Steak Sliders, you get to customize your ultimate Gameday appetizer.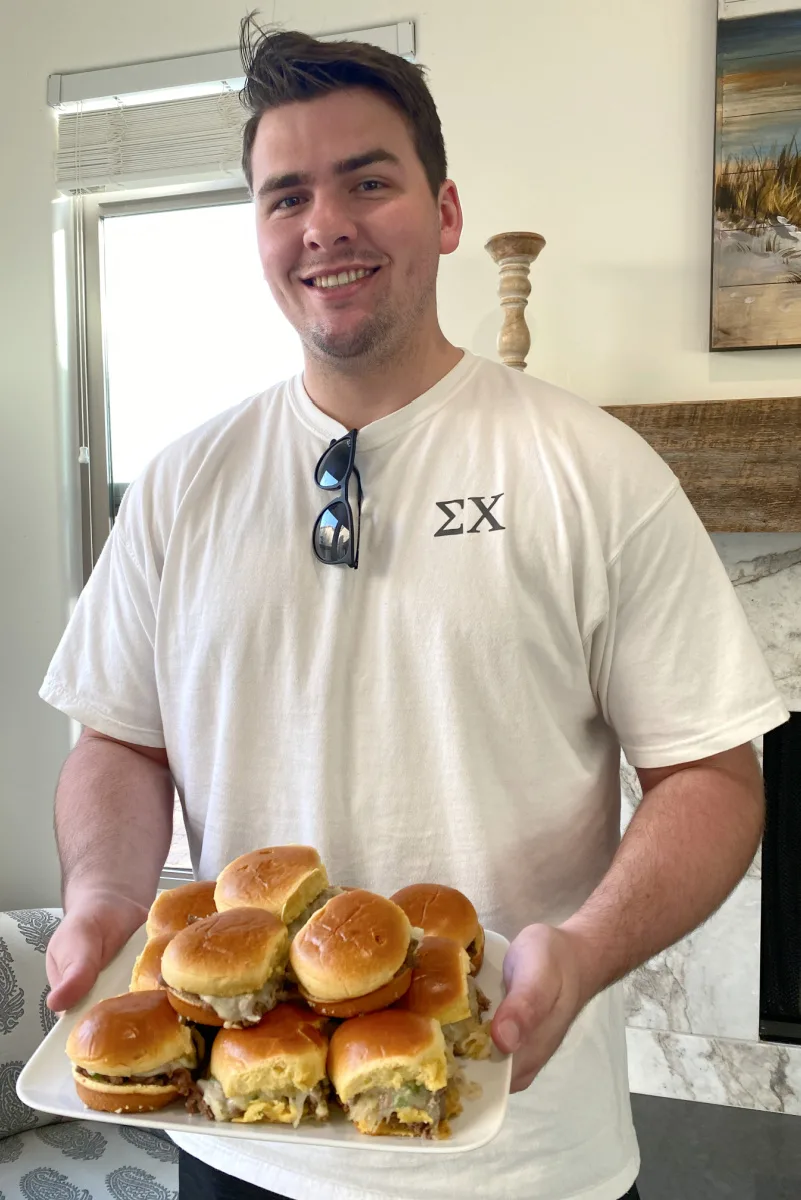 Take a look at that cheesy goodness! My family devoured these in less than twenty minutes after they came out of the oven, and yours is sure to do the same. These sliders are super easy to make and perfect for watching sports. Make larger Philly Cheese Steak Sandwiches if you want to serve them as a bigger meal. I highly recommend trying them for your next sports-viewing party, and be sure to let me know if you make any cool modifications or additions!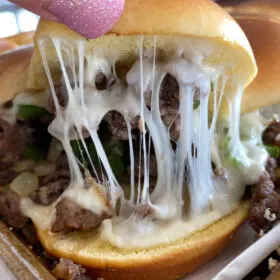 Philly Cheese Steak Sliders
Just about the best thing you can add to a party menu!
Ingredients
CHEESE STEAK:
1

tablespoon

olive oil

1½

pounds

finely chopped ribeye steak

(or shaved)

garlic salt,

to taste

freshly ground black pepper,

to taste
PEPPERS AND ONIONS:
1

tablespoon

olive oil

1

medium

green bell pepper,

seeded and chopped

½

medium

sweet yellow onion,

peeled and chopped
SLIDERS ASSEMBLY:
12

mini slider buns

8 to 16

slices

Provolone cheese

¼

cup

grated Parmesan cheese
Instructions
Preheat the oven to 350℉. Line a small, rimmed baking sheet with parchment paper.
PREPARE THE STEAK:
Heat 1 tablespoon of oil in a large skillet. Add the steak and sauté until browned and cooked through. Drain the fat and discard. Season with garlic salt and freshly ground black pepper.
COOK THE VEGGIES:
In a separate skillet, heat another tablespoon of oil and sauté the peppers and onions until they are softened.
ASSEMBLE THE SLIDERS:
Place the bottom halves of the slider buns on the baking sheet. Top with the cooked steak. Top the steak with the sautéed veggies. Place cheese on top of the veggies. Place the top buns on top. Wrap with foil and bake 10 minutes. Remove the foil and bake for another 10 minutes. Eat!
Notes
If you love having a lot of cheese on your sliders, place cheese on the bottom buns before you add the meat to the buns.
Nutrition
Serving:
1
slider
Calories:
286
kcal
Carbohydrates:
18
g
Protein:
18
g
Fat:
16
g
Saturated Fat:
6
g
Polyunsaturated Fat:
1
g
Monounsaturated Fat:
7
g
Cholesterol:
45
mg
Sodium:
208
mg
Potassium:
208
mg
Fiber:
2
g
Sugar:
3
g
Vitamin A:
175
IU
Vitamin C:
9
mg
Calcium:
147
mg
Iron:
2
mg