Shamrock Shake is a minty milkshake made popular by McDonald's. It makes an appearance every year as St. Patrick's Day approaches. We made it more delicious with added chocolate syrup.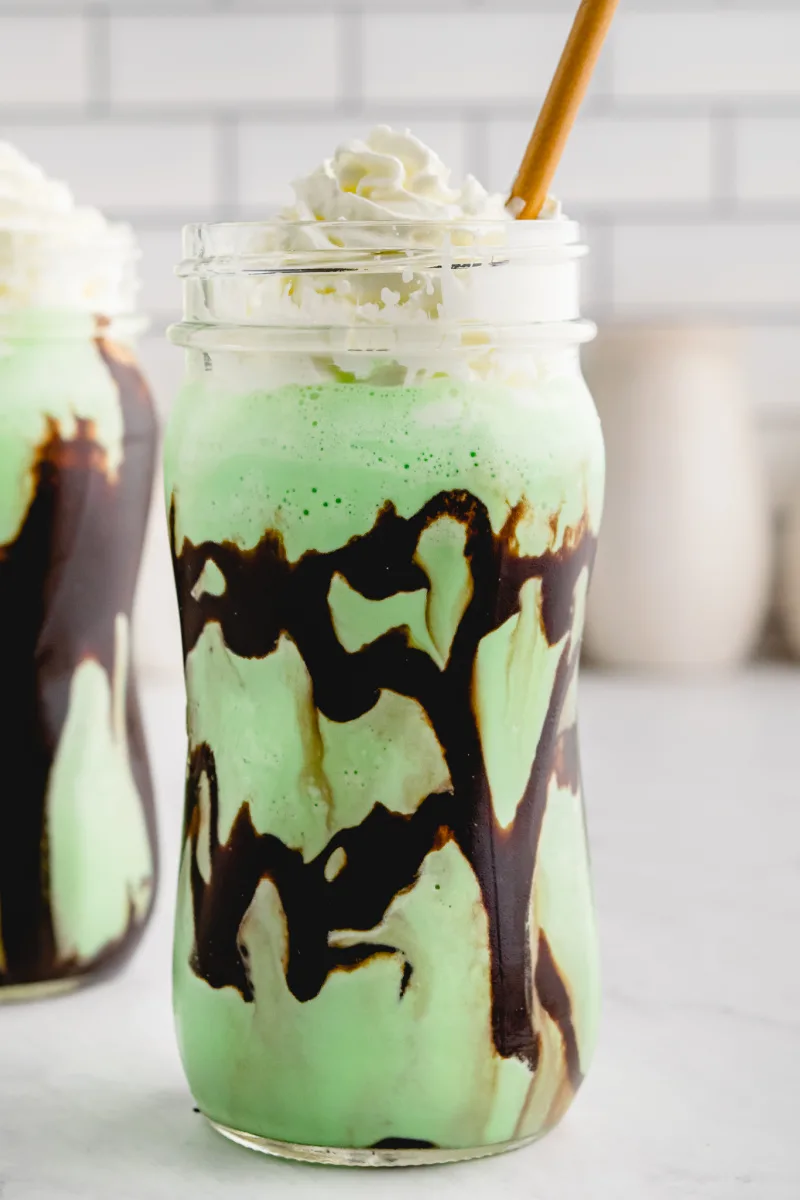 This recipe is a re-post from my son Brooks (RecipeBoy) from 2012– when he was just 10 years old. He started this blog in 2011, so this was one of the first recipes he made in the first year of writing RecipeBoy.com. I updated a few of the photos, and will leave most of his original text following here…
The Shamrock Shake:
St. Patty's Day is coming soon on March 17th, so I'm sharing a popular McDonald's menu item, a Shamrock Shake. You will want to make one of these! My dad you used to drink Shamrock Shakes when he was a kid and that was like centuries ago. And, oddly enough, they still make Shamrock Shakes today!
The thing that sets my Shamrock Shake apart from the McDonald's one is that mine has no added chemicals OR preservatives! McDonald's adds a weird green syrup. I don't do that! Also I use low-fat ice cream, non-fat milk and a nice chocolate syrup swirl. Just like veins of gold sometimes run through quartz, veins of chocolate run through my Shamrock Shake.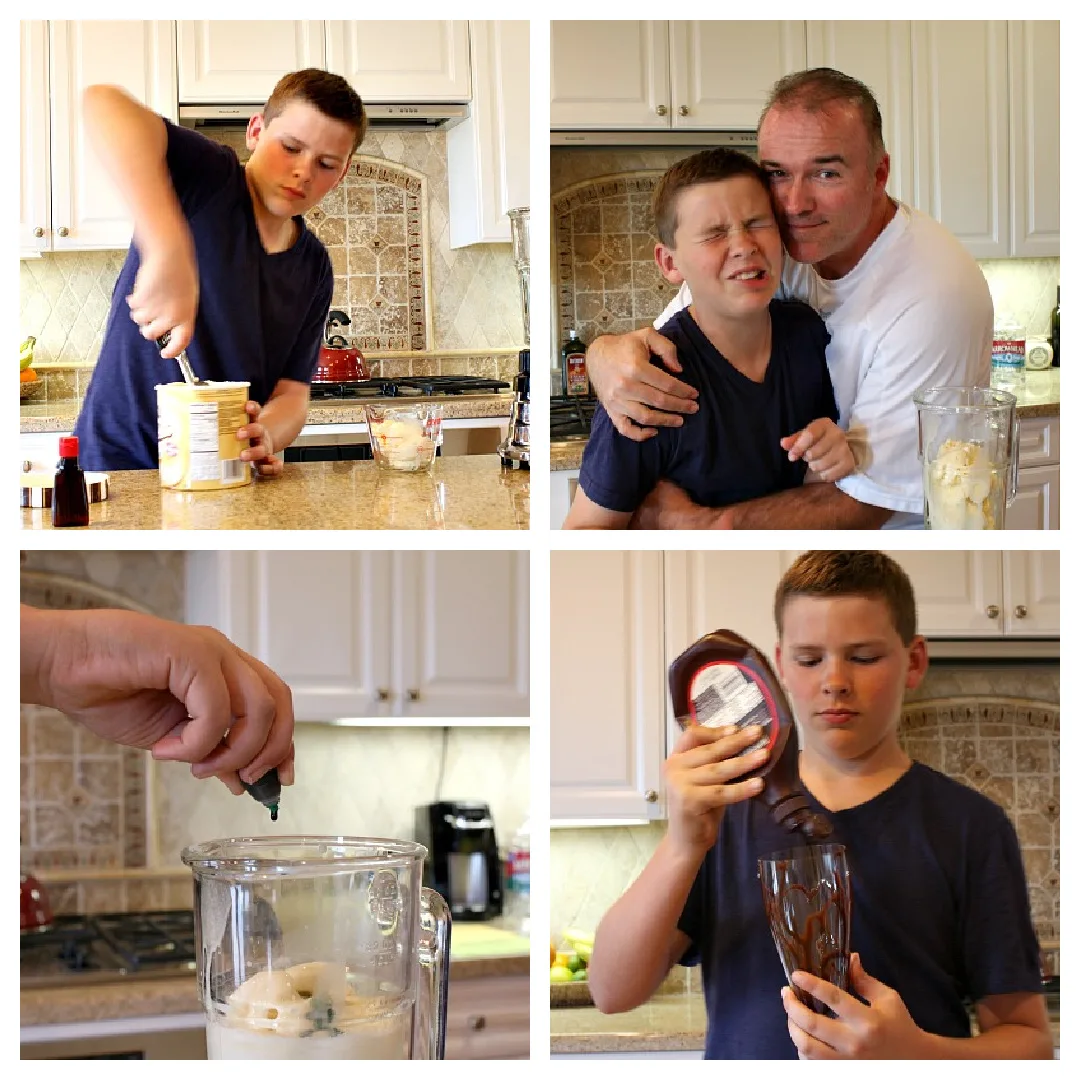 How to make a Shamrock Shake:
Put your muscle into your frozen ice cream, and scoop with all your strength and drop it into the blender jar.
Don't let your Dad hug you in the middle of a recipe. That's my dad, squeezing all of the air out of my lungs.
Add 8 drops of

Green Food Coloring + milk + mint extract, and then blender time!

Before you put the Shamrock Shake in the glass, you need to create your veins of chocolate by squeezing the bottle of chocolate syrup while rotating the glass.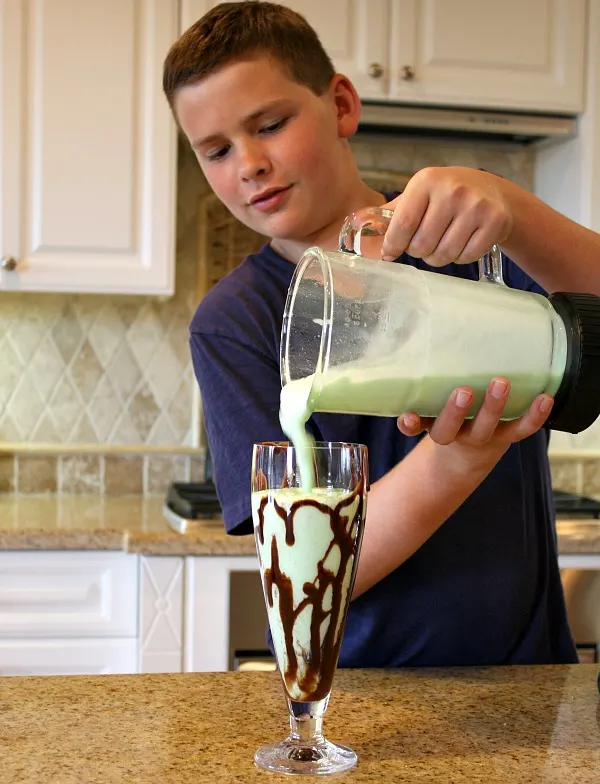 Then you can pour the shake into a glass. This recipe makes 2 shakes. After you have poured the shake in the glass, you may want to add a little more chocolate syrup on top. The veins just aren't enough for me because I love chocolate and mint together!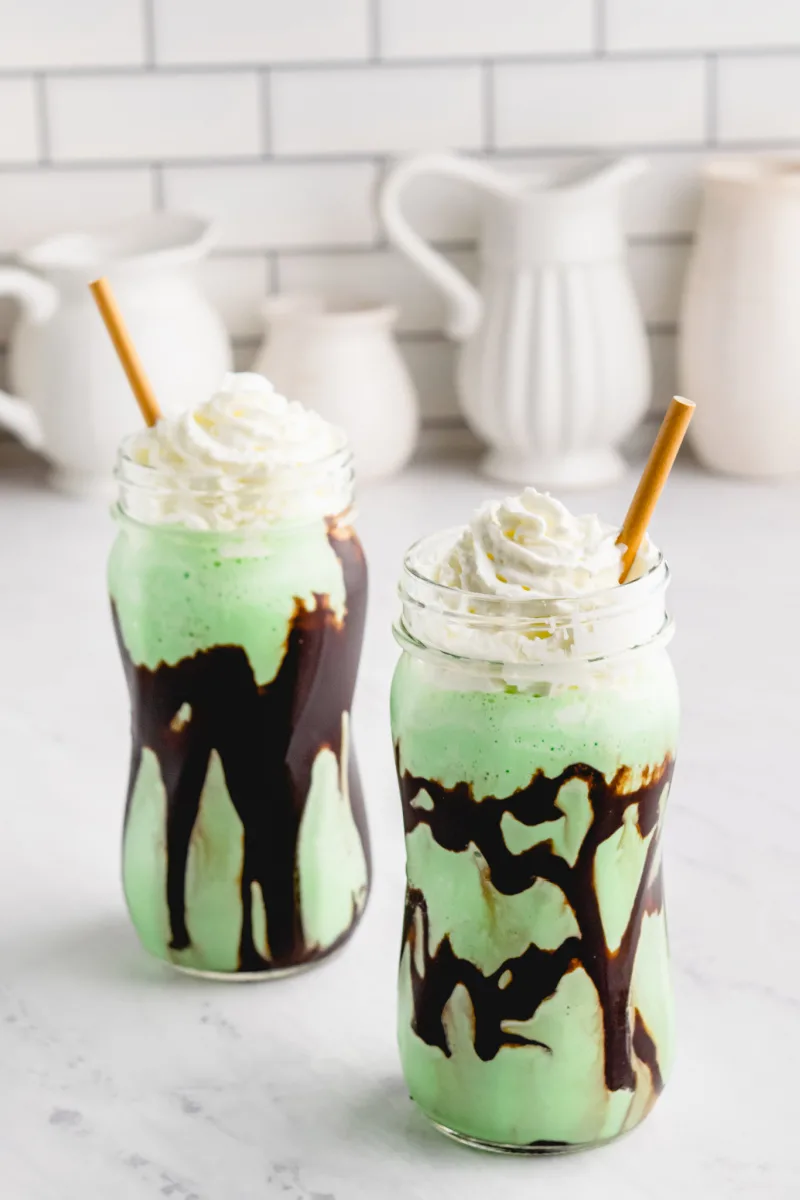 And there they are!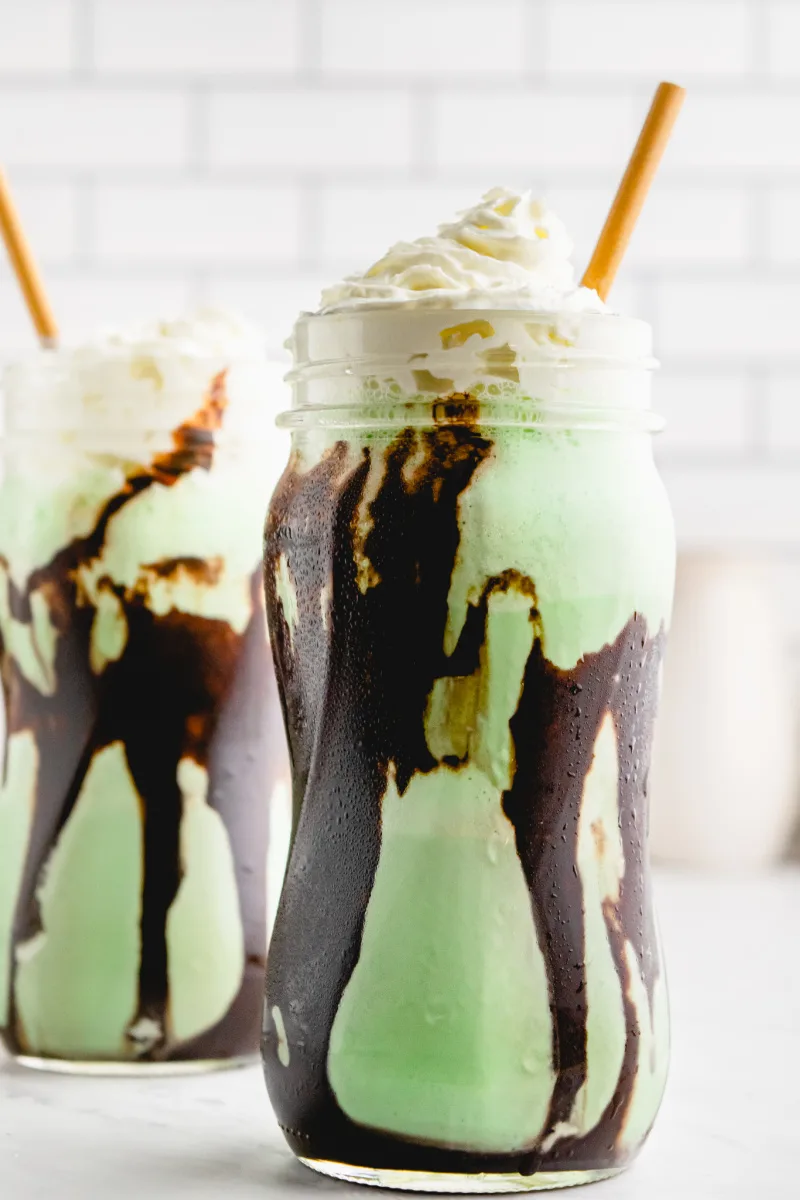 Give your Shamrock Shakes a VERY generous amount of whipped cream on top.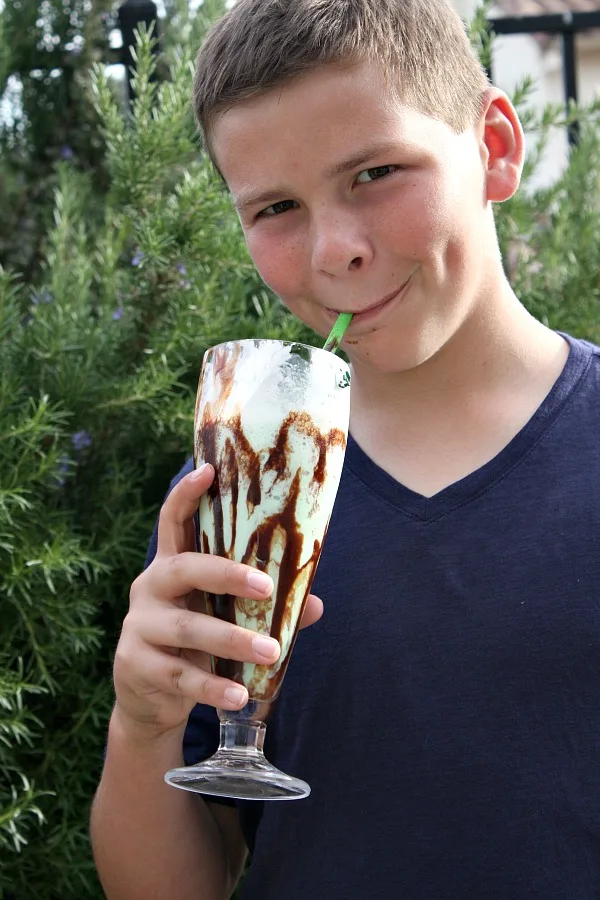 That's what I call a delicious Shamrock Shake! If you can't find a McDonald's near you that serves these, I suggest you make my version of a Shamrock Shake. I take that back now because it should be the other way around: if you can't find the ingredients for my recipe at the store, use McDonald's as a LAST resort. Plan to make these for St. Patrick's Day (along with my Grammy's Irish Soda Bread), and your kids will love you forever. And as you can see… kids can make these shakes themselves– I'm only 10!
And even a kid can take a chemical-filled shake and turn it into a SUPER DELICIOUS, homemade recipe… Like Me!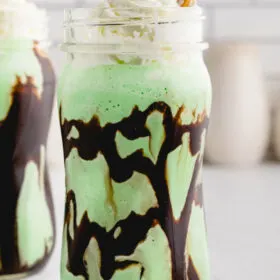 Shamrock Shake
This is a delicious copycat version of McDonald's popular St. Patrick's Day milkshake!
Ingredients
2

cups

vanilla ice cream

1¼

cups

nonfat milk

¼

teaspoon

mint extract

(don't use peppermint!)

8

drops

green food coloring

4

tablespoons

chocolate syrup

whipped cream,

if desired
Instructions
Place all ingredients in a blender and blend away.

Drizzle chocolate syrup on the inside of two glasses.

Divide the blended shake between the two glasses. Top with whipped cream, if you'd like! Serve immediately, and sip with a straw.
Nutrition
Serving:
1
shake
Calories:
438
kcal
Carbohydrates:
65
g
Protein:
11
g
Fat:
15
g
Saturated Fat:
9
g
Polyunsaturated Fat:
1
g
Monounsaturated Fat:
4
g
Cholesterol:
63
mg
Sodium:
197
mg
Potassium:
609
mg
Fiber:
2
g
Sugar:
56
g
Vitamin A:
868
IU
Vitamin C:
1
mg
Calcium:
377
mg
Iron:
1
mg