My 100% Irish Grammy has been making her outstanding Irish Soda Bread for me for years! Now I am finally able to share this recipe with you guys for St. Patrick's Day. There are a lot of people in the world with Irish roots. St. Patrick's Day brings the luck of the Irish to everyone. Wear green, or your day won't be very lucky considering that you will be covered with red spots from where people pinch you. This Irish Soda Bread brings out the luck of the Irish in everyone! Even if you're not Irish! 🙂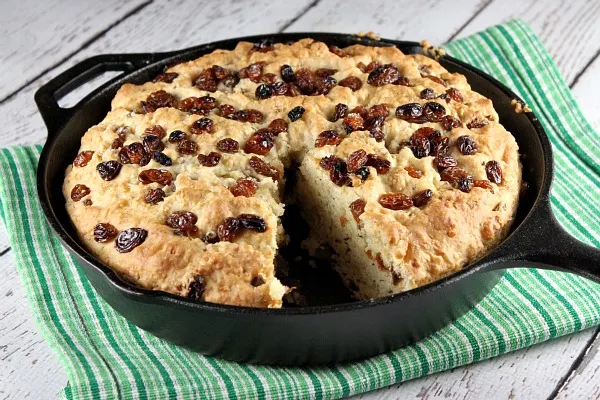 At first I tried to cut this bread sideways, diagonal, and even on the edge… but it didn't work. I feel so stupid now knowing that you cut it like a pie. Speaking of pie, Friday (yesterday) was Pi Day! Not the yummy pie, the 3.1415926535897932 pi. I've only memorized 17 digits currently, but I'm working my way up to 25!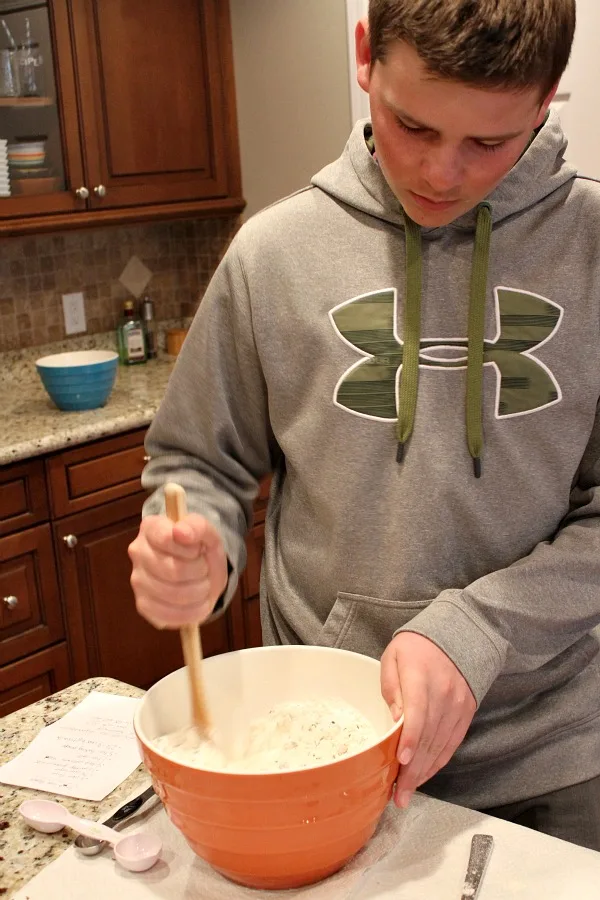 The dough for the Irish Soda Bread is really dry and thick. It takes some real effort to mix it the old fashioned way (with a wooden spoon). In order to not overstir the dough, you have to keep adding the buttermilk to the dry ingredients slowly until the mixture has just enough buttermilk to work. It's much easier to pour buttermilk onto the dry ingredients in small quantities than to add too much or too little.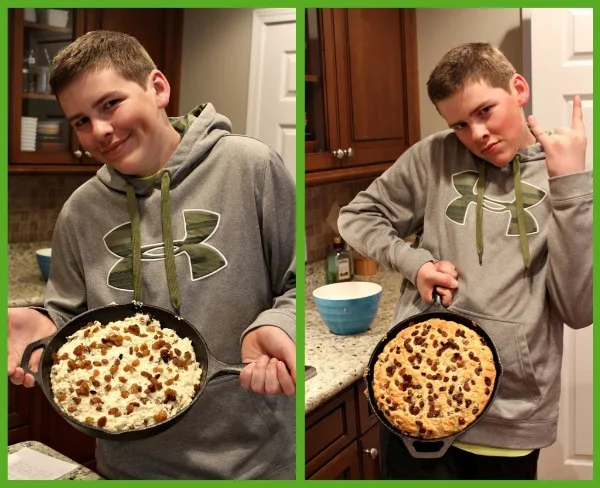 I baked the Irish Soda Bread just right. I took it out when it was a perfect golden color on top. It wasn't too dry, but wasn't super moist either. The golden raisins were starting to burn on the top during baking, so I covered the top of the bread with foil for a while.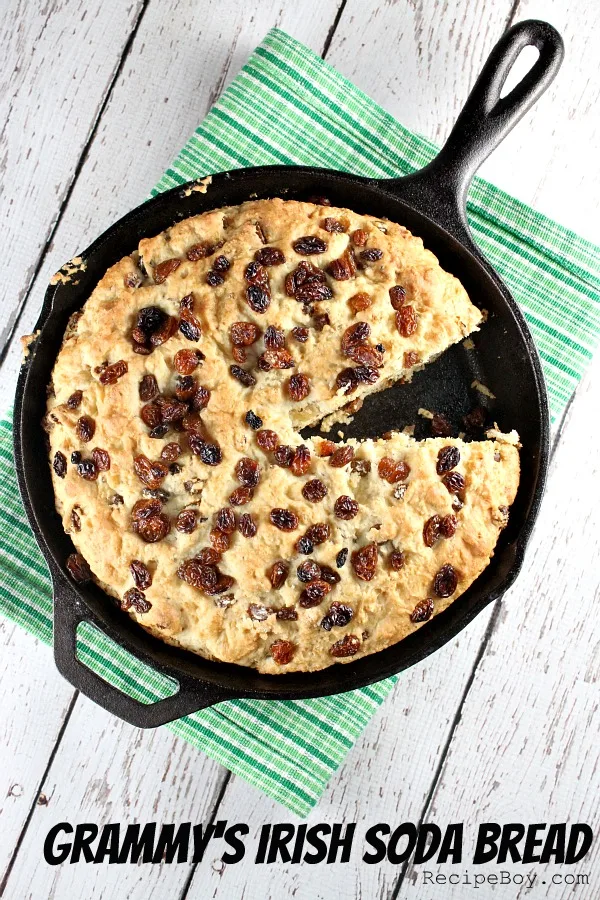 I know for sure that my Grammy's Irish Soda Bread is good, but how does my version compare to it? I modified her recipe just a little bit. I thought that my bread was more moist than hers, but everyone likes a different style. My Grammy usually adds more caraway seeds and baking powder than I do, so that could have changed the taste and texture of the Irish Soda Bread a little bit.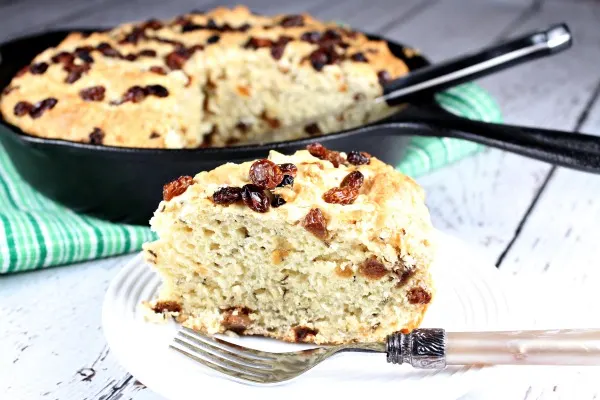 I messed up on the lighting in this photo. I forgot to set the brightness on the camera to the correct level for this shot, and it turned out really bright. Anyways… this Irish Soda Bread was the bomb.com! Next time I won't burn the golden raisins. They taste much better unburned. 🙂 I would definitely make this recipe for your kids to try. It's a piece of my Irish roots that I can share with the world.
And even a kid can make his Grammy's famous recipe… Like Me!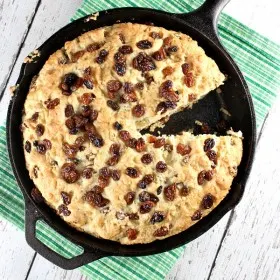 Grammy's Irish Soda Bread
Ingredients
4

cups

all purpose flour

1

cup

golden raisins

(plus more for the top)

¾

cup

granulated white sugar

1½

tablespoons

caraway seeds

(optional)

2

teaspoons

baking powder

1

teaspoon

baking soda

1

teaspoon

salt

2½ to 3

cups

buttermilk
Instructions
1. Preheat the oven to 350℉. Grease a 9 inch cast-iron pan with fat or butter.

In a large bowl, mix flour, raisins, sugar, caraway seeds, baking powder, baking soda and salt. Stir in 2½ cups buttermilk. If it's moistened enough (dough coming together but not super sticky wet), then you don't need any more buttermilk. If it seems too dry, add a little more buttermilk until it looks good.

Scrape the batter into the pan and spread to the sides to even it out. Add more raisins to the top if you want. Bake 45 to 60 minutes, or until the bread tests done when a toothpick or knife is stuck into the middle. You'll need to cover the bread loosely with foil about 20 minutes or so into cooking to avoid burning the raisins on top and to avoid the top getting too browned. EAT!
Nutrition
Serving:
1
serving
Calories:
273
kcal
Carbohydrates:
57
g
Protein:
7
g
Fat:
2
g
Saturated Fat:
1
g
Polyunsaturated Fat:
0.3
g
Monounsaturated Fat:
1
g
Cholesterol:
6
mg
Sodium:
416
mg
Potassium:
220
mg
Fiber:
2
g
Sugar:
22
g
Vitamin A:
94
IU
Vitamin C:
1
mg
Calcium:
120
mg
Iron:
2
mg