Skillet Macaroni and Cheese (Picky Palate Cookbook)
This post may contain affiliate links.


Jenny's cookbook is out! The Picky Palate Cookbook was published on October 23, 2012. Picky Palate must be SO excited. This week I am going to be giving away The Picky Palate Cookbook to one lucky person. More details of this giveaway are at the bottom of the post. Now let's get started so that I can tell you guys what I made.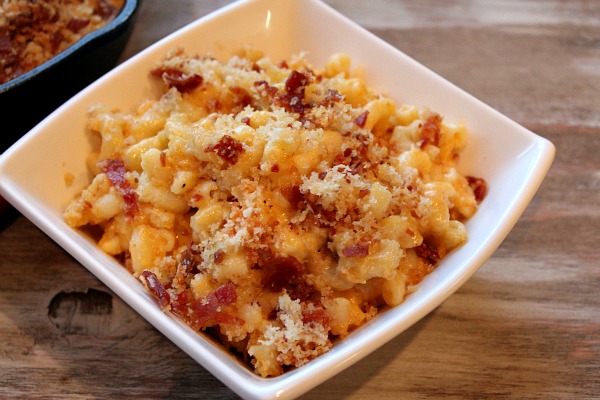 This week I made the Skillet Macaroni and Cheese from The Picky Palate Cookbook. I liked it as soon as I saw the recipe. Can you guess why? It's kind of obvious. It has BACON in it!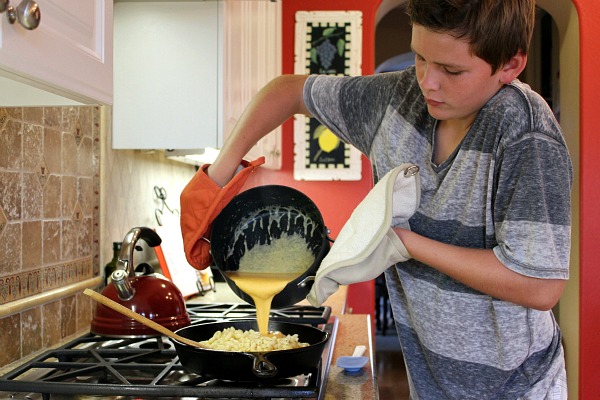 The cheese sauce is great. When I poured it into the skillet filled with pasta, good smells filled our kitchen. I stuck a finger in the pan just to taste it. 🙂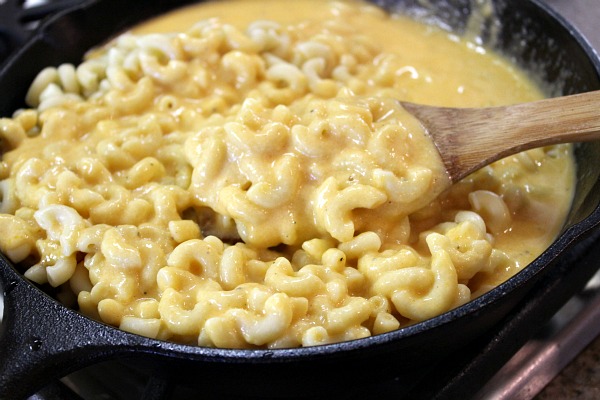 Now do you understand why I stuck a finger in the pan? Yum Yum Yum!!!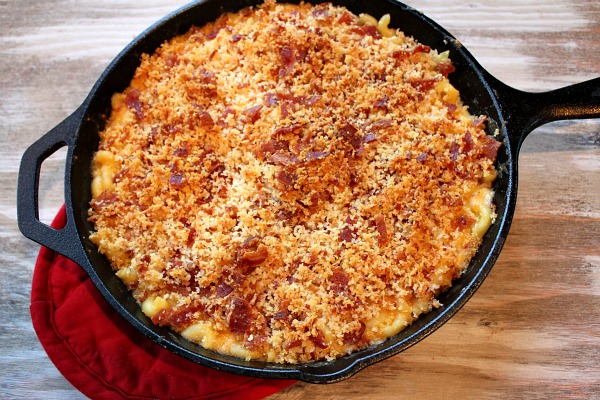 Bacon is great on everything in the entire universe, but it is awesome on this mac.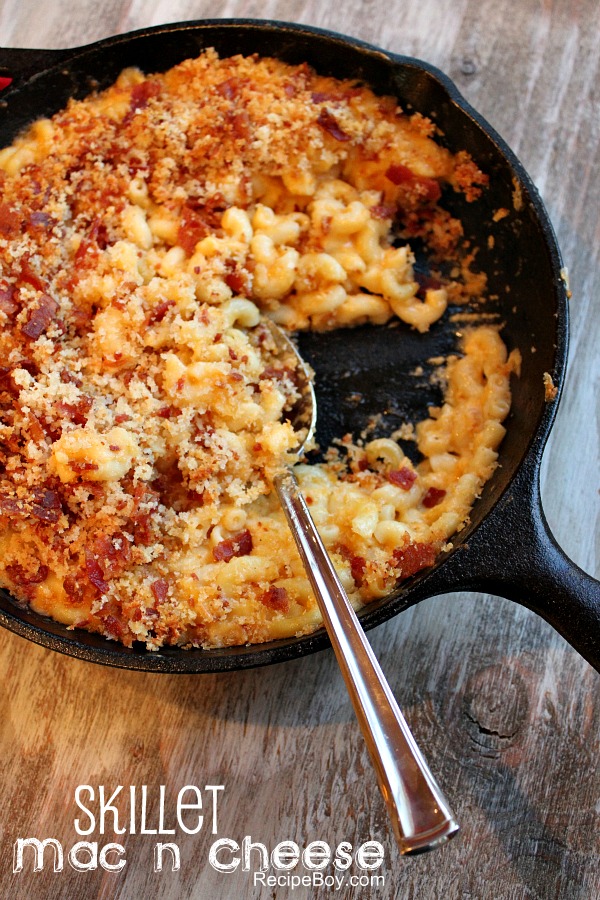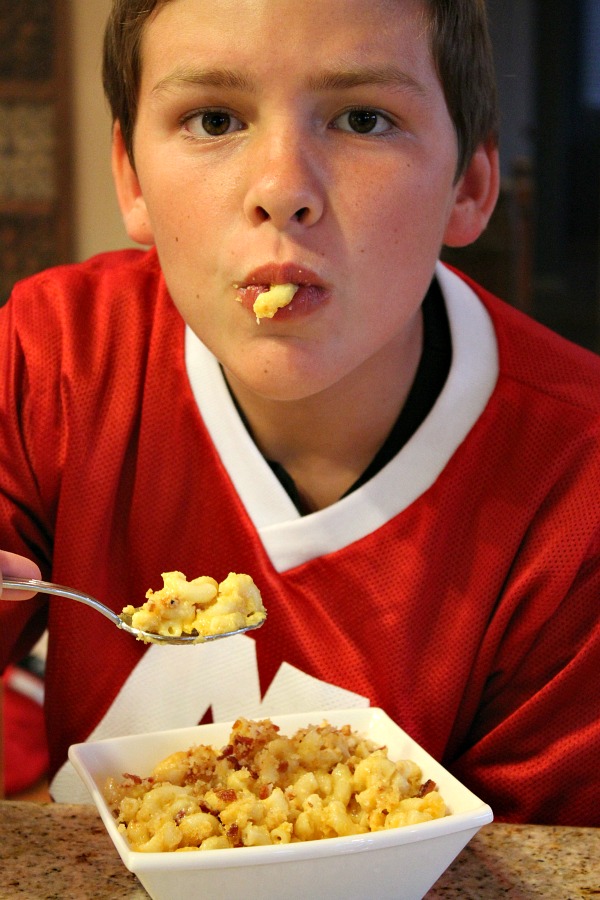 I'm a goofball. In case you haven't noticed (which is almost impossible), I like to make funny poses. I'm ready for my football game in this picture. The macaroni and cheese was great. The bacon made it 2x as good. Jenny created a great recipe when she thought up this Skillet Macaroni and Cheese.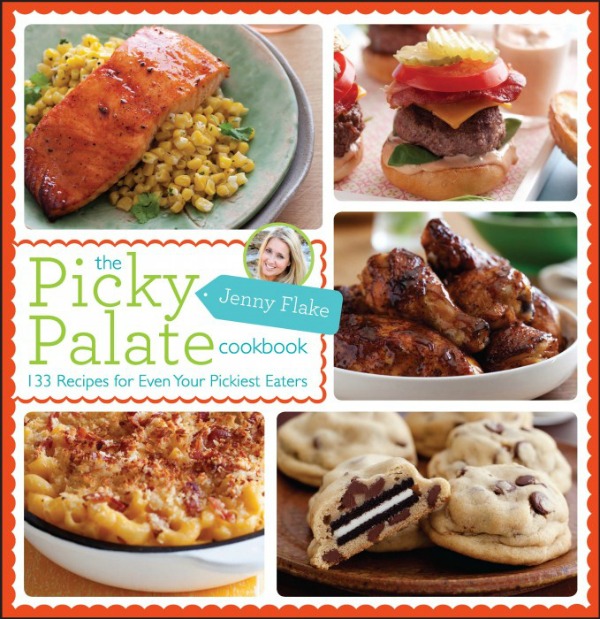 Jenny's cookbook is really good. The inside looks a little like my mom's cookbook that is coming out soon. Picky Palate made her cookbook a winner by putting tons of good recipes into it. I've tried the Oreo Stuffed Chocolate Chip Cookies too, and I LOVED them. The mac and cheese and the cookies are just a few samples of the great recipes the cookbook has.

Here's How To Enter to win a copy of The Picky Palate Cookbook:
1.  Leave a comment here telling me what you like on your macaroni and cheese.
For two possible extra entries:
2.  Share the giveaway on your facebook page or on Pinterest.  Then come back and leave a comment telling me you shared.
Giveaway ends Sunday, Nov. 18th at 6PM PST.  US Residents only.  Winners will be chosen via Random.org and be notified by email.  Winner will have 48 hours to respond to my email.  Giveaway is now closed!  The randomly selected winner is commenter #64: Brandie.  Congrats!
Skillet- Baked Macaroni and Cheese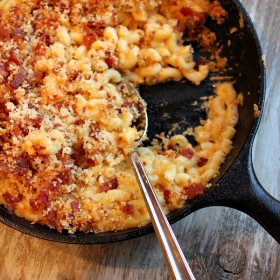 Ingredients:
1/2 pound elbow pasta
8 tablespoons (1 stick) butter, divided
3 tablespoons all-purpose flour
3/4 teaspoon kosher salt
1/2 teaspoon smoked paprika
1/4 teaspoon freshly ground black pepper
1 1/2 cups milk
2 cups shredded cheddar cheese
1 cup panko bread crumbs
1/2 pound sliced bacon, cooked until crisp and crumbled (about 1 cup)
1/4 cup Parmesan cheese
Directions:
1. Preheat the oven to 350 degrees F. Spray a 9-inch cast-iron skillet with nonstick spray.
2. Cook the pasta according to package directions, drain, then rinse under cool water to stop the cooking.
3. Melt 3 tablespoons butter in a small saucepan over medium heat. Add the flour, salt, paprika, and pepper and whisk to combine. Slowly add the milk, whisking until smooth and thickened, about 5 minutes. Add the cheddar cheese and stir until smooth.
4. Transfer the cooked pasta to the skillet. Pour in the cheese sauce, stirring to combine.
5. In a microwave-safe bowl, melt the remaining 5 tablespoons butter in the microwave. Add the bread crumbs, bacon and Parmesan and stir to combine. Sprinkle over the mac and cheese, and bake for 25 to 30 minutes, until hot and bubbly.

Disclosure:  The book for this giveaway is being provided by Wiley & Sons.  I was given a copy of The Picky Palate Cookbook for review, and all opinions shared are my own.  Amazon affiliate links are included within this post.