White Chicken Lasagna is a delicious variation of classic lasagna!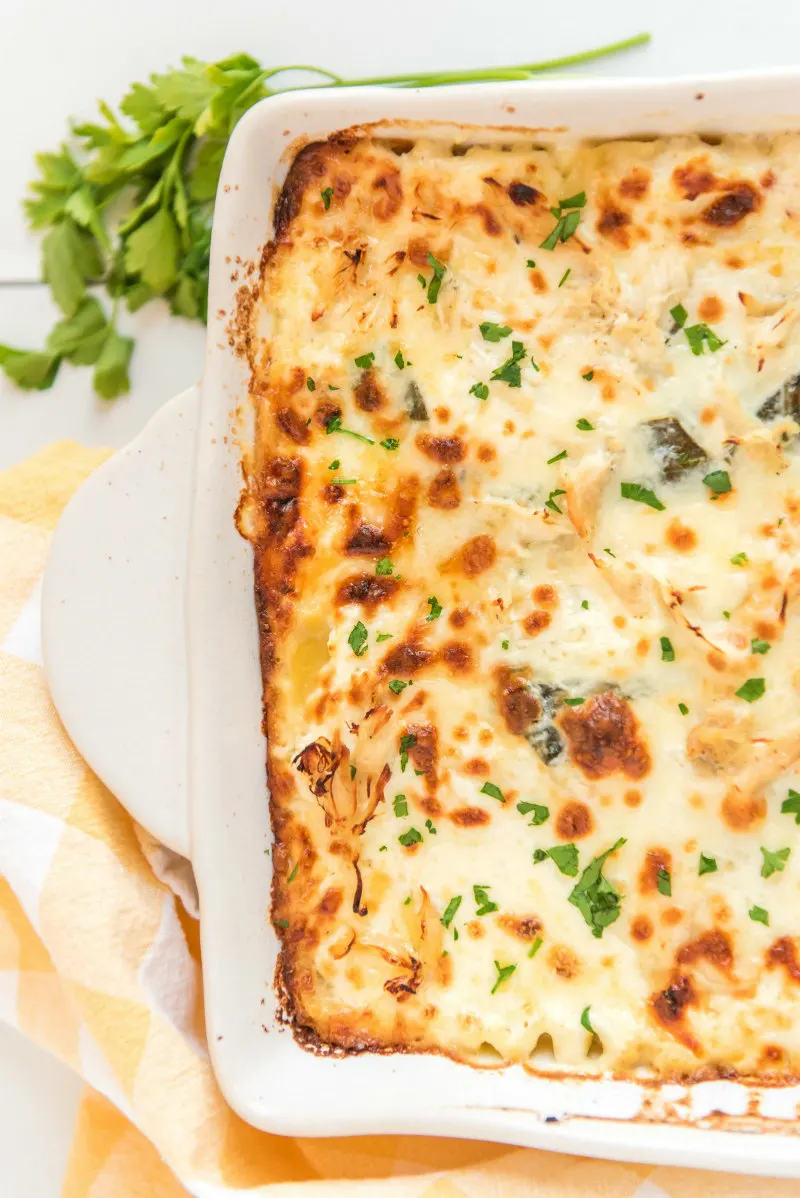 I'm all for making lasagna with marinara sauce. It's pure comfort food, and it's such a popular meal. But if you've never had lasagna made with white sauce, then it's time to try it! White sauce is so good with pasta. This creamy, cheesy white sauce has a little bit of spinach mixed in. It's so good layered with noodles, ricotta and mozzarella cheese!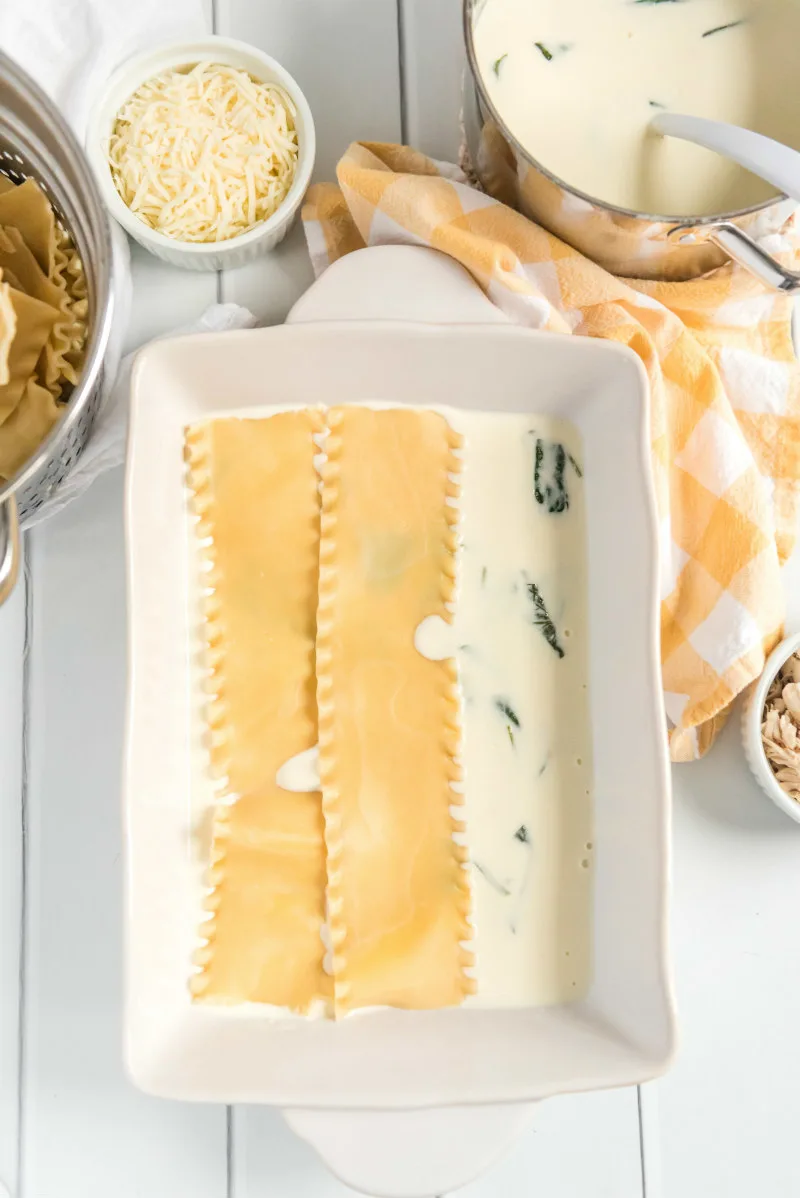 How to make White Chicken Lasagna:
Make the sauce:
The sauce is a mixture of butter, garlic, milk, heavy cream, Parmesan cheese, salt and pepper. Fresh spinach is stirred in at the end.
Assemble the lasagna:
A little bit of sauce is spooned into the bottom of your casserole dish. Three cooked lasagna noodles are placed on top of the sauce. Ricotta cheese is combined with garlic powder, and then 1/3 of the ricotta mixture is spread onto the lasagna noodles. At this point, you'll add shredded chicken to the remaining sauce. One third of the white chicken sauce is spooned over the ricotta, and then that's topped with one third of the shredded mozzarella cheese. Repeat the layers two more times, starting with the lasagna noodles and ending with the cheese.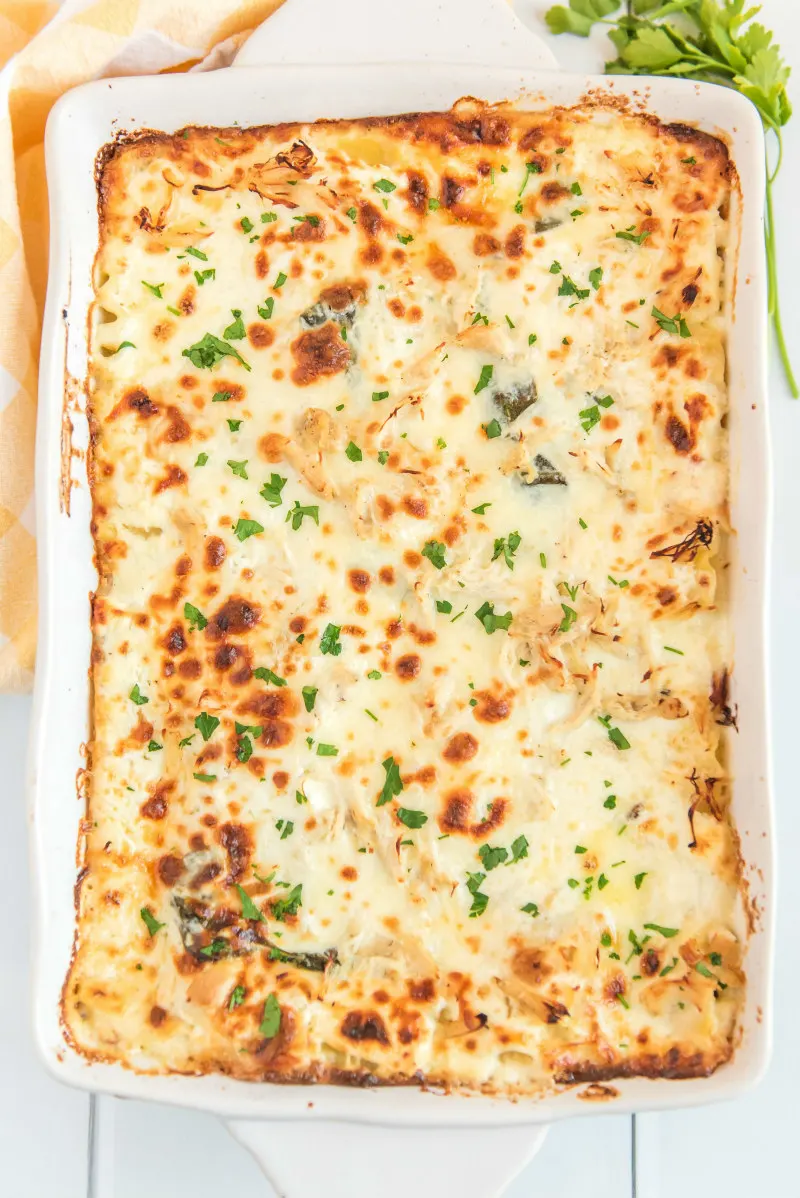 The White Chicken Lasagna is then covered with foil and baked for 50 to 60 minutes, until hot and bubbly. Then you can pull the foil off and let it brown a little on top for a few minutes.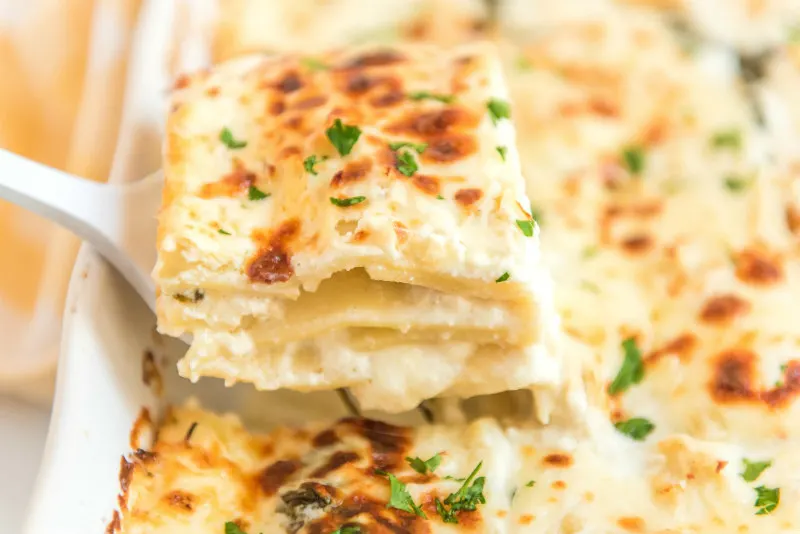 About lasagna noodles:
When I make lasagna, I like to use traditional lasagna noodles. I know they sell the "no boil" noodles, but I've never found those to be quite as good. Take the time to boil regular lasagna noodles. After cooking, lay them all out on a cutting board to cool while you are getting the rest of the ingredients together.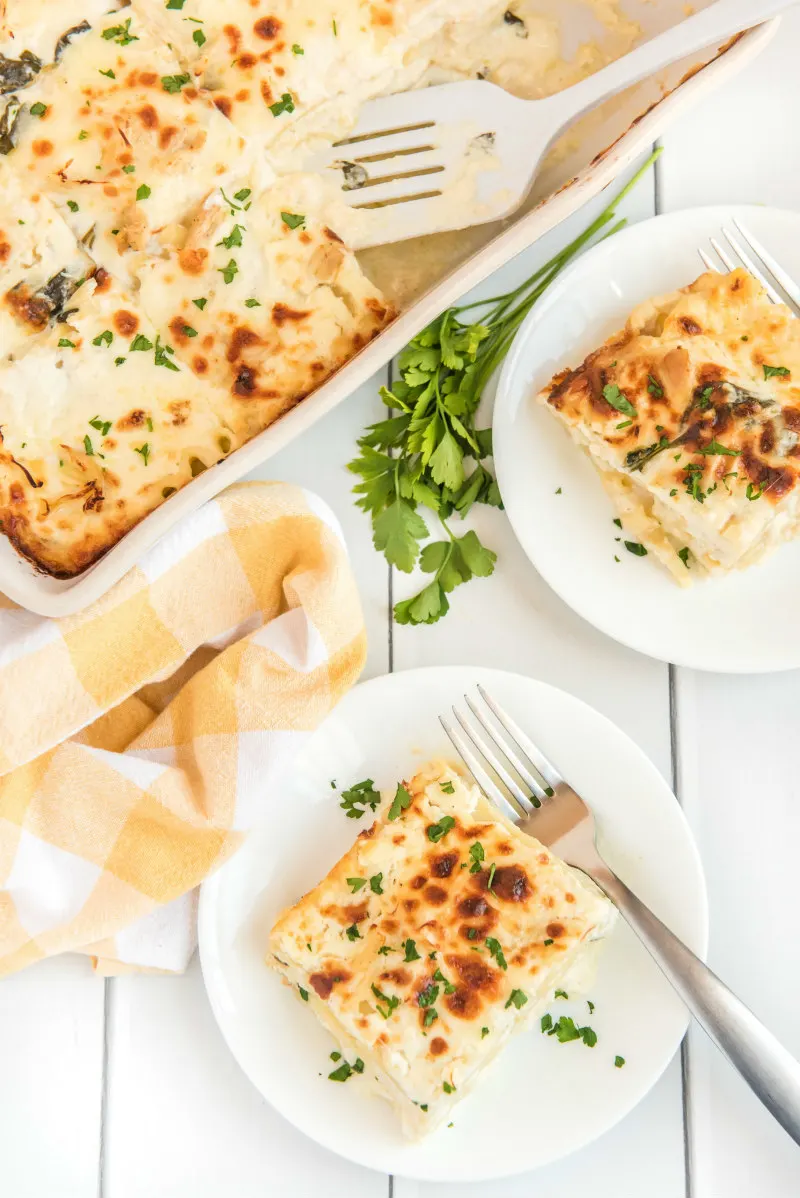 Serving tips:
Since White Chicken Lasagna can be pretty filling, I suggest serving it with a big green salad and toasted garlic bread.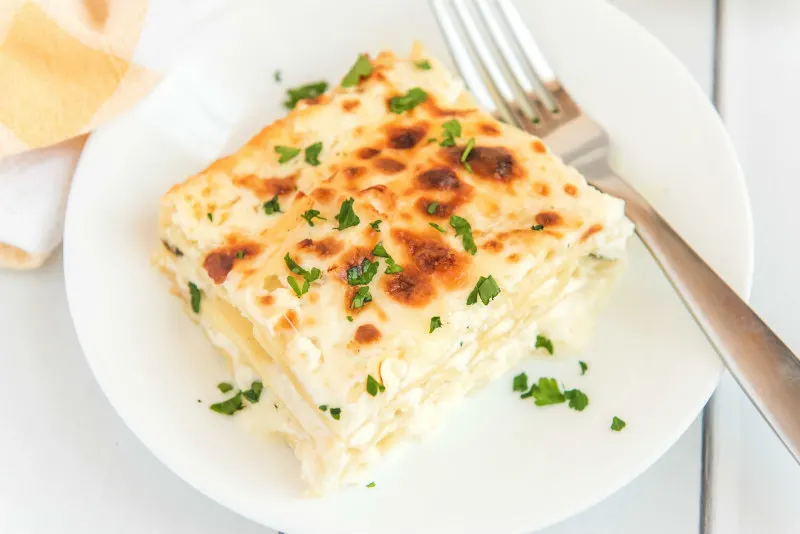 It's time to make lasagna for dinner. Enjoy!
Here are a few more pasta recipes you might like to try:
White Chicken Lasagna
An alternative way to make lasagna delicious!
Ingredients
SAUCE:
3

tablespoons

butter

3

large

garlic cloves,

minced

1½

cups

milk

1½

cups

heavy whipping cream

1

cup

grated Parmesan cheese

1/2

teaspoon

salt

1/4

teaspoon

freshly ground black pepper

2

cups

chopped fresh spinach
THE REST:
2

cups

ricotta cheese

1

teaspoon

garlic powder

4

cups

shredded, cooked chicken breast

2

cups

shredded mozzarella cheese

chopped fresh Italian parsley,

for garnish (if desired)
Instructions
Preheat the oven to 350 degrees F. Spray a 9x13-inch pan with nonstick spray.
PREPARE THE PASTA:
In a large pot, bring water to a boil. Add the lasagna noodles and cook according to the package directions. Drain the water and separate the noodles (I like to place them on a cutting board).
MAKE THE SAUCE:
In a medium saucepan, melt the butter, Add the garlic and heat for 30 seconds. Whisk in the milk, cream, salt and pepper. Heat until bubbling. Add the Parmesan and whisk until smooth. If you want the sauce to be thicker, you can whisk in 1 tablespoon of flour. Then stir in the spinach and let sit until you're ready to use it.
ASSEMBLE THE LASAGNA:
In a medium bowl, combine the ricotta cheese with the garlic powder.

Spoon about 1 cup of the sauce into the bottom of the prepared pan. Top with 3 lasagna noodles. Spread 1/3 of the ricotta mixture over the lasagna noodles. Add the chicken to the remaining sauce and spoon 1/3 of the chicken mixture evenly over the ricotta layer. Top with 1/3 of the mozzarella cheese. Repeat layers two more times, starting with lasagna noodles.

Cover with foil and bake 40 to 50 minutes, or until the sauce is bubbling Remove the foil and bake for a few more minutes- until the cheese is golden brown. Cool for at least 10 minutes before serving.
Notes
A rotisserie chicken can be used for the shredded chicken in this reciep.