These Baked Ground Beef Tacos are stuffed with taco-spiced ground beef and melted cheese for an easy baked meal. Desired fixings added!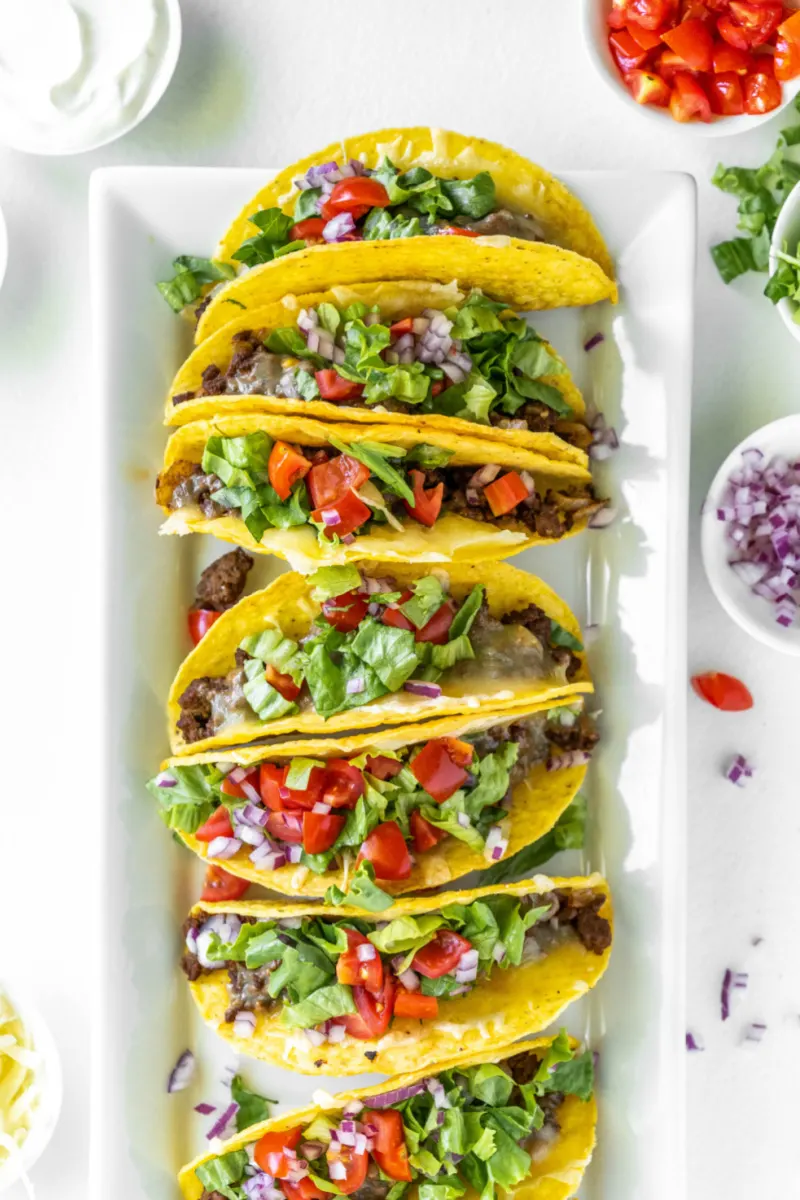 We love that this baked ground beef tacos recipe is super family friendly. Because who doesn't like tacos? Even if you have picky eaters in your family, the picky ones can just eat a taco shell with meat and cheese. Maybe as those picky eaters get older, they'll try adding different things to their tacos. Just display all the choices every time, and model good behavior by adding delicious goodies to your own tacos!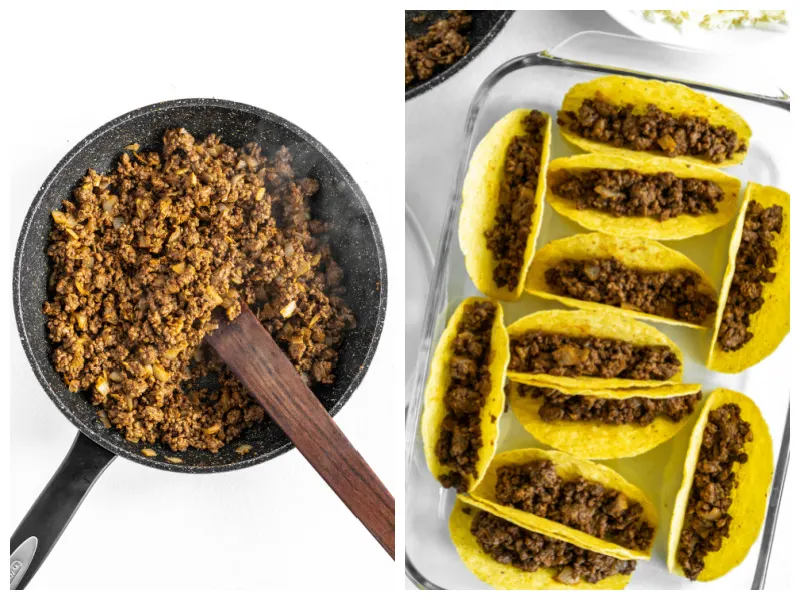 How to make Baked Ground Beef Tacos:
Make the taco meat first. Cook beef and onion in a large skillet until the beef has browned and the onion is softened. Add all of the spices, tomato paste, garlic and water. Simmer and cook until the liquid has evaporated and the meat mixture has thickened- about 5 minutes. Spoon the cooked meat mixture into hard taco shells placed in a 9×13-inch casserole dish.
Sprinkle the tacos with shredded cheese. Use monterey jack, cheddar or colby jack cheese or cheddar-jack cheese. All will be good in tacos! Bake the tacos for about 10 minutes- just until the cheese is nice and melty and the meat is warmed through.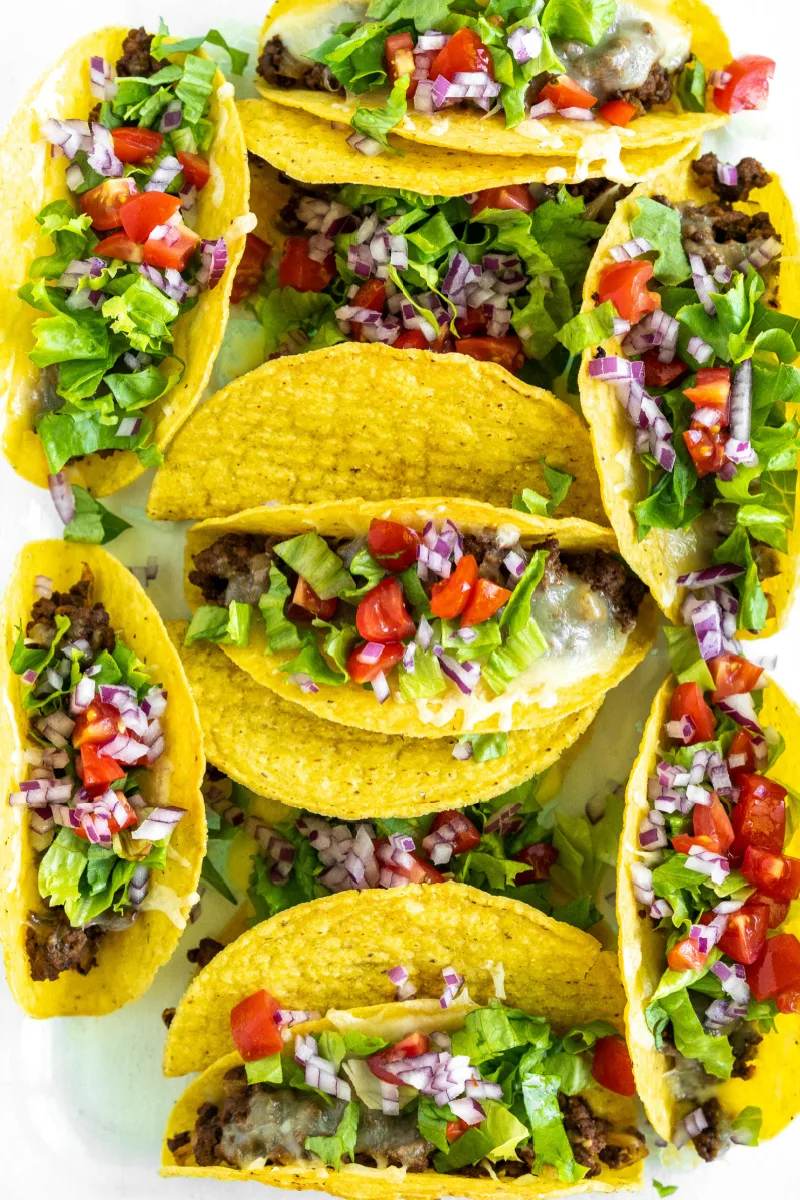 Add whatever fixings you'd like to your tacos. It's nice to be able to set all of them out and let people help themselves to desired fixings.
What are the best fixings for tacos?
chopped lettuce
chopped tomato
avocado
salsa
chopped onion
chopped fresh cilantro
sour cream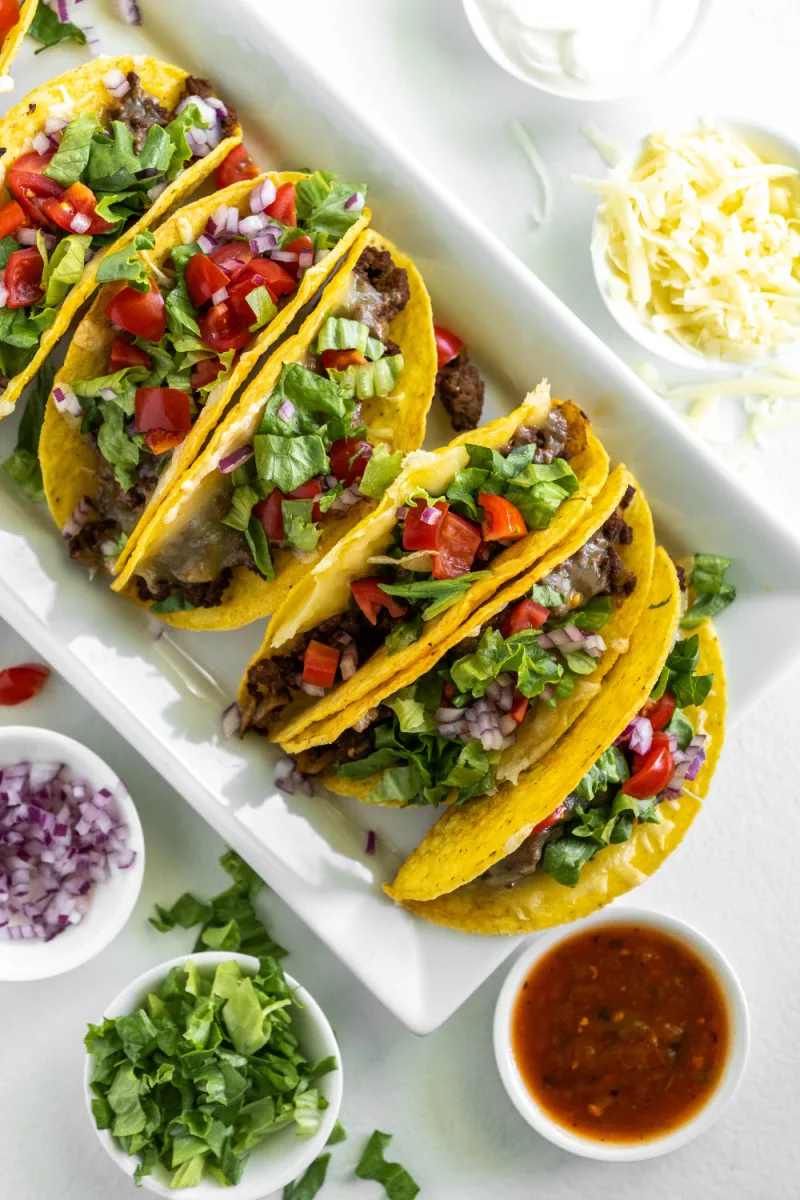 This recipe is so easy because you don't have to fry any tortillas. Crunchy taco shells are an easy vessel for making good tacos. You might also like to try our recipe for Walking Tacos one of these days. That's another easy (and fun) way to make tacos. And then, of course, there's our Best Taco Dip for parties and lazy football Game Days.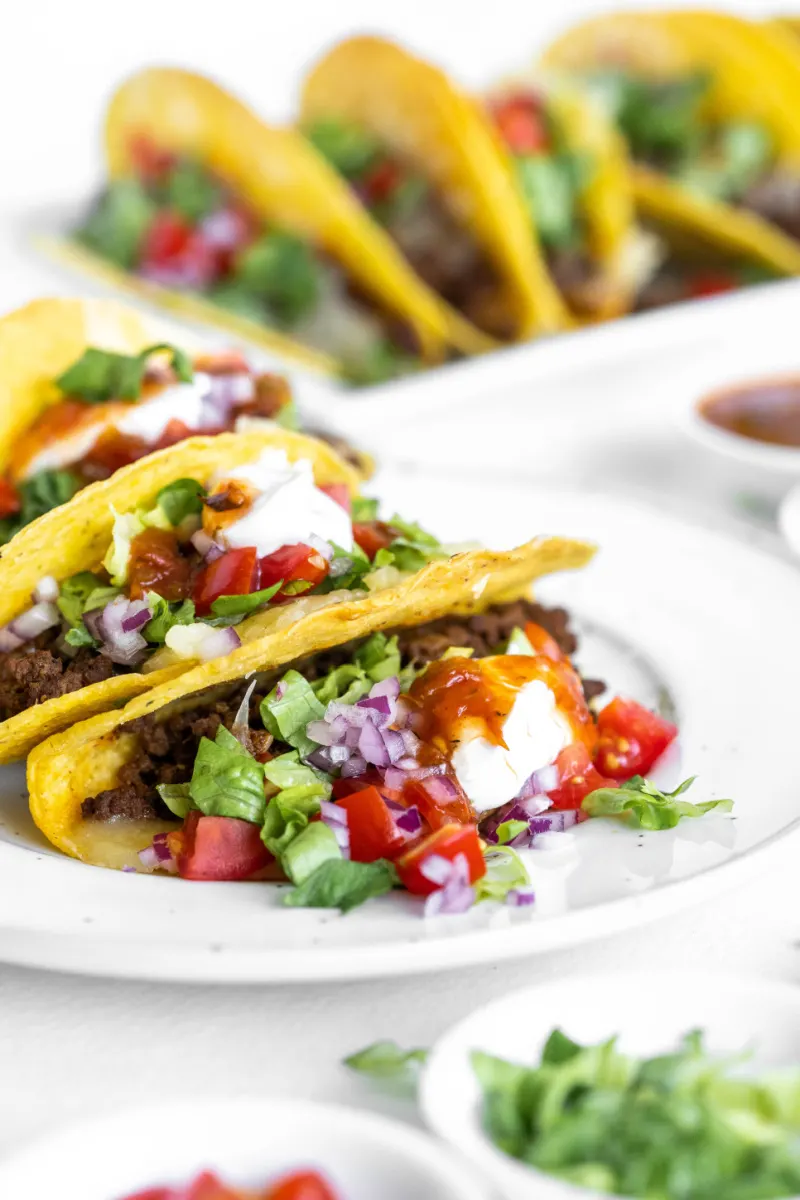 This recipe makes four generous servings. Each serving is three baked ground beef tacos! If you have smaller kids, they might not eat three, so you can feed more kids. They're gonna love this one. Enjoy!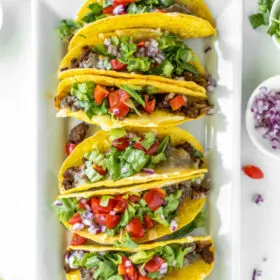 Baked Ground Beef Tacos
These tacos are an easy dinner recipe for busy days!
Ingredients
TACOS:
1

pound

ground beef

1

medium

yellow onion,

finely chopped

1½

teaspoons

ground cumin

1½

teaspoons

dried oregano

1

teaspoon

chili powder

1

teaspoon

salt

½

teaspoon

freshly ground black pepper

2

tablespoons

tomato paste

4

medium

garlic cloves,

minced

¼

cup

water

12

hard taco shells

2

cups

shredded Cheddar or Monterey Jack cheese
TOPPING SUGGESTIONS:
chopped tomatoes, chopped lettuce, fresh cilantro, minced red onion, sour cream, salsa, guacamole or avocado
Instructions
Preheat the oven to 400 degrees F.

Cook the beef and onion in a large skillet over high heat until the meat is browned, about 5 to 7 minutes, stirring occasionally to break up the meat. Add the cumin, oregano, chili powder, salt, black pepper, tomato paste, garlic, and water. Turn the heat down to medium and cook until the meat is thickened, about 5 minutes, stirring frequently.

Divide the taco meat between 12 hard taco shells (about 3 to 4 tablespoons per taco) and place the tacos upright in a 9x13-inch baking dish. Sprinkle the cheese on top of the meat.

Bake until the cheese is melted, about 10 minutes. Garnish the tacos with any toppings you like. Serve immediately.