Berry Icebox Cake is the perfect, no bake summer dessert.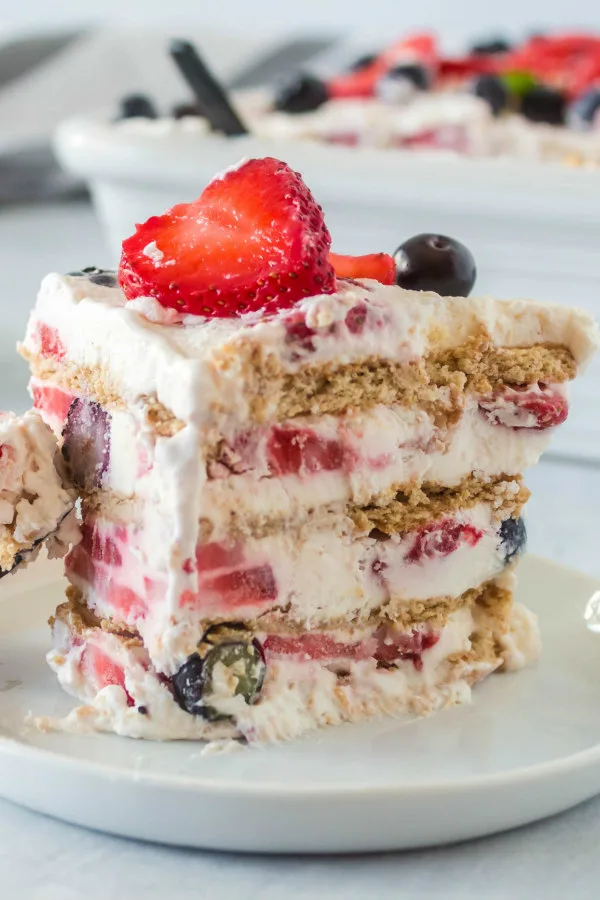 An icebox cake is different than actual cake. You won't find a typical cake batter here. And it's not baked. Instead, there are layers of sweetened cream, graham crackers and berries. Berry icebox cake a very simple recipe to make, and it's always a big hit.
Ingredients needed:
heavy whipping cream
powdered sugar
strawberries and blueberries
powdered sugar
graham crackers
vanilla extract and salt
fresh mint leaves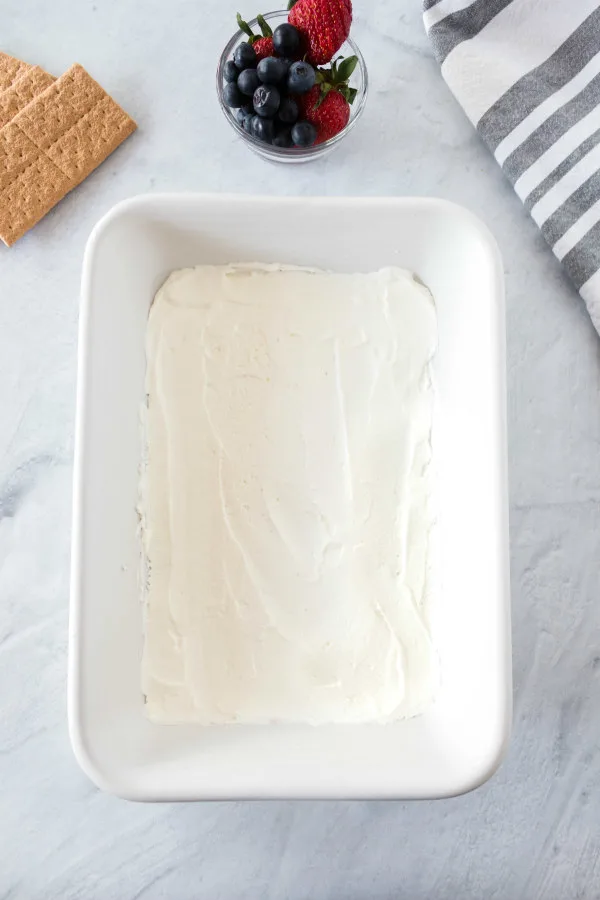 How to make Berry Icebox Cake:
The first thing you'll do is make the sweetened whipped cream, which is a mix of heavy whipping cream, powdered sugar, vanilla and salt. You'll spread some of the whipped cream on the bottom of your serving dish. And then you'll combine the remaining whipped cream with fresh berries.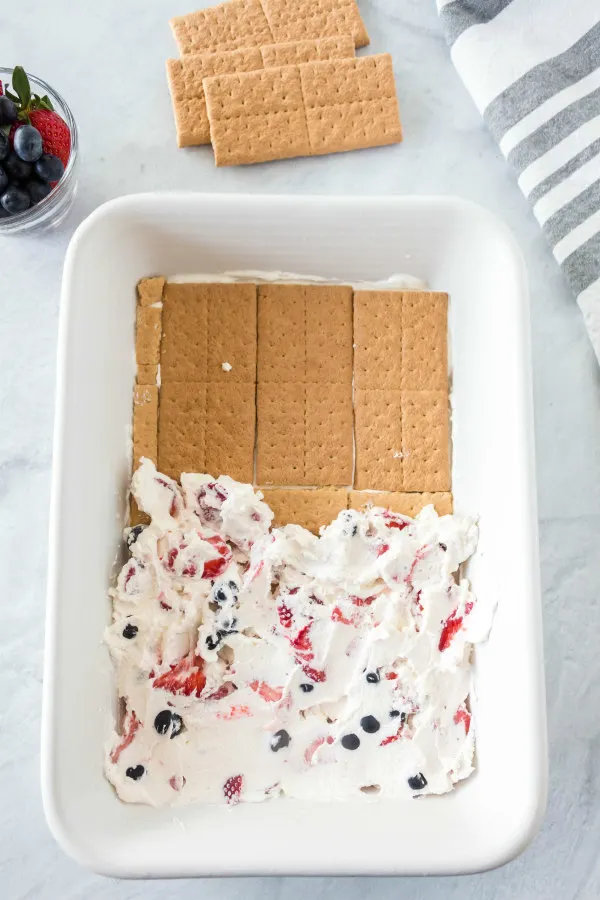 Next, you'll place a layer of graham crackers on top of the whipped cream, and then top the graham crackers with a layer of the berry whipped cream.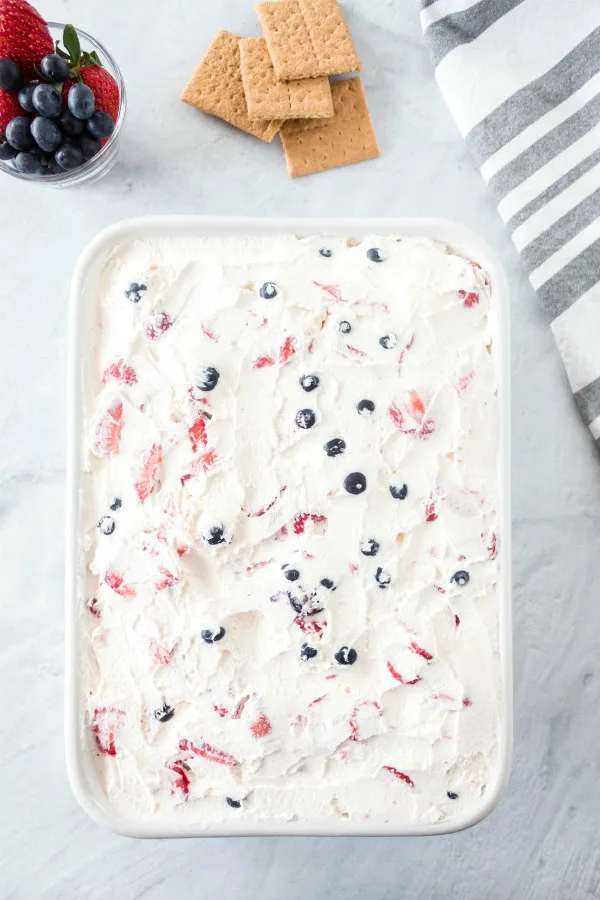 You'll continue layering until you've achieved four layers of whipped cream and four layers of graham crackers- ending with a berry whipped cream layer.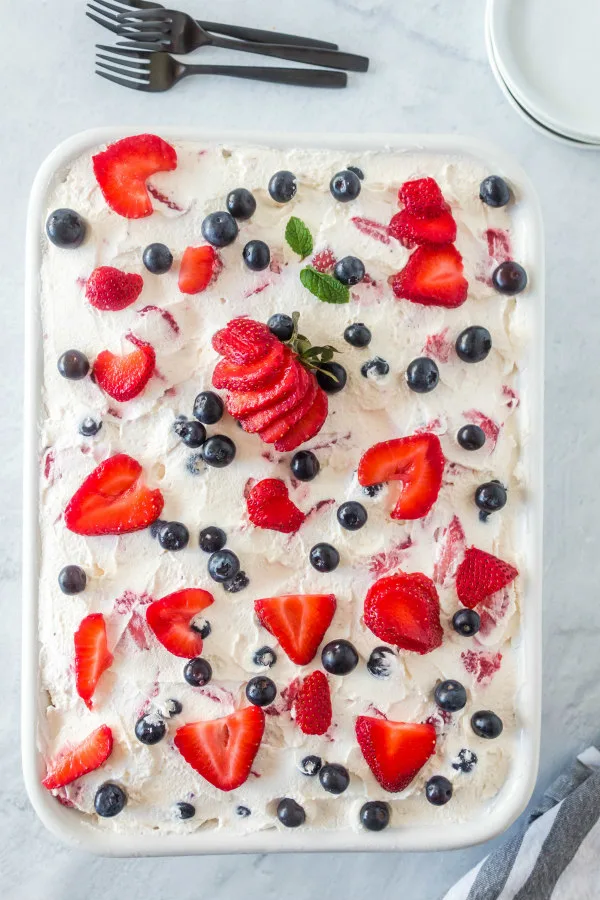 And the top of your berry icebox cake should be dotted with additional fresh berries.
Refrigerating the cake for two hours gives the graham crackers a chance to soften up and become sliceable. You want to make this cake and serve it the same day. If you store it longer than 24 hours, the graham crackers will become soggy, and you definitely don't want that. When you cut into the berry icebox cake, you can plainly see the layers you've created.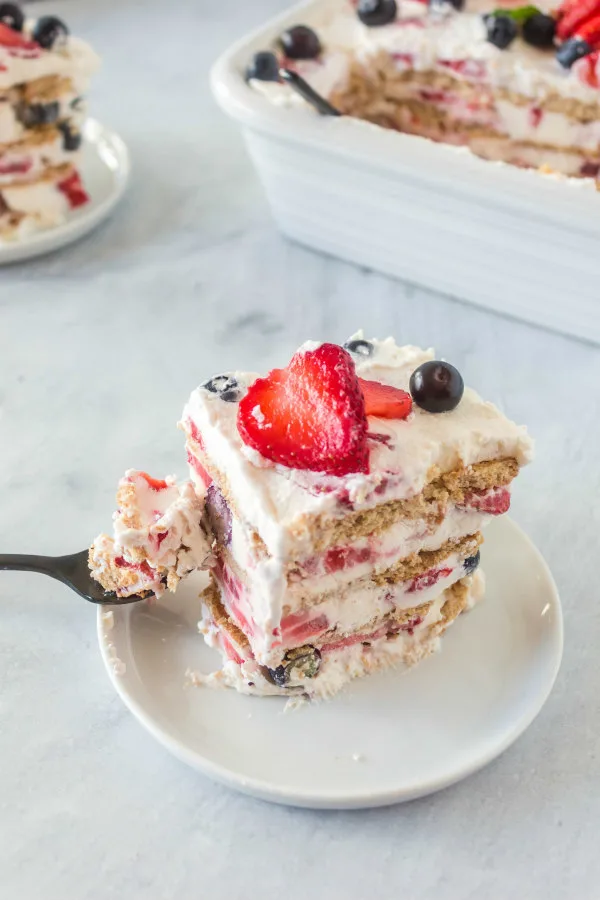 It slices up nicely like a regular cake! This icebox cake is a delicious mix of sweet cream with berries. The graham crackers give it a "pie" kind of flavor (think graham cracker crust). It's a simple and delicious dessert!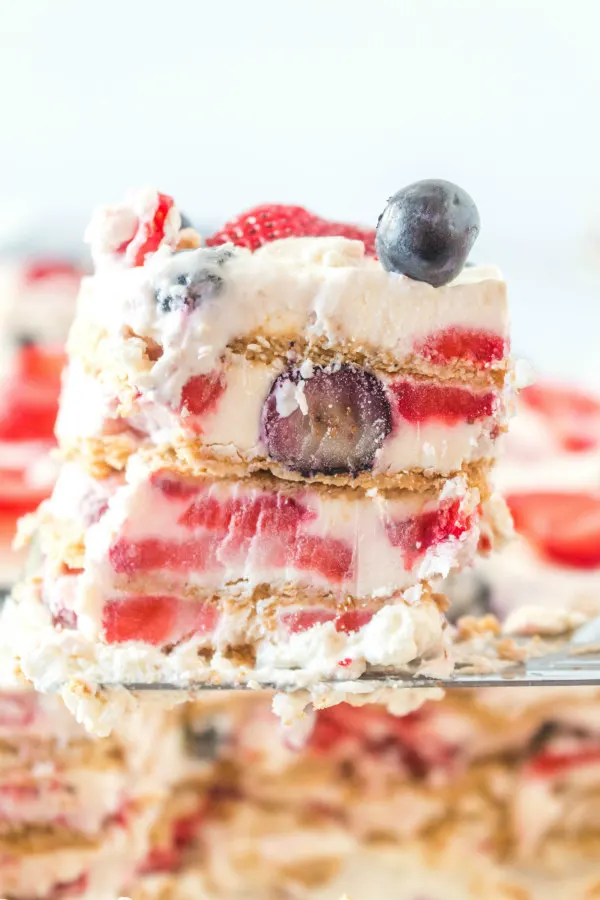 I got an email recently asking if Brooks (RecipeBoy) was still writing and keeping up the blog here. I've shared a few times, but I'll give the update again. He's spending his summer in Dallas working a business internship. He loves his job and is working 45 hours per week. And he'll continue at SMU as a sophomore in August. So MOM has taken over sharing recipes on RecipeBoy for now. Brooks may or may not pick it up again as he has time. He's a busy guy. But he does pop in once in a while to see what I'm posting, and he is grateful to everyone who has followed him all of these years.
Here are a few more summer dessert recipes you might like to try: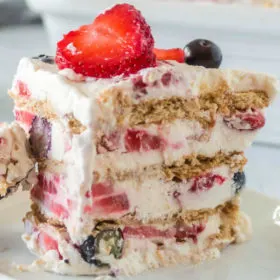 Berry Icebox Cake
Super easy, no-bake cake!
Ingredients
3¼

cups

chilled heavy whipping cream

1/3

cup

powdered sugar

1

teaspoon

vanilla extract

1/8

teaspoon

salt

4

cups

thinly sliced strawberries

1

cup

blueberries

28

whole

graham crackers

more sliced strawberries and blueberries,

for garnish on top

fresh mint,

for garnish (optional)
Instructions
In a large bowl, use an electric mixer to whip the cream, powdered sugar, vanilla and salt until soft peaks form. Set aside 3/4 cup of the whipped cream. Very gently, use a rubber spatula to fold in the strawberries to the cream in the bowl, being careful not to deflate the whipped cream.

Smear the 3/4 cup whipped cream on the bottom of a 13x9-inch dish and layer the graham crackers on top of the whipped cream so they are touching but not overlapping. Spoon about 1 cup of the berry whipped cream on top of the graham crackers and gently spread it evenly over them. Repeat this layered three more times, finishing with the whipped cream. You'll have four layers of graham crackers and four layers of whipped cream.

Use extra strawberries and blueberries to garnish the top of the cake.

Refrigerate the cake for at least 2 hours. The graham crackers will soften as the cake chills. Do not let it sit for more than 24 hours or it will get too soggy. Remove the cake from the refrigerator when you are ready to serve it. Cut into squares with a sharp knife, garnish with fresh mint (if using), and enjoy immediately.