For the last 2 years I've placed in our community's non-fruit pie making contest. So far I've made a Snickers Pie and a Twix Bar Cheesecake Pie so this year I thought that I would make a pie out of one of my favorite things EVER! A S'More. I made a S'Mores Pie.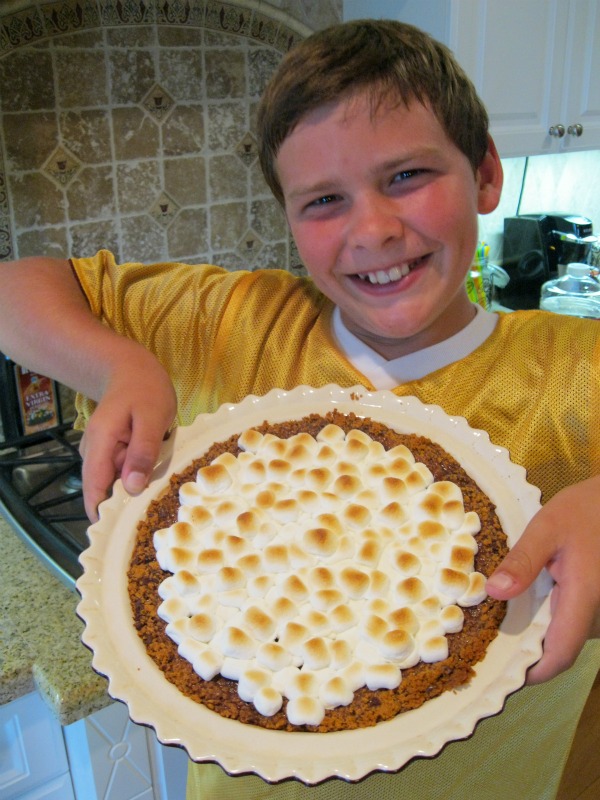 Here's me with my S'Mores Pie!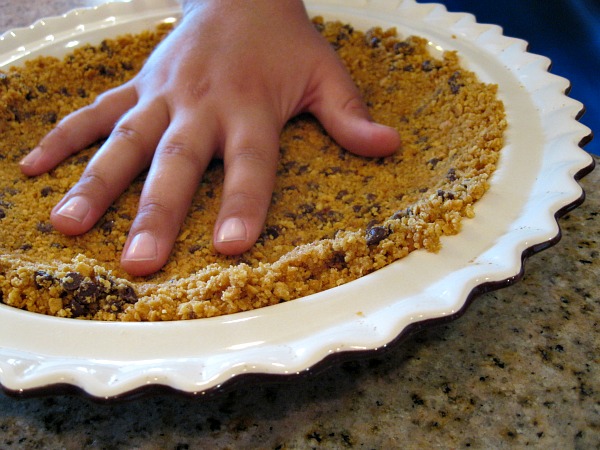 The crust is made of graham crackers, butter, and mini chocolate chips. In this photo, I am pressing it into the pie pan.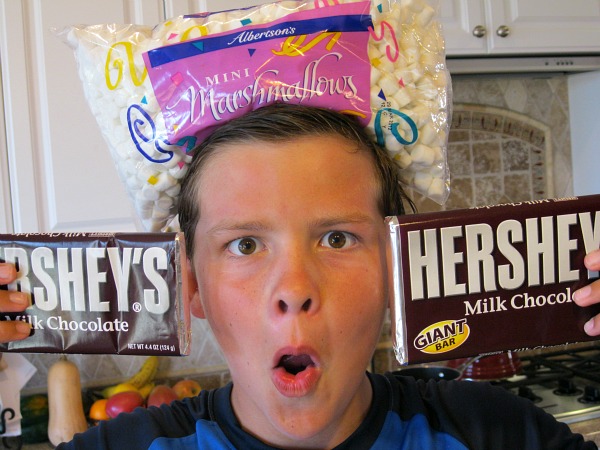 You'll need mini marshmallows and Hershey's Bars. I'm just being a little silly here, as usual. I think I look like a mix between George Washington and Dumbo!!!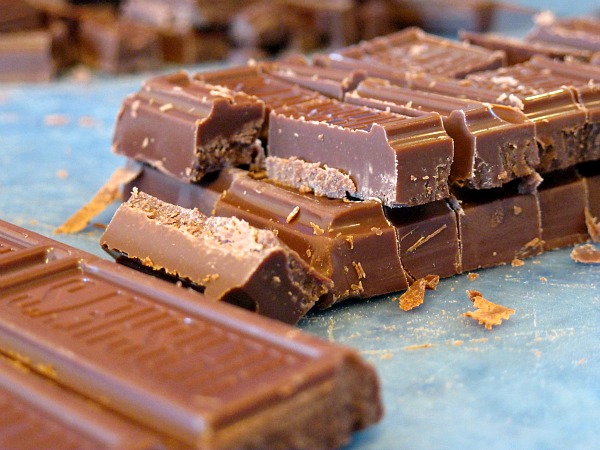 Yummm!!!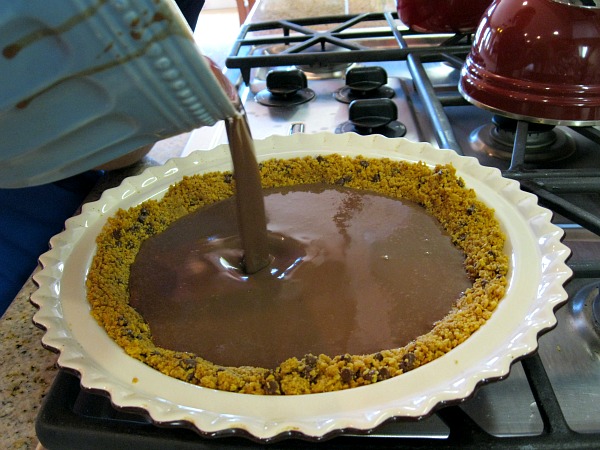 The pie starts out kind of liquidy with that chocolate filling. But don't worry- it thickens up in the end.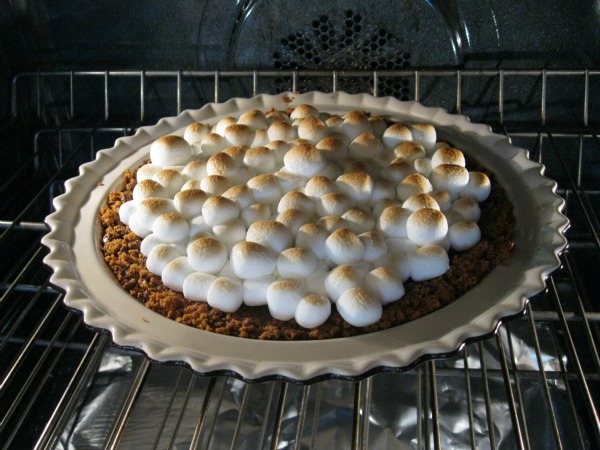 Since this is a S'Mores Pie, it only makes sense to put marshmallows on top and toast them. When the pie is in the oven, the marshmallows begin to bloat as they broil.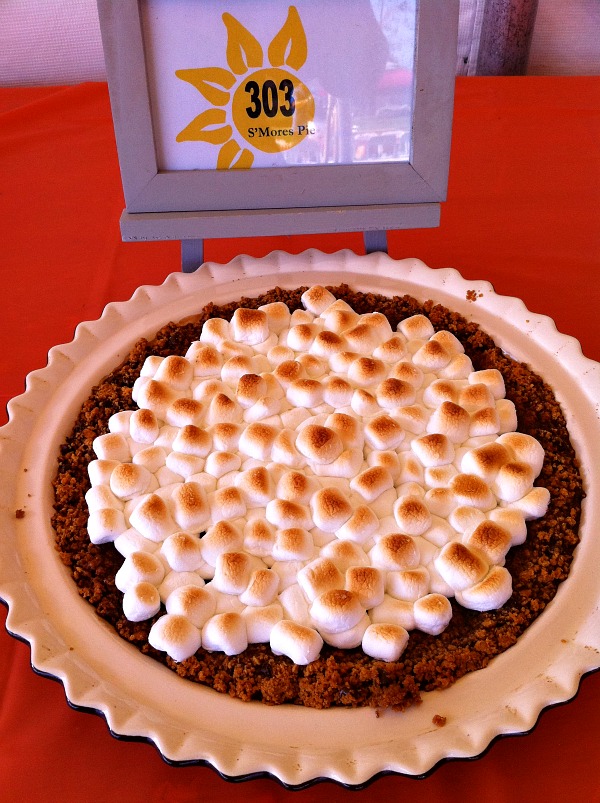 Turn your head sideways so you can see this photo! The S'Mores pie is awaiting results of the pie contest.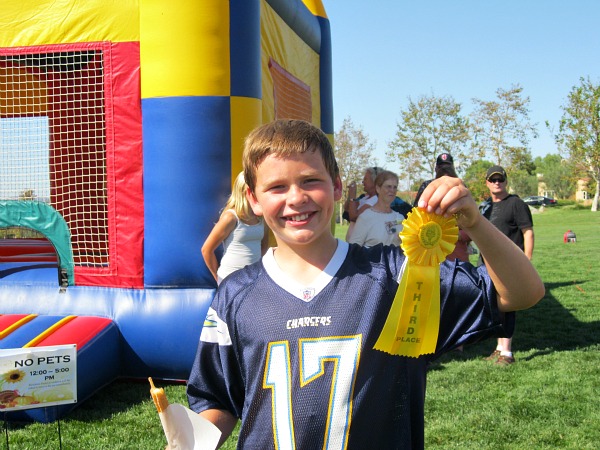 Apparently, the judges liked my pie because I got 3rd place. I think I would have gotten 1st if I served it warm because of the gooey marshmallows. Thanks to How Sweet It Is for the inspiration for this pie.
And even a kid can make it… Like Me! You will probably like my S'Mores Bars too, so please try baking those one of these days.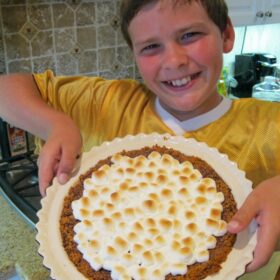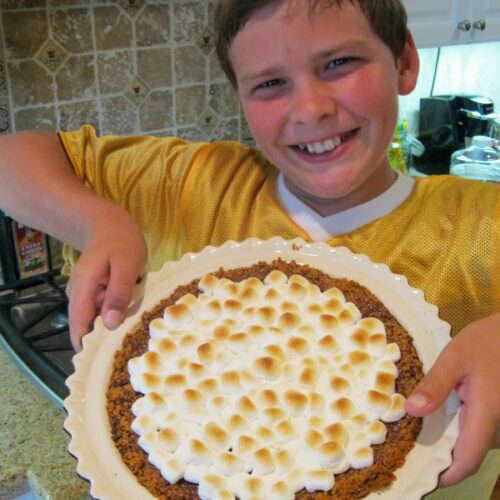 S'Mores Pie
Your favorite campfire snack in a pie!
Ingredients
CRUST:
2

cups

graham cracker crumbs

½

cup (1 stick)

salted butter,

melted

½

cup

miniature chocolate chips
FILLING:
¾

cup

heavy whipping cream

¾

cup

whole milk

10

ounces

Hershey's Milk Chocolate Bars,

chopped

pinch of salt

2

large

eggs,

at room temperature

2

cups

mini marshmallows
Instructions
PREPARE THE CRUST:
Preheat oven to 325 degrees F. In a medium mixing bowl, mix graham cracker crumbs and butter until evenly coated. Stir in chocolate chips. Press the mixture into the bottom and up the sides of a 9-inch pie plate. Bake for 10 minutes. Let cool.
PREPARE THE FILLING:
In a medium saucepan, whisk together the cream and milk. Warm over medium-low heat. Add in chocolate and stir until the chocolate has melted. Add a pinch of salt. Whisk the mixture together until it is smooth and combined well. Set the chocolate mixture aside to cool for 15 minutes. In a medium bowl, whisk the 2 eggs. Whisking those eggs constantly, add a spoonful of the chocolate mixture. Still whisking, add another spoonful. Keep doing this with several spoonfuls until you've gently warmed up your eggs. At this point, you can add the rest of the chocolate mixture and whisk it all together. Pour the filling into the cooled crust. Bake 25 to 30 minutes, or until the chocolate filling is set and does not jiggle when the pie pan is lightly shaken. Check the pie at 20 minutes- if the edges of the crust are browning too quickly, lightly tent a piece of foil over the top of the pie (not touching the filling), or set a pie crust shield on top of the pie. Remove from the oven when filling is set.

Turn oven to the broil setting. Place the pie on the center rack and lightly toast the marshmallows- no longer than 2 to 3 minutes. Watch the pie closely as those marshmallows can turn from toasted to burnt in a matter of seconds.

If you serve it immediately, it will be gooey and warm. If you chill the pie for a while, it will have a chance to set and will be easier to cut. Spray a knife with nonstick spray before slicing through the marshmallows. Slices should be heated up slightly for best results.