I'd like to introduce everyone to one of my favorite summertime adult beverages: Strawberry Frosé!
This is the perfect frozen drink to beat that late summer heat. It's sweet, it's light, and it's delicious. So let's dive in!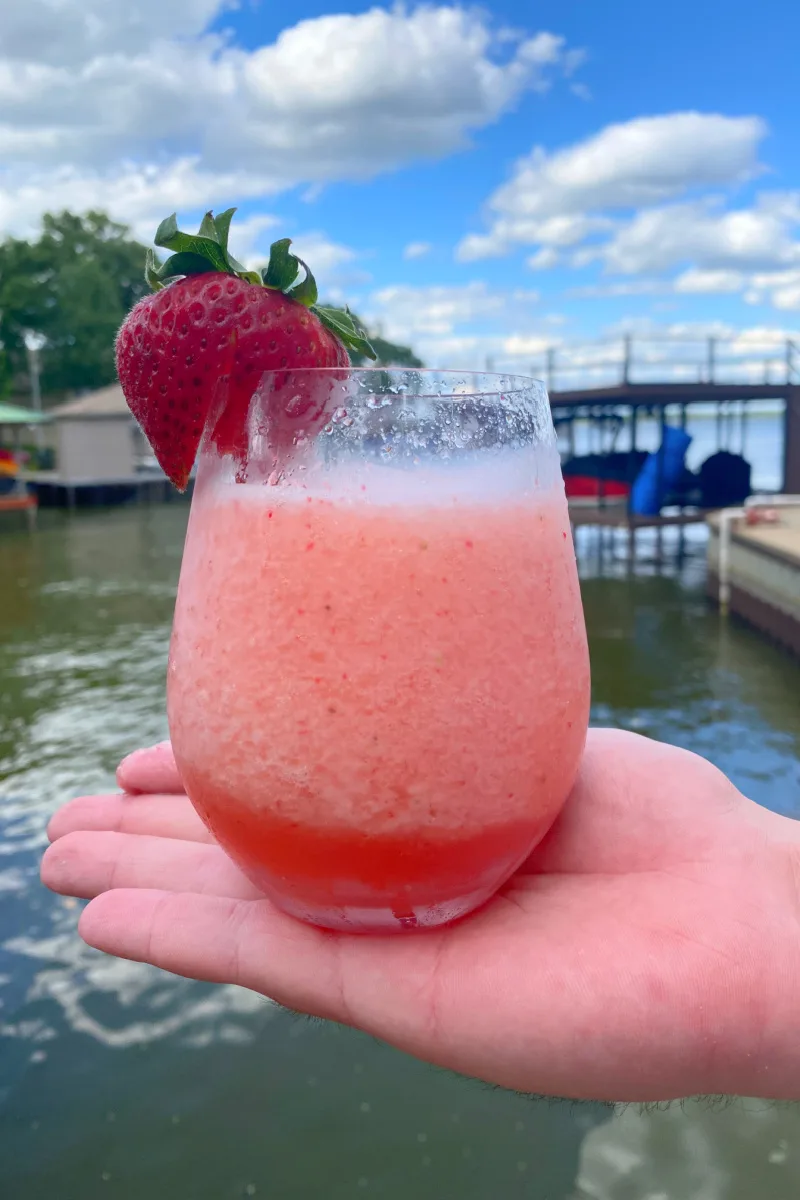 I first made this recipe while on a birthday getaway with my parents and a handful of friends. We were dying in the heat and needed something to keep us cool, so we turned to this lovely frozen drink as our solution. Long story short, it did the trick. Strawberry Frosé is super light and refreshing. It's a real crowd pleaser when the temperature is pushing 105 degrees!
And who would I be if I didn't include a little life-update?! I just finished my 8-week internship at Lockton, which was both fun, challenging, and informational. I'm thankful to have forged so many lasting connections with employees and other interns during my time there! I feel like this internship prepared me for entering the workforce after this school year, so I'm really looking forward to whatever lies ahead.
Now I'm getting ready for the start of the new NFL season (oh, and my senior year of college)! Unfortunately, it's not looking like my Patriots are going to be playoff-bound with all of the elite, young teams that have emerged this year. Regardless, I'm still excited to watch. Football brings along football food, so get ready for that 😉
How to make a Strawberry Frosé:
Start off by pouring your rosé into a blender and adding your chopped strawberries — make sure to set a few strawberries off to the side for the final garnish! Next, you'll squeeze the juice from one lemon into the blender and spoon in the sugar. Add ice depending on your desired consistency (more = thicker) and blend the ingredients together. You're left with a beautiful, pink drink that can be garnished with leftover strawberries and mint leaves! The complete, printable recipe is at the end of this post.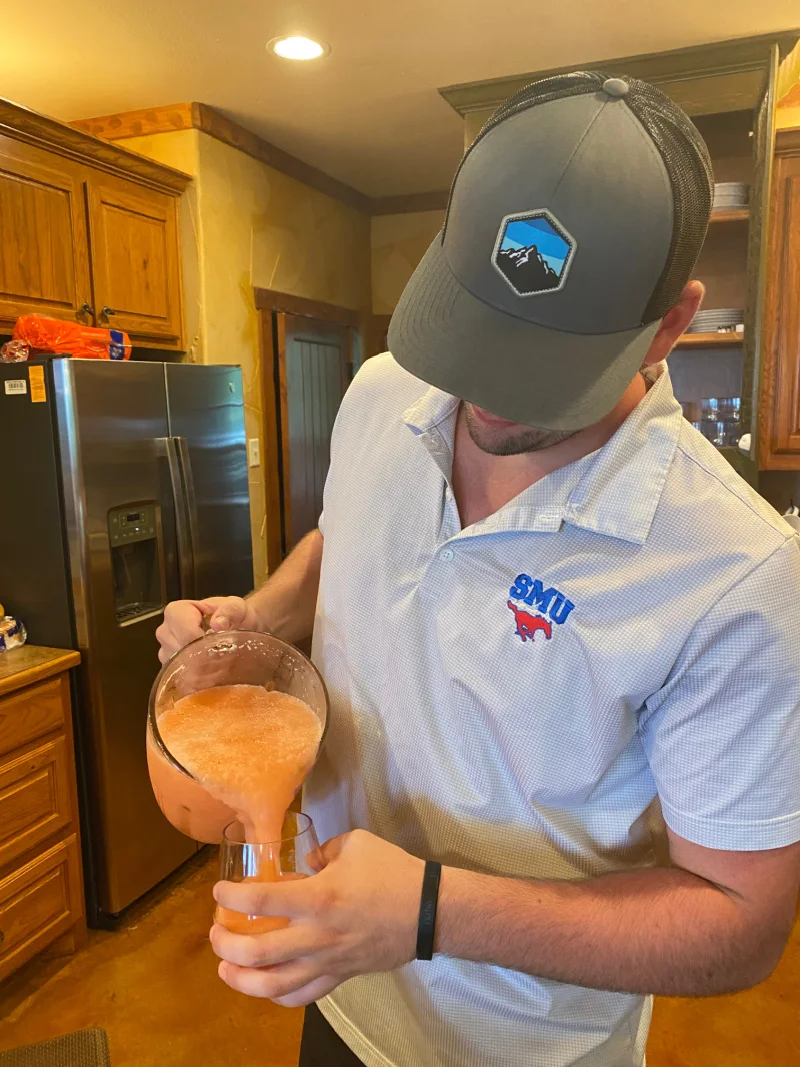 Fill your friends' glasses tall! We had a great time tossing the football in the lake and enjoying our frosé, We stayed out in the sun long enough to totally regret it the next day. 😉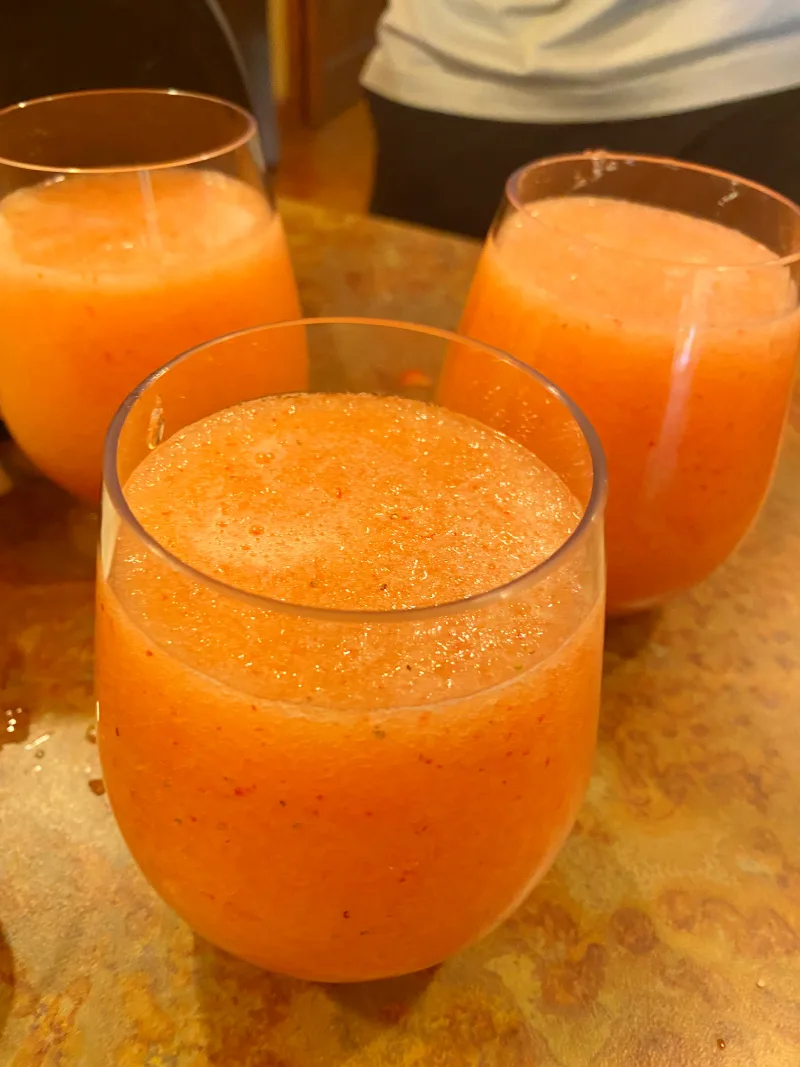 The close-up of the finished product is always pretty! Here's where you can get creative with your garnish. I typically use chopped strawberries and/or mint leaves, but you can use whatever you'd like. I've seen people cut their berries in intricate ways to create unique garnishes, so I've always wanted to try that- maybe sometime soon!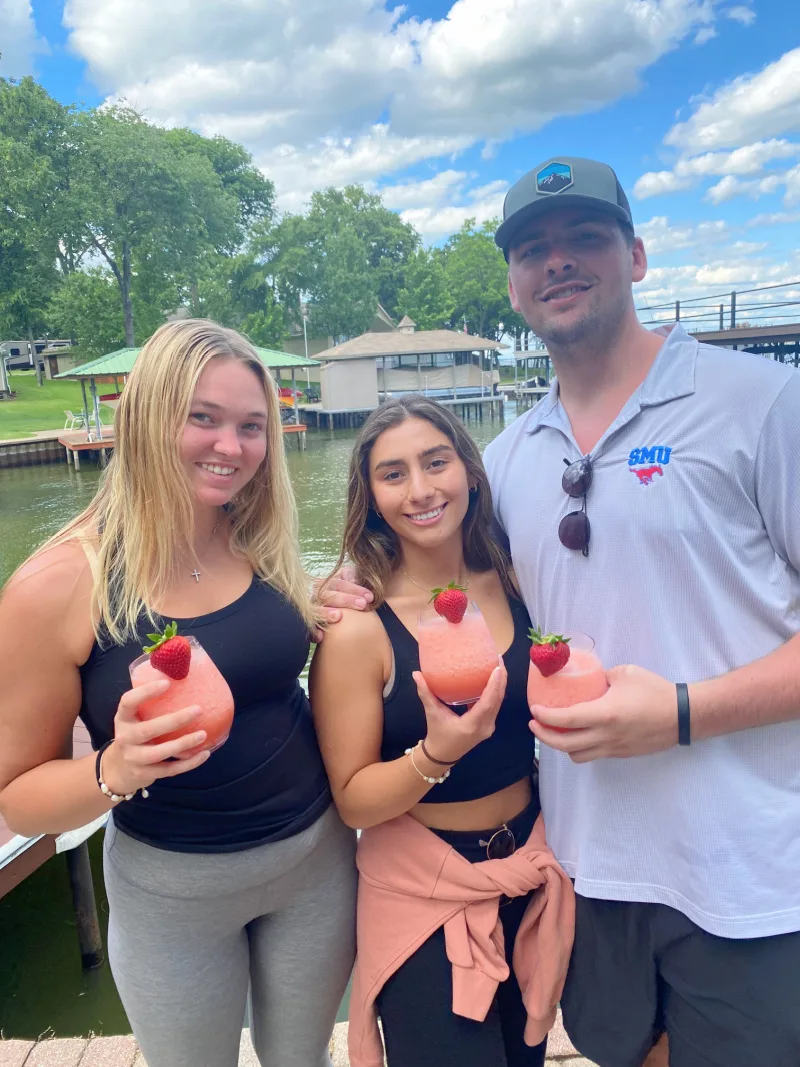 Here are two of my friends enjoying our Strawberry Frosé; It was a huge hit with everyone!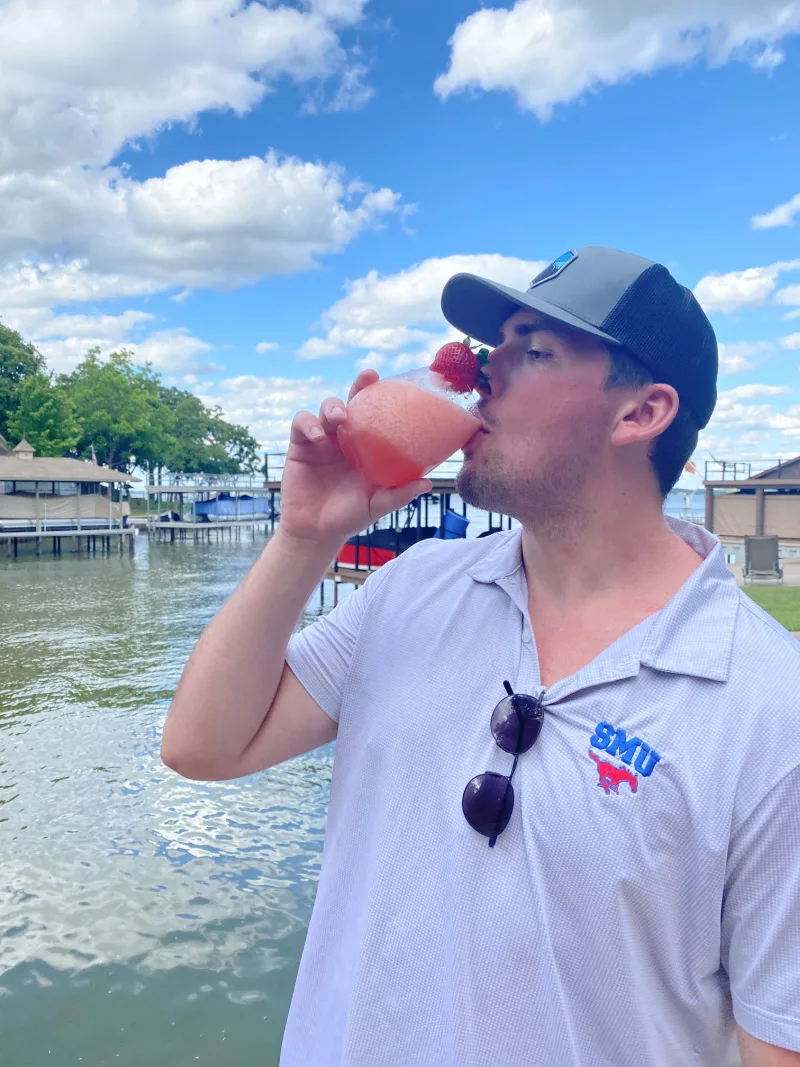 This Strawberry Frosé is a great option for entertaining adults in the summer months. Break this recipe out the next time you have guests over and they'll fall in love with it! It's a great drink to sip on throughout the day because it's much lighter than most other summer cocktails.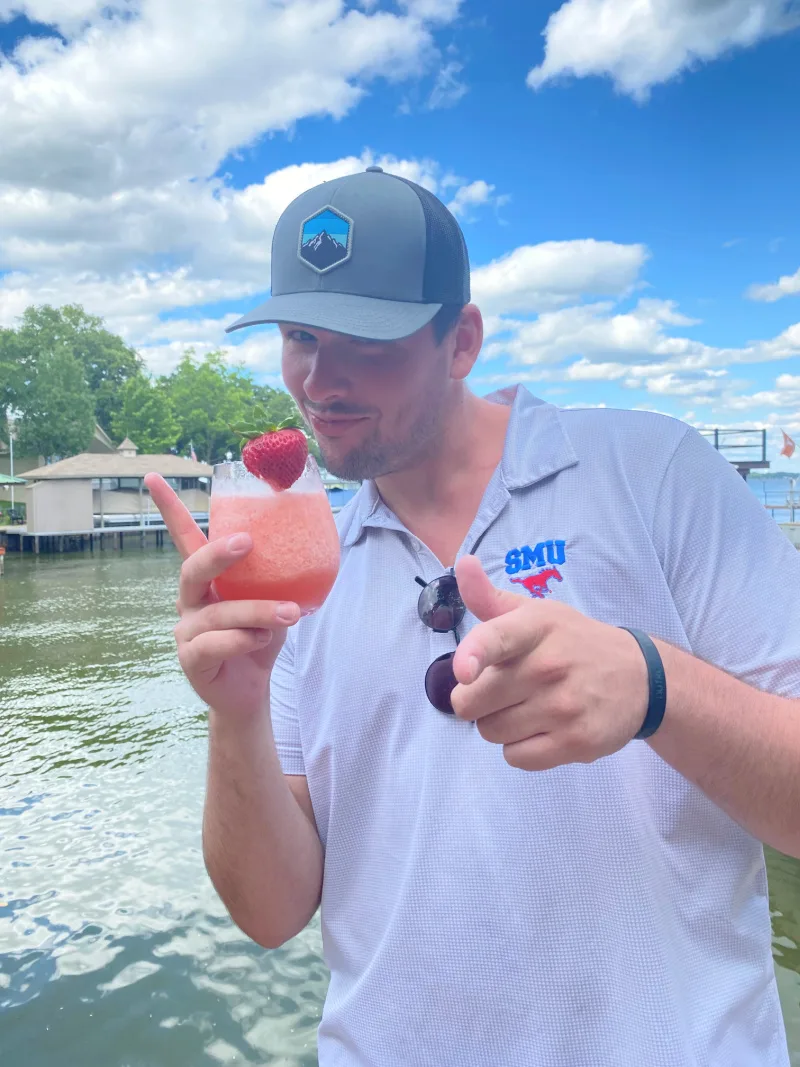 The Best Summer Drink Recipes: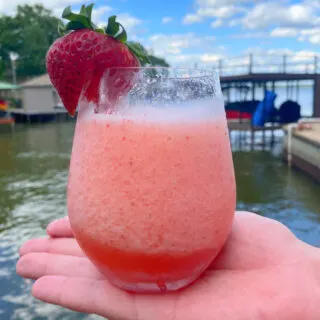 Strawberry Frosé
Super easy frozen wine beverage!
Ingredients
One

750ml.

bottle rosé wine

2

cups

fresh strawberries

4

tablespoons

granulated white sugar

1

medium

lemon,

juiced

ice

4

medium

strawberries,

for garnish
Instructions
Add some ice to your blender jar.

Pour in ½ bottle of rosé. Add 1 cup of strawberries, 2 tablespoons sugar and juice from ½ of a lemon.

Blend. Taste to see if you'd like it sweeter (add more sugar, if desired). The consistency should be frozen slushy, so add more ice, if needed. Serve, and then repeat with the remaining ingredients.
Nutrition
Serving:
1
drink
Calories:
230
kcal
Carbohydrates:
25
g
Protein:
1
g
Fat:
0.4
g
Saturated Fat:
0.02
g
Polyunsaturated Fat:
0.2
g
Monounsaturated Fat:
0.04
g
Sodium:
10
mg
Potassium:
292
mg
Fiber:
2
g
Sugar:
18
g
Vitamin A:
16
IU
Vitamin C:
64
mg
Calcium:
37
mg
Iron:
1
mg