Here's an easy recipe for Spaghetti Carbonara, a classic Italian pasta dish.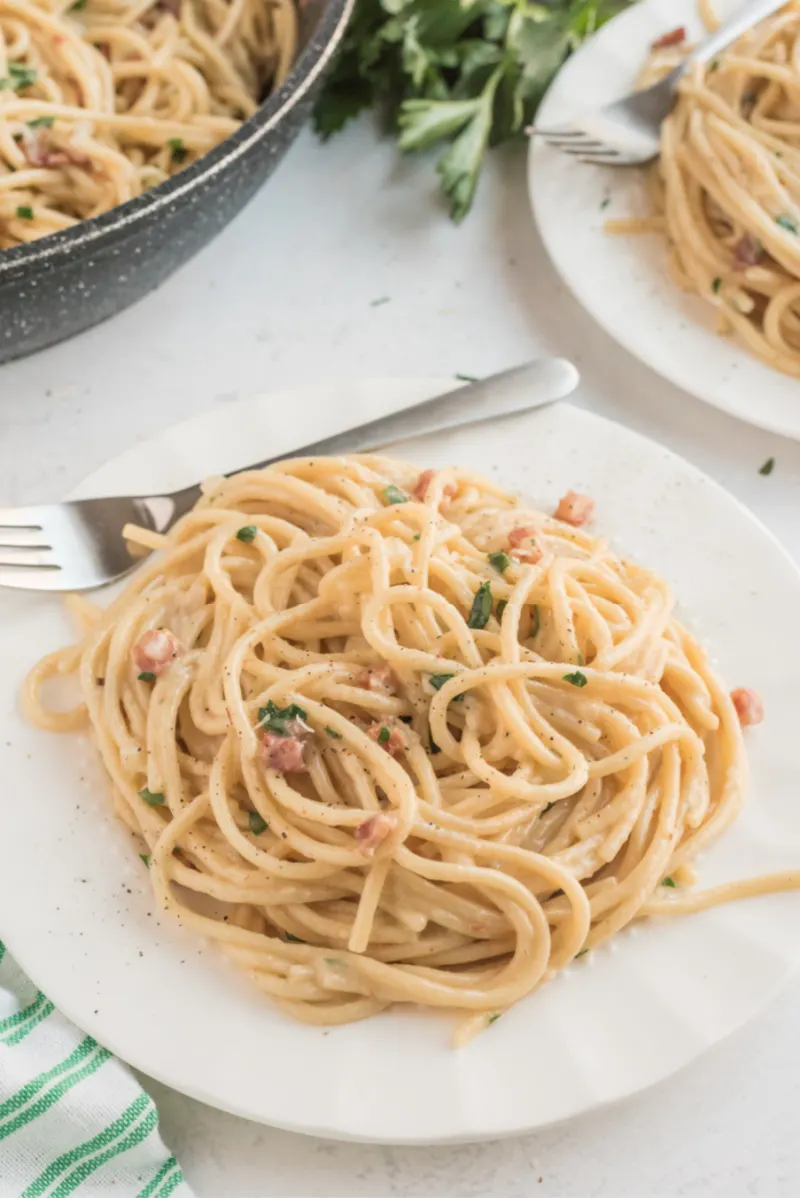 We took a trip to Italy a couple of years ago, and we ate our fair share of pasta. Most notably, spaghetti carbonara was the pasta of choice. The simple mix of hot pasta with bacon, pancetta, egg, Parmesan cheese, onion and garlic works very well. This is the most delicious pasta recipe. Everyone loves a good carbonara!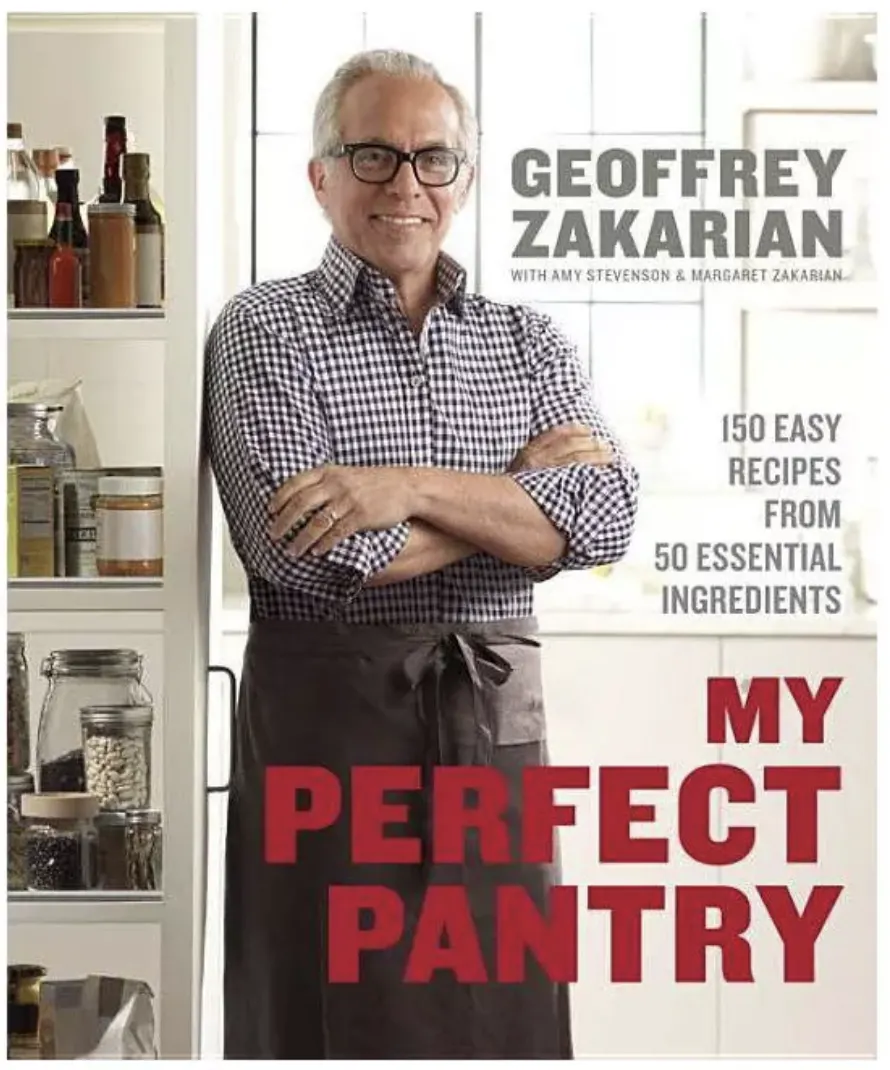 This recipe comes from a cookbook by Geoffrey Zakarian: My Perfect Pantry- 150 Easy Recipes from 50 Essential Ingredients. I find this cookbook interesting because it's focused on showing that you can make delicious meals just by having a well-stocked pantry. If you have the pantry items ready to go, then you can bring home proteins and fresh produce and get to work!
Here are a few recipes I've bookmarked to make that are family-friendly:
Parks Ham and Biscuits
Marinated Flank Steak with Mashed Sweet Potatoes
Family Chicken Fingers
Chocolate Muffins
Chocolate Smoothie
Classic American Meatloaf
Raspberry Yogurt
Ketchup Glazed Cornish Hens
Brown Sugar Pie
Malted Milkshakes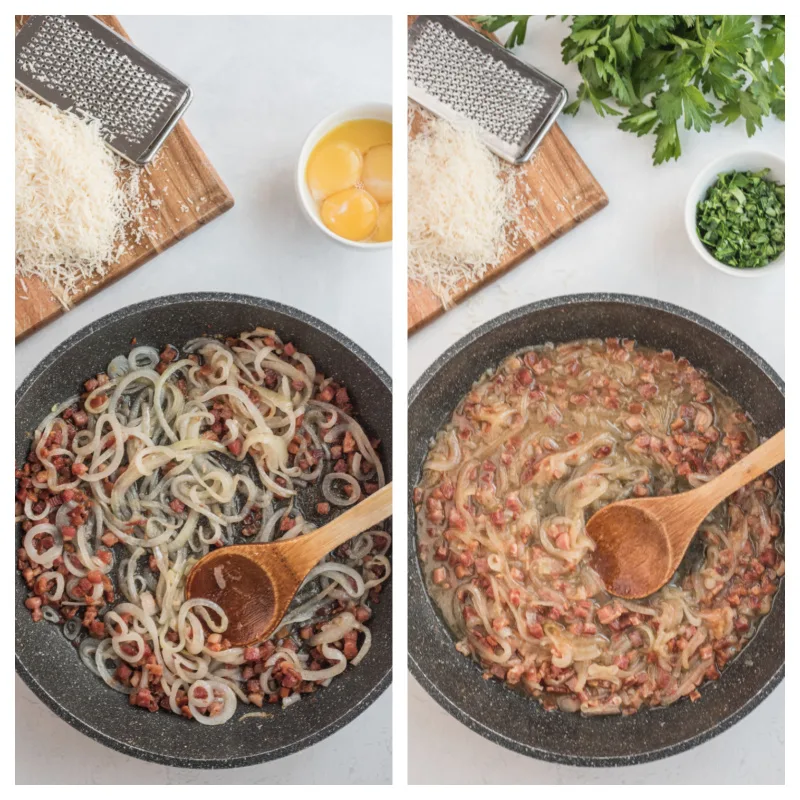 How to make Spaghetti Carbonara:
The complete, printable recipe is included at the end of this post.
Put water on to boil for the pasta. Cook the pasta according to package instructions, and save a little of the pasta water when you drain the pasta.
In a skillet, heat olive oil and cook bacon and pancetta until crisp. Add onion and garlic. Spoon out the excess fat, and then add 1 cup of the pasta water to the pan to simmer and create a creamy sauce.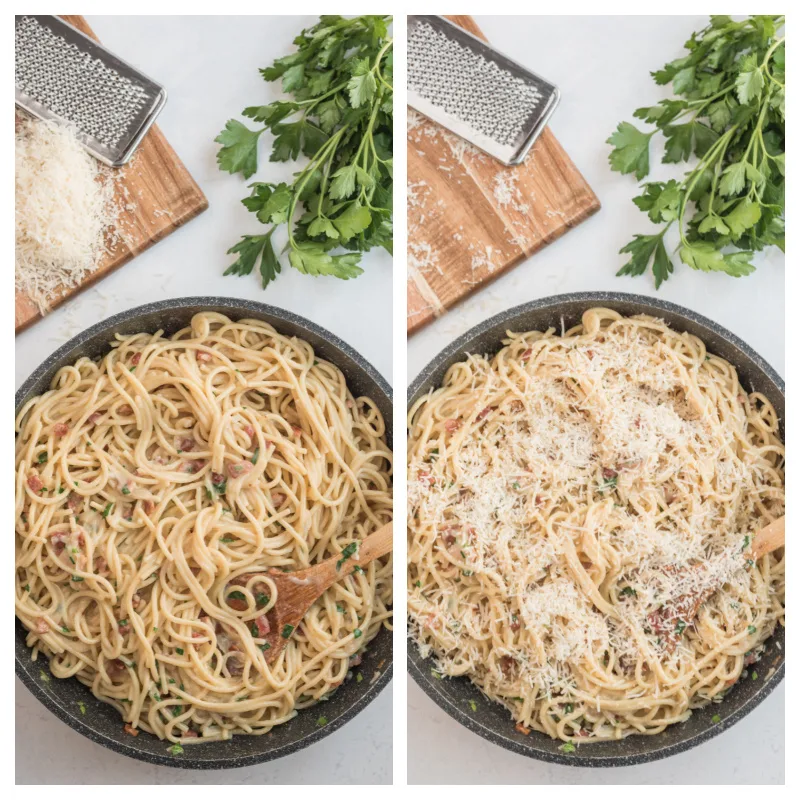 Combine egg yolks with Parmesan cheese in a bowl. Whisk in a little hot pasta water to temper the eggs. Spoon hot pasta into the pan with the sauce, add parsley and toss to coat. Remove from the heat, and add the egg mixture and toss quickly to combine. The hot pasta will cook the egg. Sprinkle in some more Parmesan cheese.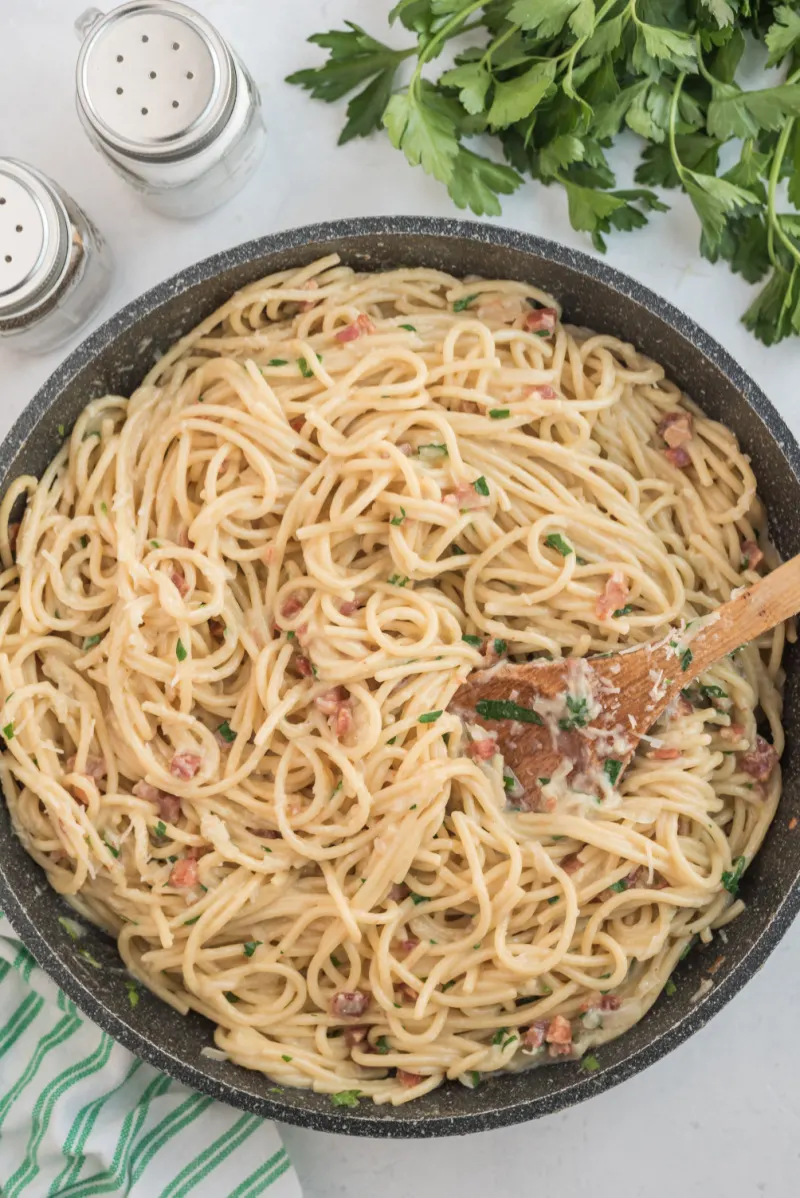 Toss again to combine and get everything coated with the cheese.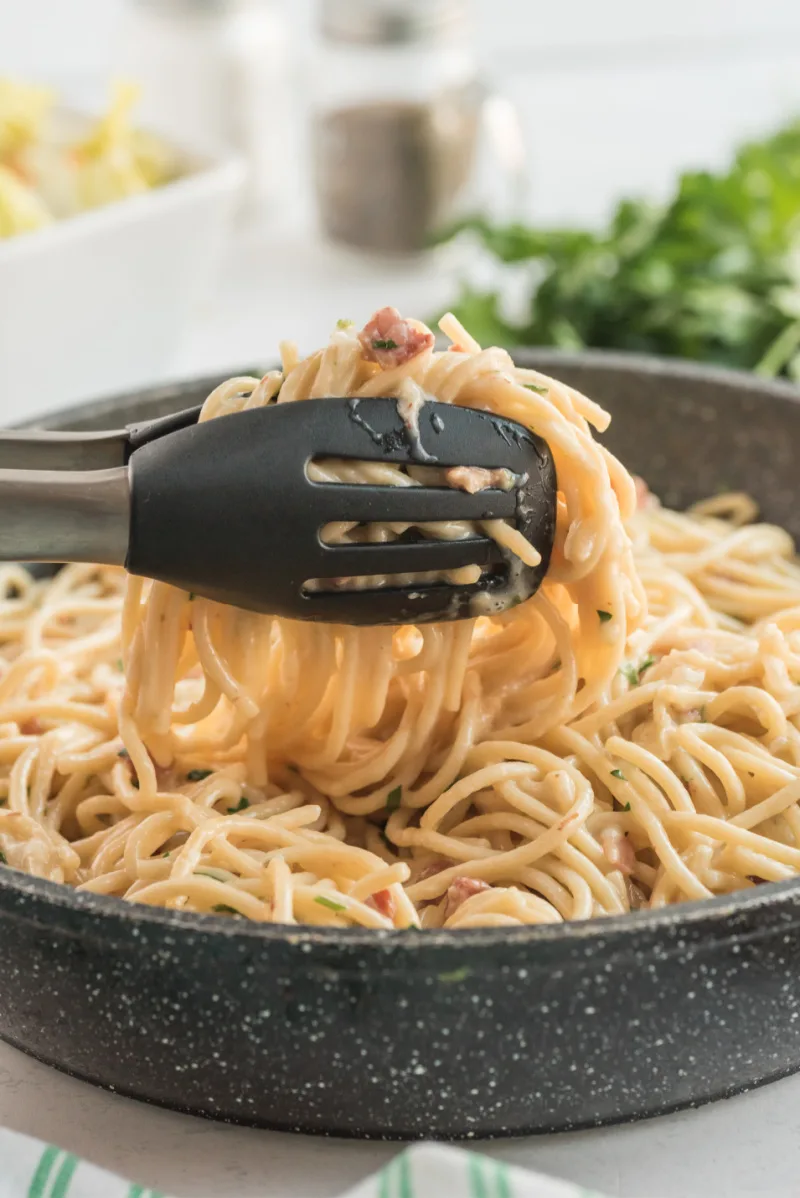 Your spaghetti carbonara is ready to eat!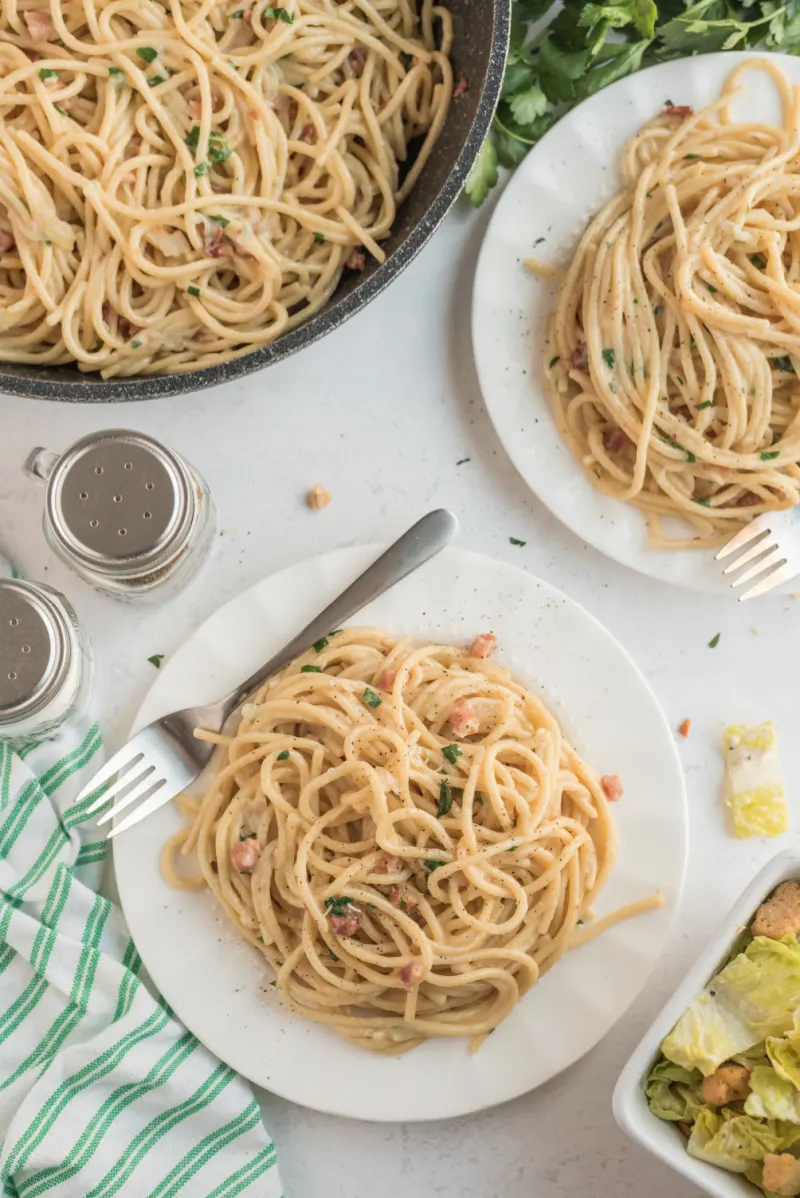 Ingredient substitutions:
This recipe calls for using both pancetta and bacon. It's definitely good using both. If you only have one or the other, it's okay to use what you have.
Spaghetti is the most common pasta, but fettuccine, rigatoni, linguine, or bucatini can also be used for making carbonara.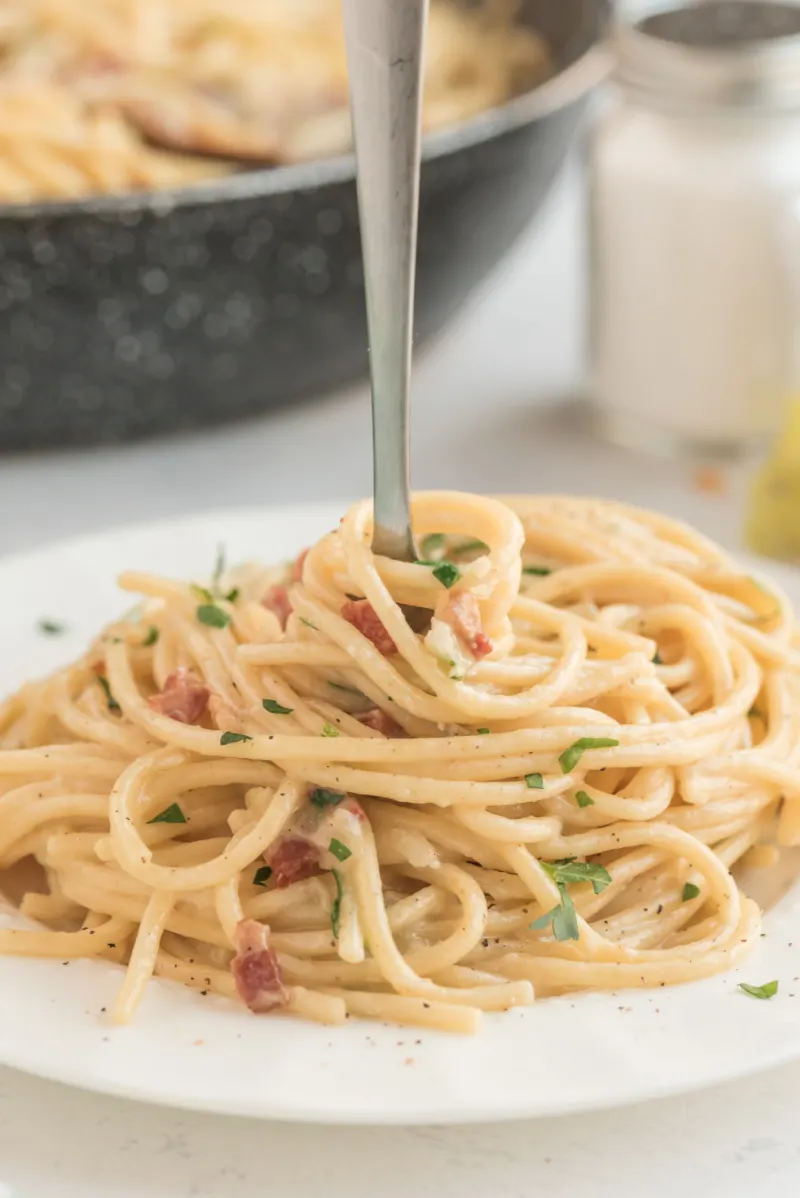 Serve spaghetti carbonara with some good sourdough bread, caprese salad and tiramisu for dessert. Enjoy!
If you like good Italian food, be sure to try Pappardelle Bolognese, White Chicken Lasagna or Pasta Pomodoro.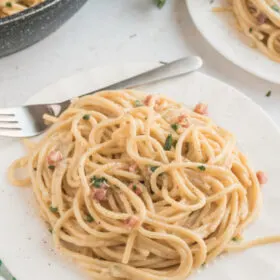 Spaghetti Carbonara
A serious favorite in the world of Italian food!
Ingredients
kosher salt

3

tablespoons

extra-virgin olive oil

3

ounces

slab bacon,

cut into ¼-inch pieces

3

ounces

pancetta,

cut into ¼-inch pieces

16

ounces

spaghetti

1

small

sweet onion,

thinly sliced

3

medium

garlic cloves,

chopped

4

large

egg yolks

1

cup

freshly grated Parmigiano- Reggiano cheese

¼

cup

chopped fresh Italian parsley
Instructions
Bring a large pot of salted water to a boil. Heat a large skillet over medium-heat. Add the oil, bacon and pancetta and cook, stirring, until the fat has rendered and the bacon and pancetta begin to crisp, about 3 minutes. Add the pasta to the boiling water and cook according the package instructions until al dente (save 1½ cups of the pasta water before draining!) Add the onion and garlic to the skillet and cook until the onion is softened, about 5 minutes. Pour off all but 3 tablespoons fat and add 1 cup pasta water. Bring to a simmer and cook to reduce by half to create a sauce.

In a medium bowl, whisk the egg yolks with ½ cup of the cheese. Temper the egg yolks by slowly whisking in about ½ cup of pasta water.

When the pasta is done, remove the pasta with tongs and add to the sauce with the parsley. Toss to coat the pasta with the sauce. Remove from the heat and pour in the egg yolk mixture, tossing vigorously to cook the yolks and coat the pasta, without curdling the sauce!

Taste for salt; it may not need any as the bacon and cheese are salty. Add the remaining ½ cup of cheese, toss again and serve immediately.