This Easy Saltine Pecan Toffee is a great way to turn saltine crackers into a totally delicious dessert!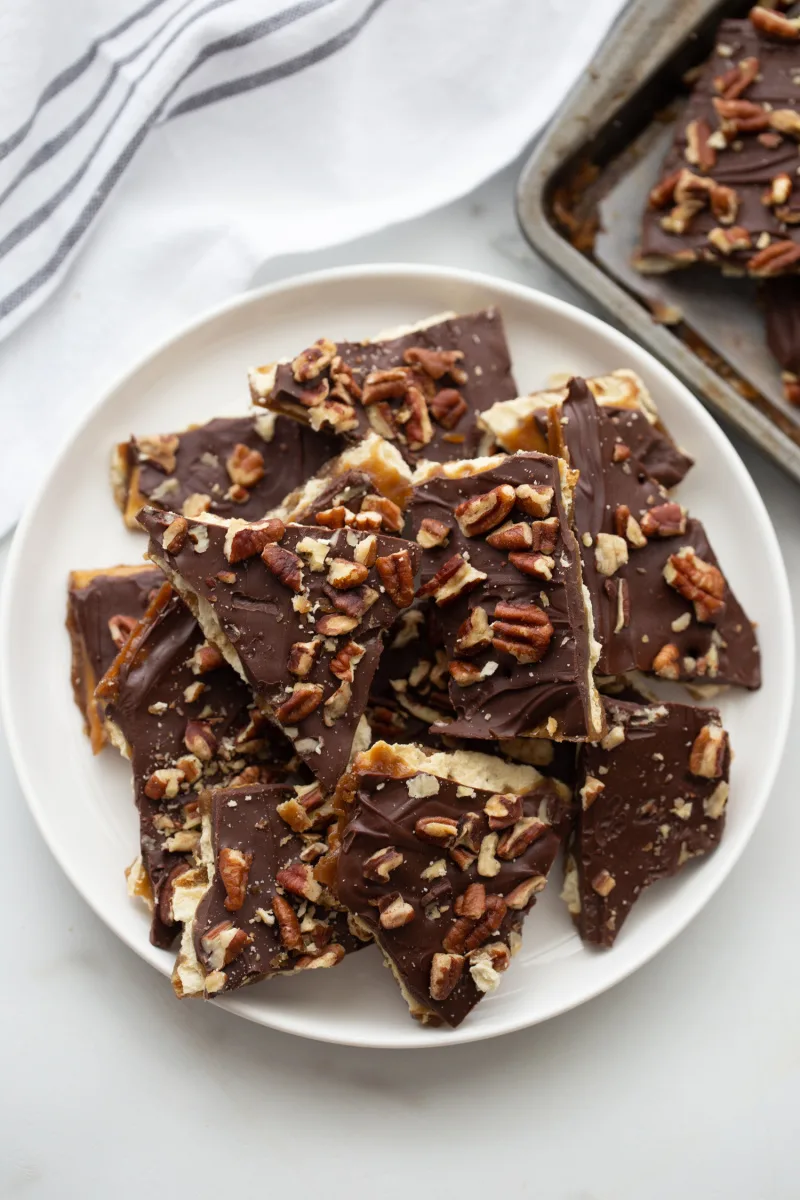 That sounds weird, right? Turning crackers into dessert?! You've gotta trust me though. And remember… we did it with our Chocolate Dipped Ritz Marshmallow Reeses recipe too. This has been a classic Southern recipe for many years. And this Easy Saltine Pecan Toffee is so simple and quick to make too. It will be a hit with everyone you serve it. The recipe makes quite a bit, so plan to display it at a gathering of friends… or bring it to a party and watch it fly off the table.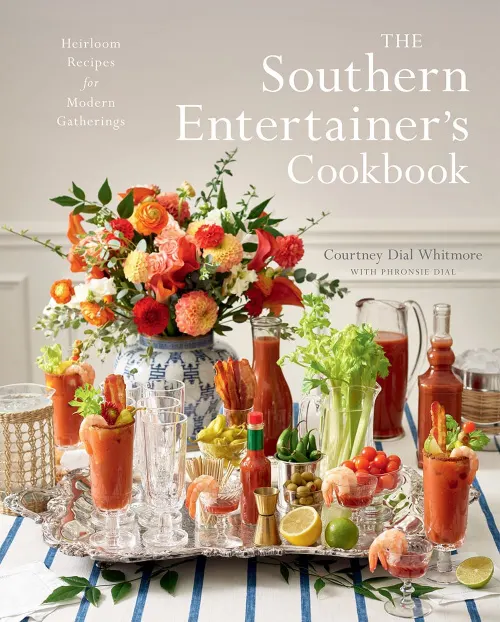 The Southern Entertainer's Cookbook:
This recipe comes from The Southern Entertainer's Cookbook: Heirloom Recipes for Modern Gatherings by Courtney Dial Whitmore. Courtney is a talented expert in sharing recipes for entertaining and elaborately themed parties. She also shares all of her fantastic ideas on her blog: Pizzazzerie.com.
This book contains several themed party menus (recipes included) as well as classic recipes for Southern entertaining: appetizers, salads, soups, main dishes, vegetables, side dishes, breads, cookies, candies, cakes, pies, cobblers, miscellaneous desserts and cocktails/drinks.
Here are some Southern favorites in the book that are kid friendly:
mini twice-baked potatoes
cozy chicken pot pie
cheesy baked potato soup
backyard pulled pork sliders
buttermilk fried chicken
Sunday supper pot roast
creamy macaroni and cheese
slow cooked baked beans
classic southern biscuits
southern spoon bread
blueberry banana bread
cream cheese cookies
strawberry cake
peach lattice cobbler
old fashioned homemade lemonade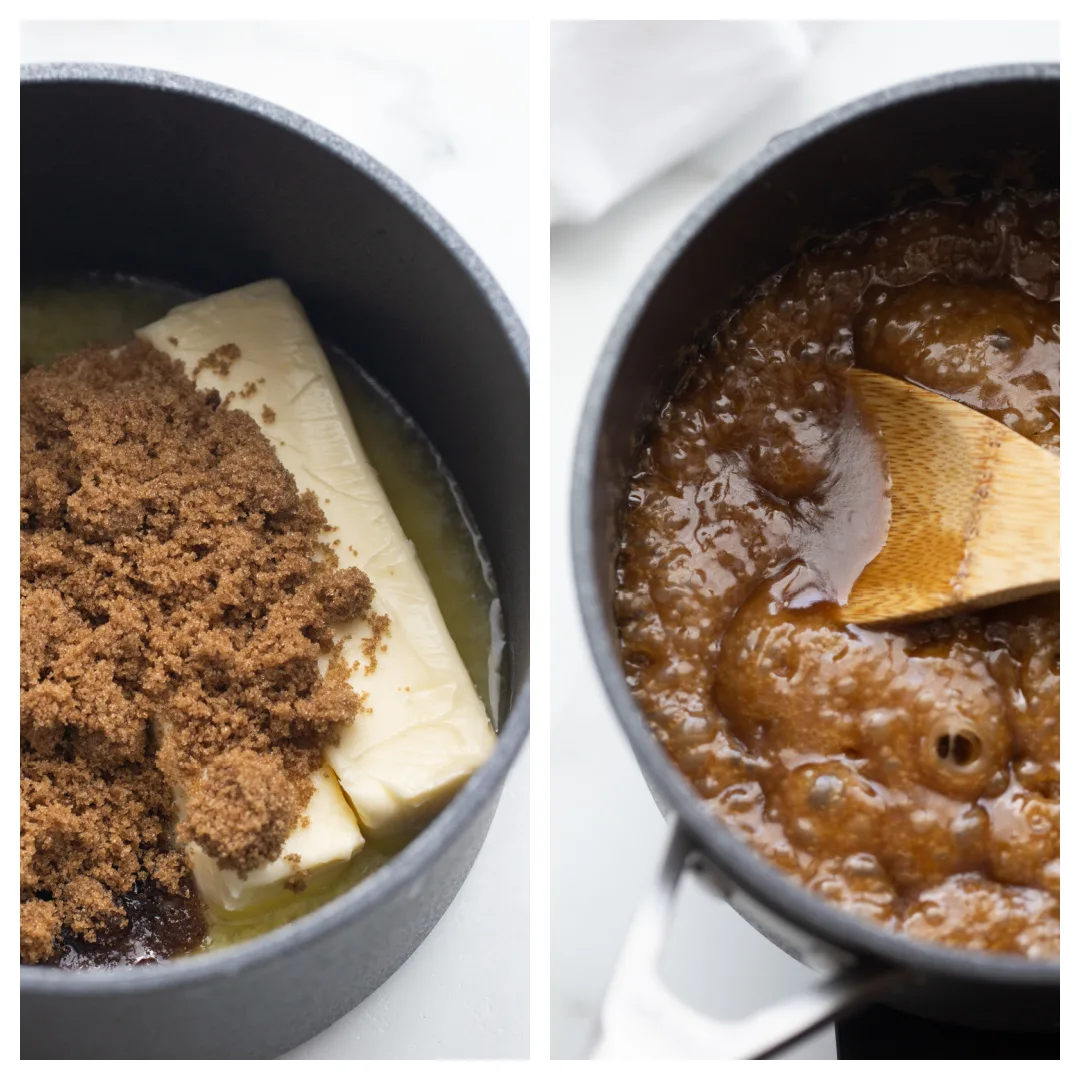 How to make Easy Saltine Pecan Toffee:
The complete, printable recipe is included at the bottom of this post.
Line a rimmed baking sheet with parchment paper. Lay out Saltine crackers in a single layer, side-by-side on top of the parchment paper.
Combine butter and sugar in a saucepan. Let the butter melt, and then boil the mixture for three minutes.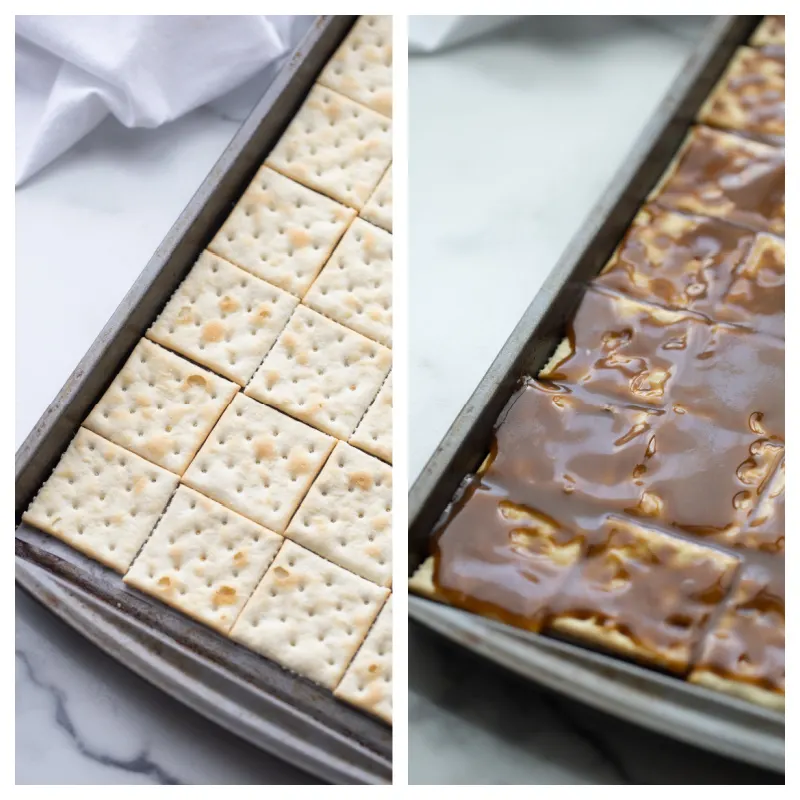 Spoon the sugar mixture on top of the crackers, making sure that all of the crackers are coated. Bake for 5 minutes.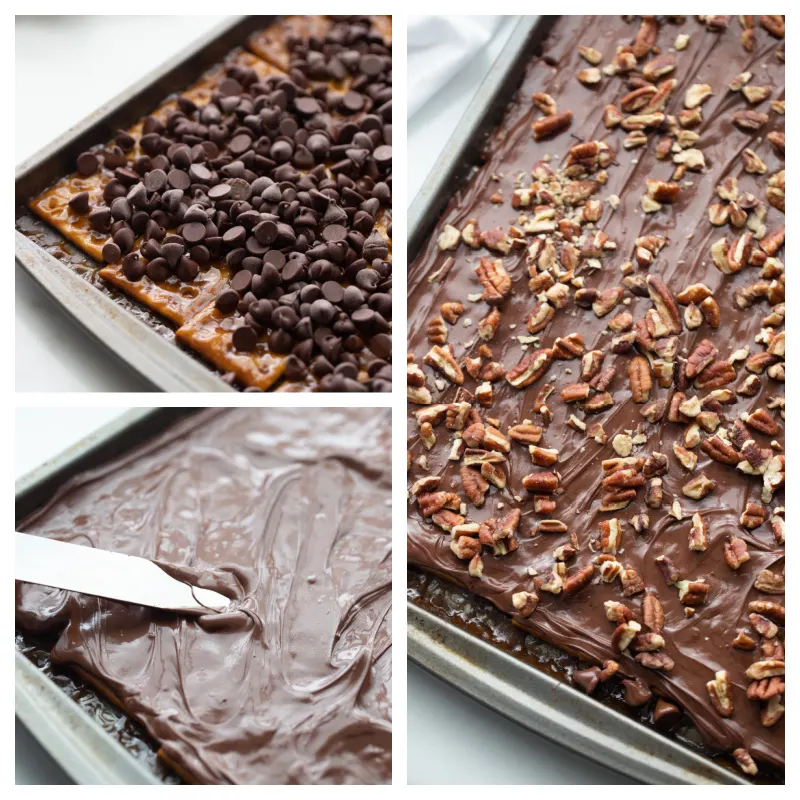 As soon as you take the sugar-baked crackers out of the oven, sprinkle them with chocolate chips. Give the chocolate chips a chance to melt for a few minutes. Then spread the melted chocolate over the crackers.
Sprinkle the melted chocolate layer with chopped pecans. Regular, chopped pecans can be used for this recipe, but toasted pecans are so much more delicious. Then give the chocolate a chance to cool completely.
How to toast pecans:
Preheat the oven to 350 degrees F. Place the pecans on a baking sheet and toast in the oven for 5 minutes.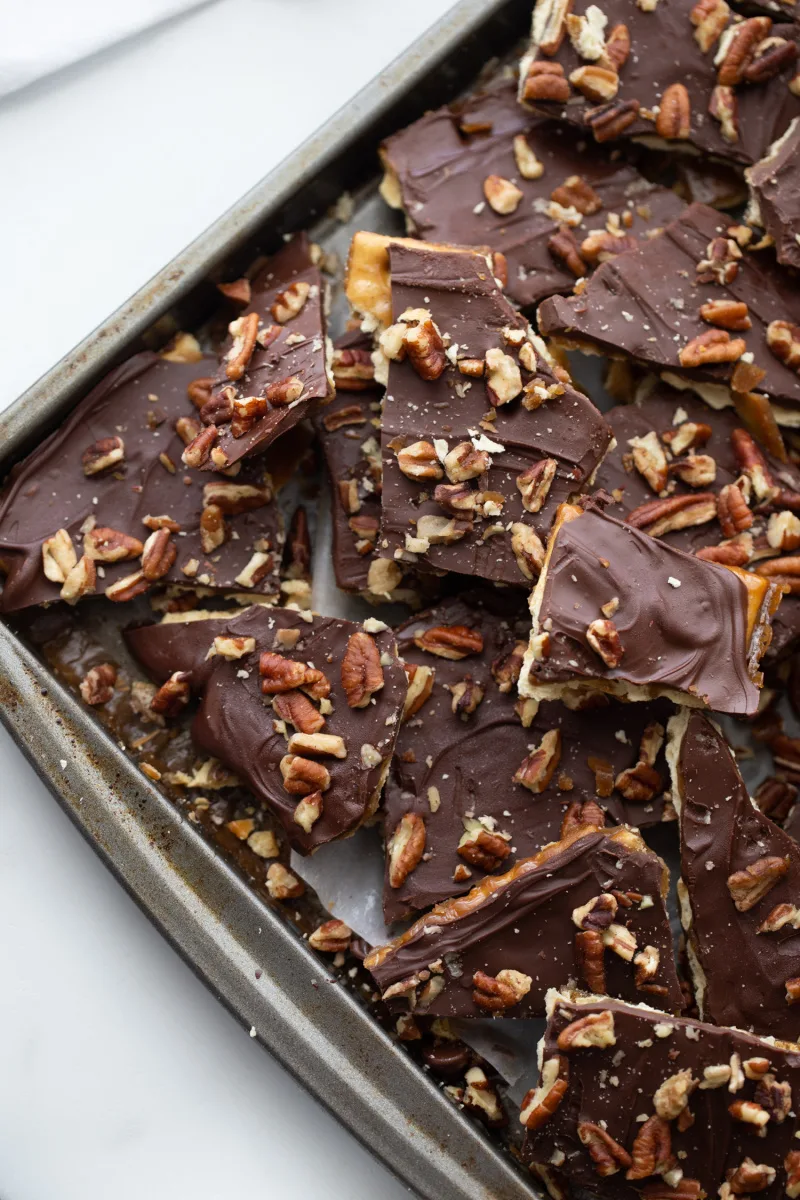 Once the melted chocolate has reached a solid consistency again, you can break the toffee apart.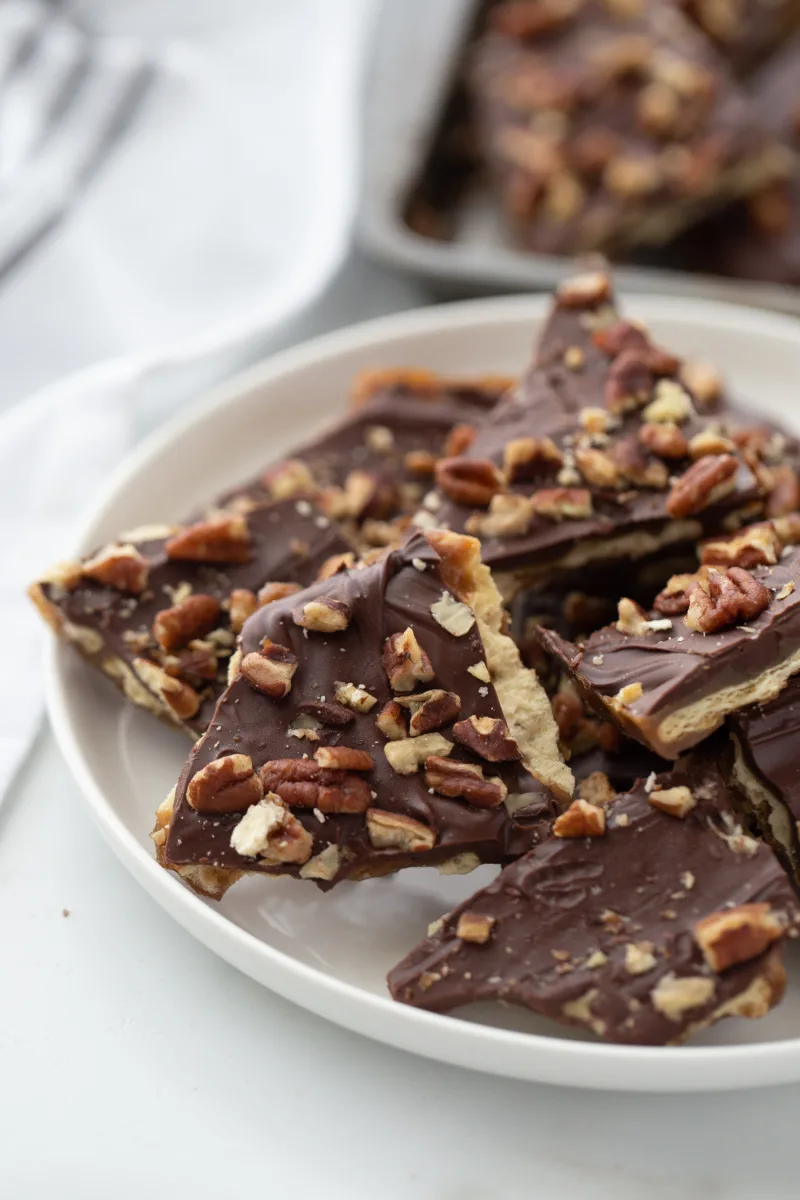 Store Easy Saltine Pecan Toffee in a covered container for up to one week. Take out and serve, as desired. Enjoy!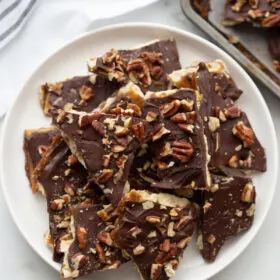 Easy Saltine Pecan Toffee
This easy toffee recipe takes just minutes to make!
Ingredients
35 to 40

squares

saltine crackers

(approximately 2 sleeves)

1

cup (2 sticks)

unsalted butter

1

cup

packed dark brown sugar

2

cups

semisweet chocolate chips

1

cup

chopped pecans,

toasted
Instructions
Preheat the oven to 400 degrees F. Line a baking sheet with parchment paper sprayed with nonstick cooking spray. Arrange the crackers in a single layer, covering the baking sheet.

In a saucepan, combine the butter and sugar. Stirring frequently, bring the mixture to a boil for 3 minutes. Remove from heat and immediately pour over the saltines, spread it to the edges to evenly coat. Bake for 5 to 6 minutes.

Remove from the oven and sprinkle with the chocolate chips. Allow to cool on the counter for 5 minutes, then spread the melted chocolate chips evenly across the toffee. Top with chopped pecans and allow to cool completely before breaking into toffee pieces.