Sweet Potato Dog Biscuits are a delicious, homemade treat to bake for your dogs!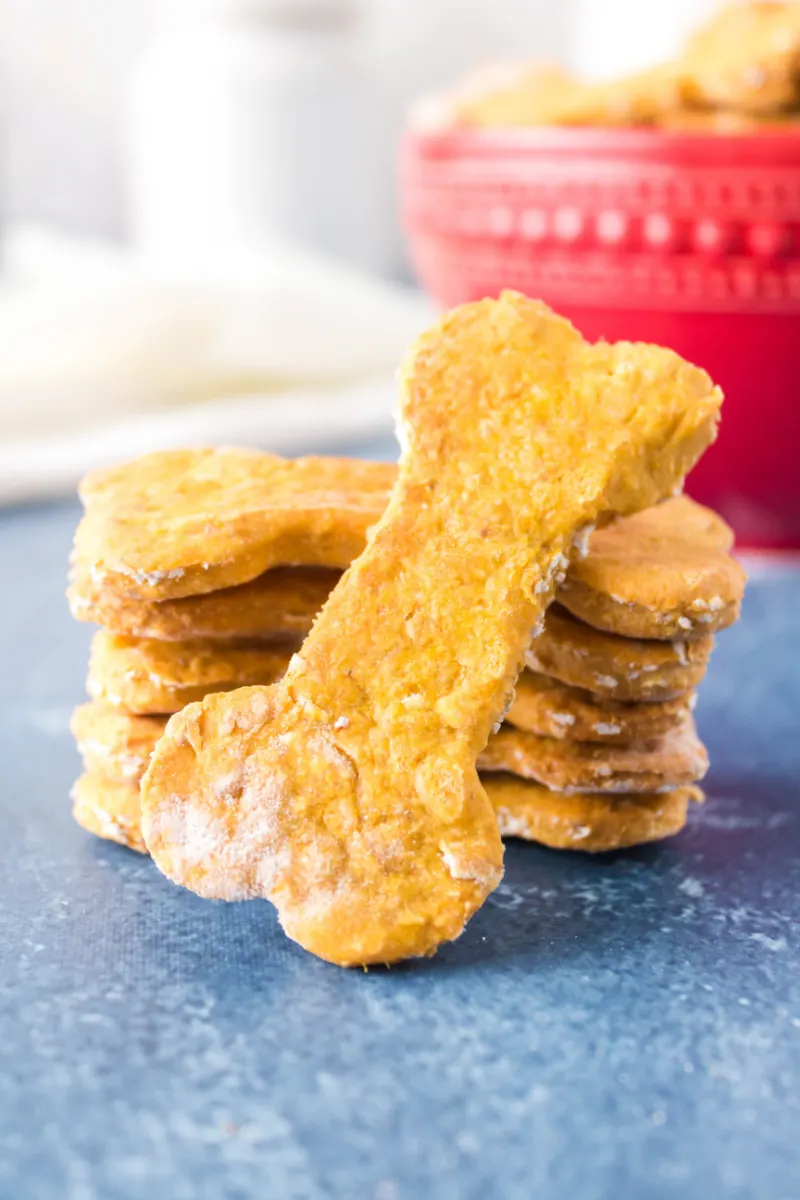 Home baked dog treats are so appreciated by your sweet dogs. They don't have any fillers or other weird ingredients added in. Sweet Potato Dog Biscuits are just good dog treats made from only 5 easy-to-find, basic ingredients. Dog biscuits can be expensive these days. So bake them at home, and you can feel happy about saving money and treating your dog to something homemade!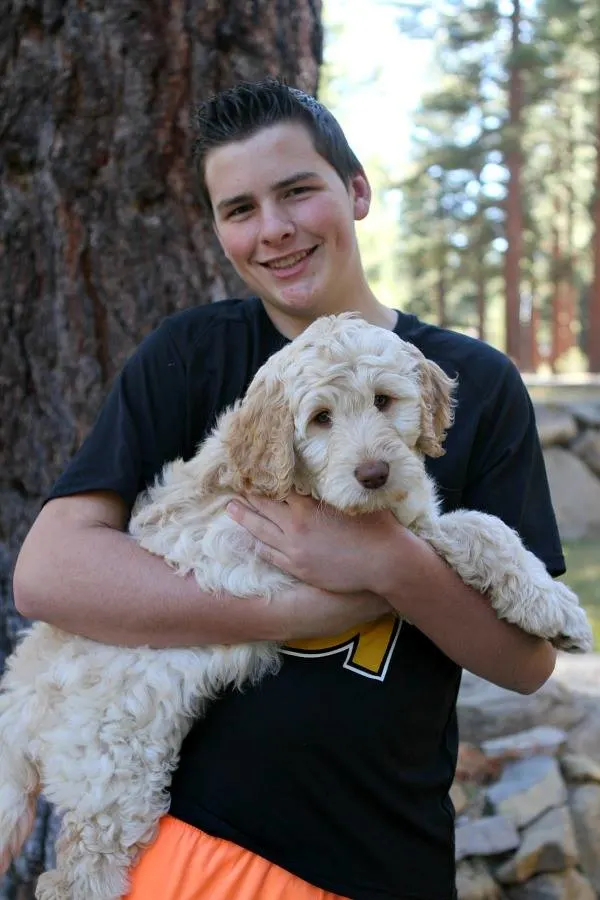 Here's a peek at our labradoodle Tessie when she was in her puppy stage. This is my son Brooks (RecipeBoy) at age 15 loving on his dog. She's much bigger now (so is Brooks!), and she loves homemade dog treats!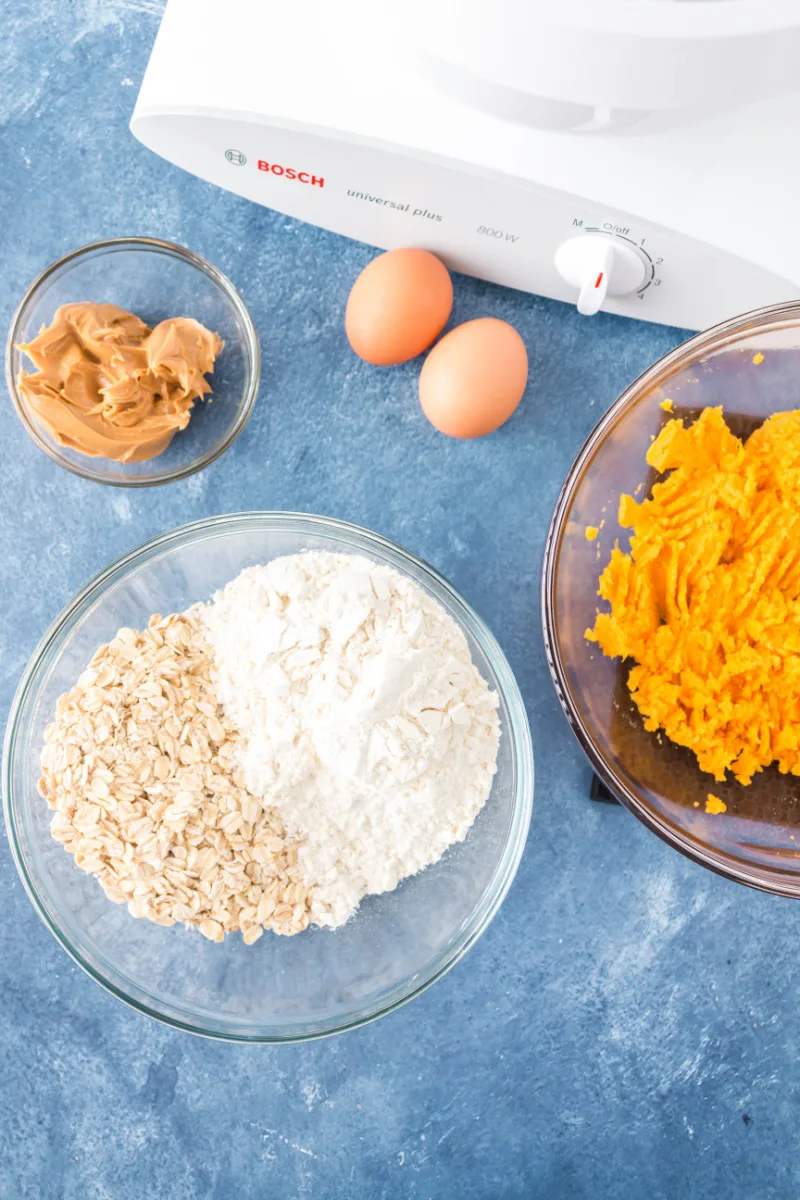 Ingredients needed:
oats
all purpose flour (can use wheat flour, if you'd like)
mashed sweet potato
xylitol-free creamy peanut butter
eggs
Why do you need Xylitol-free Peanut Butter to make dog biscuits?
Xylitol is extremely toxic to dogs. Even small amounts of xylitol can cause hypoglycemia (low blood sugar), seizures, liver failure or even death in dogs. If you see xylitol listed as an ingredient, don't buy that peanut butter to give to your dog. Fortunately, only a few off-brand peanut butters use xylitol as an ingredient in their peanut butter. The best kind of peanut butter to use for your dog should have the following ingredients: peanuts and salt. If it's not a natural peanut butter, it will have some added ingredients like sugar, etc. You can still use brands like Jif and Skippy (and honestly… this recipe only uses 1/4 cup peanut butter, so it's perfectly okay). But if you plan to feed your dog a little bit of peanut butter now and then, it's best to use the natural type.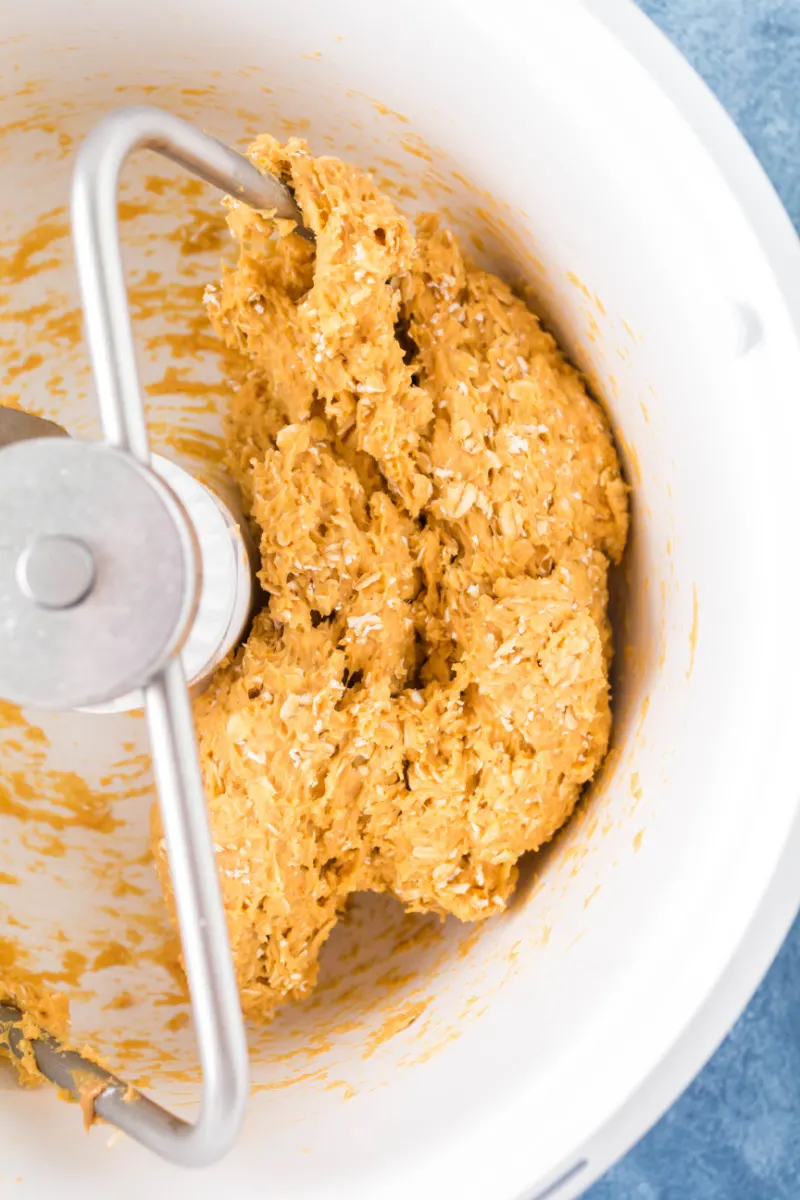 How to make Sweet Potato Dog Biscuits:
Combine all of the ingredients for your sweet potato dog biscuits in a stand mixer, and combine. The dough will be very thick. If you don't have a stand mixer, just use a sturdy wooden spoon to combine. A hand mixer won't do the job because the dough will be too thick.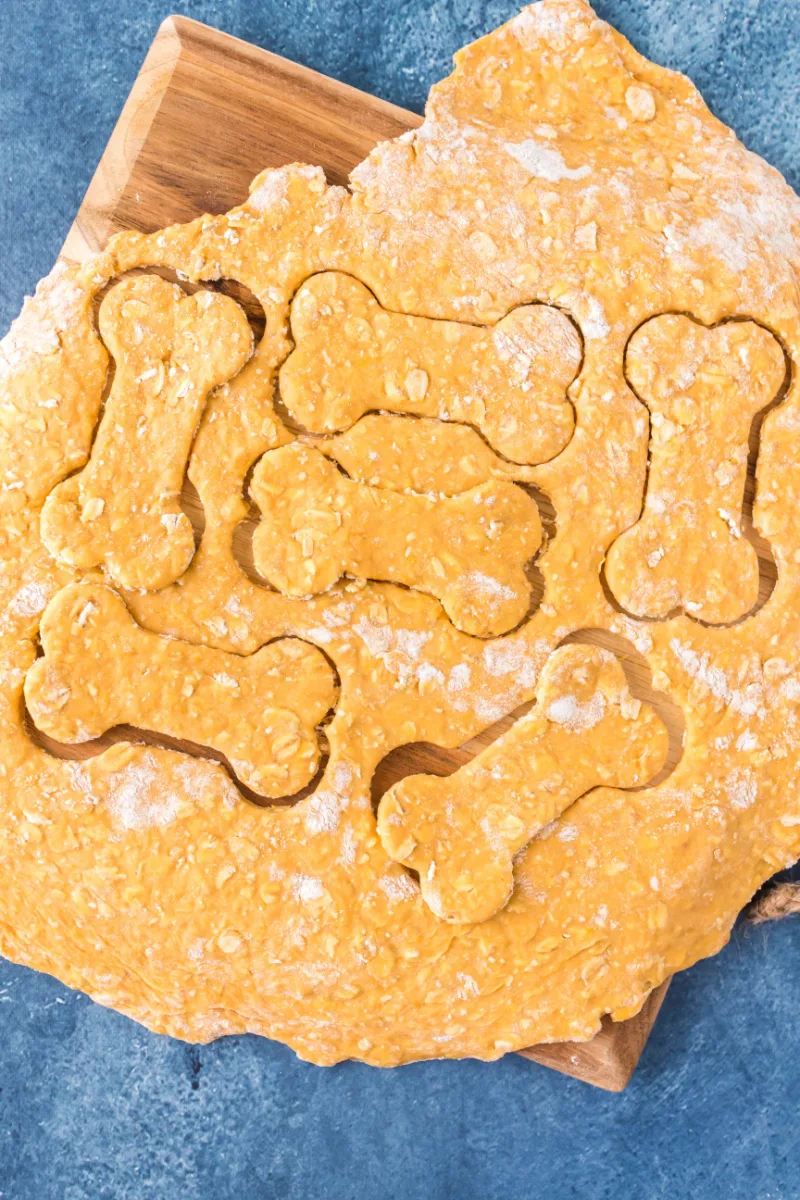 Roll the dough on a floured surface, and use a cutter to cut shapes. You can use any kind of cutter. Dog bone cutters are awfully cute for making dog biscuits, but you can use a round cutter or any other shape too. Just cut as many as you can out of the dough. You should be able to get about 60 biscuits from this recipe.
Where to buy a dog bone shaped cookie cutter:
Amazon has everything, including dog bone shaped cookie cutters. The best part is that they deliver and will have a cookie cutter to you in a few days so you can make these homemade sweet potato dog biscuits. You can make our pumpkin peanut butter dog biscuits too!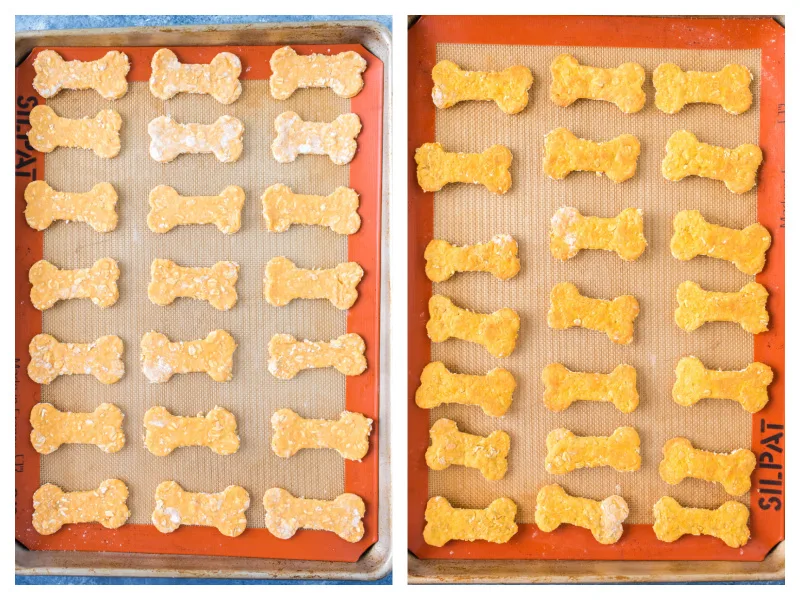 Place the cut biscuits on a baking sheet. Bake for 15 minutes. Then turn them over and bake for an additional 10 minutes.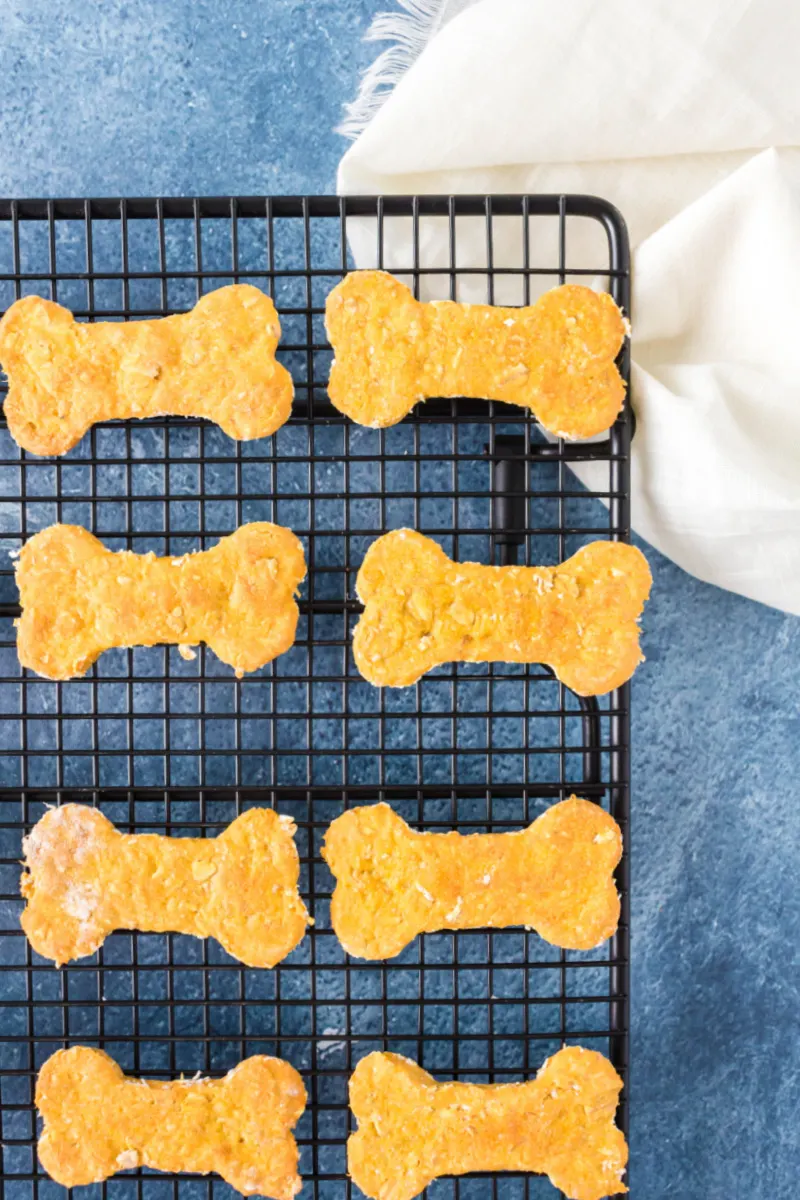 Let the dog biscuits cool on a cooling rack. Then they're ready for surprising your dogs!
How do you store Homemade Dog Biscuits?
Keep a bunch of these sweet potato dog biscuits out at room temperature in a sealed container or baggie to give to your dogs over a time span of a few days. Depending on the size of your cutter, one treat per day is probably plenty. You don't want to give your dog an overload of calories. Make small biscuits for your smaller dogs and larger ones for the big guys! Store the rest of the biscuits in the freezer. This is the best way to keep them fresh and lasting longer. Think of them like cookies. You don't want to just keep them at room temperature for more than a week. Freeze in a sealed container or zip baggie for up to 3 months. Take them out a few at a time.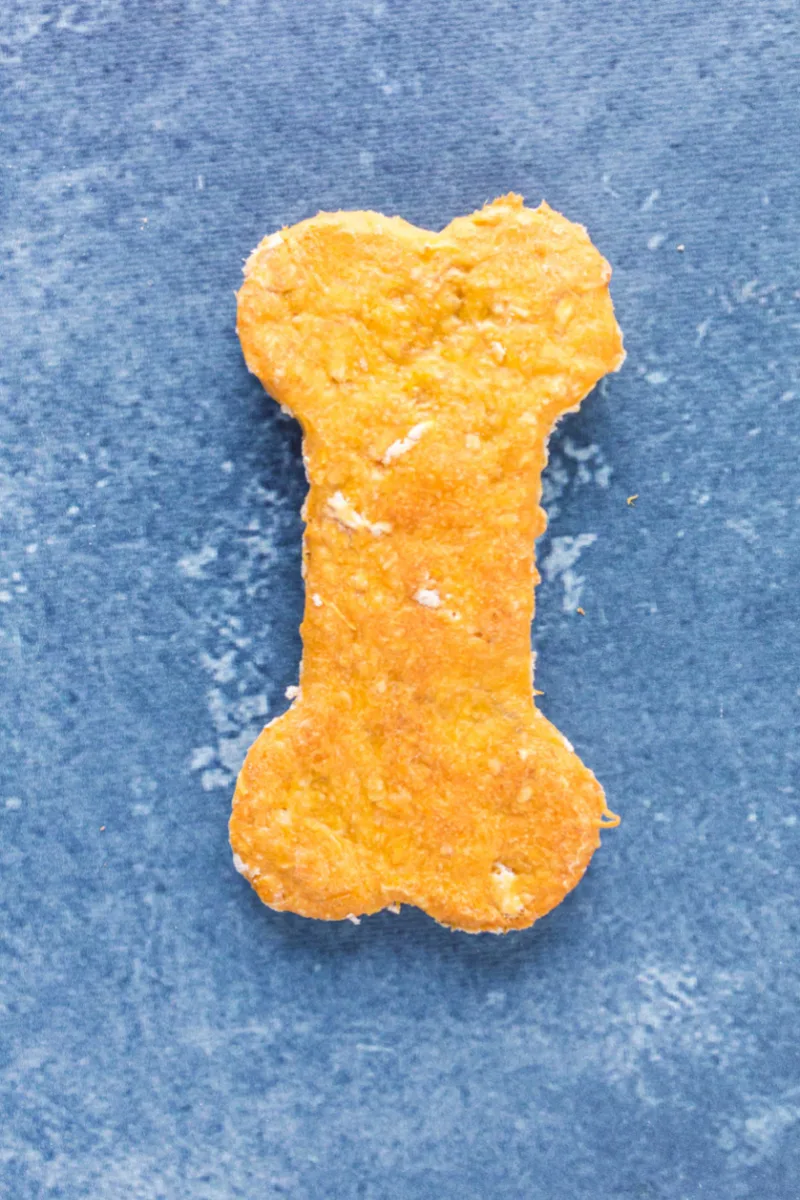 I hope your dogs are as happy as ours is to taste these sweet potato dog biscuits. Enjoy, sweet doggies!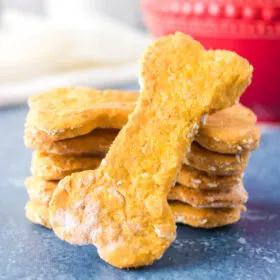 Sweet Potato Dog Biscuits
Another treat that you dog will love you for!!
Ingredients
1¼

cups

oats

1¼

cups

all purpose flour

1

cup

mashed sweet potato

¼

cup

creamy peanut butter

(use xylitol free peanut butter)

2

large

eggs
Instructions
Preheat the oven to 350℉. Line a baking sheet with parchment paper or a silpat mat.

In a bowl of a stand mixer, add all the ingredients and mix until all of the ingredients are well-combined and come together into a ball. If you do not have a stand mixer, just use a sturdy wooden spoon. The batter is too thick to use a traditional hand mixer.

Transfer the dough to a floured surface. Roll the dough to ¼-inch thickness.

Use a cutter to cut the dough into shapes (use a dog bone cutter or round or whatever you prefer!) Transfer the cutouts to the prepared baking sheet.

Bake for 15 minutes. Turn the biscuits over, and bake for an additional 10 minutes. Cool on a rack.
Notes
To cook a sweet potato: Peel a medium size sweet potato and dice it. In a saucepan, with 1 to 2 inches of water boil the sweet potato until cooked. You should be able to insert a fork easily (15 to 18 minutes). Drain the water and mash the potato to a soft mixture, with a fork or a potato masher.
How to store dog biscuits: Keep some of these biscuits out and ready for your dog. Put the rest in a sealed container or freezer zip bag, and store in the freezer. Take a few out, as you want to share with your dog (I'd say take out 10 at a time and keep them at room temperature).
Nutrition
Serving:
1
biscuit
Calories:
29
kcal
Carbohydrates:
4
g
Protein:
1
g
Fat:
1
g
Saturated Fat:
0.2
g
Polyunsaturated Fat:
0.2
g
Monounsaturated Fat:
0.4
g
Trans Fat:
0.001
g
Cholesterol:
6
mg
Sodium:
9
mg
Potassium:
39
mg
Fiber:
0.4
g
Sugar:
0.4
g
Vitamin A:
906
IU
Vitamin C:
1
mg
Calcium:
5
mg
Iron:
0.3
mg