Baked Mozzarella Bites {Skinnytaste cookbook giveaway}
This week I made one of the best football appetizers ever! Gina from skinnytaste.com just came out with a cookbook recently, and I am lucky enough to be giving away one copy of The Skinnytaste Cookbook– see the end of this post for details! These Baked Mozzarella Bites are a great appetizer without all of the fat. For four mozzarella bites, it's an amazing 107 calories and 5 grams of fat. That's pretty healthy compared to the fried mozzarella bites that you see in restaurants…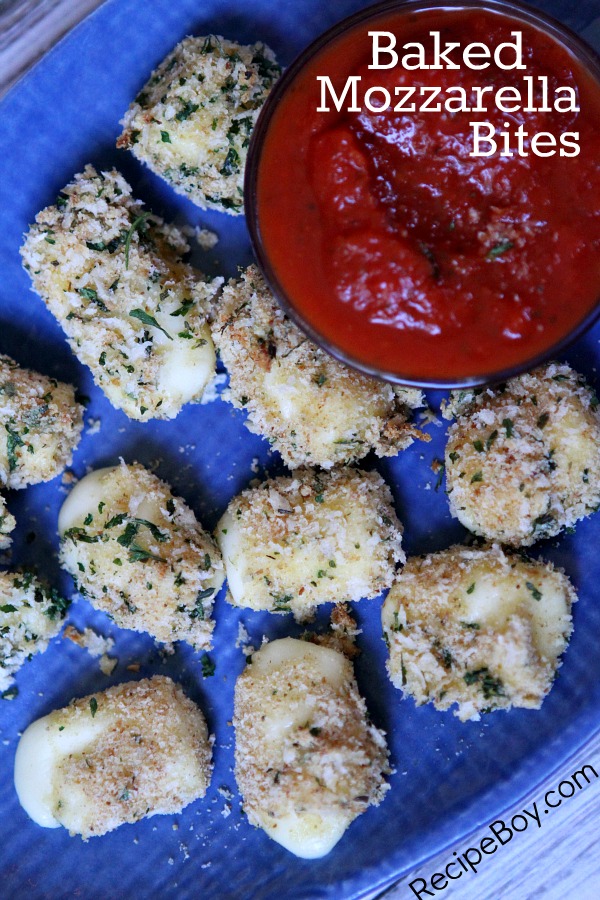 These mozzarella bites turned out really gooey, just the way I like them. What amazed me about these mozzarella bites was that you can use regular string cheese for the bites! No special Italian cheeses with names you can't even pronounce, just good old string cheese. Many of the ingredients in this recipe are simple things that every home chef should own, so it really is an easy appetizer.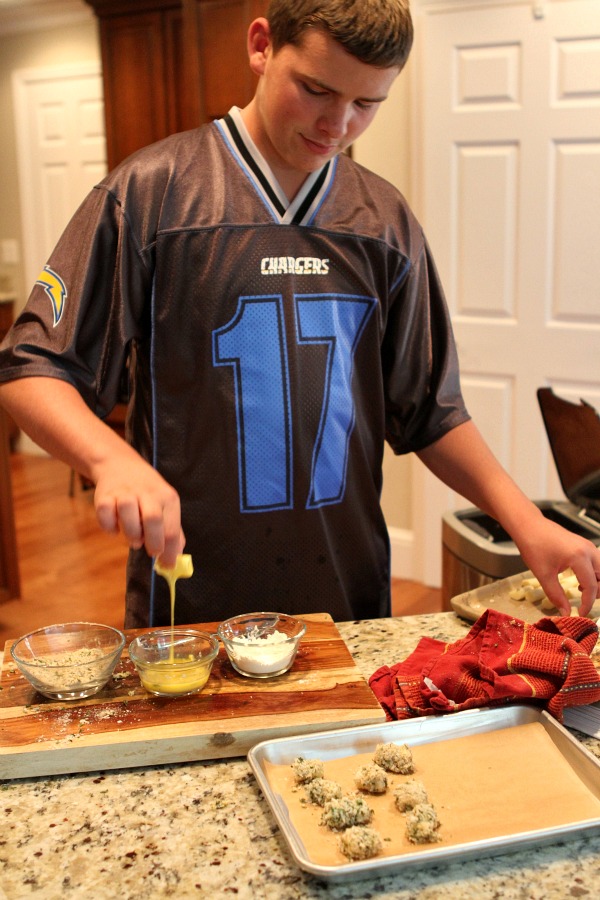 The simplicity of the recipe never ceases to amaze me. First you cut each string cheese into four pieces and freeze them overnight. You then dip them in flour, egg, and then a seasoned whole wheat bread crumb/panko bread crumb/parmesan cheese/parsley mixture. The breading is literally the hardest part, and it still isn't very time consuming. You only bake them for about 5-6 minutes total, flipping around the 3 minute mark. Bam, wam, zam, done! 🙂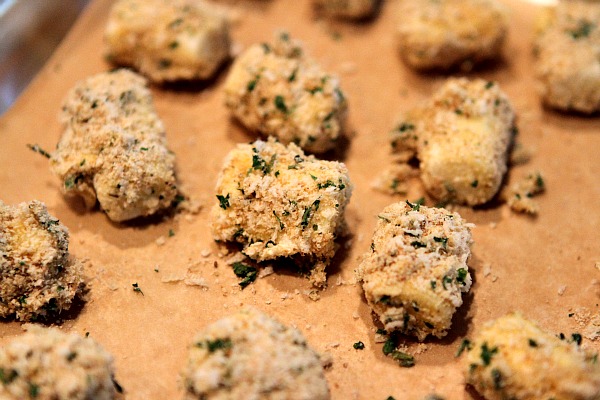 It was kind of difficult to cover the cheese entirely with the breading, but I managed. You just have to really press the breading into the cheese for it to stick.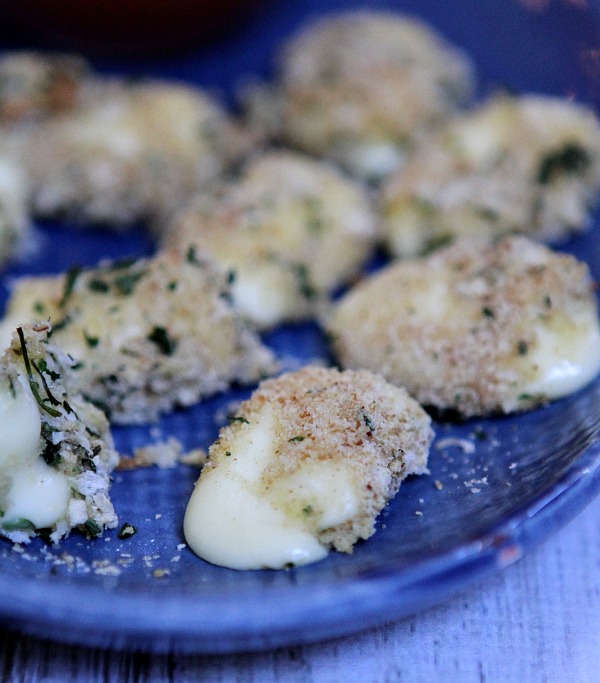 After baking, the mozzarella bites oozed like all cheese should. It looked and tasted amazing. String cheese may look like processed junk at the store, but Gina completely changed that feeling for me. Where there's a will, there's a way!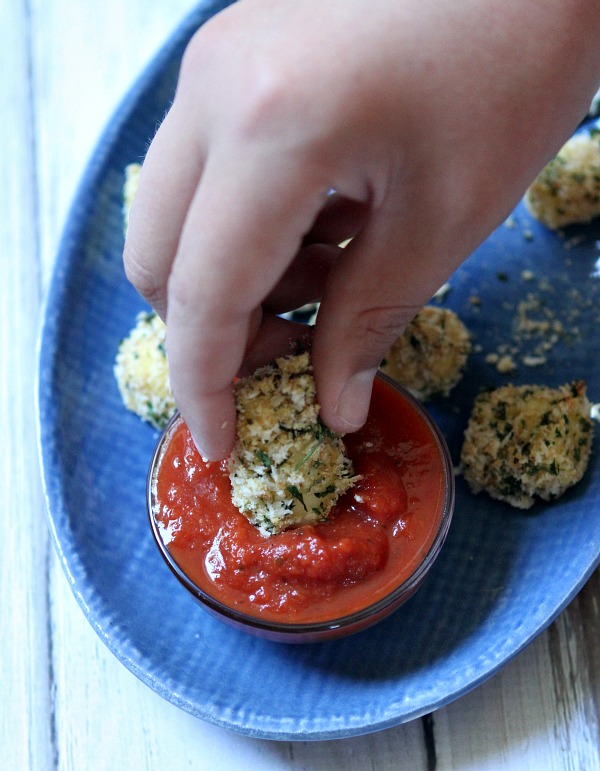 Baked Mozzarella Bites with a little bit of marinara sauce? Molto buona (very good) as the Italians say. Speaking of the Italians, I recently watched Analyze This and Analyze That with my dad! If you haven't seen them, they are great movies based on the mafia in New York. Robert De Niro plays an amazing part in those movies, and he acts the role flawlessly. Now back to the bites!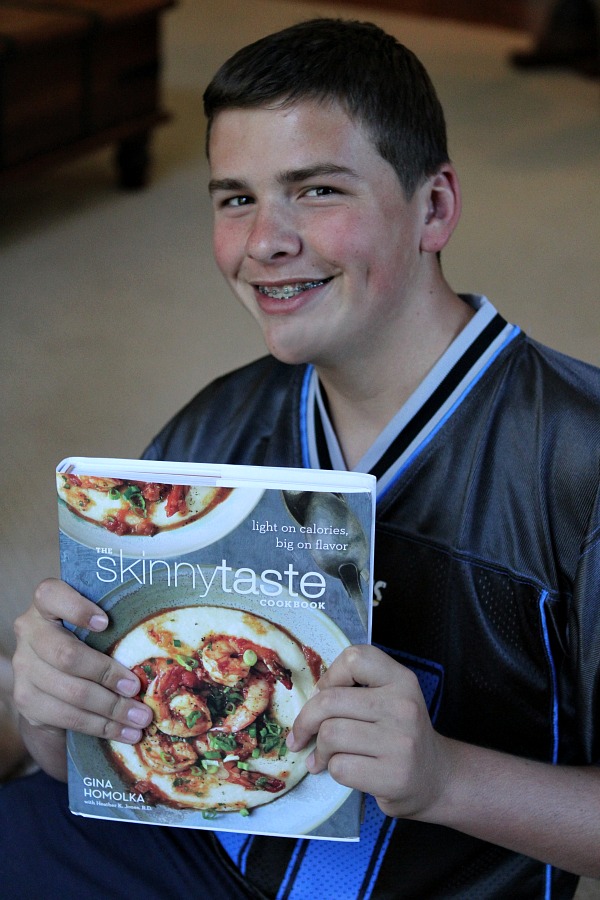 These bites are definitely going down as one of my favorite football appetizers in my life. They taste like delicious mozzarella bites, but they are healthified! Kudos to Gina for creating this yummy recipe. Gameday will never be the same for my family…Unless we decide to make these mozzarella bites! The oozing cheese paired with the crispy breading and good marinara sauce simply cannot be beat. Yummy to the max!
THE GIVEAWAY!!! >> The Skinnytaste Cookbook is awesome! For a chance to win a copy of the book, leave a comment telling me your favorite Game Day appetizer. The book is packed with 125 brand new recipes and 25 long time Skinnytaste favorites, this cookbook packs quite the punch. If you are looking for delicious recipes without all of the fat and processed crud, here you go!  This giveaway will run for one week.  I will contact and announce the winner on Sunday, October 12th.  The winner will be chosen randomly.  Good luck!
Baked Mozzarella Bites
Make this for football Sundays this fall! So good!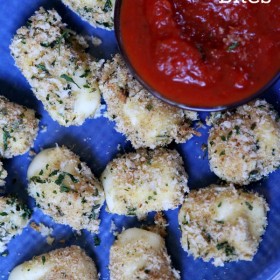 Ingredients:
12 sticks reduced-sodium part-skim mozzarella string cheese
1 large egg
2 tablespoons all-purpose flour
5 tablespoons seasoned whole wheat bread crumbs
5 tablespoons panko bread crumbs
1 tablespoon grated Parmesan cheese
1 tablespoon dried parsley flakes
olive oil spray or oil mister
Directions:
1. Cut each piece of string cheese into quarters, place the pieces on a baking sheet, and freeze for at least 8 hours, or overnight.
2. In a small bowl, beat the egg. Put the flour in a second small bowl. In a third medium bowl, combine both the seasoned bread crumbs, panko, Parmesan and parsley flakes.
3. Line a baking sheet with parchment paper. Dip the frozen cheese in the flour, shaking off any excess, then into the egg, and lastly coat with bread crumb mixture. Put the breaded cheese on the baking sheet. Freeze the breaded cheese for at least 1 hour (this is a must or they will melt in the oven before browning).
4. Preheat oven to 425 degrees F. Spray the frozen cheese bites with a little bit of olive oil spray. Bake for 3 minutes, turn them over, and bake until melted inside and golden on the outside, watching them closely so the cheese doesn't come out of the breading, about 2 minutes. Serve immediately as baked mozzarella harden more quickly than fried.
SOURCE: RecipeBoy.com (shared with permission from The Skinnytaste Cookbook by Gina Homolka)
Disclosure: There are Amazon affiliate links included in this post.