This week I have made a delicious French classic, the Croque Madame. Recently I watched the movie The Hundred-Foot Journey. It was possibly the best movie I've ever seen about cooking. It is about an Indian chef who moves to France with his family. His family opens up an Indian restaurant with extreme competition from a French restaurant across the street. The chef, Hassan, ends up working at the French restaurant and becomes a great chef in Paris. It's an amazing fictional story that everyone should watch. The movie inspired my Croque Madame, a traditional French grilled ham and cheese with a fried egg on top!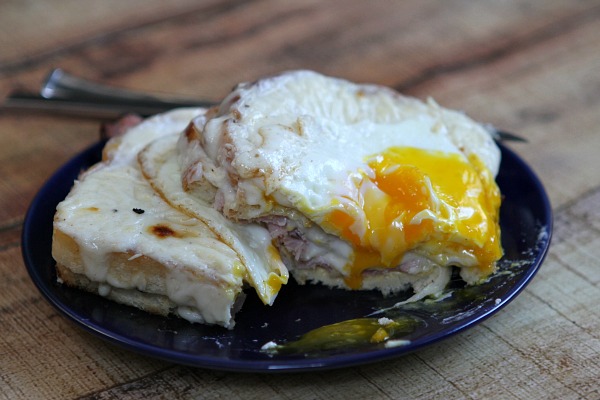 There are 5 French-based classic sauces: Tomat (tomato sauce), Bechamel (creamy sauce mainly consisted of milk), Veloute (sauce mainly made of veal or chicken stock), Espagnole (consisted mostly of roasted veal stock and served with meats), and Hollandaise (mainly made of egg yolks and butter). My Croque Madame contained Bechamel, which happens to be the best sauce I've EVER tasted! It's so creamy and delicious!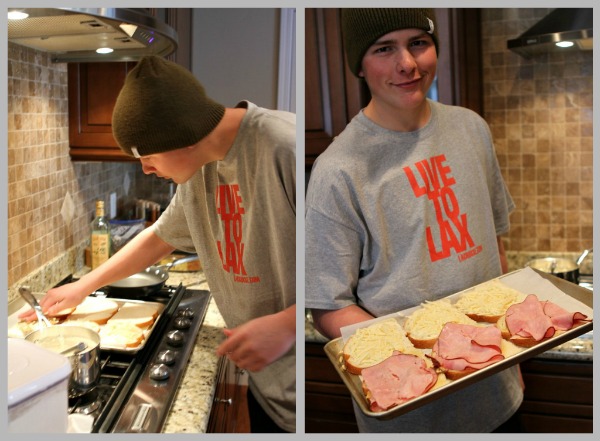 I used very nice Gruyere cheese in this recipe. That may be part of why it was so delicious! Recently I have been helping out my family more and more because my dad broke his leg in a sledding accident. One of my new responsibilities is cooking more, so I plan to experiment a lot with those French sauces I talked about earlier.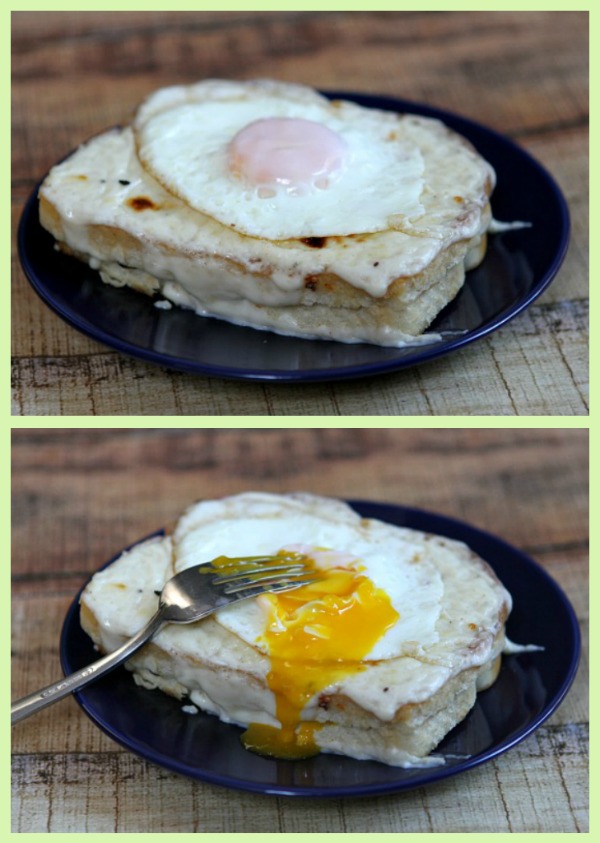 Does that look amazing or what? The Bechamel sauce is crazily good with the grilled ham and cheese. French people know good food. I tip my hat to French people and their cool accents!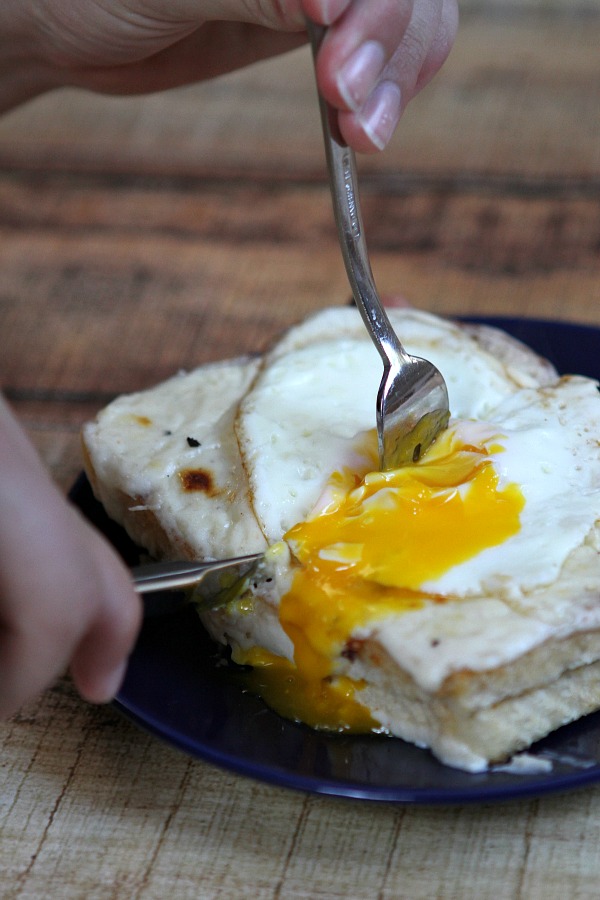 Breaking the yolk on a Croque Madame is like sprinkles on soft serve ice cream, it simply has to be done. Usually the Croque Madame calls for a firm white bread, but I used sourdough. I'm not quite sure how it would have turned out if I had used the firm white bread, but it was good enough for me with sourdough!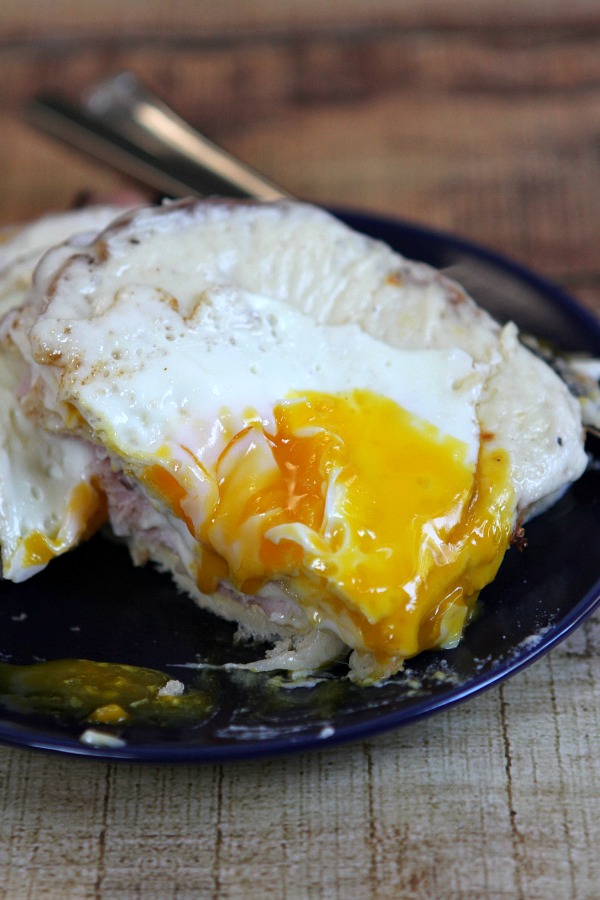 The classic French dish was a perfect lunch for me and my family. I have to say that the Croque Madame is one of my favorite sandwiches of all time. I would love to try this sometime at a fancy French restaurant to compare my recipe to theirs. I added some paprika and Tabasco to my Bechamel sauce to spice stuff up a bit. I think that my changes really helped make the sandwich more flavorful. My family and I loved it, and I hope that you do too!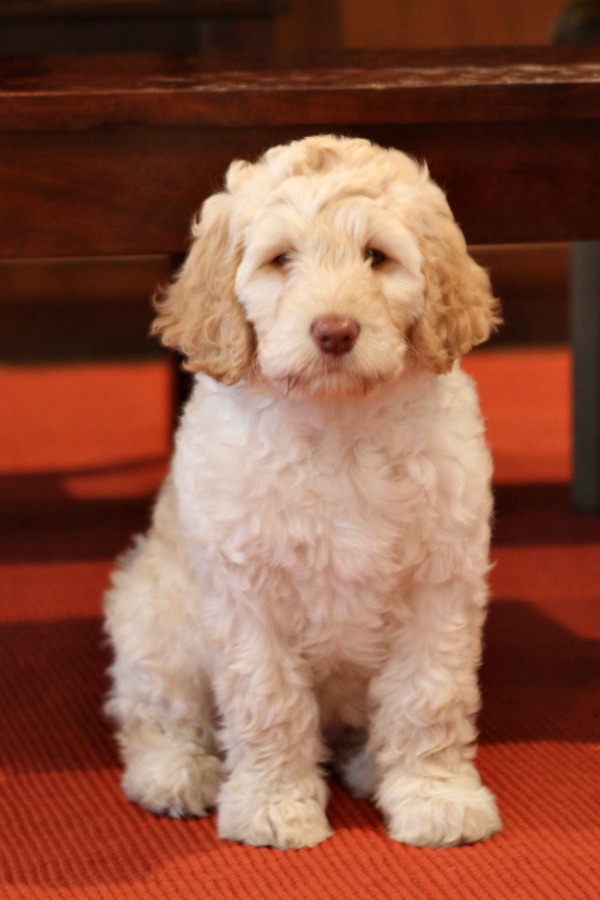 Oh, and I got a puppy! We named her Tessie, after the Dropkick Murphy's song and Tahoe Tessie (the fictional monster living in Lake Tahoe). The Dropkick Murphy's re-did a song by the Royal Rooters (a Red Sox fan club) called Tessie. It was a Boston Red Sox song making fun of other teams and players. The Red Sox now play the song Tessie by the Dropkick Murphys when they win at home games. I love my new puppy. 🙂
Even an Irish kid can make a French dish…. like me!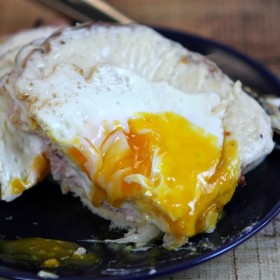 Croque Madame
The traditional French sandwich!
Ingredients
5

tablespoons

butter,

divided

3

tablespoons

all purpose flour

2

cups

whole milk

¼

teaspoon

salt

⅛

teaspoon

ground black pepper

⅛

teaspoon

ground nutmeg

pinch

paprika

2 to 3

shakes

of Tabasco sauce

1⅓

cups (3.5 ounces)

grated Gruyere cheese,

divided

8

slices

firm white sandwich bread (or sourdough)

4

teaspoons

Dijon mustard

½

pound

thinly sliced cooked ham

(pref. Black Forest)

4

large

eggs
Instructions
Make the sauce: Melt 3 tablespoons of the butter in a medium saucepan over low heat, then whisk in the flour and cook the roux, whisking, for 3 minutes. Whisk in milk and bring to a boil, whisking constantly. Reduce heat and simmer, whisking occasionally, 5 minutes. Whisk in salt, pepper, nutmeg, paprika, Tabasco and ⅓ cup of the cheese until the cheese is melted. Remove from heat, cover and set aside.

Make the sandwiches: Spread 1½ tablespoons sauce evenly over each of 4 slices of bread, then sprinkle evenly with remaining cheese (¼ cup per slice). Spread mustard evenly on remaining 4 bread slices and top with ham, dividing it evenly, then invert onto cheese topped bread to form sandwiches.

Line a large baking sheet with parchment paper (or spray with nonstick spray).

Melt 1 tablespoon butter in a 12-inch nonstick skillet over medium-low heat, then cook sandwiches, one at a time, turning once until golden (3 to 4 minutes total). Remove from heat and transfer sandwiches to the prepared baking sheet.

Broil the sandwiches: Preheat the broiler. Top each sandwich with ⅓ cup sauce, spreading evenly. Broil sandwiches 4 to 5 inches from heat until sauce is bubbling and golden in spots, 2 to 3 minutes. Turn off broiler and transfer pan to lower third of oven to keep the sandwiches warm.

Adding the eggs: Heat the remaining tablespoon of butter in a nonstick skillet over medium heat until the foam subsides. Then crack eggs into the skillet and season with salt and pepper. Fry eggs, covered, until the whites are just set and the yolks are still runny, about 3 minutes. Top each sandwich with a fried egg and serve immediately.