Bacon Wrapped Jalapeno Poppers are great for snacking and perfect for Game Day too!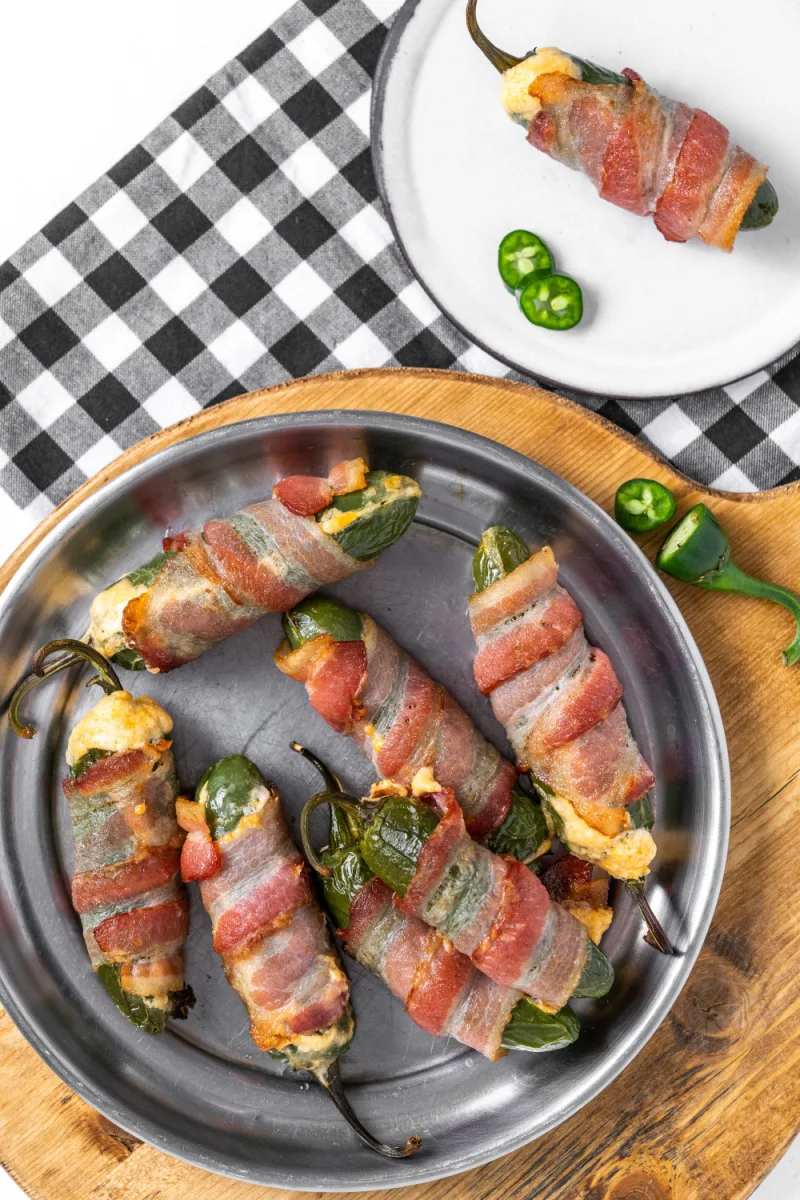 Of course these are great for Super Bowl Sunday. But I like to make them "just because." They're one of those snacky appetizers that is fun to order when you're out at a restaurant, but they're so much better made at home. Think of them as an awesome Friday night indulgence or weekend comfort food snack. It's time to make bacon wrapped jalapeno poppers!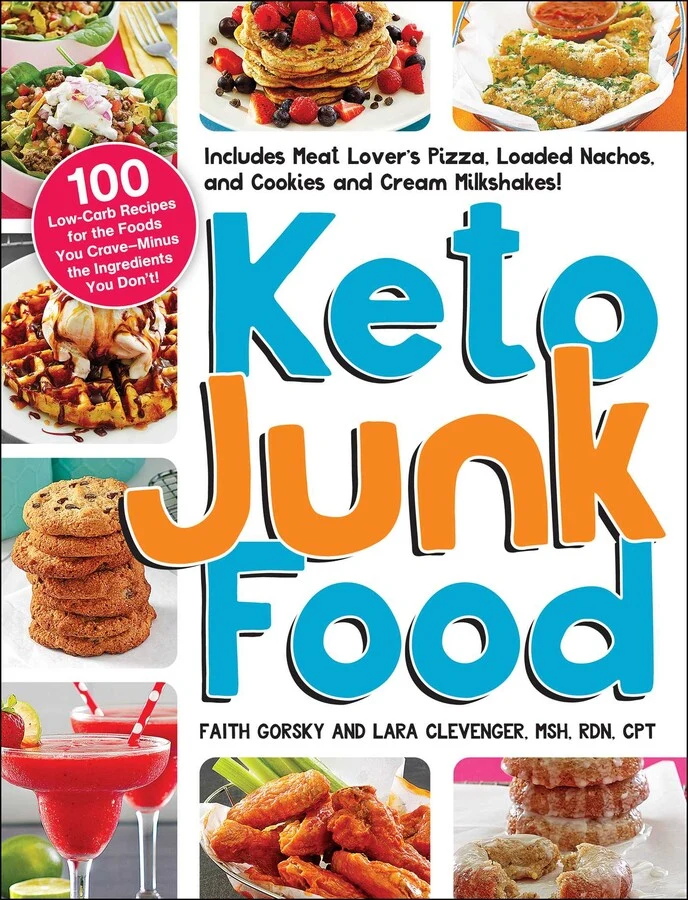 This recipe for Bacon Wrapped Jalapeno Poppers comes from a new book: Keto Junk Food by Faith Gorsky and Lara Clevenger. We don't follow the Keto diet in my house, but we definitely try to eat low carb most of the time. So this book comes in handy for us! The book has 100 low carb recipes for the foods you crave (junk food!)
Here are a few family friendly recipes in the book:
Loaded French Toast
Cinnamon Buns
Meat Lover's Pizza
Mac and Cheese Bites
Chicken Nugs
Ranch Dressing
Bacon Double Cheeseburgers
Ground Beef Enchiladas
Lots more… everyone loves junk food!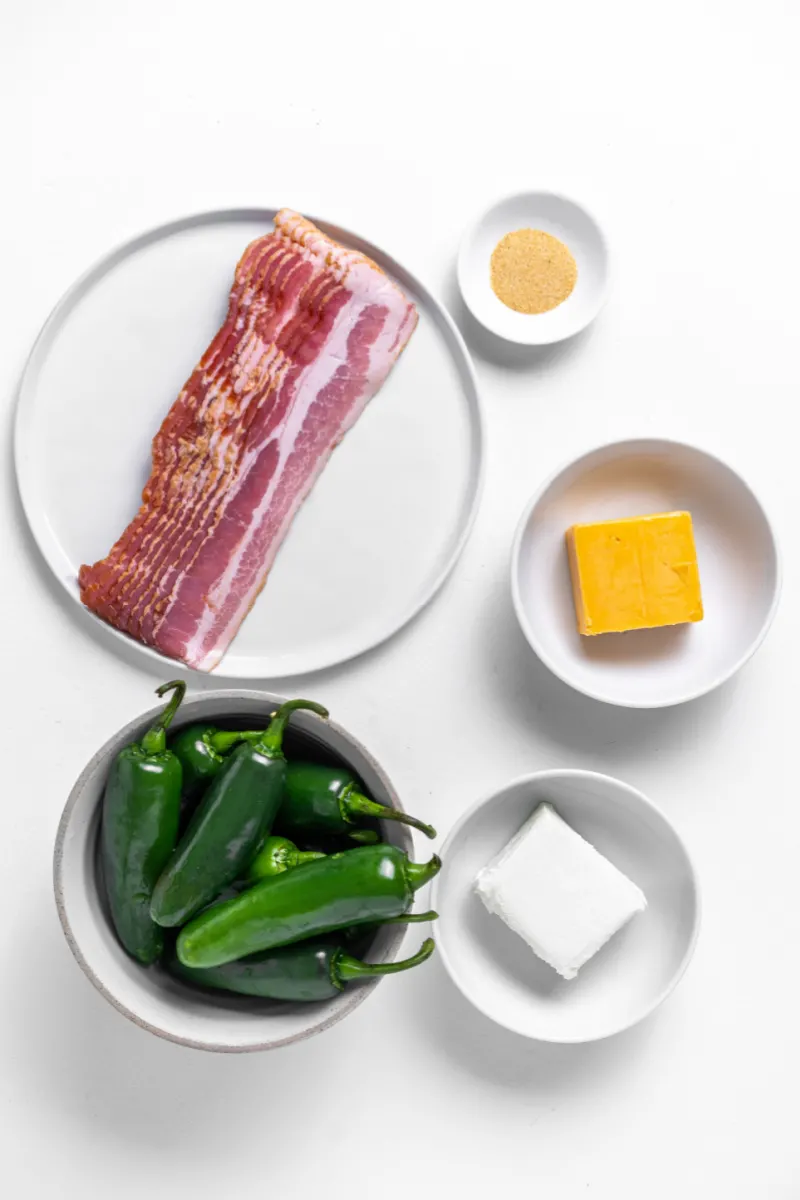 Ingredients needed:
fresh jalapeños
cheddar cheese
cream cheese
garlic powder
bacon
avocado oil spray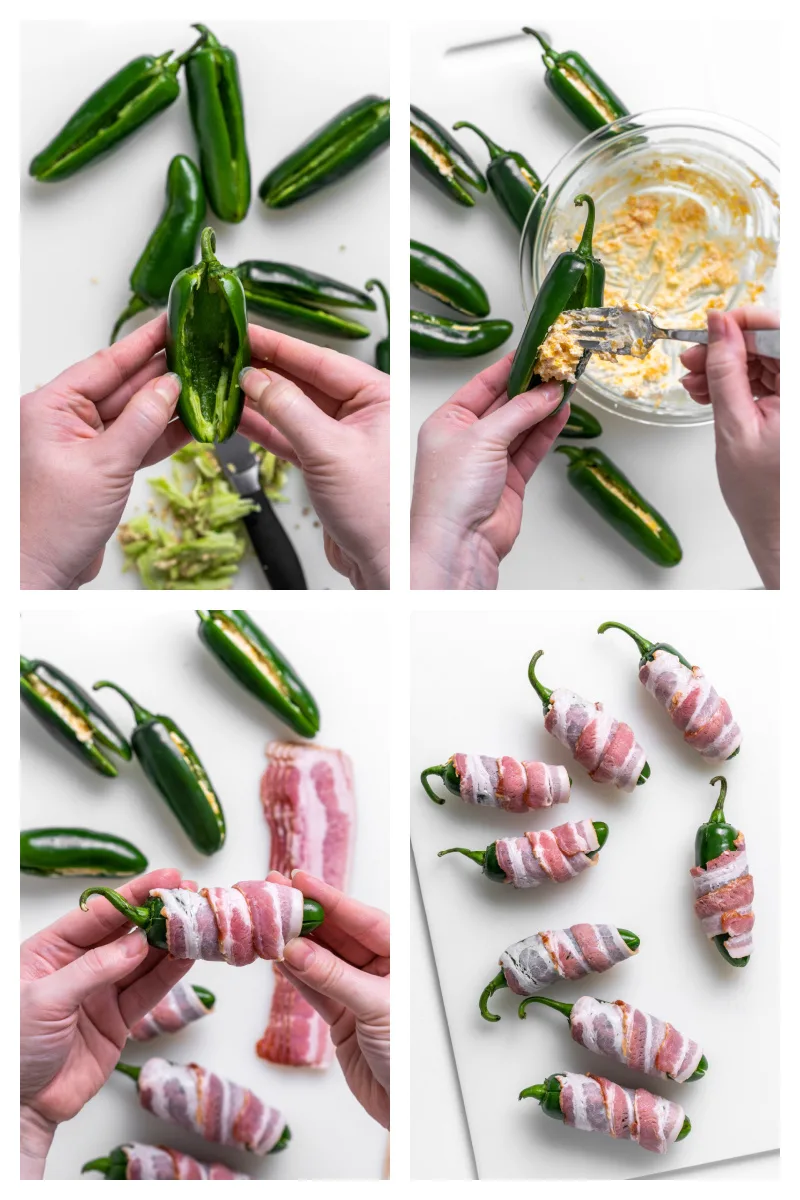 How to make Bacon Wrapped Jalapeno Poppers:
The full printable recipe is at the end of this post. Preheat the oven to 400 degrees F.
Slice into each jalapeño and scoop out the insides. You want to get rid of the ribs and seeds on the inside but keep the whole jalapeño intact.
Combine the cheese mixture: cheddar cheese, cream cheese and garlic powder. Spoon this mixture into the hollowed-out jalapeños. Then wrap each one with a slice of bacon.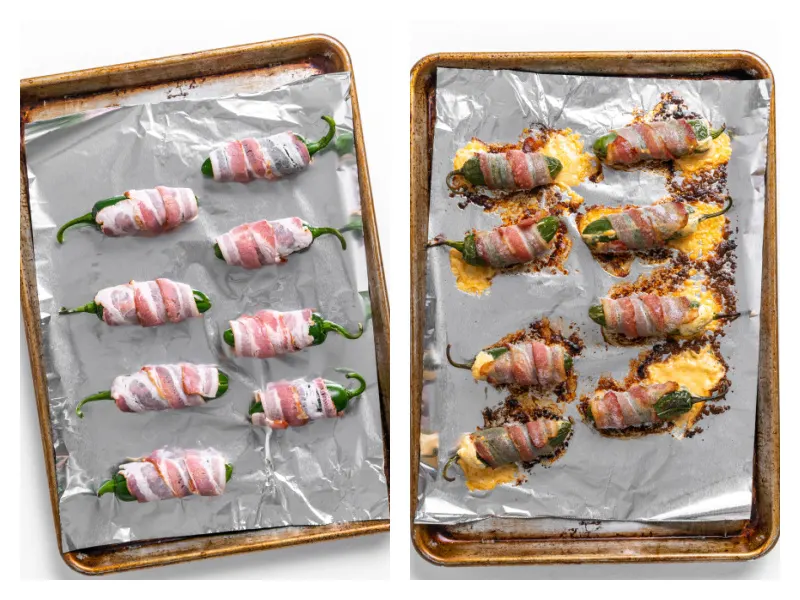 Place the bacon wrapped jalapeno poppers on a baking sheet. Bake for 20 minutes. If you want the bacon extra crispy, you can place them under the broiler at the end of the cooking time.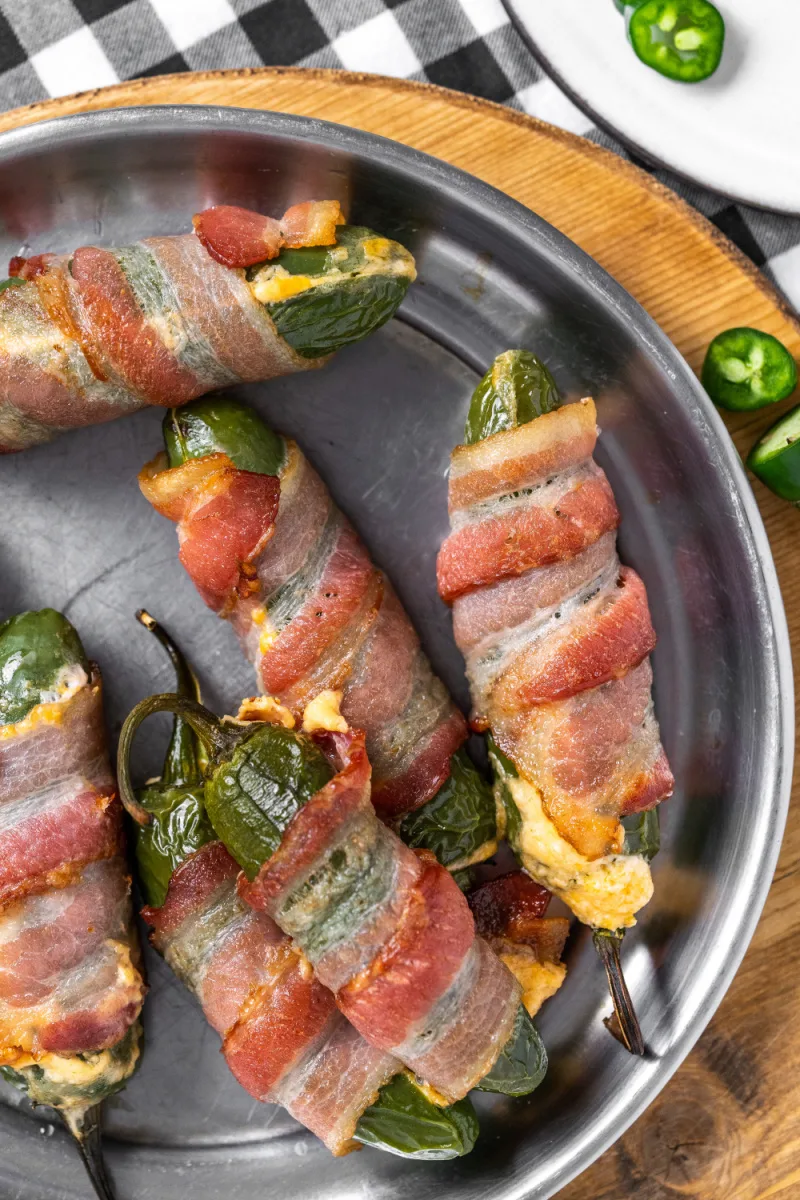 These are so delicious to eat all on their own. No sauce is needed (though my kiddo might suggest Ranch dressing!) Enjoy!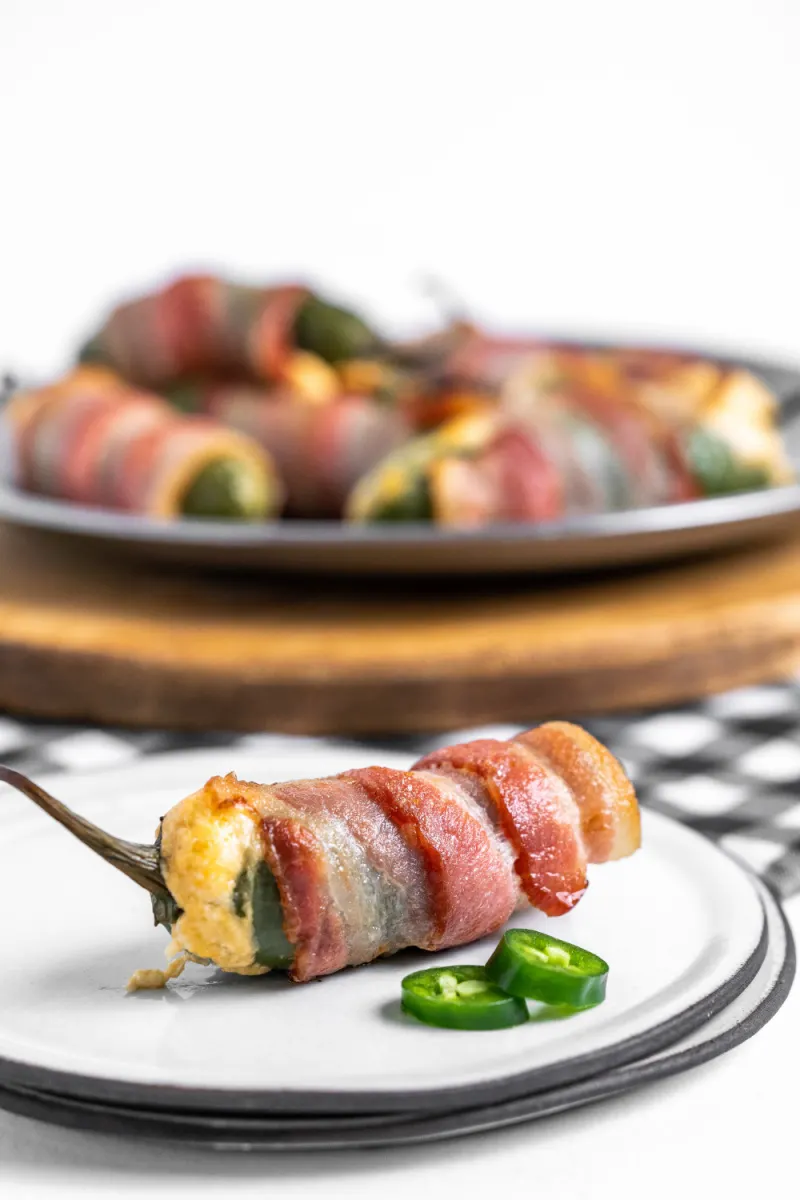 Here are a few more recipes for junk food that you might like to try: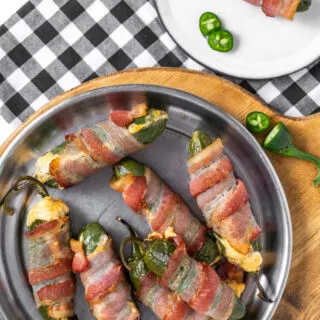 Bacon Wrapped Jalapeno Poppers
These delicious appetizers are smoky, cheesy and spicy!
Ingredients
8

large

jalapeno peppers

(about 4-inches long)

3

ounces

shredded sharp cheddar cheese

3

ounces

cream cheese

½

teaspoon

garlic powder

8

slices

bacon

avocado oil spray

(can sub vegetable oil spray)
Instructions
Preheat the oven to 400° F.

Cut a thin slit down the length of each pepper and carefully remove the inner ribs and seeds, trying to keep the pepper itself as intact as possible.

In a small bowl, use a fork to mash together the cheddar cheese, cream cheese and garlic powder.

Stuff the cheese mixture into each pepper, closing up each pepper as much as you can after stuffing.

Wrap a slice of raw bacon around the outside of each pepper, securing with a toothpick if necessary.

Lightly spray each pepper with avocado oil.

Arrange the poppers on a large baking sheet and bake until the bacon is crispy, about 20 minutes. You can broil the poppers for a couple minutes at the end if you want to brown them more. Serve warm.
Notes
NOTE: The size of jalapenos can vary greatly. If you can't find large jalapenos, you can use 16 smaller ones (for 2 poppers per serving), each wrapped with a half slice of bacon. Start checking on them to see if they're done after 15 minutes.