Valentine's Day is next week and I have a festive recipe that's just right for it. I made Chocolate Heart Peanut Butter Cookies. My mom and I found these awesome Reeses Peanut Butter Hearts in the Valentine Candy section at our local grocery store and decided to use them in these cookies. They tasted YUMMY. Here's a peek…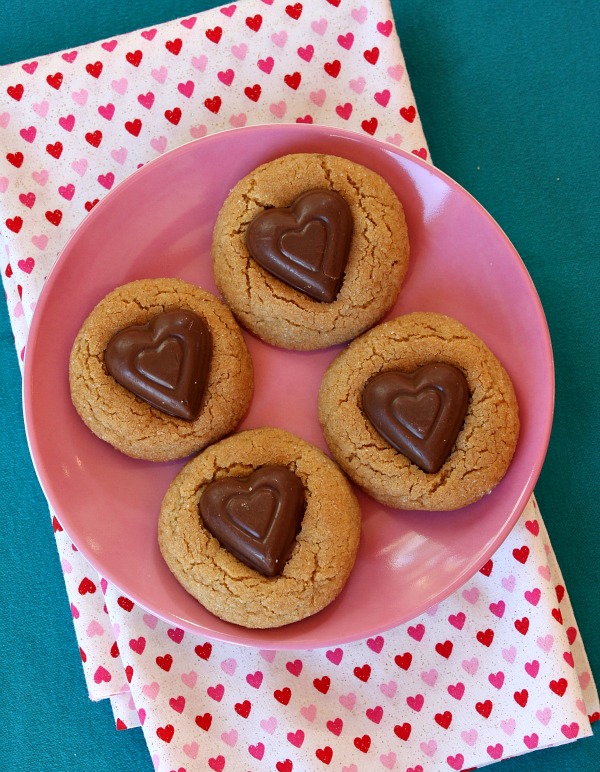 Pink? Really!! Since it's Valentine's Day I pretty much had to have a pink plate even though it's my least favorite color.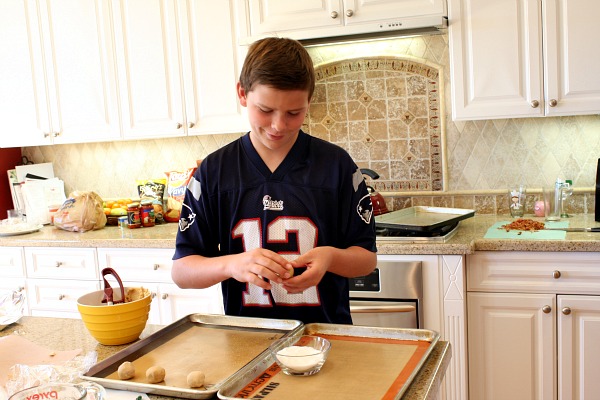 The Patriots lost the Super Bowl. 🙁
This recipe can get pretty messy though because you have to roll the dough into balls and then roll the ball in sugar.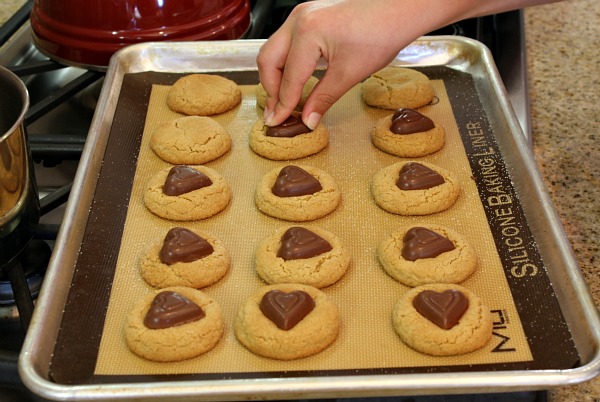 You need to quickly but gently press the hearts into the cookies as soon as they come out of the oven so the hearts will set into the cookies. Then it's best if you throw them in the freezer for a bit until they set up. Otherwise they'll just be melty and you'll need to wait for them to harden again at room temperature. These are just like those peanut butter kiss cookies that everyone makes, except with the PB Hearts instead.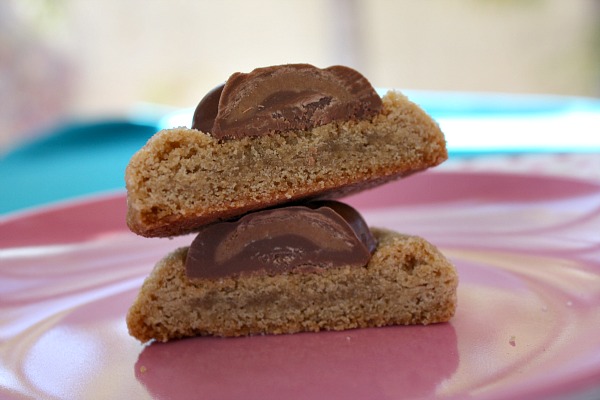 Layers of chocolate- peanut butter goodness. That's exactly the way to describe this picture.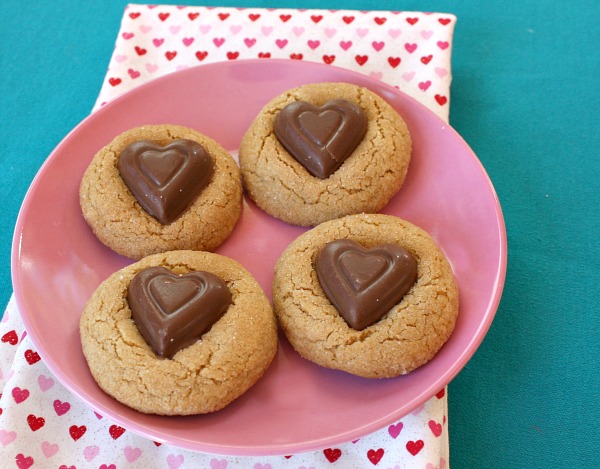 Aha! Another yummy recipe from the Recipe Boy kitchen. No recipes that I've made in my life so far have failed yet. I'm on a roll!! The Chocolate Heart Peanut Butter Cookies turned out AWESOME! I gave some to my friend and he loved them (so did my family and I). Parents- If your kid is wondering what kind of treat or candy to tape to their Valentines for school (if there are no peanut allergies, of course), put these cookies in a Zip-Lock bag and tape your Valentines to the front.
And even a kid can rummage candy sections at stores to find interesting things… Like Me!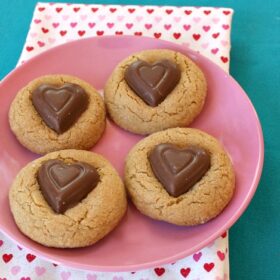 Chocolate Heart Peanut Butter Cookies
The perfect treat for Valentine's Day!
Ingredients
1¾

cups

all purpose flour

1

teaspoon

baking soda

½

teaspoon

salt

½

cup (1 stick)

salted butter

½

cup

creamy peanut butter

½

cup

packed light brown sugar

½

cup

granulated white sugar

1

large

egg,

lightly beaten

2

tablesppons

milk

1

teaspoon

vanilla extract

additional white sugar,

for rolling

36

Reeses Peanut Butter Hearts (see *Tips below),

unwrapped!
Instructions
Whisk together the flour, baking soda and salt in a medium bowl.

In a large bowl, use an electric mixer to combine the butter, peanut butter and sugars until smooth. Add in the egg, milk and vanilla and mix again. Stir in the dry ingredients. Cover the bowl with plastic wrap and refrigerate the dough for about an hour until it is slightly firm.

Preheat the oven to 375 degrees F. Line baking sheets with parchment paper or silpat mats. Make some room in your refrigerator or freezer for one cookie sheet.

Shape the dough into 1½-inch balls and roll in sugar. Place the sugared cookie dough balls on one baking sheet, about 1½-inches apart.

Bake 10 to 12 minutes, until the cookies are set and golden. Remove from the oven and immediately press one peanut butter heart into the center of each cookie. Place the cookie sheet in the refrigerator or freezer until the chocolate is set (the Reeses hearts will get melty when you press them into the cookies, but they will harden-up again once they have cooled down). Repeat with the remaining cookie dough and PB hearts.
Notes
*Tips: Look for the Reeses PB Hearts in the Valentine Candy aisle in your market, drugstore, Target, etc. If you're unable to locate them, you can always use just regular chocolate hearts.