This Glazed Donut Grilled Cheese is just about the most decadent grilled cheese sandwich you can make!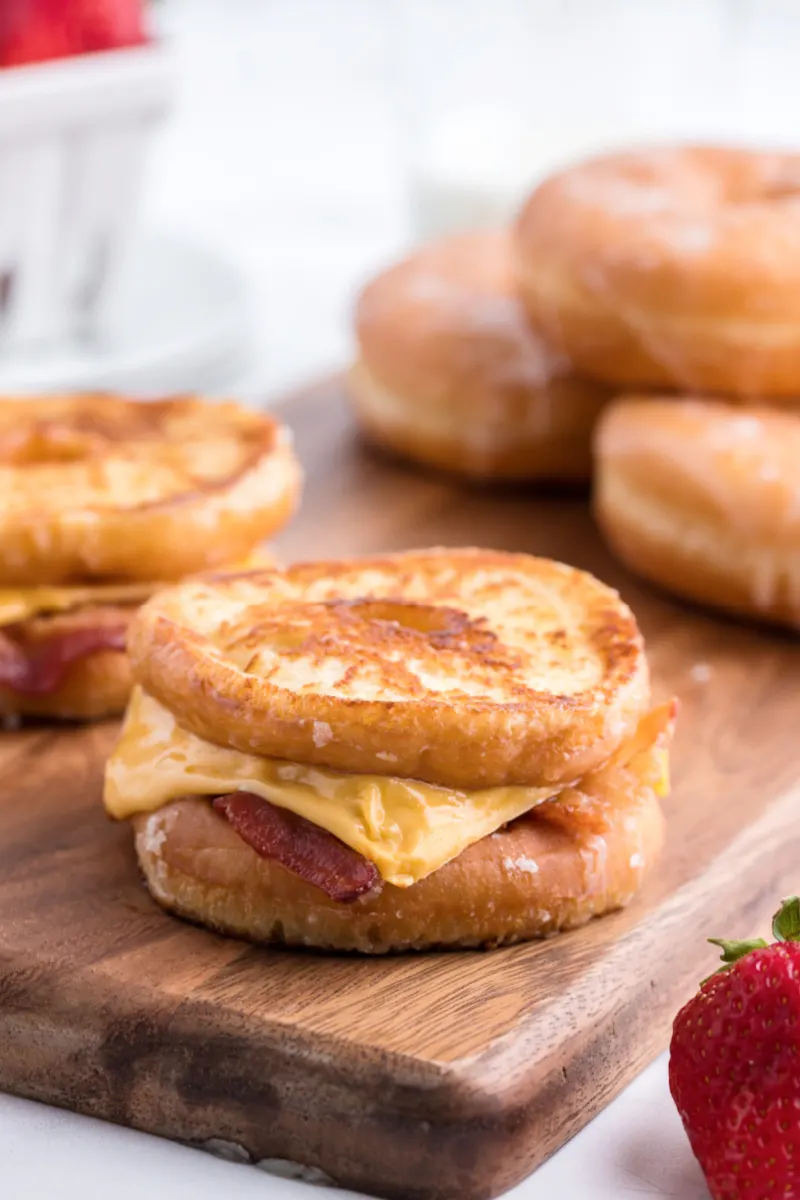 Here on the RecipeBoy blog, we like to make recipes that are a little different and yes… sometimes quite interesting. This is one of those recipes!
If you are a food adventurer of any kind, then this recipe might appeal to you. If you like to go to state fairs and order the most unusual food items that the fair has to offer, then this is the grilled cheese for you to try. A glazed donut grilled cheese is definitely not your everyday sandwich, but it's interesting enough to give a try and enjoy the sweet and salty decadence!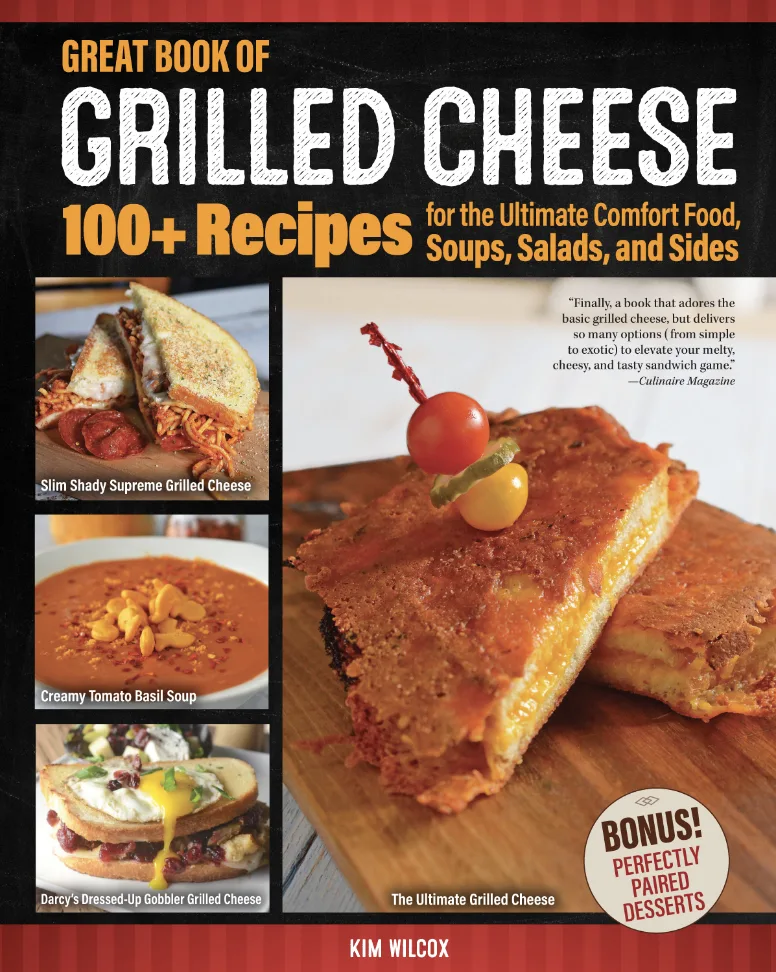 This recipe comes from the Great Book of Grilled Cheese by Kim Wilcox. In this book, there are 100 recipes for the ultimate comfort food + soups, salads and sides. I find this book to be an inspiration for creating some fun grilled cheese recipes.
Notable selections in the book include, Jalapeño Popper Grilled Cheese, Meatloaf Melt Grilled Cheese, Pizza Grilled Cheese, Cinco de Mayo Grilled Cheese, Spinach Artichoke Grilled Cheese, BBQ Mac and Cheese Grilled Cheese, Caprese Grilled Cheese, Taste of Tennessee Grilled Cheese and the Loaded Lobster Grilled Cheese. Don't they all sound awesome??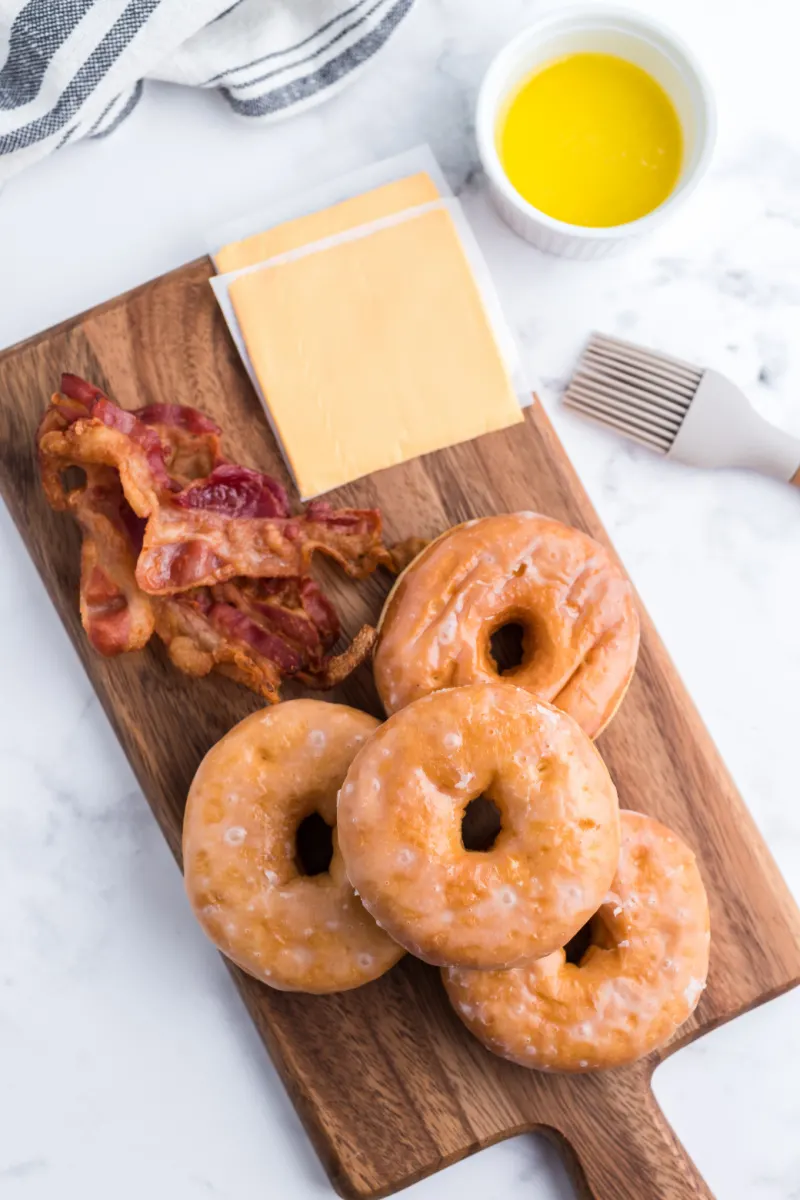 Ingredients needed:
glazed doughnuts
American cheese
cooked, crispy bacon
melted butter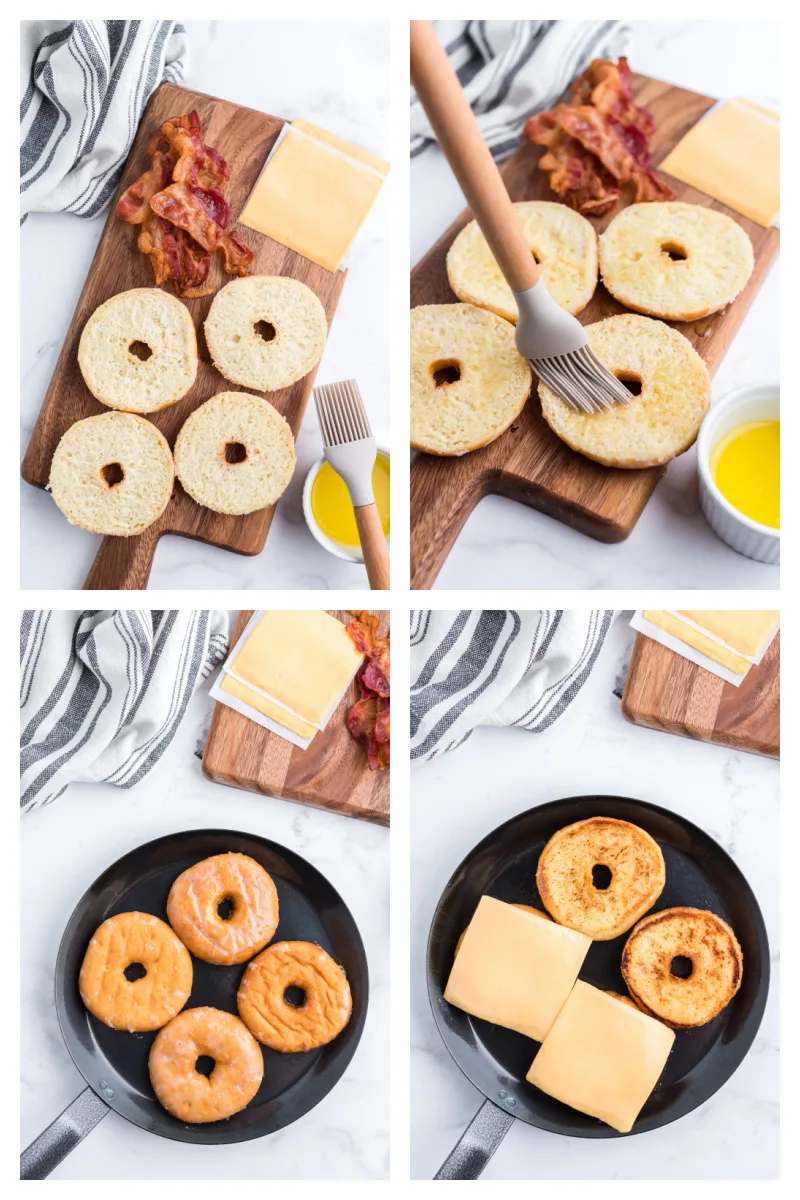 How to make Glazed Donut Grilled Cheese:
The full, printable recipe is at the end of this post. This recipe makes two sandwiches.
Heat a nonstick skillet to medium-low. You don't want the skillet to be super hot because donuts are sugary and can burn easily at a high heat. Slice the glazed donuts in half, and brush the cut-halves with melted butter.
Place the donut halves cut-side-down on the skillet. Top 2 of the donut halves with a slice of cheese. Place a lid on top to allow the cheese to melt.
Flip the non-cheese halves over to cook the other side. Add bacon on top of the cheese.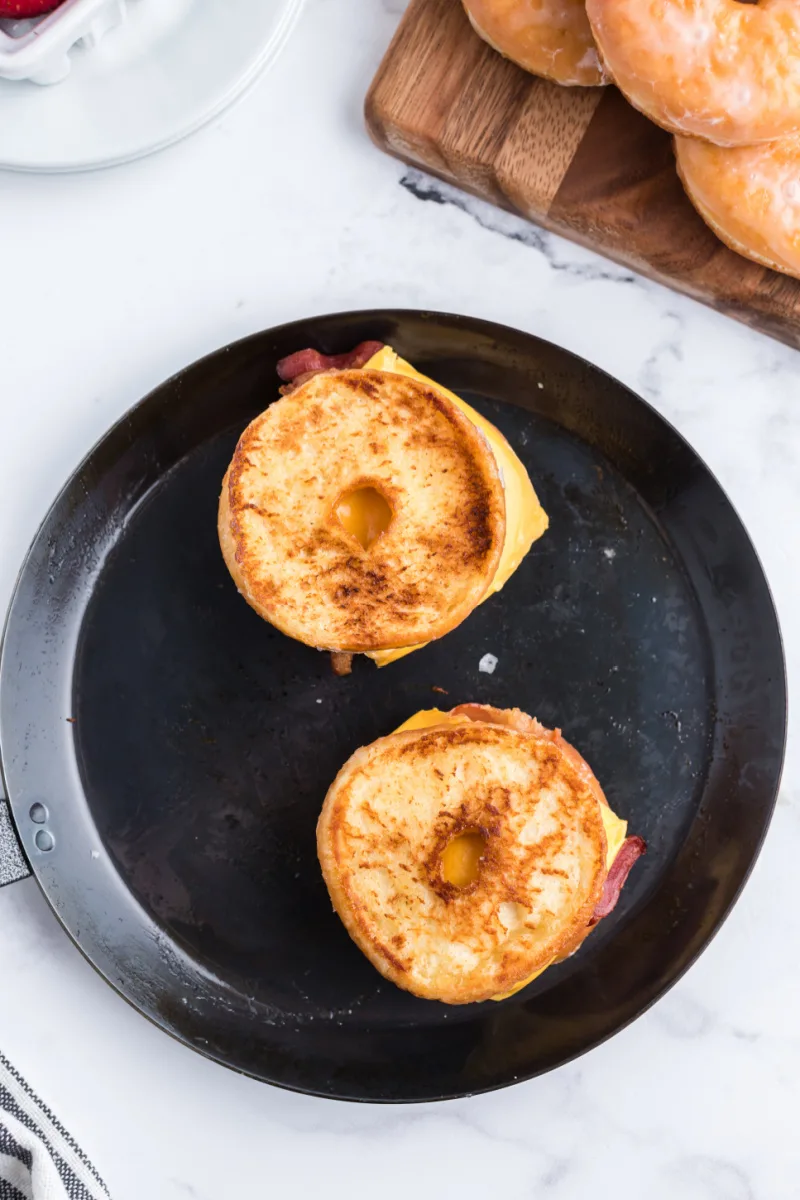 Then flip the other donut halves on top (cut-side-up). That's it! There's your glazed donut grilled cheese. Kind of crazy, right?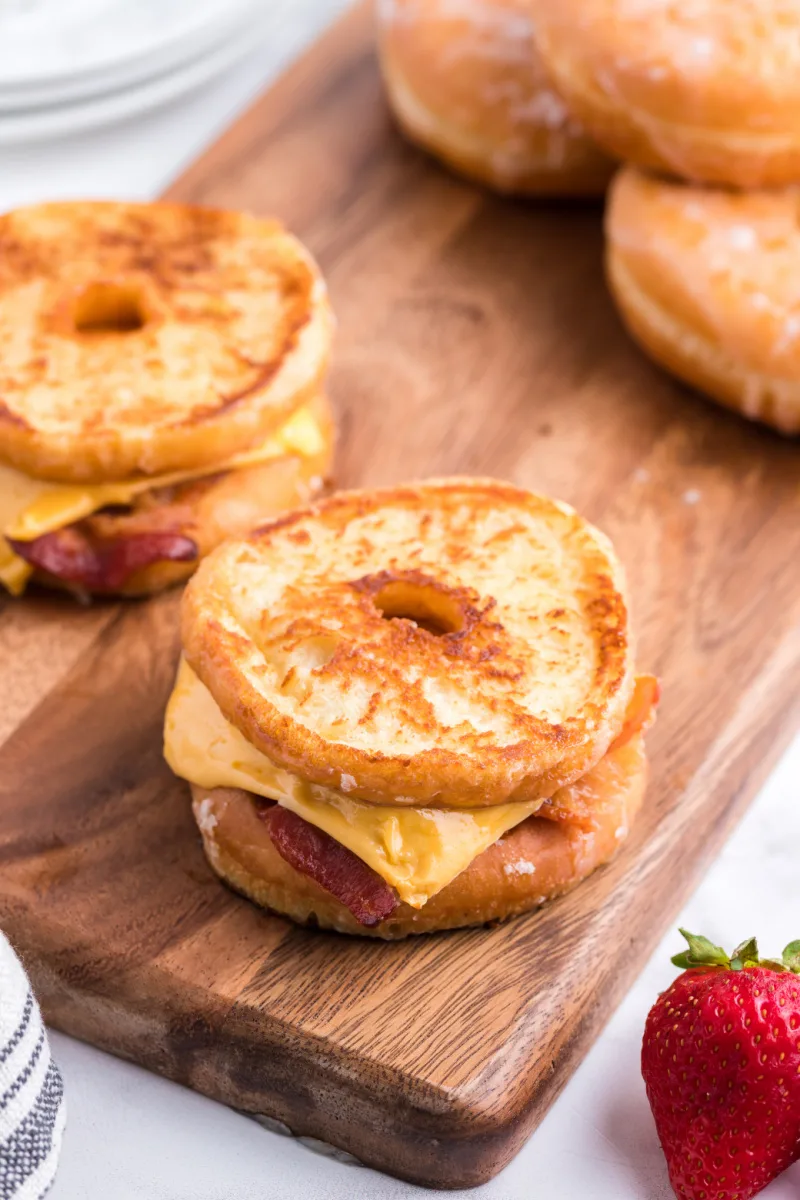 So you're basically eating glazed donuts for lunch with cheese and bacon. It's an alternative to making classic grilled cheese. Is this a good way to use up extra glazed donuts? Yes! Is this a sandwich you should make every day for lunch? No. This is a fun recipe to make once in a while when you're feeling like you need some major comfort food. Enjoy!
How to make crispy bacon in the oven:
This recipe calls for cooked bacon. I always make my bacon in the oven because it's so easy to do, and there is very little clean-up or mess involved. Preheat the oven to 400 degrees F. Line a baking sheet with foil. Lay the strips of bacon on the foil. Bake until the bacon is browned and crispy, 15 to 20 minutes. Time in the oven will depend on how thick your bacon is. Let the bacon cool and drain on a paper towel lined plate.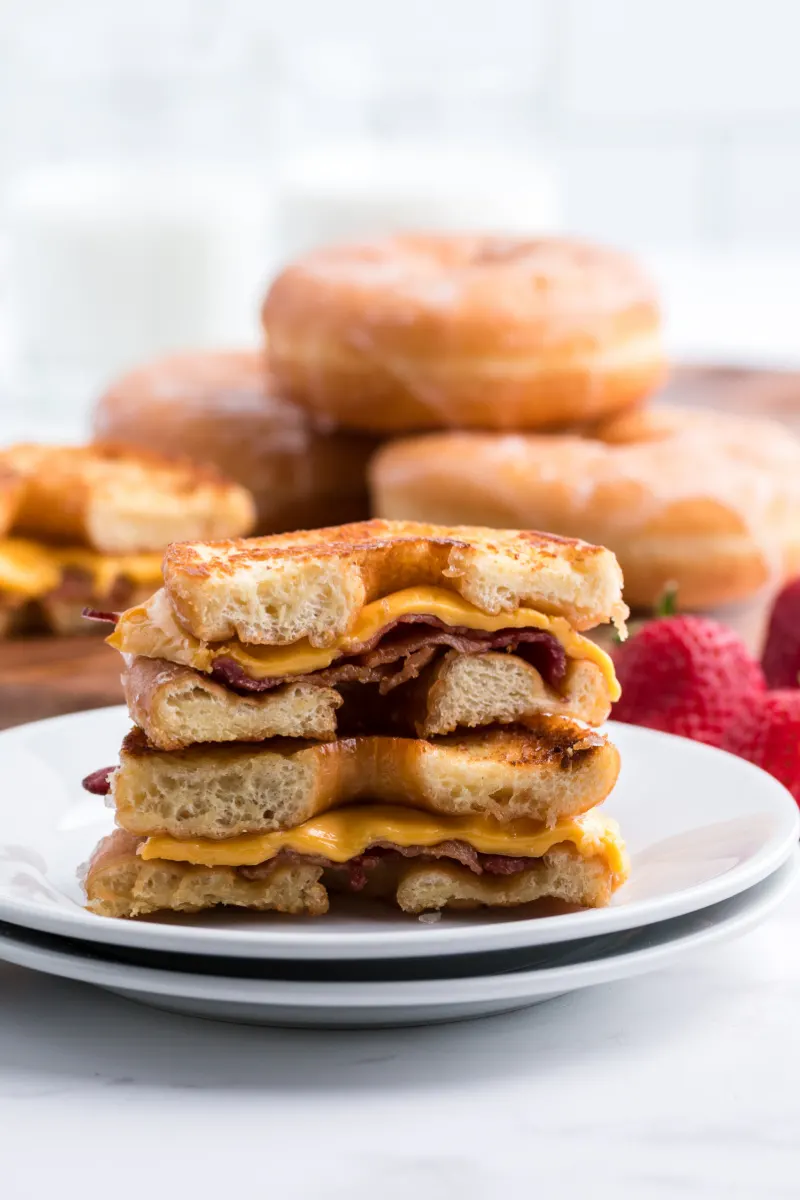 Here are a few more sandwich recipes you might like to try:
Glazed Donut Grilled Cheese
A grilled, caramelized donut with melted cheese. Yes, please!
Ingredients
2

large

glazed donuts

(day-old works best)

2

slices

American cheese

4

slices

crispy, cooked bacon

2

tablespoons

butter,

melted
Instructions
Heat the pan or griddle to medium-low heat (the donuts are thick and sugary, so you don't want to burn them).

Carefully slice both donuts in half with a bread knife- like you are slicing a bagel. Using a pastry brush, evenly spread melted butter on the inside of each donut slice. Place the buttered sides down on the griddle. Put one slice of American cheese on two of the donut halves. Place a lid on the pan to help trap the heat and melt the cheese.

Remove the lid and flip the two donut pieces that do not have cheese so that the outside of the donut is face-down on the grill. Add the bacon on top of the cheese. Then, using a spatula, take the half with no cheese and place it on top of the cheese-covered half, the inside grilled part of the donut facing up.

Use a spatula to remove the sandwich from the griddle carefully. The caramelized sugar will be hot, so don't burn yourself!

Let cool for a couple minutes, then carefully slice in half with a bread knife. Eat immediately!
Nutrition
Serving:
1
serving
Calories:
702
kcal
Carbohydrates:
40
g
Protein:
16
g
Fat:
53
g
Saturated Fat:
27
g
Polyunsaturated Fat:
4
g
Monounsaturated Fat:
17
g
Trans Fat:
1
g
Cholesterol:
136
mg
Sodium:
1054
mg
Potassium:
217
mg
Fiber:
2
g
Sugar:
10
g
Vitamin A:
1188
IU
Vitamin C:
0.2
mg
Calcium:
256
mg
Iron:
2
mg