Barbecue- Bacon Smoked Cheddar Grilled Cheese
This post may contain affiliate links.


Sorry for the post delay everyone! I've been very busy lately. This week I made BBQ- Bacon Smoked Cheddar Grilled Cheese to kick off Great Midwest Grilled Cheese Contest. Great Midwest is kindly letting me host a giveaway for 12 packages of their cheese! Please keep reading for details! 😉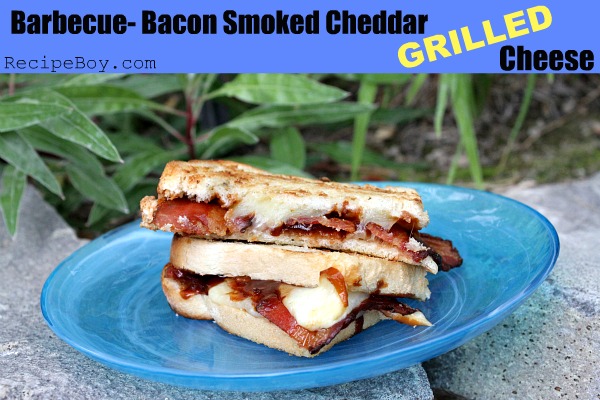 Oh boy. Smoked Cheddar! Bacon! Barbecue Sauce! I'm in heaven.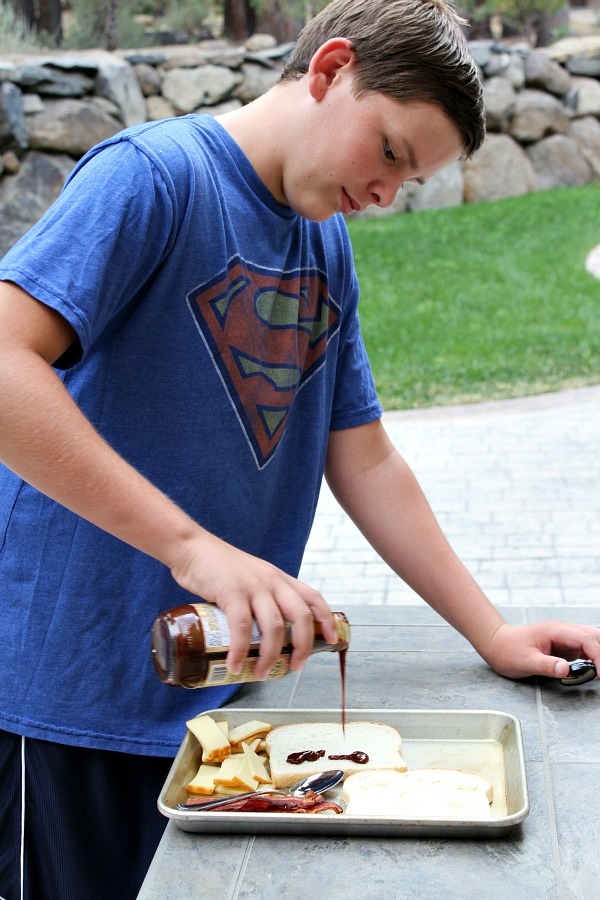 I love my BBQ sauce! I pretty much drowned my sandwich in BBQ sauce cause I LOVE IT!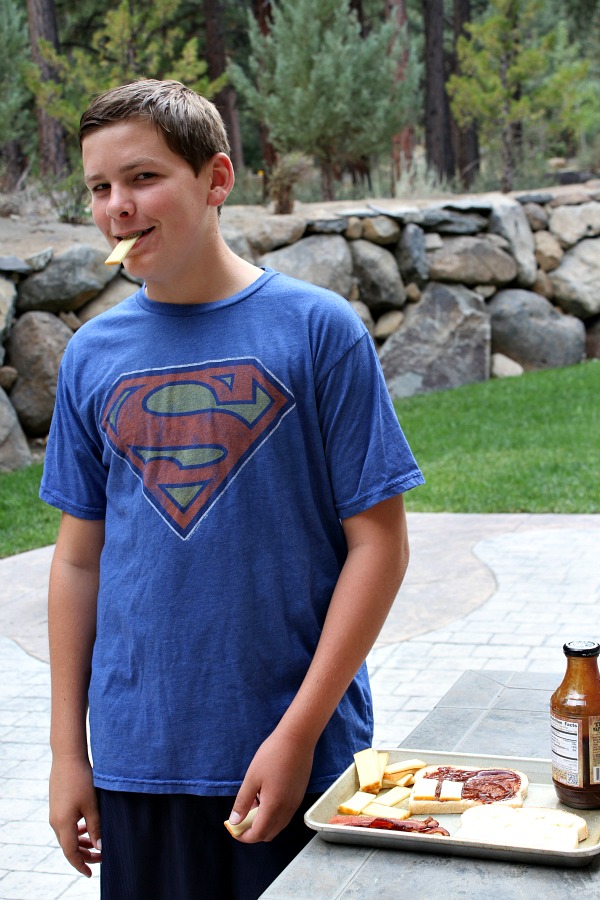 After I smothered a thick layer of BBQ sauce on the bread, I added the cheese. Yum yum.   Smoked gouda is my favorite cheese of all-time, but it was cool to try something different: Great Midwest Smoked Cheddar.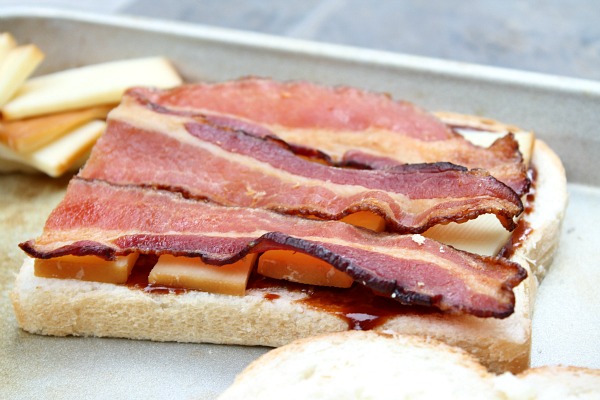 And here comes the BACON!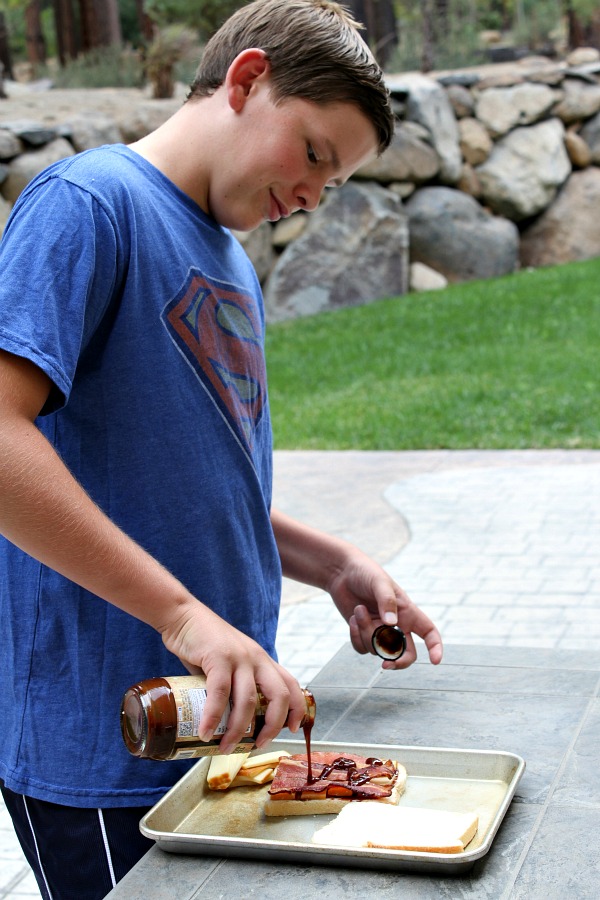 And then… another layer of BBQ sauce if you love it like me! 😉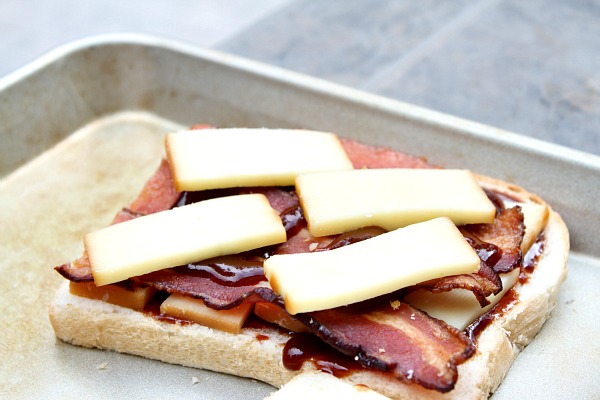 Finally, add more cheese. This is an amazing fromage grille' as the French call a grilled cheese.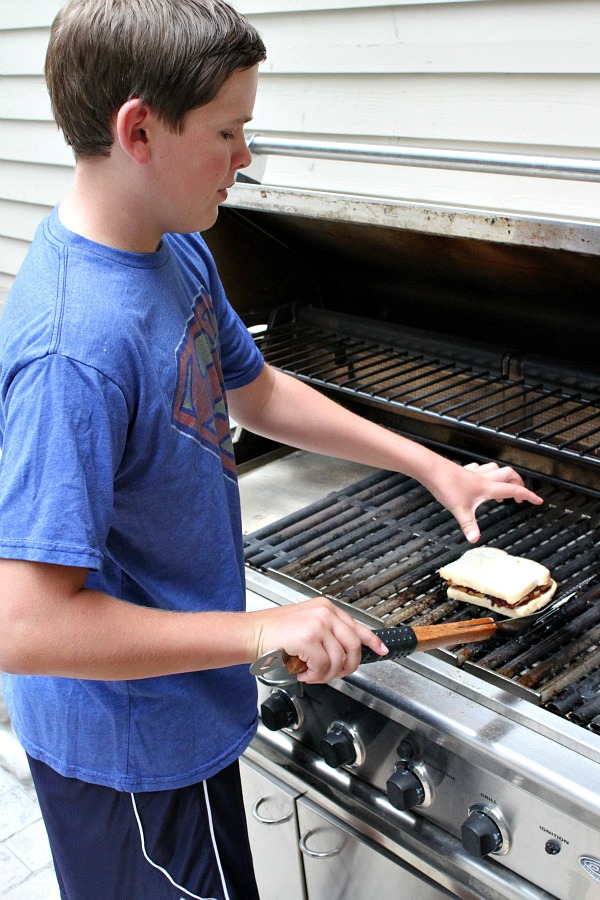 I took the term "grilled cheese" to a whole new meaning. I actually made a GRILLED cheese!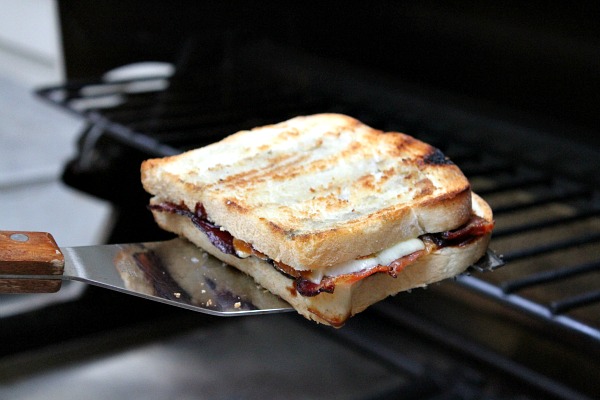 Does that look good or what?! This is an instant addition to my Top 3 favorite grilled cheese recipes EVER!!!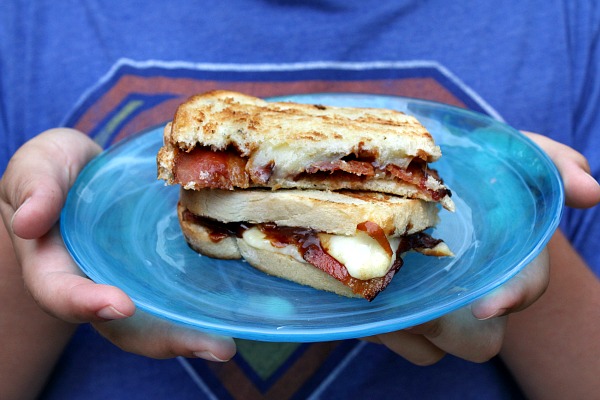 Superman approves. 🙂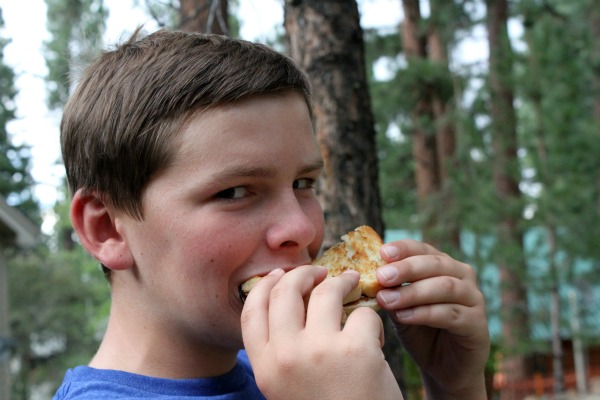 Thank you Great Midwest Cheeses for providing the cheese necessary to make this grilled cheese! I enjoyed it immensely!!! Please stay tuned for more giveaway instructions and information below the recipe.
And even a kid can create the ultimate grilled cheese using only his imagination… Like Me!
Barbecue Bacon Smoked Cheddar Grilled Cheese
Pretty much the most epic grilled cheese sandwich ever.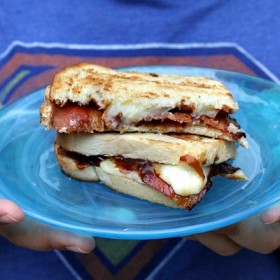 Ingredients:
2 slices of your favorite bread
2 tablespoons butter
1/4 cup (more or less) of your favorite smokey BBQ Sauce
3 slices cooked bacon
several slices Great Midwest Smoked Cheddar Cheese
Directions:
1. Preheat your grill to medium-low.
2. Butter your bread slices. Place one slice of bread butter-side-down on a plate or baking sheet. Drizzle the bread with BBQ sauce. Add a layer of cheese. Add the bacon, more BBQ sauce and another layer of cheese. Place the second slice of bread butter-side-up on top.
3. GRILL your sandwich until golden brown on both sides. You want the grill kind of low so you don't torch the bread (you can also do this on the stove in a pan, of course). Close the lid on the grill so your cheese melts. Flip and toast the other side.
4. Remove from the grill, slice and chow down.
These are the flavors of cheeses I tried.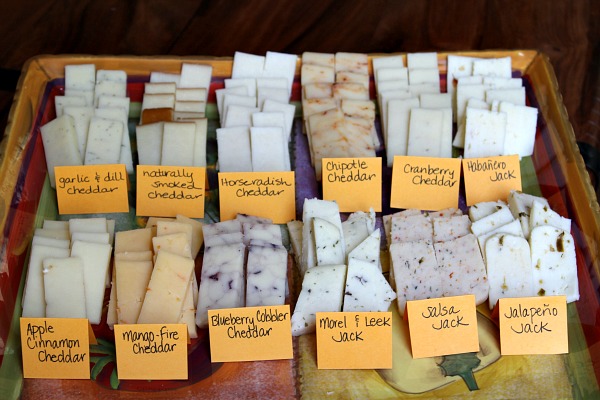 I particularly liked the Mango Fire Cheddar (although it was flaming hot!!!) and the Cranberry Cheddar (Which was one of the few fruit cheddars I liked.). And of course… I liked the Smoked Cheddar.
Great Midwest  "I Love Grilled Cheese" recipe contest details! >You have a chance to win one of eight prizes including a vacation, Panini presses and cookbooks.  They're asking home chefs to contribute their very best, most creative grilled cheese sandwich recipe using one or more of Great Midwest's cheeses. They make a ton of different flavors.  I sampled all 12 of them!  Check out this link for Where To Buy Midwest Cheeses near you.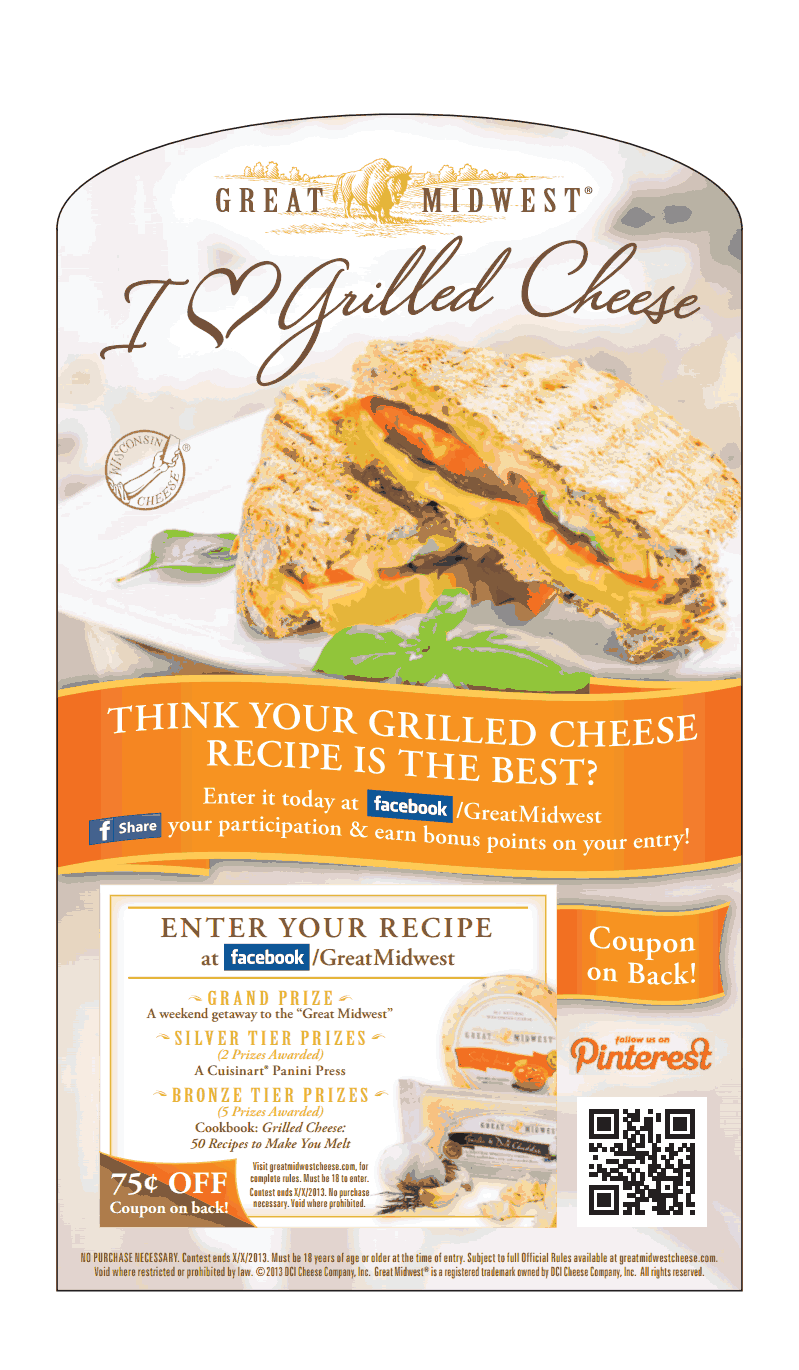 Key judging areas are #1 the use of Great Midwest cheeses, #2 taste and #3 creativity/originality of the recipe (creativity is a big component in the scores so really off-the-wall ideas are invited!) Anyone who posts anything on the Great Midwest Facebook page – whether it be a photo of your sandwich, your recipe, you in the kitchen cooking, etc. – will get bonus points on their contest entry.  Enter the contest here > I Love Grilled Cheese Recipe Contest
GIVEAWAY DETAILS:
One RecipeBoy reader will win all of of the Great Midwest Cheeses shown above (ALL 12 varieties)
To enter for a chance to win, please leave one comment below sharing your favorite thing to add to a grilled cheese sandwich!
Rules:
Open to those with a USA mailing address only.
Contest ends Thursday, August 15th, 2013 at the end of the day.
Winner will be chosen by Random.Org
Disclosure:  This post is sponsored by Great Midwest.  All opinions shared about this product are my own.